3Commas claims to be the ultimate tool to help traders maximize their profits. The platform allows traders to use ready-made algorithms and automate their strategies. They support rebalancing, option bots, and paper trading, which we will review in our article and see if it can be good for us in the long term.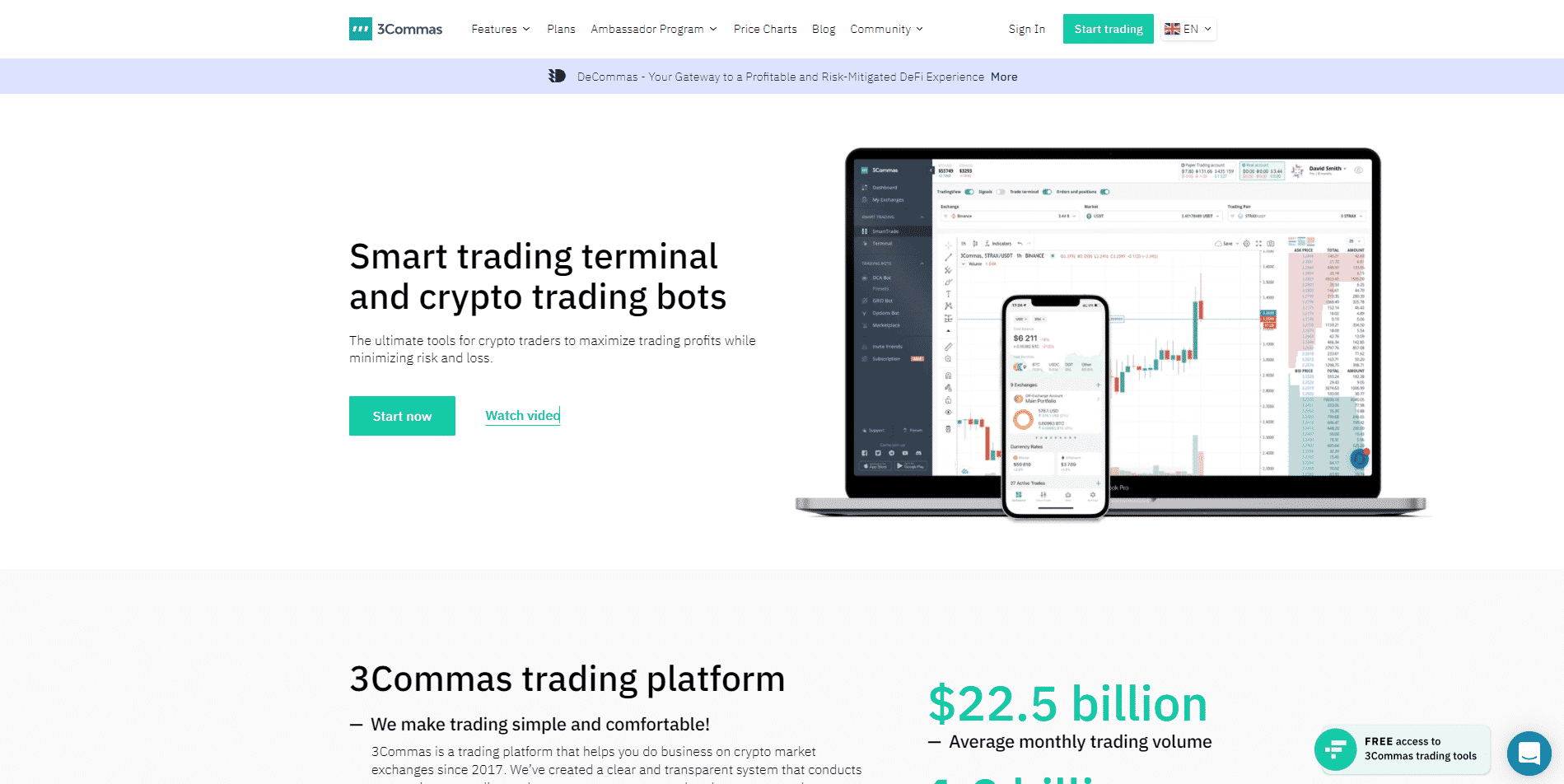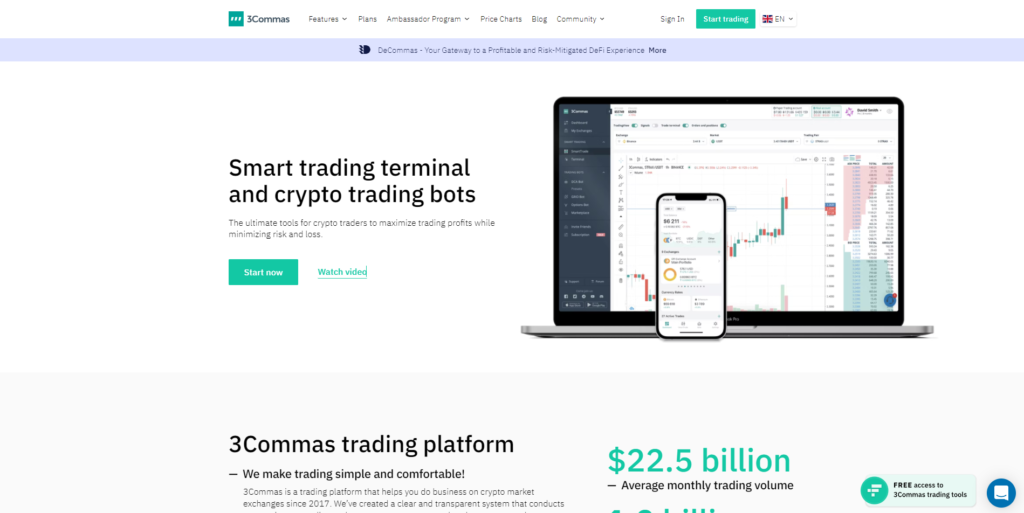 What is 3Commas?
3Commas states that they have a monthly average volume of $22.5 billion, with 1.2 billion investors using the service. They provide algorithms for investors of all levels that connect to the exchange through API keys and send signals.
Quick summary
The service has the following important features.
DCA bots
The dollar-cost averaging system allows investors to divide their initial investment into smaller portions and thus diversify their risk.
Signals
The platform also allows traders to use trading signals from other traders. The respective performance of them can be witnessed on the website.
3Commas: background
Yuriy Sorokin is the company's CEO who claims to have formed the service with his two other partners in a bid to automate their trading. The website lists the names of all the members and provides links to their LinkedIn profiles to witness their portfolios. The head office is situated in Laeva 2, Tallinn, Estonia, 10111.
How does it work?
Depending on the coding of the algorithm, it will analyze the market and send signals on the exchange connected. API keys are used to make a connection between 3Commas and the broker. The EA will operate solely on its programmed information.
How to sign up with 3Commas?
Traders can sign up to the website using their email address and password. It is also possible to use Facebook and Apple ID for this purpose.
Does 3Commas offer a demo account?
Traders can try the platform for free, which is limited in terms of available algorithms and instruments. There is no paper trading at hand with this option.
Profitability of 3Commas
The platform's output will solely depend on how well the algorithm is coded and the market conditions. The company charged no fees on the profits.
Payments, deposits, and withdrawals
The company does not provide information on the available payment methods for their plans. The deposit and withdrawal methods are exclusive to the broker a trader is using.
Exchanges supported
The platform currently supports the following exchanges:
Binance
FTX
Gemini
ByBit
BITFINEX
Coinbase
OKEX
Huobi
Poloniex
Kucoin
Kraken
Gate.io
Bitstamp
Bitmex
Deribit
What about customer support?
Traders can contact the admins using the live chat or email address. They also provide an address if one wishes to meet them in person.
Benefits of using 3Commas
The platform presents the following advantages for traders:
A trading platform is available
Full transparency on developers
Drawbacks of using 3Commas
While the demerits are as follows:
Promotes risky grid strategies
No paper-trading for a free trial
Pricing review
The starter and advanced packages are available for an asking price of $14.5 and $24.5. The pro plans come at $49.5 and provide access to infinite grid and option bots.
What are security measures?
The platform uses API keys to connect to your exchange. There are no withdrawal or other rights attained to maintain your funds' security.
Is 3Commas legit?
3Commas may offer lucrative features, but investors have to be careful with the use of grid systems that the website openly promotes. For getting the best out of it is vital to have some prior crypto and programming knowledge.
Ease of use
The website is built neatly where traders can overlook all the essential offerings. Trading view charts and a custom platform is available to analyze the markets and send/manage orders on all exchanges.
Is 3Commas a good choice for automated trades?
3Commas can be handy for many traders, but as mentioned before that, while selecting any EA or signals, it is vital to backtest it or have a solid programming experience.
What are the risks of using 3Commas?
Selecting signals or bots that promise high returns can be damaging as they take excessive risk on a trader's account. Traders with no market experience can face difficulties in choosing the right option.
The Review
Review verdict
3Commas provides support for multiple exchanges for traders who are looking to diversify their assets. They try to maintain transparency on the platform and developers but do not enlist the harmful effects of averaging techniques they openly support.
Review Breakdown
Features:

Exchanges Supported:

Security:

Price:

Customer Support: