Where is AVAX likely to be price-wise for the near future? We'll answer this question, along with other analytical elements, in this article.
Disclaimer: The information provided here does not constitute any form of financial advice. Readers are fully responsible for conducting their due diligence before making any investment decisions.
Avalanche: Market Sentiment
Generally, analysts regard the market as moving between different phases of fear and greed at any time, which are the most powerful emotions experienced by investors or traders.
This is what sentiment is about, and it's often the first piece of data traders observe when looking at any crypto market. In this regard, we use the Crypto Fear & Greed Index (FGI), inspired by the CNNMoney Fear and Greed Index analyzed in stocks.
The FGI is updated daily and shows a simple score from 0 to 100. Presently, the reading is 25, suggesting 'extreme fear,' as shown in the graph below (figure 1).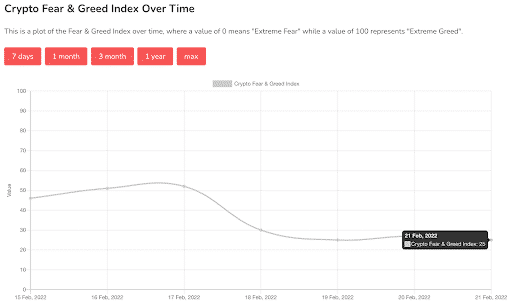 So, what does this mean? This score indicates an undervalued market and that investors may be feeling worried.
This fear comes with potential buying opportunities as they move from fiat-based investments into alternative ones like cryptocurrencies. The FGI is highly influential with large-capped coins like AVAX.
Of course, technical analysis may not present a decent buying signal. However, the FGI shows us the market has been fearful over the past week (readings from 50 and below are seen as 'fear'), indicating something may eventually be on the cards in due course.
Technical analysis
Presently, the technicals don't match the sentiment as AVAX is still bearish, according to our analysis. We've applied two moving averages on the chart, the 50-period (orange) and the 200-period (blue), on the chart to present a simple crossover system (figure 2).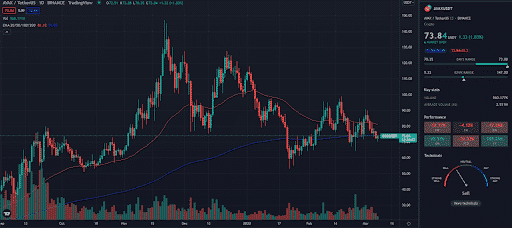 We can see that the 50-200 cross hasn't occurred on the daily chart, and the price is struggling to move above the moving averages. This downtrend behavior exists in other cryptos aside from AVAX. The 4-hour time frame presents a completely bearish sentiment, though, shared by the cryptocurrency market, resulting from the investors' fear over the Russian invasion of Ukraine and the search for safe heaven.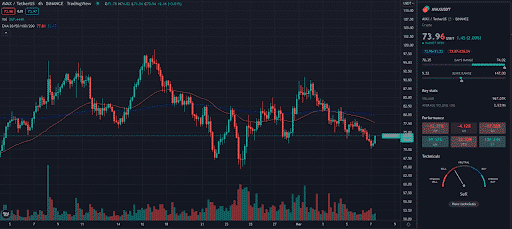 However, Avalanche is still fundamentally strong as an investable project.
Fundamental analysis
Despite a recent rug pull on Atom Protocol (an Avalanche-based DeFi platform), AVAX has a lot of good things fundamentally. Avalanche is sometimes referred to as an 'Ethereum killer.'
Yet, this is somewhat incorrect as the platform has compatibility with its predecessor, allowing for the transfer of Ethereum-based assets and supporting its virtual machine.
Therefore, any activity increase on Ethereum will likely positively impact Avalanche. Yet, Avalanche is far more scalable (due to proof-of-stake) than many other blockchains, processing several thousand transactions per second with near-instant finality.
The Crypto Carbon Ratings Institute recently found that Avalanche is one of the most environmentally-friendly blockchains in the world, using just 0.0005% of the energy consumed by Bitcoin.
Avalanche's tokenomics are another factor that makes it investable. AVAX has a hard cap supply of 720 million. Three hundred and sixty million are scheduled to be released to the public, of which about 68% or 245 million are in circulation.
Moreover, AVAX is burned through transaction fees, increasing its scarcity over time. Overall, a project with a large market cap like Avalanche (about $16.9 billion) has little competition, reliable growth, dominance, and high trading volume, all of which are attractive fundamental elements.
Avalanche (AVAX) Price Prediction: 2023-2025
Let's see where AVAX could realistically end up over the next few years.
2023 forecasts
The average result was about $200 when we looked at three forecasting sites. This means we could expect the price to increase by at least 2X if things go well. The lowest prediction comes from PricePrediction.net at $141.
Wallet Investor is one of the more favorable forecasting sites as it pegs for AVAX to be worth $146-$189 by the start of 2023. Gov Capital goes even better with minimum and maximum prices of $219 and $297, respectively (figure 3)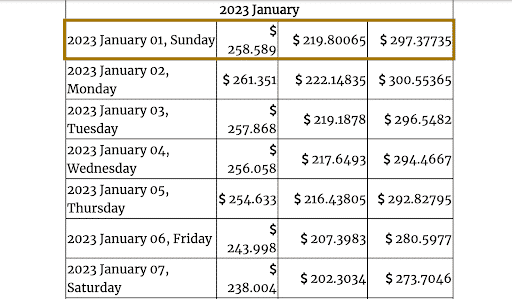 2025 forecasts
By 2025, assuming the overall crypto market has picked up in price, most investors would expect AVAX to go at least over $500. A poll we ran on CoinPricePredict gave an average estimate of $716.
Most other prediction sites like PricePrediction.net and Wallet Investor averaged $351. The most optimistic evaluation is from, again, Gov Capital, pegging AVAX to be worth $890 to as high as $1205 (figure 4).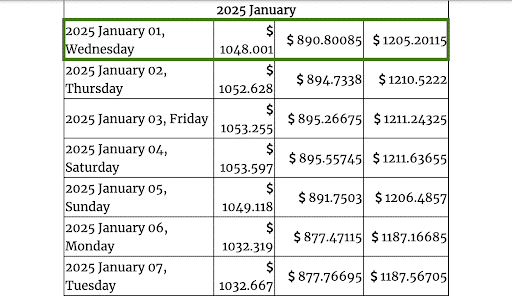 (Figure 4)
Given Avalanche's prior stellar performance, this estimate is certainly possible within a few years. However, as with any forecast, we can only speculate since no one can accurately predict the future.
Avalanche Frequently Asked Questions (FAQs)
Is Avalanche real?
Yes, it is one of the most well-known blockchain projects in the industry.
What is the Avalanche price today?
Presently, AVAX is worth $70.
Will Avalanche's price reach $1000?
With growing adoption over time, $1000 is feasible.
Should I buy Avalanche?
As with any crypto, you should understand that it is a risky endeavor. However, the risk factor with Avalanche is a lot lower compared to other projects because of its market dominance, widespread adoption, and popularity.
Where do I buy AVAX?
You can buy AVAX from numerous popular exchanges like Coinbase, FTX, Binance, Gate.io, Kraken, Bitfinex, Bybit, etc.