Where is Polkadot likely to be price-wise for the near future? We'll cover the nearest price outlook, along with other analytical elements, in this article.
Disclaimer: The information provided here does not constitute any form of financial advice. Readers are fully responsible for conducting their due diligence before making any investment decisions.
Polkadot: Market Sentiment
The primary indicator used by experts in this regard is the Crypto Fear & Greed Index, which is particularly influential for large-capped projects like Polkadot. It's worth noting that most cryptocurrencies move in tandem with one another.
Therefore, the readings from the index are impactful pretty much across the board. This indicator is updated daily and provides a score from 0 to 100, taking data from five key sources: volatility and momentum/volume, social media, market dominance, and search queries on Google.
Readings from 0 to 49 indicate fear (with 0-24 being extreme fear), while 50 to 10 equates to greed (with 75-100 being excessive greed). Presently, the index sits at 21, which indicates extreme fear (figure 1).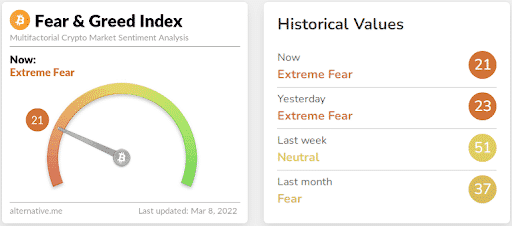 When there's greed, it typically means the market will transition into a corrective phase, suggesting bearishness. The sentiment does align with a bearish market for DOT when we analyze the technicals.
Technical analysis
Based on our technical analysis of DOT on the daily chart (figure 2), this market is clearly in a downtrend. We've plotted the 50-day (orange) and 200-day (blue) moving averages to exemplify a simple crossover system (figure 2).
(Figure 2) The daily DOT price chart
We can observe that the market was below the moving averages, suggesting a clear downtrend by the end of february.
As labeled on the chart, the price broke the support level around $23 after testing it a few times. The next anticipated area of support lies somewhere in the $16 region. If the market were to reach this area, it would be interesting to see what happens next.
This bearish market is still characteristic of most large-capped altcoins and is not unique to DOT. There's a general concern about inflation and interest rate hikes that made the crypto market go a bit 'haywire' recently. This concern was only increased by the geopolitical tensions caused by the war in between Ukraine and Russia Eastern Europe (figure 3).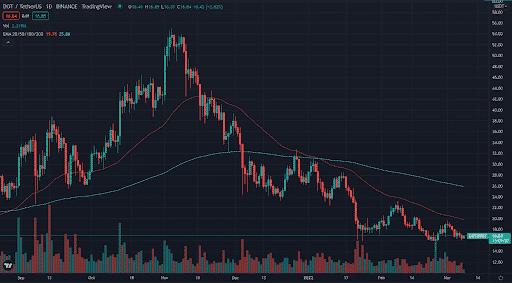 Fundamental analysis
There isn't much to report about Polkadot from a fundamental perspective, at least not any particular threats specific to this project. Overall, everything still seems on track.
For instance, it was recently discovered by Crypto Carbon Ratings that Polkadot has the lowest carbon footprint among major cryptocurrencies. This sustainability quality reinforces the project's attractiveness to investors and users.
Also, Polkadot ETPs (exchange-traded products) are now listed on the Frankfurt Stock Exchange. Overall, Polkadot remains one of the safer long-term bets. For starters, it leads the way for third-generation blockchains dealing with interoperability ('blockchain of blockchains') in dominance.
This unique proposition makes it stand out from the crowd as not many projects offer this element. Polkadot presently has a market cap of around $19.2 billion, which is close to 1% of the entire crypto market.
DeFi Llama reports at least $1.3 billion is the total value locked on DeFi protocols using Polkadot. Although Polkadot is often labeled as an 'Ethereum killer,' it's different from Ethereum.
While the latter is increasingly becoming more interoperable and compatible with other blockchains, Polkadot has the first-mover advantage in this regard.
Polkadot (DOT) Price Prediction: 2023-2025
The 'magic number' target for DOT is $100. Let's see whether DOT can potentially reach this point next year or in 2025.
2023 forecasts
Most prediction analysis suggests DOT should hover near its all-time high of $56 that it reached in November 2021. For instance, Wallet Investor indicates at least $20.39, up to $47.51.
On the high end, Gov Capital is one of the most optimistic, with forecasts ranging from $43 to $58 when 2023 begins (figure 4).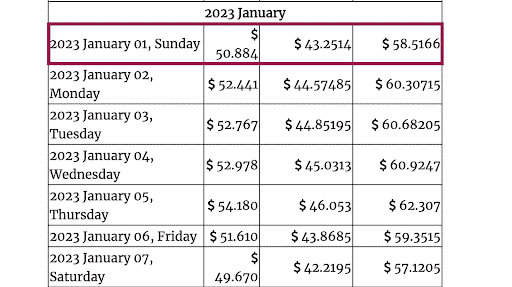 This would be about 200% higher or roughly 3X from its current price of $19.28, which is relatively possible and wouldn't surprise any crypto enthusiast.
2025 forecasts
For 2025, virtually all prediction analysis suggests DOT should be worth at least several times more than its current value. On CoinPricePredict, the average estimate from users was $98.90 for 2025.
Wallet Investor indicated a maximum price of $85.45. Again, Gov Capital was the most optimistic (even more so this time), approximating that DOT should be worth at least $271, going up to $367 (figure 5).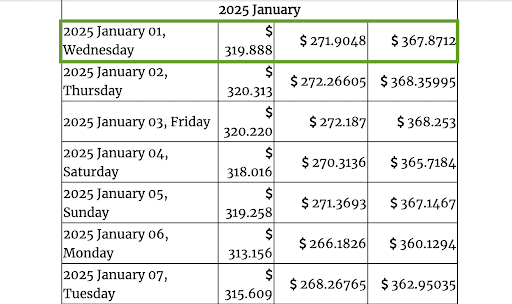 Regardless, no one has a crystal ball as these predictions are speculative.
Polkadot Frequently Asked Questions (FAQs)
Is Polkadot real?
Yes, it's one of the most popular altcoins out there.
What is the Polkadot price today?
$19.28.
Will Polkadot's price reach $100?
This depends on how the overall market performs, but $100 is possible.
Should I buy Polkadot?
You should always make your own decisions when considering a buying opportunity for any coin. However, most experts regard Polkadot as one of the 'safer' long-term bets.
Where do I buy Polkadot?
According to CoinMarketCap, the top exchanges to buy Polkadot include FTX, Binance, KuCoin, Coinbase, and Crypto.com, although countless others exist as well.