Solana is a leading blockchain project that seeks to become a better alternative to Ethereum, Ethereum Classic, and other layers 1 platform. It is a popular project that has raised over $335 million from a group of investors led by Alameda Research. Today, Solana has been used to build all types of applications such as those in Decentralized Finance (DeFi), metaverse, and another web 3.0 applications. In this article, we will assess some of the top projects built on Solana and its cryptocurrencies.
Brave
Brave is a blockchain project that is seeking to disrupt companies like Google and Microsoft Teams one step at a time. The company's flagship product is the Brave browser, which is a fast-growing mobile and desktop platform that allows people to access the web. Launched in 2019, Brave has grown at a rapid rate and brought its total number of monthly users to over 50 million.
The team behind Brave has also launched other solutions in their attempts to become a viable web 3 platform. For example, they have built a search engine that claims to be more privacy-focused than Google. They have also created Brave Talk, which is extremely similar to Microsoft Teams and Zoom Video.
Brave's browser, which is powered by Solana, comes with multiple features. For example, it is the only browser that pays people whenever they see its adverts. These users are paid using BAT, which is its native token that they can cash out at any time. Brave also comes with an ad-blocker and additional security features.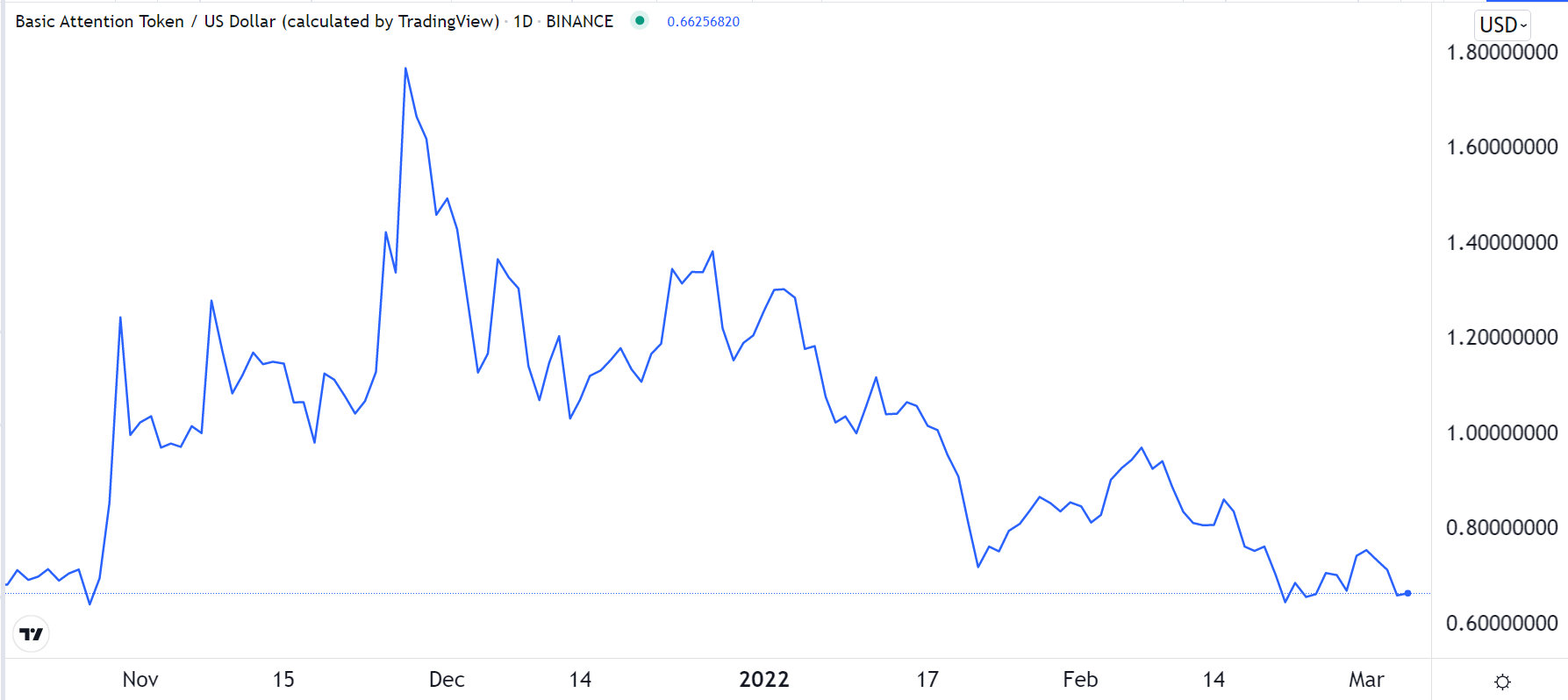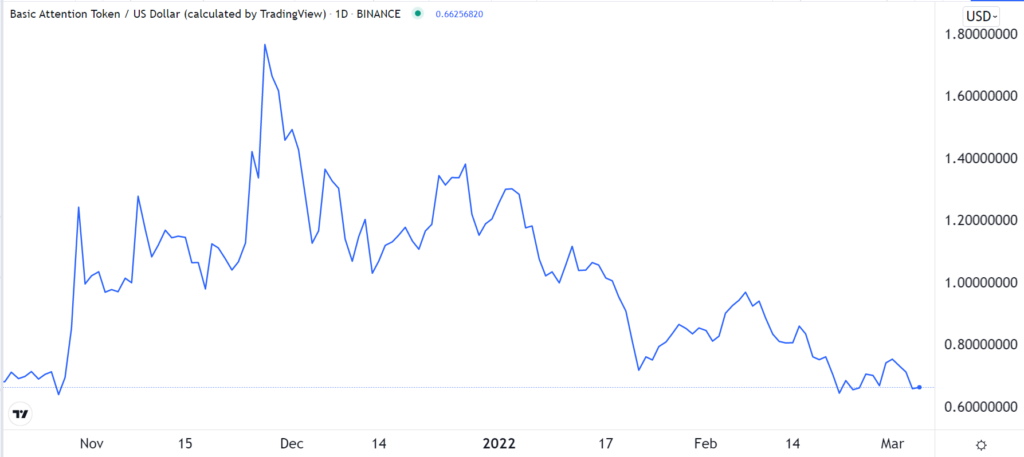 The Basic Attention Token (BAT) has a total market cap of $996 million, and there is a likelihood that it will do well in the future as more people embrace the platform.
Audius
Music is one of the biggest industries in the world. For one, it is hard to find someone who does not listen to songs. According to estimates, music brings in total revenue of over $58 billion every year, and the figure is expected to reach $65 billion in 2023.
While these are exciting figures, the reality is that most of the funds generated in the music industry go to record labels and their shareholders. Also, it is quite difficult for independent musicians to make it in the industry.
These are the challenges that Audius is trying to solve. It is a streaming platform available on desktop and mobile platforms. It connects artists and musicians by removing the middleman. As a result, musicians on the platform make money whenever people listen to their songs. They are paid using AUDIO, the platform's native token.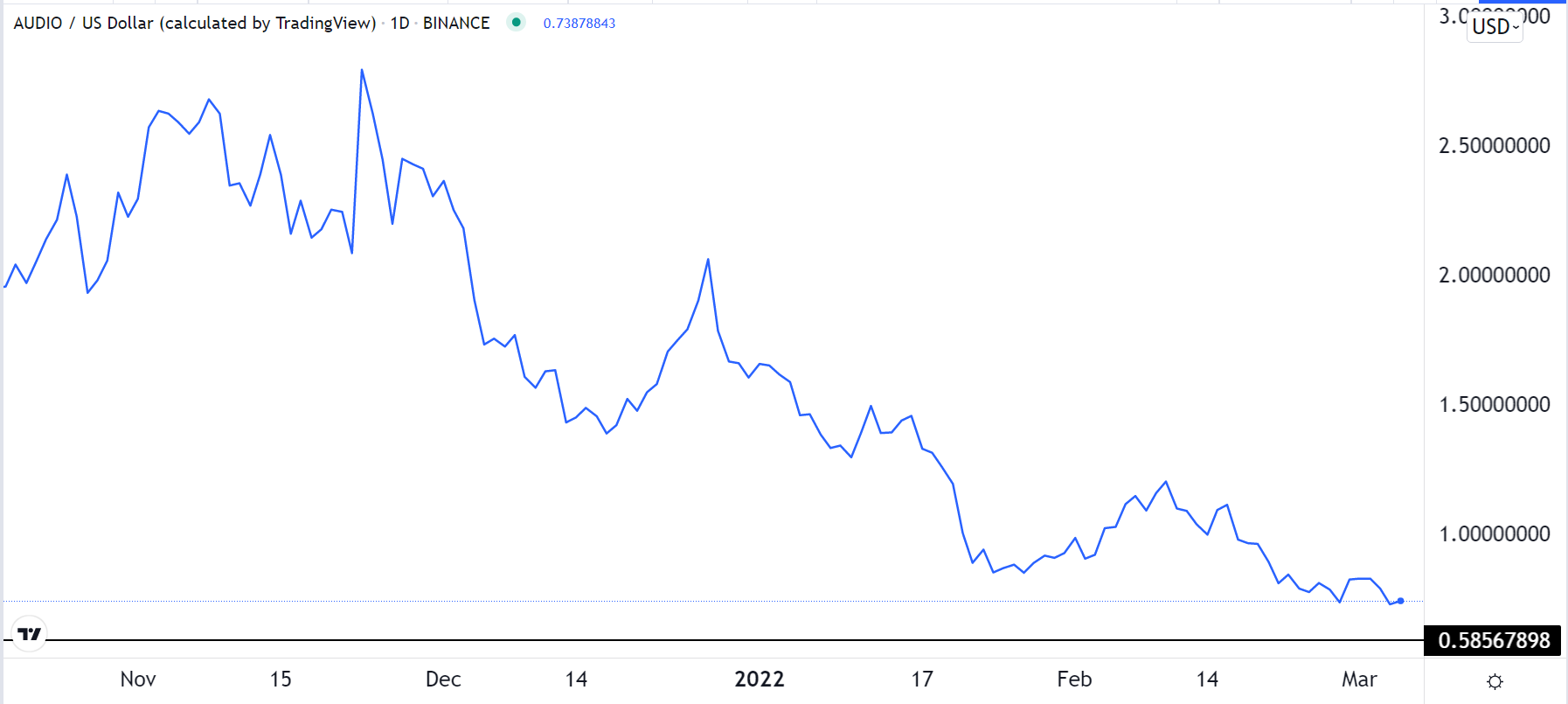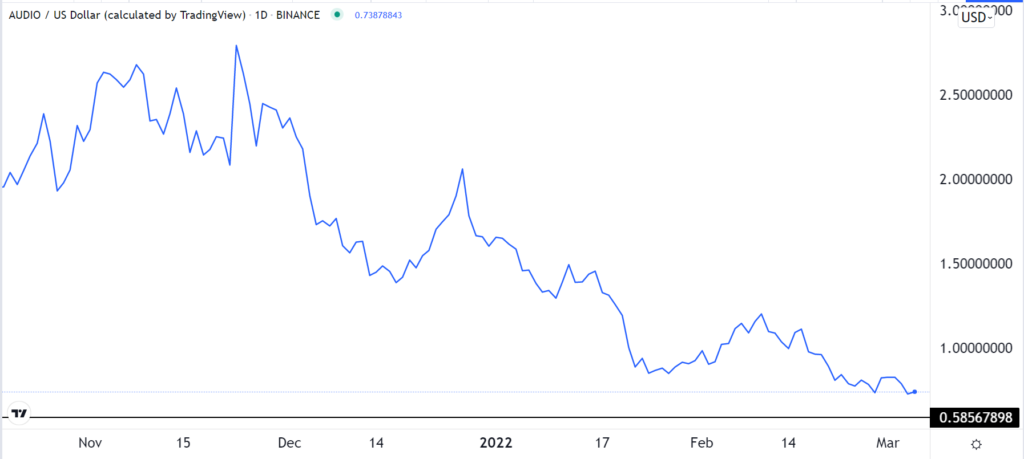 Audius is so efficient that 90% of all revenue goes to artists while the remainder goes to people who stake the coin. AUDIO has a market cap of over $453 million, which is significantly lower than its all-time high of over $1 billion.
Raydium
Raydium is one of the leading DeFi platforms in Solana's ecosystem. It is a DEX and automated market maker (AMM) that is open to users from around the world. Its AMM tools are useful because they are linked to Serum, the biggest DEX in Solana's universe.
Raydium is a bit different from other AMMs. For example, it offers a faster and cheaper platform because of the speeds that Solana offers. Solana is able to process as many as 2,000 applications per second. Another benefit is that it has a central order book.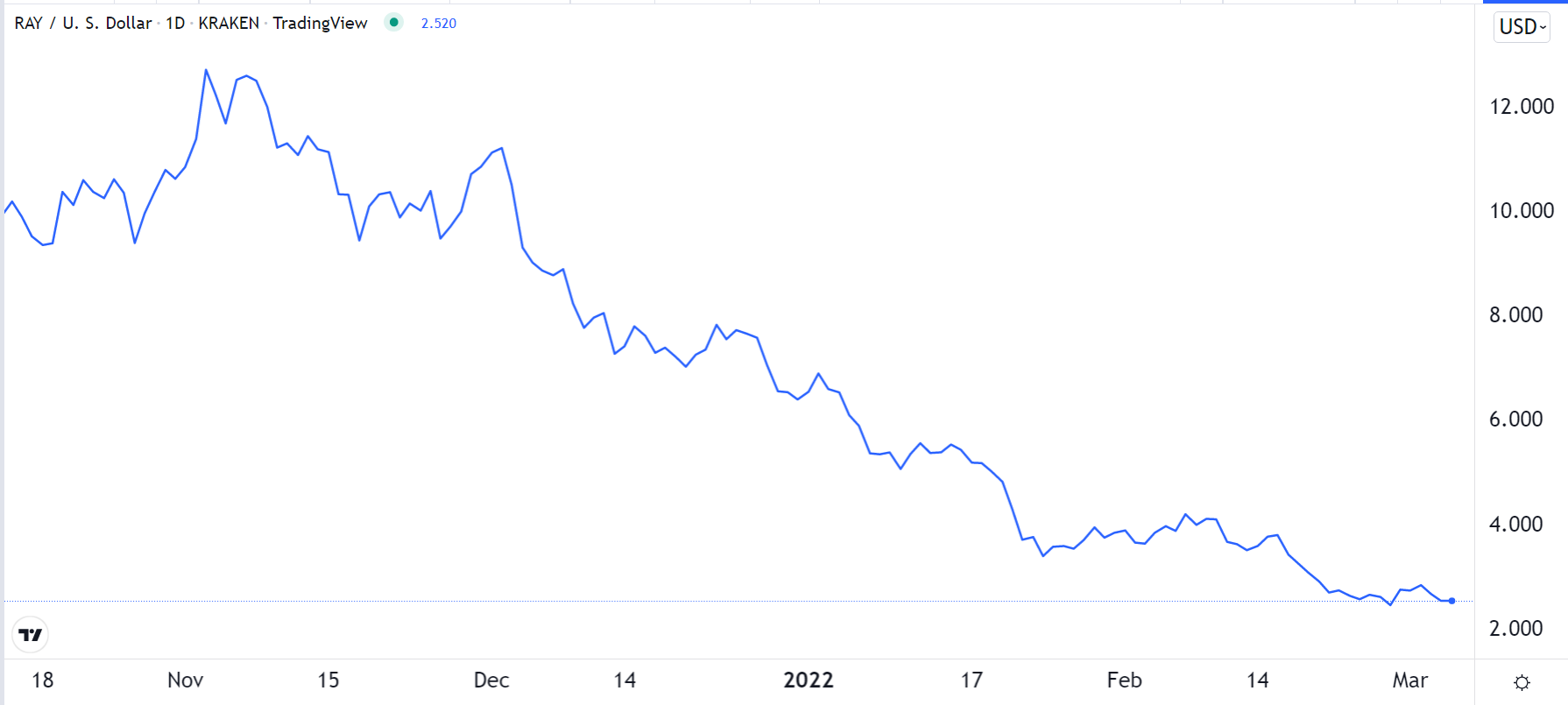 There are several things that users can do in Raydium's ecosystem, such as trading, yield farming, liquidity pooling, and launching new projects. Raydium has a total value locked of over $593 million and a total market cap of over $223 million.
Metaplex
The Non-Fungible Token (NFT) industry saw robust growth in 2021 as people embraced these assets. It is estimated that NFTs worth over $25 billion were sold during the year. While the industry is showing some slowdown, analysts believe that it will have a role to play in the future.
Metaplex is one of the biggest ecosystems created and run on Solana. It is a wide platform that has seen the launch of over 7.5 million NFTs and over 3 million customers. Some of the projects built using Metaplex are VooVoo NFT marketplace, Space Falcon, SolChicks, Tribe Land, and Aliens vs. People.
Metaplex has raised over $46 million from the likes of Alameda Research, Samsung, Alameda Research, and Animoca brand.
Serum
Serum is the biggest DeFi platform built on Solana, with a total value locked of over $800 million. The platform is an alternative to Ethereum-based trading platforms like Uniswap and SushiSwap. Its main advantage is that its transactions are remarkably faster than those of Ethereum tokens.
Serum uses multiple liquidity pools like Raydium, Synthetify, and Mercurial to ensure that its network has cheap transaction costs. Some of the top DEX powered by Serum are Bonfida, Aldrin, Mango Markets, and Cyclos.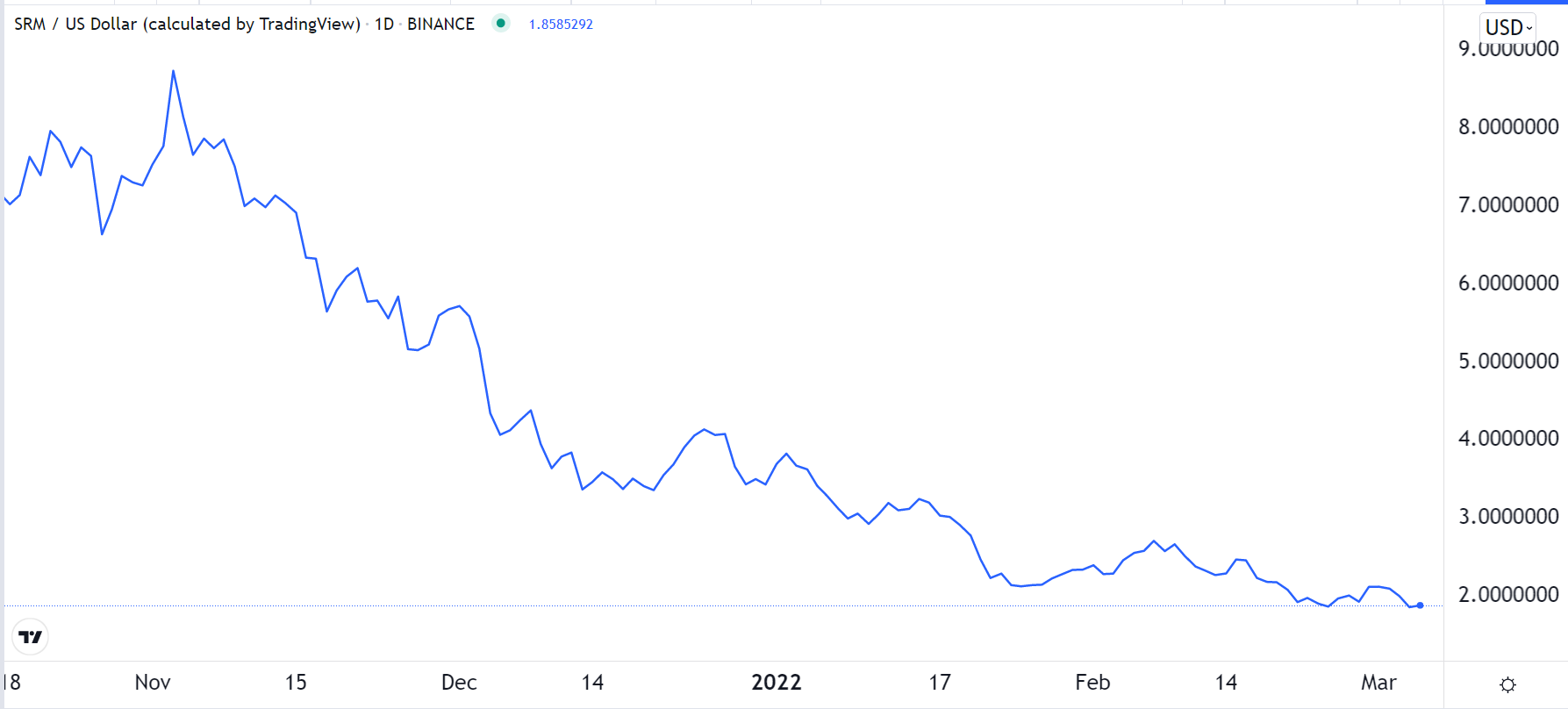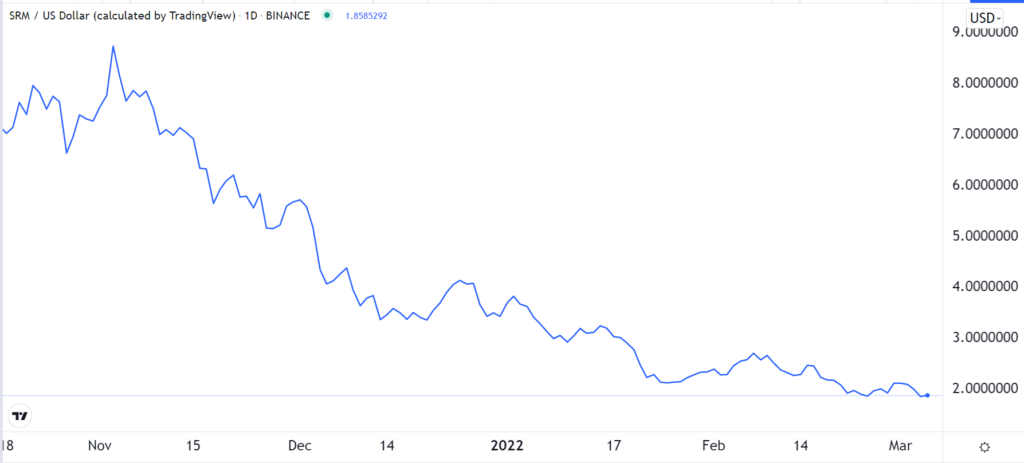 Serum has a cryptocurrency known as SRM that is used to power the ecosystem. It has a total market cap of over $248 million, making it the 200th biggest cryptocurrency in the world. As shown above, the coin's price has been in a downtrend in the past few months as the TVL in the network slows.
Summary
Solana is a leading Ethereum-killer that has better features like speed and interoperability. Some analysts believe that it is a real contender to dethroning Ethereum in various industries. However, because of multiple outages, it seems like activity in the network is deteriorating. For example, its DeFi TVL has fallen from over $15 billion to just $6 billion.