Botcrypto is atrading service that offers us to create and customize trading bots. The developers mentioned that we can gain an edge on the markets. The system has provided us with relevant tech opportunities.
What is Botcrypto?
As was earlier mentioned, the system allows us to create and customize crypto trading bots. Thanks to 20 indicators available, the platform offers many different trading opportunities from smart investment with Digital-Cost Averaging to automated trading bots. Botcrypto can work with Binance and Kraken exchanges.
Quick summary
We can trade ETH, BTC, and LTC coins
This pool of coins isn't wide but the devs would expand it.
So, we can reach our financial goals without emotional factors.
It works with 20 indicators that allow it to perform orders more stable and predictable without significant drawdowns.
Botcrypto: background


We have pictures of seven developers and owners. It's impossible to tell for sure if they have proper trading experience and if they can develop a truly profitable trading solution. There are no links on their social accounts or on profiles with verified trading results.
How does it work?
Let's talk about features, settings, and details that we could find in the presentation. It doesn't look like the devs would like to explain everything to us in the best way.
The robot can provide us with automatic trading that allows us to do whatever we want.
We can work with Bitcoin (BTC), Ethereum (ETH), Litecoin (LTC), etc.
It's possible to get started without coding skills.
The system can provide us with advantages, trading on the market.
It works emotionlessly.
We can perform demo testing.
The system allows us to build our own strategies.
There's a visual editor functionality.
We can backtest the system based on the 3 years of the exchange data and real time simulations.
The robot will be active 24/7.
We will grant access to the dozens of strategies already shared by the community.
It's possible to be paid for sharing strategies.
It performs Dollar-Cost Averaging.
There are 20 indicators supported like Bollinger Bands, Exponential Moving Average (EMA), Ichimoku, Keltner Channels (KC), MACD, Mobile Average (MA), Pivot Points, Pop, Price, RSI, Series, Stochastic Oscillator, Value, Volume, Vortex, Volume-Weighted Average Price, RSI stochastique, CHOP, EFI, Commodity channel index, VWAP, Gain, EMA, Super Trend, and Fear and Greed Index.
The values of indicators are consistently updated after each candle ends.
This is needed because the system gets the data from closing prices.
How to sign up with Botcrypto?
We have to register and subscribe for one of the packages.
Does Botcrypto offer a demo account?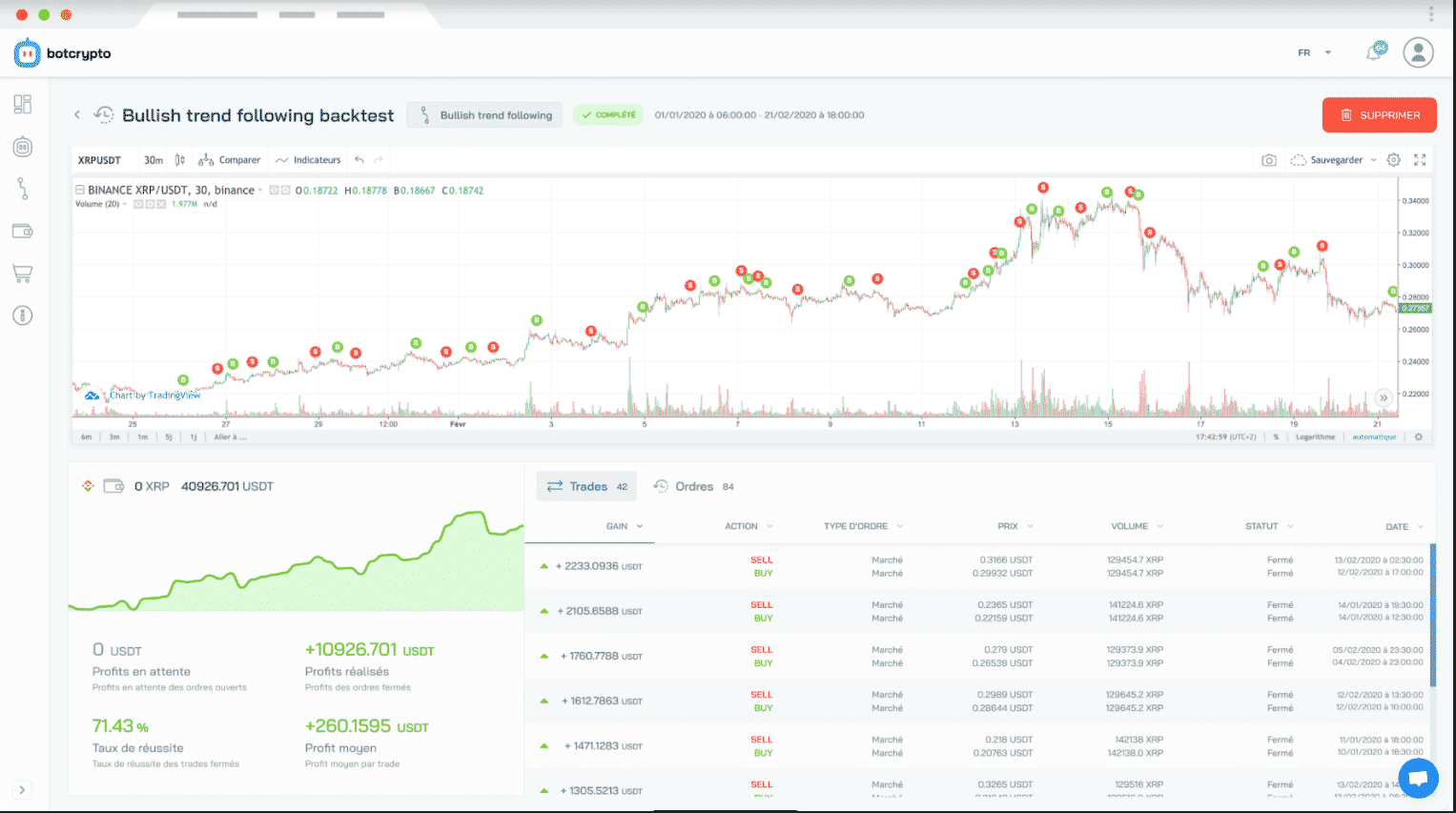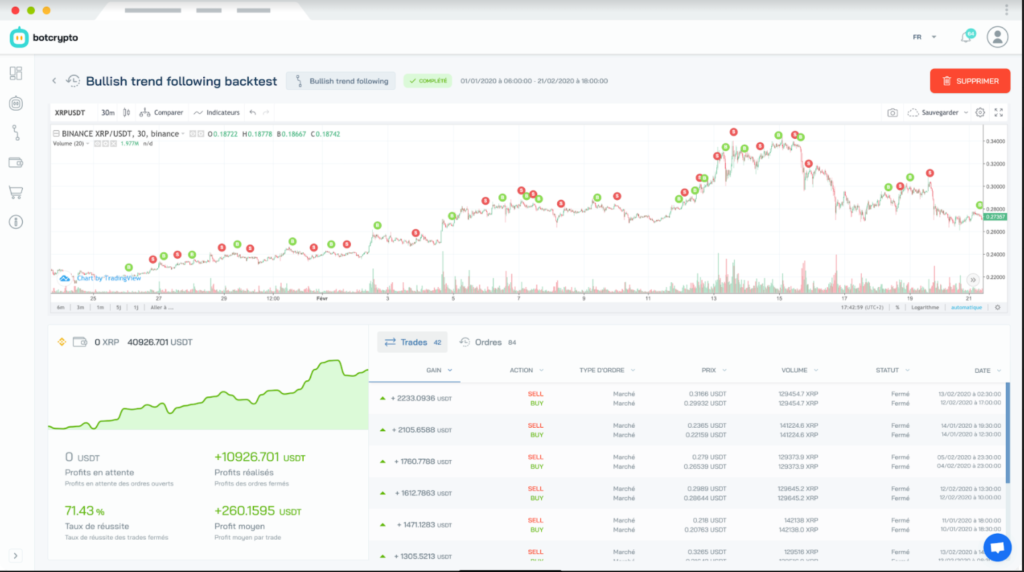 The developers claimed that this is a backtest. We can't be sure about this because there was only one strategy tested. The growth chart wasn't smooth and predictable at all. It was XRP/USDT on the M30 time frame. The data period wasn't clear. The win rate was 71.43%. The total profit amounted to 10,926 USDT when the monthly profit was 260 USDT.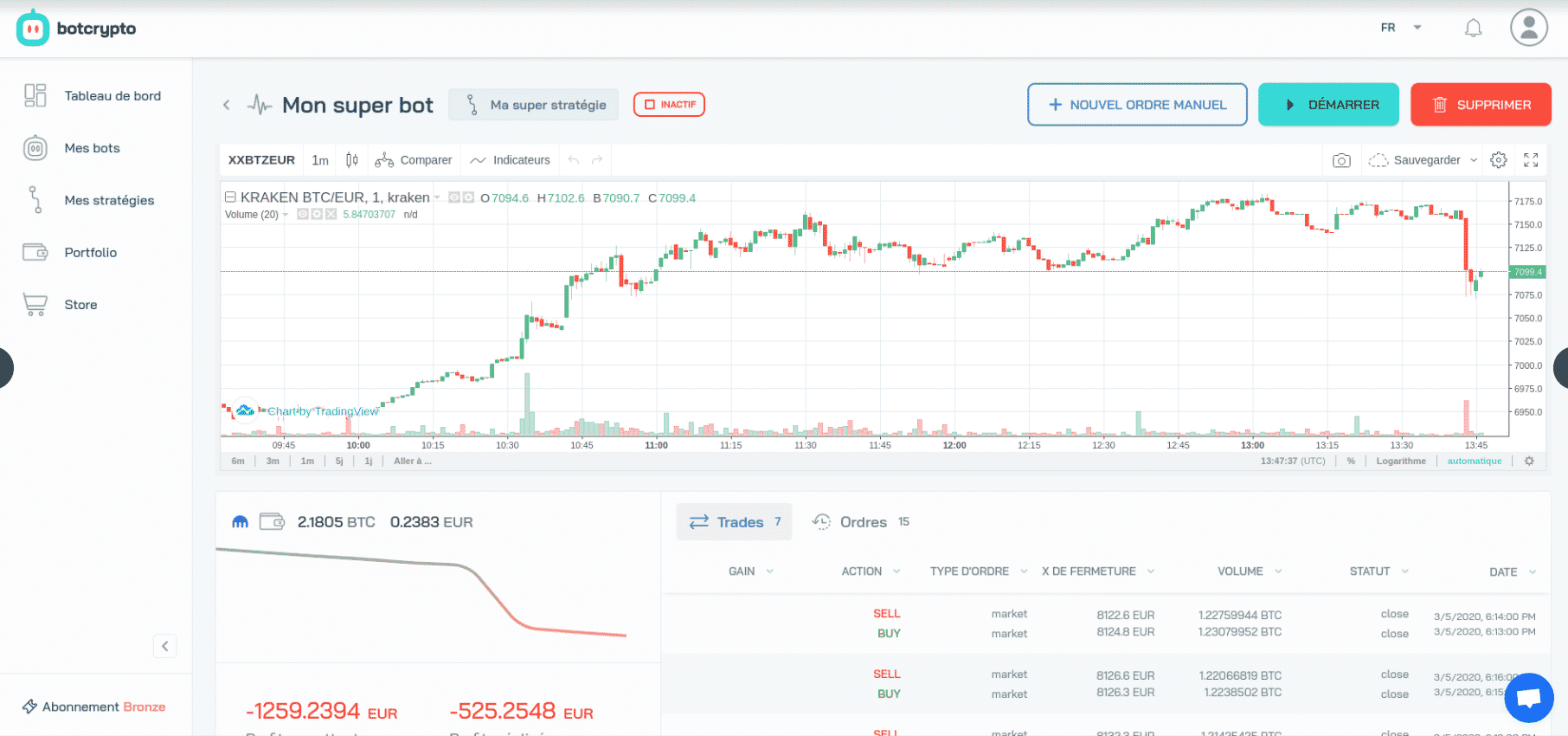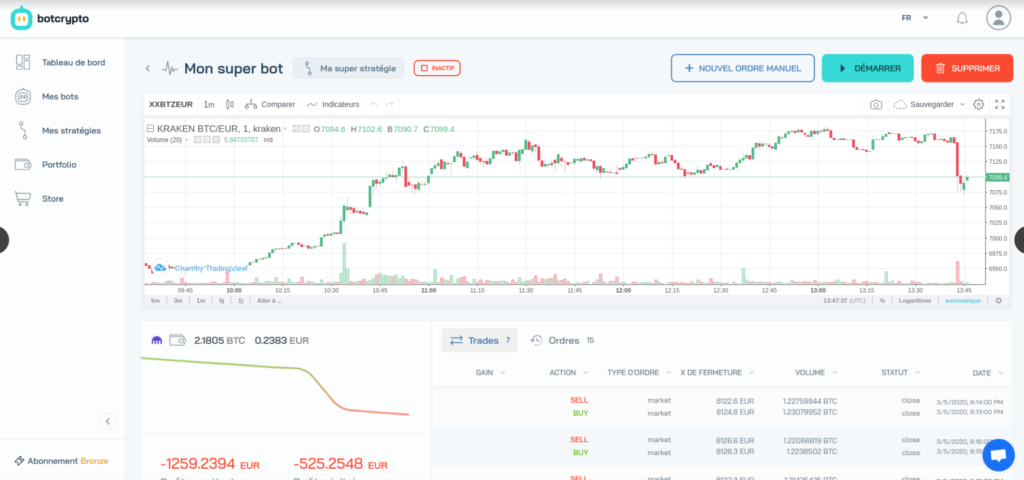 The devs provided a screenshot of trading BTC/EUR on Kraken. The time frame wasn't M30. It was M1 only. We have an absolute gain at -1259 EUR and an average monthly loss at -525 EUR. We don't know the reason for the developers to publish the results where the system loses everything. Also, do the owners have trading results where the bot makes some real profits?
Profitability of Botcrypto
According to a single screenshot, the system isn't profitable at all.
Payments, deposits, and withdrawals
The developers provide no information about payments, deposits, and withdrawals. They only say that withdrawal rights are not required.
Exchanges supported
The system provides us with a possibility to trade on Binance and Kraken exchanges.
What about customer support?
We don't know how good the support is.
Benefits of using Botcrypto
The robot trades automatically.
We can customize our strategies.
We are allowed to sell our settings to others.
Drawbacks of using Botcrypto
The robot has no reliable backtests or trading results.
We have no idea if the system is profitable on those exchanges.
Pricing review
There are four packages where one of them is free. The free package includes: No bot on the markets, Unlimited strategies, Unlimited imported strategies, Unlimited backtests up to 1440 candles, Unlimited real time simulations, Notifications on Discord, Slack, and one incoming webhook, Full access to the API. The Bronze pack is available for €9.99 monthly and €119.88 annually. It includes two bots on the markets, testing with 5760 candles, and two incoming webhooks. The Silver pack can be bought for €29.99 monthly and €359.88 annually. There are five bots, 7920 candles for testing, and 4 incoming webhooks. The Gold pack costs €59.99 monthly and €719.88 annually. There are 20 boys, 10800 candles, and eight incoming webhooks.
What are security measures?
The security is average, which means that the system doesn't have access to our funds. It can trade for us only.
Is Botcrypto legit?
We don't know for sure. Without trading results it's hard to say.
Ease of use
The system isn't an easy to use trading solution because we have to customize strategies on our own. This requires proper knowledge and relevant trading experience.
Is Botcrypto a good choice for automated trades?
We don't know this for sure because we don't have trading results provided.
What are the risks of using Botcrypto?
The system can lose more than win. Also, we'd like to add that customizing strategies it's like writing a trading robot from scratch. 
The Review
Review verdict: the system has no trading results
Botcrypto is a trading service that offers us to create and customize bots or trading crypto. We haven't seen a "visual interface" for developing strategies. We have names and photos of devs but they don't provide us with details about trading experience they have in the crypto market.
Review Breakdown
Features:

Exchanges Supported:

Security:

Price:

Customer Support: