Binance Coin: Market Sentiment
Like any financial instrument, we should understand markets are human-driven. As people are emotional creatures, sentiment analysis comes into the picture. The primary indicator to measure this quality in cryptocurrencies is the Crypto Fear & Greed Index (FGI).
This tool measures five key factors – namely volatility, volume, searches on Google, social media attitude, and market cap – to provide investors with a reading from 0 to 100.
Anything above 50 is seen as a greedy market, while anything below 50 is seen as a fearful market. Moreover, readings from 0-25 are considered as 'extreme fear,' while those from 75-10 are regarded as 'extreme greed.'
Presently, the index shows a score of 54, which is somewhat natural while leaning towards the greed side. When there's greed in the markets, it indicates an overvaluation and potential sell-off.
However, 54 is somewhat in the middle, meaning the sentiment isn't clear-cut. As the index is typically updated daily, sentiment can change at any time. The chart below shows the FGI readings over the past week (figure 1).
The rising of the index correlates with a close to 20% gain for BNB in the same period.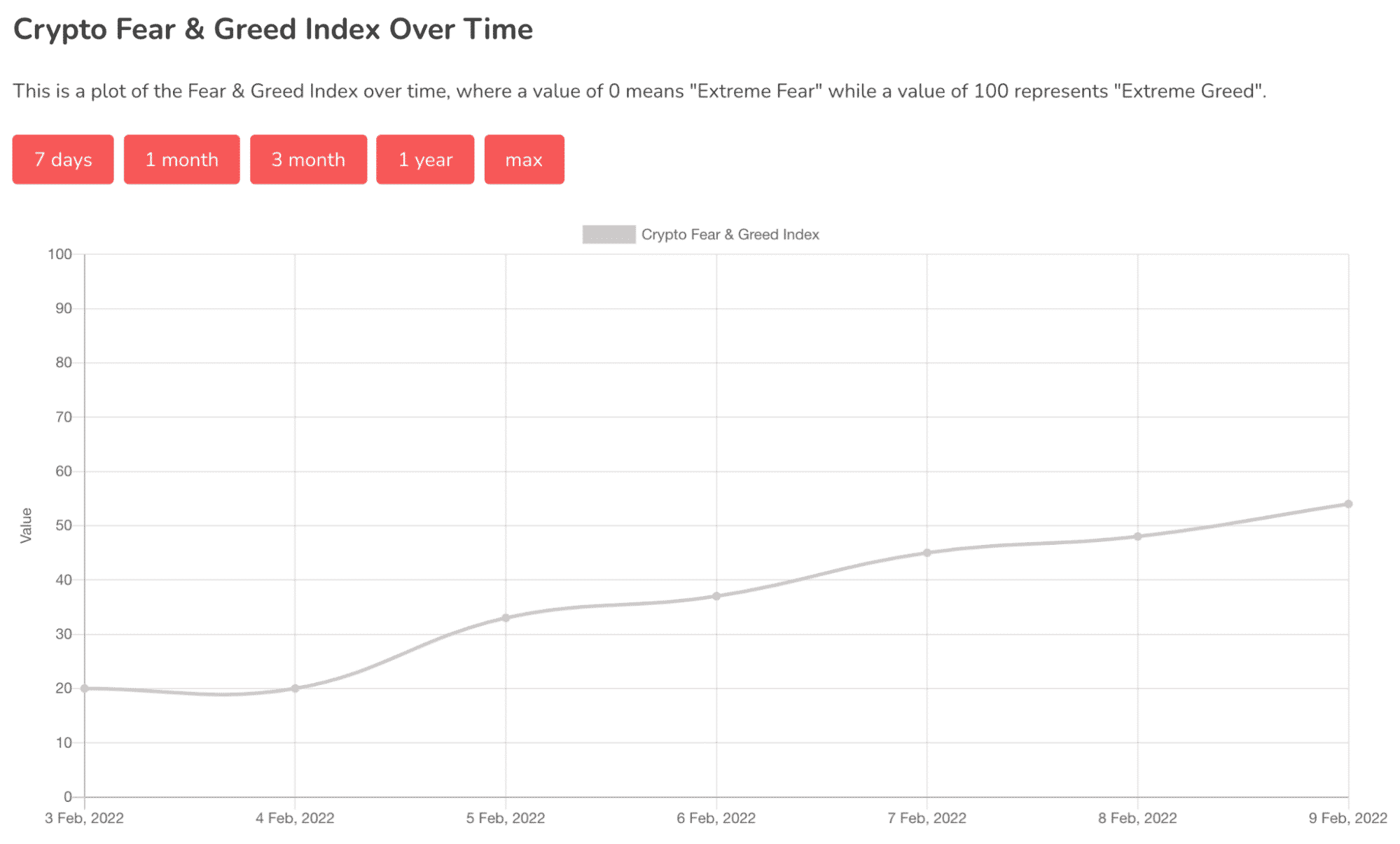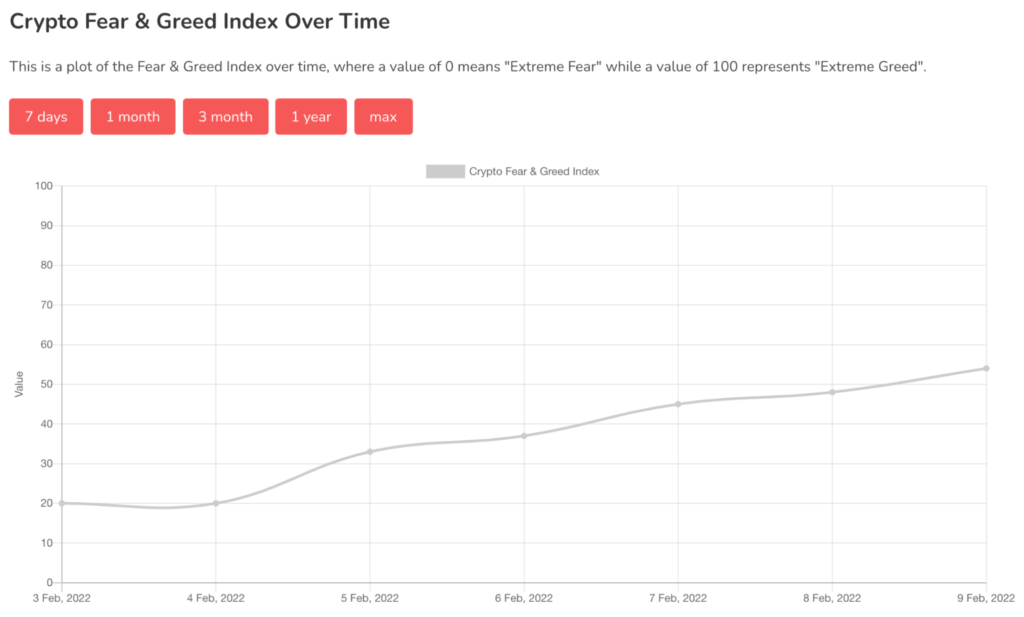 Because market sentiment appears to be mixed presently, let's see if the technical or fundamental analysis offers a similar outlook.
Technical analysis
Our technical analysis on the daily chart below, consisting of the 50-day (orange) and 200-day (blue) moving averages, shows the Binance Coin is in a downtrend (figure 2).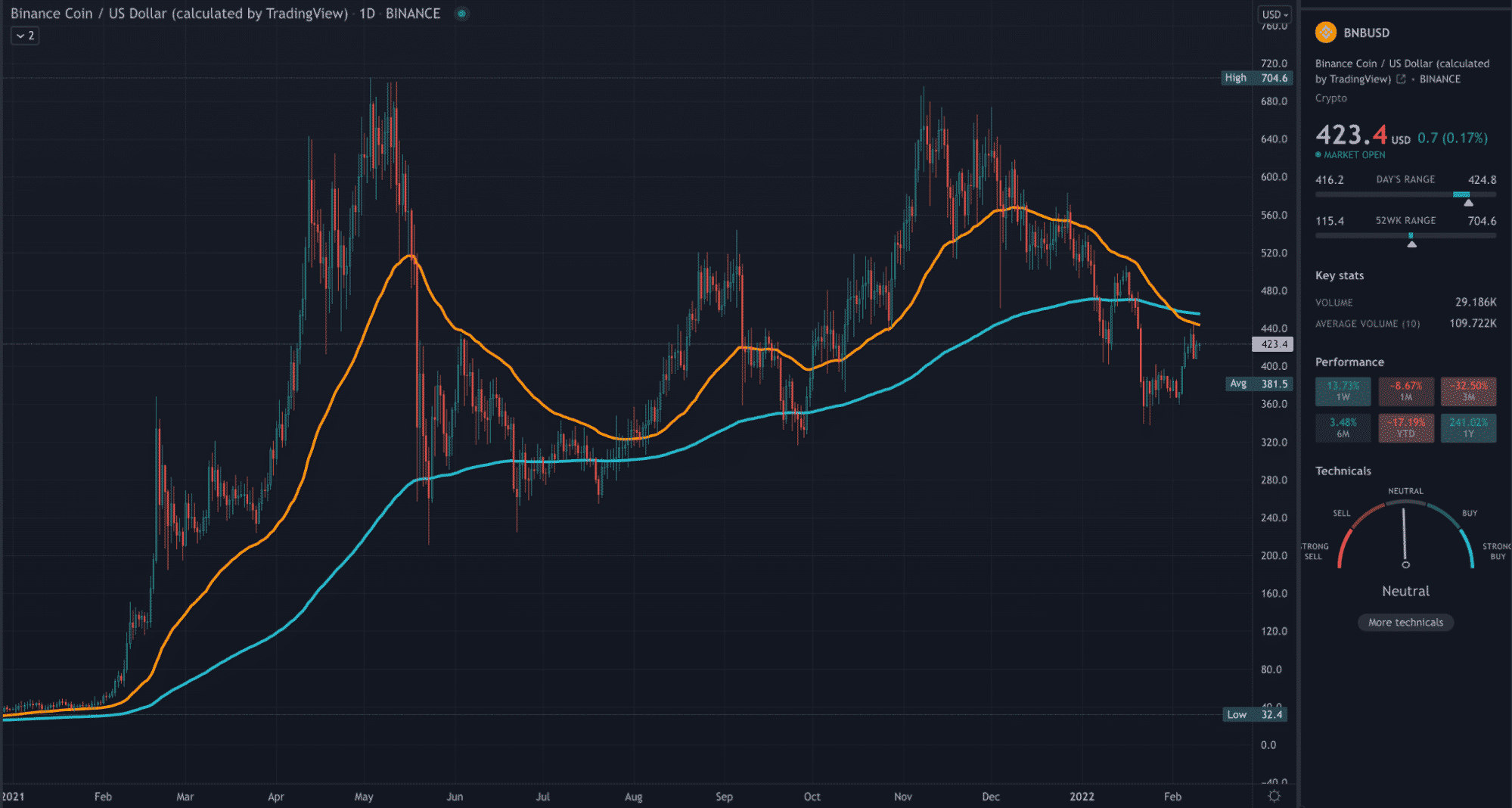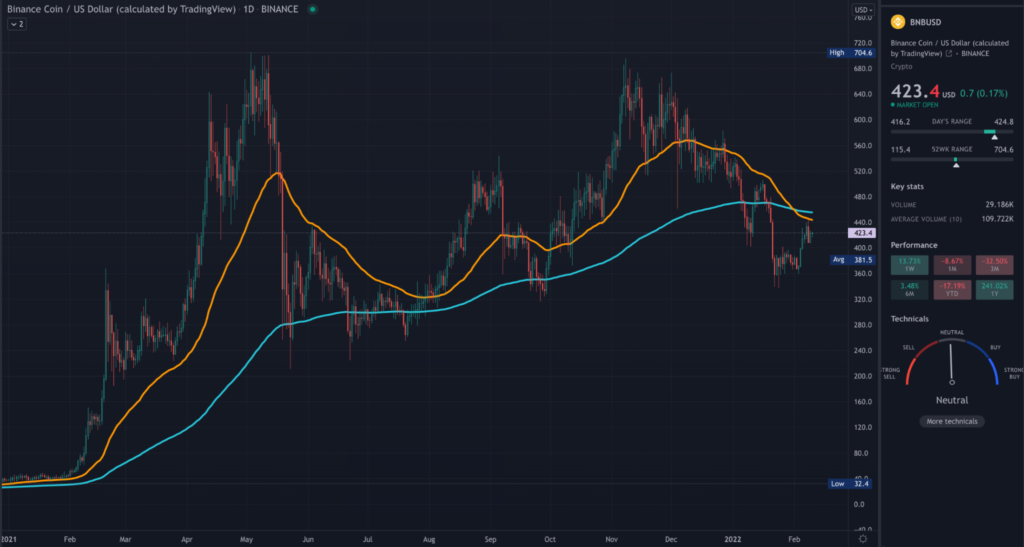 With this system, traders look for the 50 to cross above the 200 and the market to be upwards of both moving averages. It's clear as day that BNB is well below. Yet, the slope of the moving averages is still characteristic of a market poised to move upwards.
A buying opportunity may materialize if the price can get to around $490.
Fundamental analysis
The main concern surrounding Binance and the crypto market at large is regulation. As the biggest crypto exchange globally, Binance has been under the radar from a regulatory perspective.
Several countries like Japan, Germany, Italy, and Malaysia have attempted to restrict their citizens from using Binance. However, it's unclear yet what tighter regulatory controls will do for the entire industry.
Nonetheless, we should remember this utility token forms a massive part of the Binance Smart Chain, the third-most valuable blockchain.
BNB presently has a market cap of around $69 billion. Binance remains the largest exchange by trading volume by far, processing several billion in orders many times higher than its closest competitors (Coinbase, Kraken, FTX, etc.)
So, despite some minor short-term issues, there's little reason not to be bullish about BNB.
Coin Telegraph wrote an article a few weeks ago regarding competition from other blockchains and exchanges, a slowdown in daily transactions, and less total value locked.
These were some catalysts causing the price to fall about 33% in the last few weeks. However, the price seems to have recovered slightly, suggesting that Binance still has numerous positive future growth catalysts.
Binance Coin (BNB) Price Prediction: 2023-2025
For the past few years, $1000 has been the anticipated target for the Binance Coin. So far, the price has only reached just above $700, which occurred in May 2021. Let's explore what BNB's value could realistically be in 2023 and 2025.
2023 forecasts
Interestingly, three of the forecasting sites we frequently observe present ballpark estimates of around $800 for BNB by 2023. For instance, $746 is the minimum price forecasted by Digitalcoinprice, while the lowest from PricePrediction is $820.
Wallet Investor is the most ambitious of the lot, presenting prices from $712 to as high as $870 when that year begins (figure 3).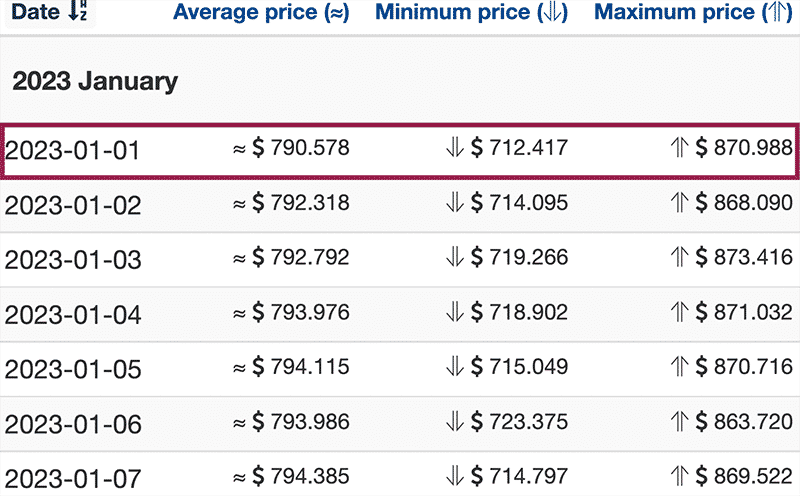 2025 forecasts
By 2025, it wouldn't be unreasonable to assume that BNB could be worth well over $1000. A CoinPricePredict survey presented an average price of $1430 Furthermore, most of the sites we inspected align with this sentiment.
$1702 is the lowest estimate from PricePrediction.net. Wallet Investor sees BNB being worth at least $1403, up to a high of around $1738 (figure 4).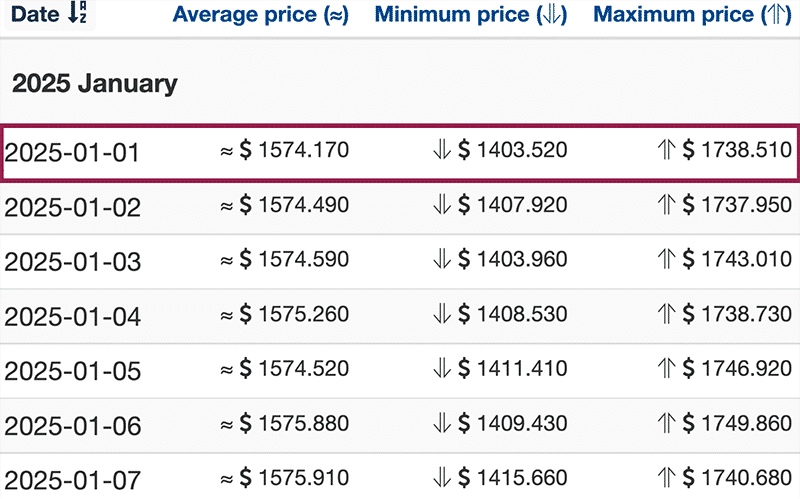 This represents gains in the 4X region from its current price, which wouldn't be a far stretch within three years.
Binance Coin Frequently Asked Questions (FAQs)
Is Binance Coin real?
Yes, the coin has existed since 2017 and remains the most traded exchange-based token.
What is the Binance Coin price today?
Presently, BNB is worth $426.
Will Binance Coin's price reach $1 000?
Yes, assuming the overall crypto market becomes bullish again.
Should I buy Binance Coin?
After Ethereum, it's still one of the safer bets for altcoins.
Where do I buy Binance Coin?
Aside from, of course, Binance, you can buy BNB from countless exchanges like
FTX
KuCoin
Binance.US
Gate.io
Huobi