Bitcoin: Market Sentiment
Any financial market consists of traders using a combination of technical and fundamental analysis. However, sentiment, which describes the collective attitude of market participants, is another avenue observed by analysts that can significantly affect price valuations.
With cryptocurrencies, this is no exception. In this regard, the most commonly utilized tool is the Crypto Fear & Greed Index. This indicator is highly influential in nearly all cryptocurrencies.
This index computes five key data points: volume, volatility (both of which have the strongest emphasis), social media, searches on Google Trends, and market cap dominance. The resulting figure ranges from 0 to 100.
Any number from 50 and below means the market is fearful, suggesting that prices may rise. Conversely, any reading from 50 and above indicates the market is greedy, implying a potential sell-off or correction.
Presently, the reading for Bitcoin is 20, meaning extreme fear, consequently implying higher prices may be on the cards. Below is a graph of the fear and greed index readings over the past month for BTC (figure 1).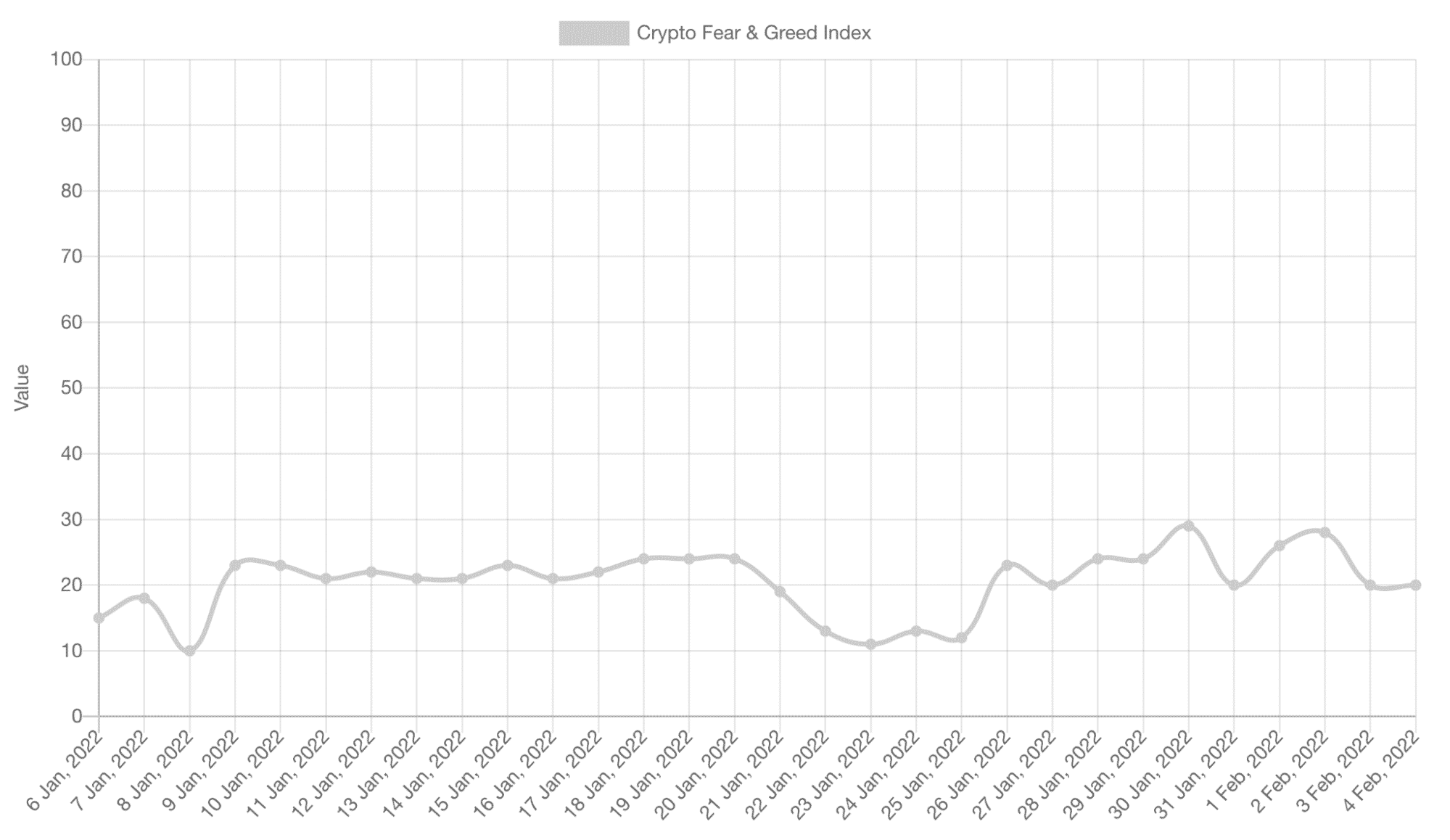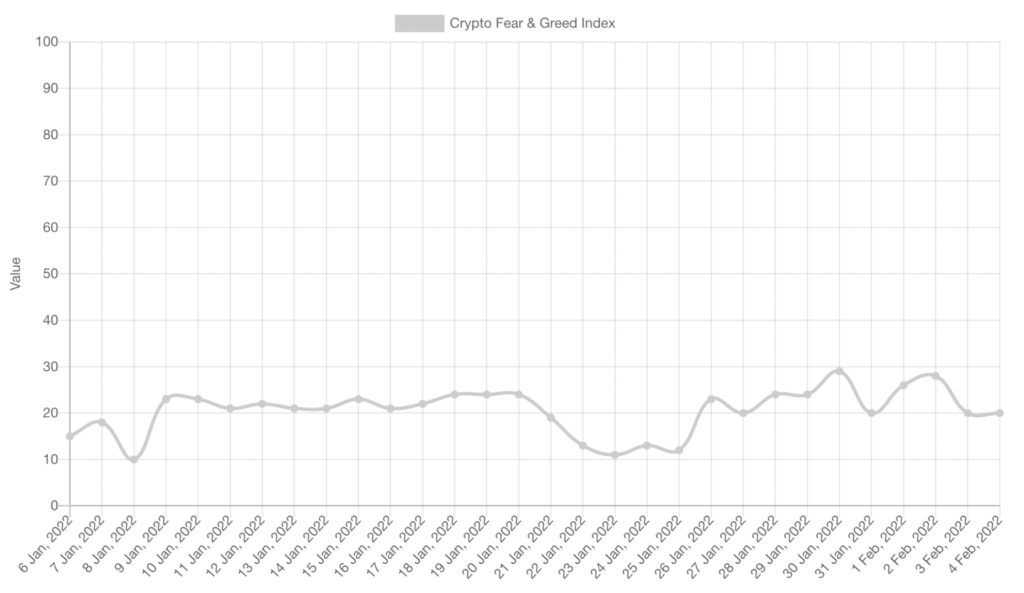 Technical analysis
Now that sentiment is out of the way, let's observe the technicals for Bitcoin using a simple moving average crossover system. The periods in question here are the 50 and 200-day applied to the daily chart of BTC (figure 2).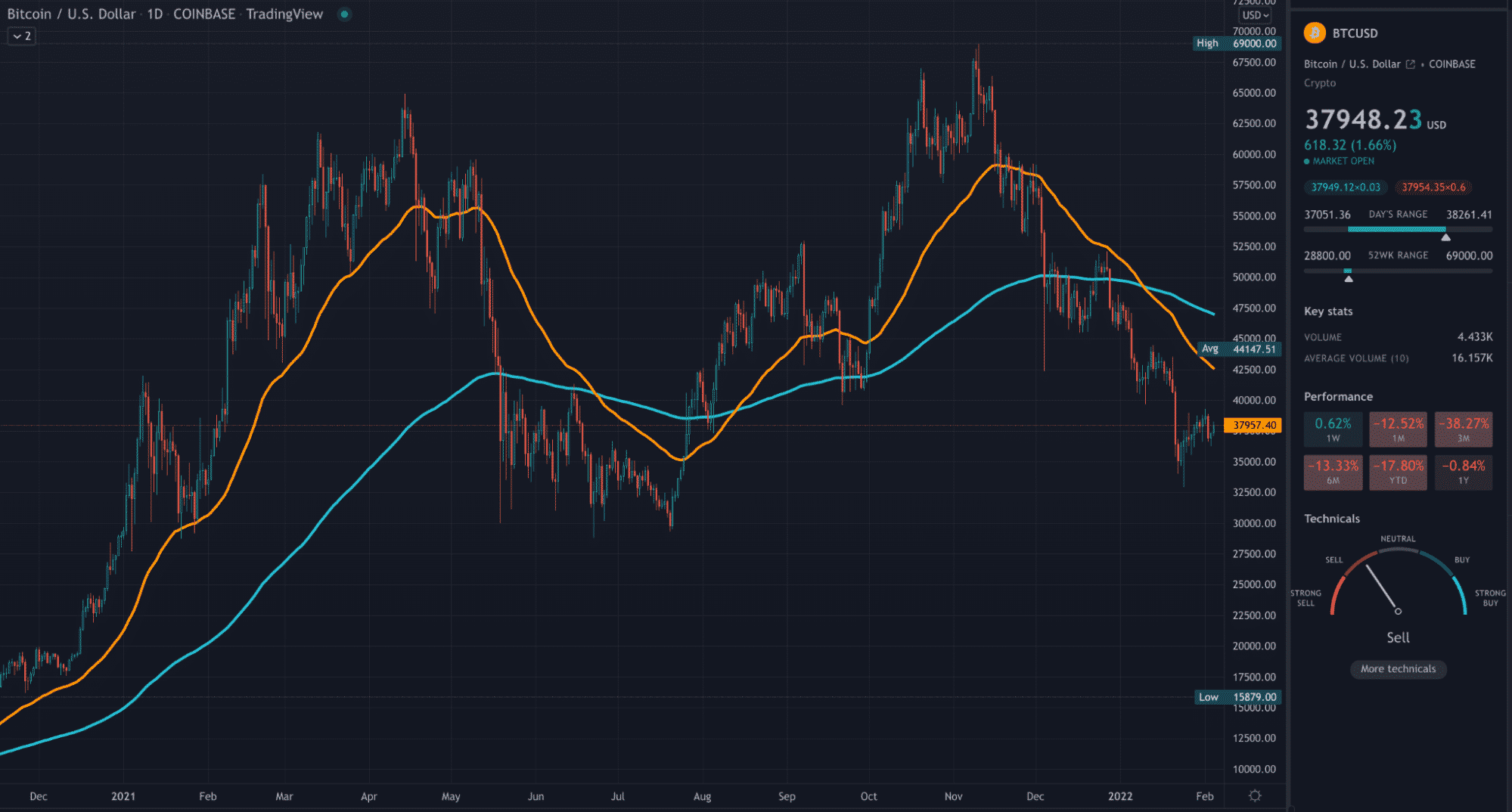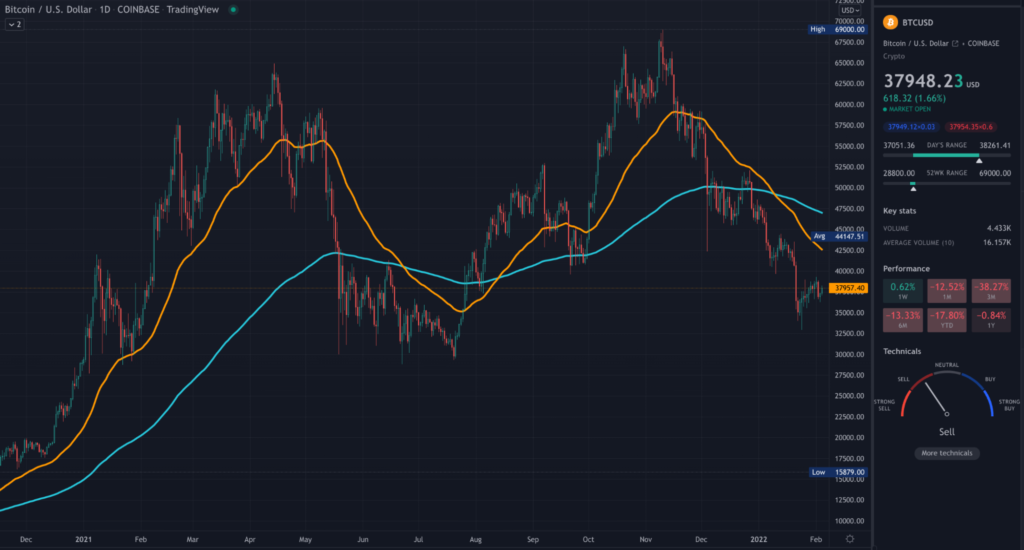 With this strategy, traders look for the 50 (in orange) to cross above the 200 and for the price to be trading above both averages. We can see that the market is well below the 50 and 200, a clear implication that BTC may continue being in a downtrend for some time.
Fundamental analysis
Although technical analysis for BTC presents a temporary downtrend, this project is still quite fundamentally sound.
Presently, one of the main news headlines concerning Bitcoin is MicroStrategy, an American NASDAQ-listed software corporation, buying 660 bitcoins worth about $25 million. Institutional demand has been ever-present in Bitcoin, and analysts anticipate this trend to continue.
Of course, there are many other fundamental factors to consider for any cryptocurrency. However, if we're looking for a snapshot, one of the many factors relates to the total supply of Bitcoin.
BTC was designed to be deflationary and scarce, and it's one of the most attractive qualities for any coin. The 21 million fixed limit theoretically increases BTC's value over time due to higher demand and lower supply.
The market cap for this project is well into the hundreds of billions (at one point, over $1 trillion), making it the more stable cryptocurrency. As the most used coin globally, the trading volume has remained at its usual highs.
Therefore, overall, we haven't discovered anything concerning from a fundamental perspective.
Bitcoin (BTC) Price Prediction: 2023-2025
Bitcoin price predictions in the next few years have been one of the favorite topics among crypto investors. It's not uncommon to hear figures ranging from $100k, $200k, or higher from bullish enthusiasts of the coin.
Let's look realistically at where the price of BTC could be by 2023 and 2025.
2023 forecasts
Many of the forecasting sites we observed show BTC should be worth around the $60k to $70k mark, not far off from its all-time high. For instance, Digitcalcoin suggests an average price of $59,717.
Wallet Investor has a more optimistic forecast at a maximum of $72,297 when 2023 begins (figure 3).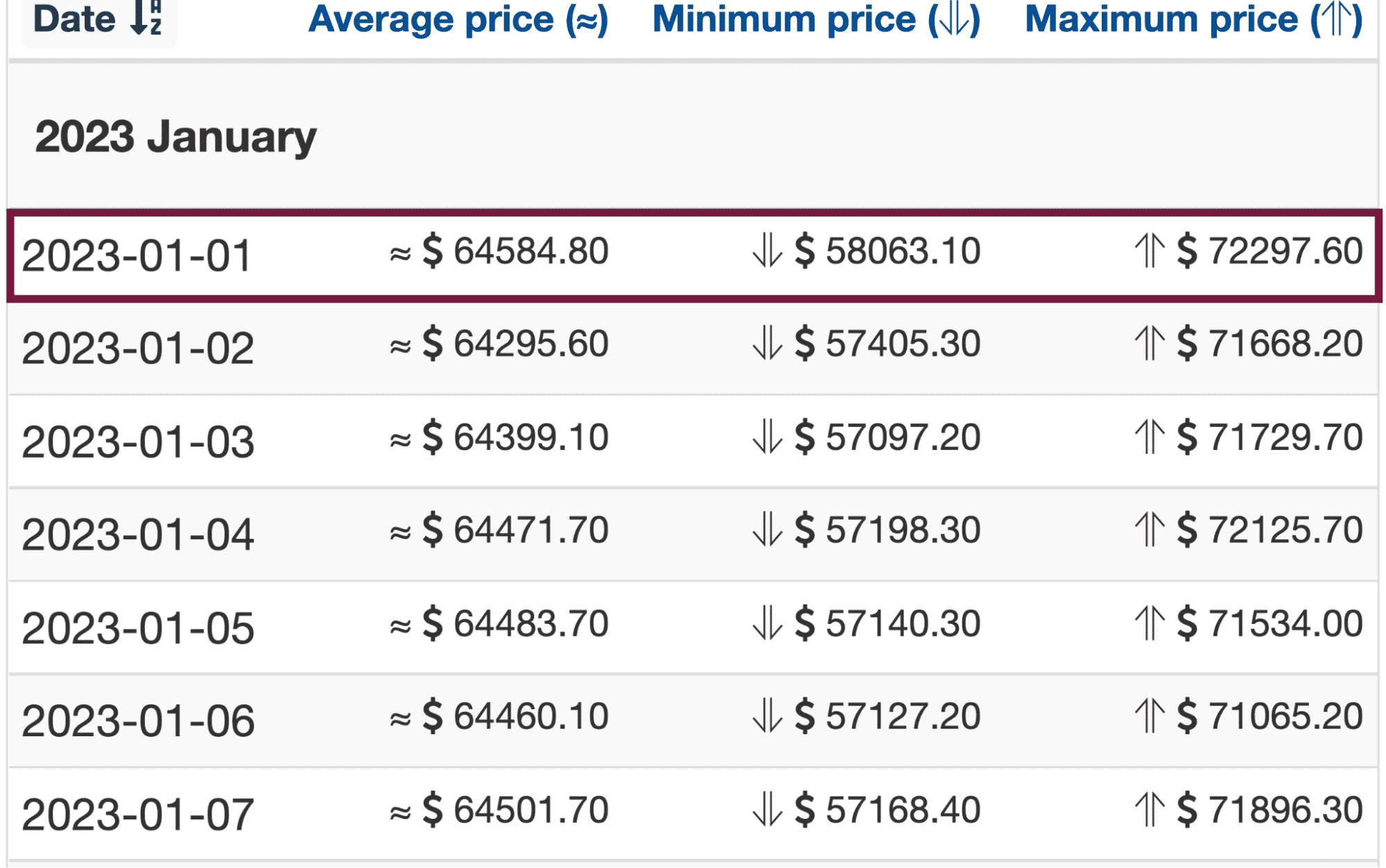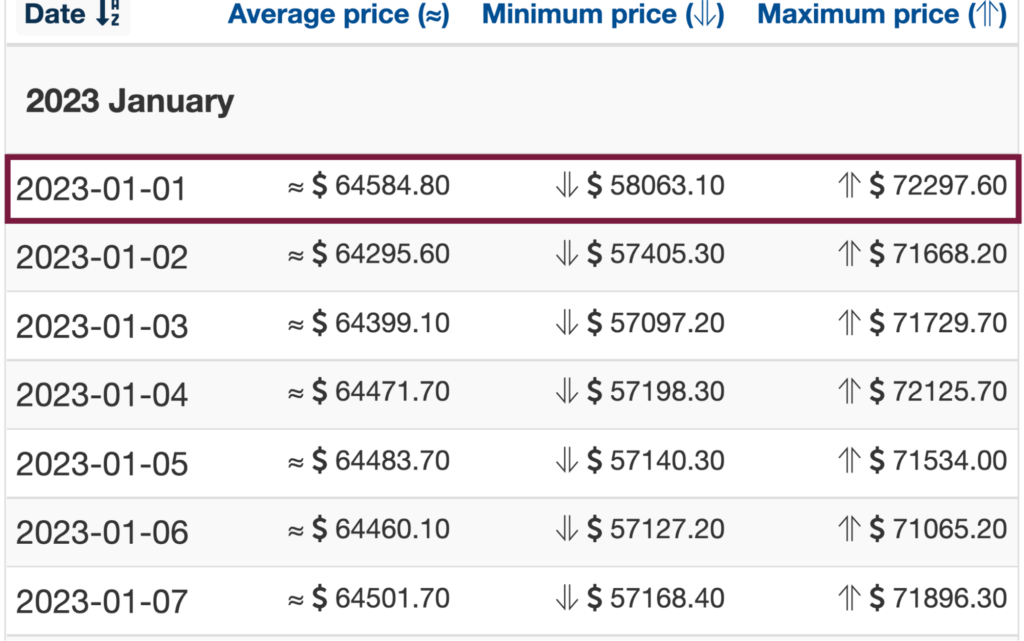 This would represent a gain close to 100%, lower than the 200% average annual return BTC has experienced since inception.
2025 forecasts
2025 might be the year when Bitcoin finally hits the six-figure mark. Digitcalcoinprice is on the low end, with a peak valuation of $82,238. CoinPricePredict polled its users, and the BTC price prediction for 2025 averaged $116,643. 
Wallet Investor presents the most optimistic prediction of $132,634 for the start of 2025 (figure 4).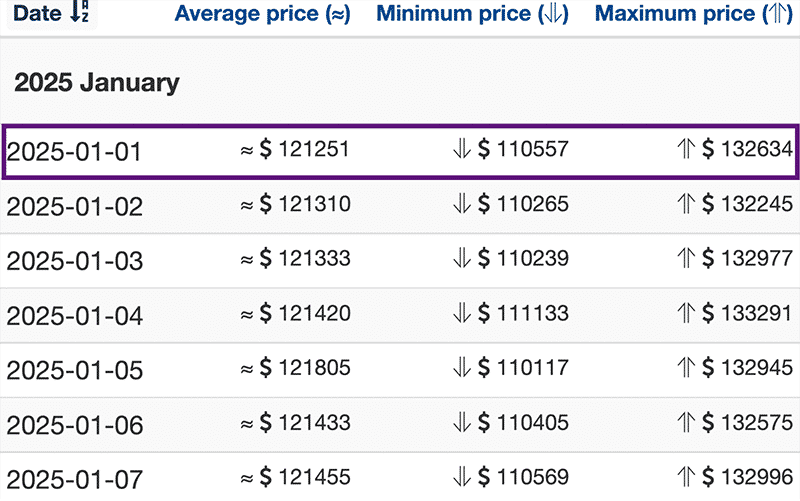 Overall, these are only forecasts and cannot accurately predict future values of Bitcoin; only time will tell.
Bitcoin Frequently Asked Questions (FAQs)
Is Bitcoin real?
Absolutely, Bitcoin is the largest-capped cryptocurrency globally and has been since 2009.
What is the Bitcoin price today?
Presently, the price is worth $37,900.
Will Bitcoin price reach $100,000?
If the crypto market performs well over time, $100,000 is certainly possible.
Should I buy Bitcoin?
Bitcoin is usually considered the safest long-term bet compared to altcoins. Thus, it forms part of the portfolios of virtually every crypto investor. Yet, it's unlikely to produce the incredible returns of other more undervalued coins in the near term.
Where do I buy Bitcoin?
As the world's most popular cryptocurrency, you can buy Bitcoin from several financial trading services, most notably exchanges. In this regard, many names like Binance, Coinbase, FTX, and countless others come to mind.