CFD trading has become the most preferred tool for private traders in most countries around the world over the last two decades. It was originally invented in London for institutional purposes in the '90s, but it switched into the simple-to-use product quickly. A CFD is an agreement between a CFD broker and a client to exchange at the close of a contract, the difference between the opening and closing price of the underlying instrument.
Now, you can choose any of the two different ways of trading CFDs, such as normal CFD trading, and single currency CFD trading.
The difference of Two Ways of CFD Trading
Normal CFD Trading – When traders open trading accounts, they let their broker know about their preferred base account currency. For example, if a trader is European, he/she is most likely to have a Euro account. Similarly, traders from other places will probably select their national currency to be their base account currency.
After starting to trade, traders must nominate their stake in the currencies of the other countries if they want to trade products from those places. For example, if a trader trades the DAX index, his/her stake size is to be denominated in Euros.
Similarly, if someone trades in the Dow index, his/her stake is to be in US dollars. If you are trading the currency Dollar Yen, you have to nominate your stake in Yen. After the trade, the closed, the profit or loss you make are converted back into the base currency. This is what a normal CFD trading is. The alternative to normal CFD trading is known as single currency CFD trading which is a smarter and cheaper way of trading.
What Is The Difference?
Single Currency CFD Trading – The difference between the normal CFD account and the single currency CFD account is that the traders always need to nominate their stake size in their base account currency, regardless of what they are trading. Keep in mind that you always trade for points, and it is essential to make as many points as you can possibly make in trading. There is no difference in single currency CFDs from this perspective, but it allows the traders to use their local currency for nominating their stake size.
For example, assume that a trader lives in Europe with an account currency set in Euros, and he/she wants to trade the Dow Jones Index. Now, in normal CFD trading, what the traders need to do is placing the stake size in US Dollar per point. When the trade closes, his/her profit or loss would convert back into Euros. However, in single currency CFD trading, the trader can place his/her stake size in Euros per point.
There are many advantages to this, such as:
You can understand your risk very easily when you are aware of your risk per point in your local currency instead of foreign currency. There is no need to calculate how much a dollar is in Euros before placing your trade.
When you trade in your local currency, you can completely avoid trading a product in a currency you are unfamiliar with. Therefore, such a situation will never arise where you risk too much or too little.
While you will be charged by a little percentage fee by all brokers to convert your profit or loss back to the base account currency, you will not have to worry about it with single currency CFDs because there is no need for conversion at all.
Example of The Difference
You can understand better why single currency CFDs are better and easier from an example. Look at the trading tickets for Dollar Yen below. The one to the left is a normal CFD trading ticket. The one to the right is the same trading ticket but it is using a single currency CFD.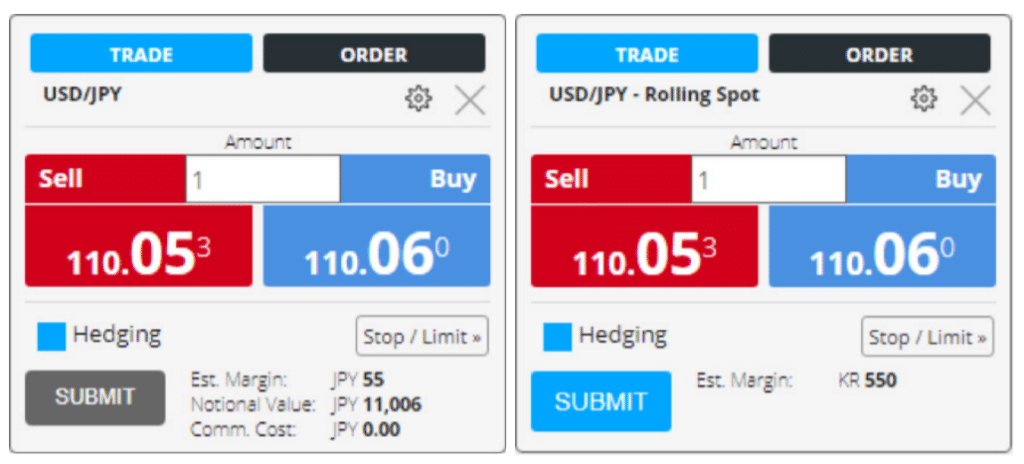 The stake size is in Yen on the trading ticket on the left side. So, you need to figure out how much you would risk per point movement, but the problem here is that every point is in Yen. You have to know how much Yen is worth of your local currency. To know this, you can Google the exchange rate between Yen and your local currency. By doing this, you can ensure that you are not trading too big or too small per point.
This process seems so complicated while you can easily switch to a much easier solution. By choosing single currency CFD trading, you can select to trade your local currency stake size simply. You can know the exact value of each point and the point movement in Dollar Yen is the same, regardless of what account you choose to trade; a normal CFD account or a single currency CFD account. Moreover, you do not have to worry about the broker charging your fees for converting your profit or loss in Yen back to your local currency.
Most Traded Products
Before you start, you need to have a clear insight into the world of CFD trading, as well as the most traded products. It is often said that forex trading is the most heavily traded product worldwide, but it is not the same when it comes to CFD trading. After researching in the market and talking to the top global CFD companies, it can be said that the most traded products are –
Dow Jones Index – US Dollars
DAX Index – Euros
Euro Dollar – US Dollars
Euro Yen – Japanese Yen
FTSE 100 Index – Sterling Pound
Next to the top five most traded products in CFD trading, you can see what currency they are traded in. Keep in mind that you can trade all these products in a single currency CFD account without worrying about your stake size is in a foreign currency.
From the differences and examples discussed above, you can see the benefit of single currency CFD trading. It makes trading a lot easier, and it is also much more cost-effective than normal CFD trading.