Disclaimer: The information provided here does not constitute any form of financial advice. Readers are fully responsible for conducting their due diligence before making any investment decisions.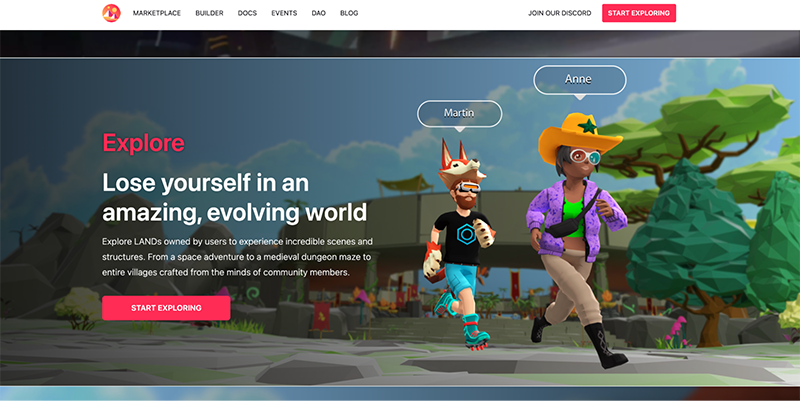 Decentraland: Market Sentiment
In this regard, we can use two tools, the one from Bitts Analytics and the Crypto Fear & Greed Index (FGI). The former indicator uses machine learning to look at social media posts mentioning Decentraland over a certain number of hours.
The general idea is an increase in the number of people searching for Decentraland equals bullishness and vice versa. On the right corner of the chart below, we can see the hourly volume for this project has dropped.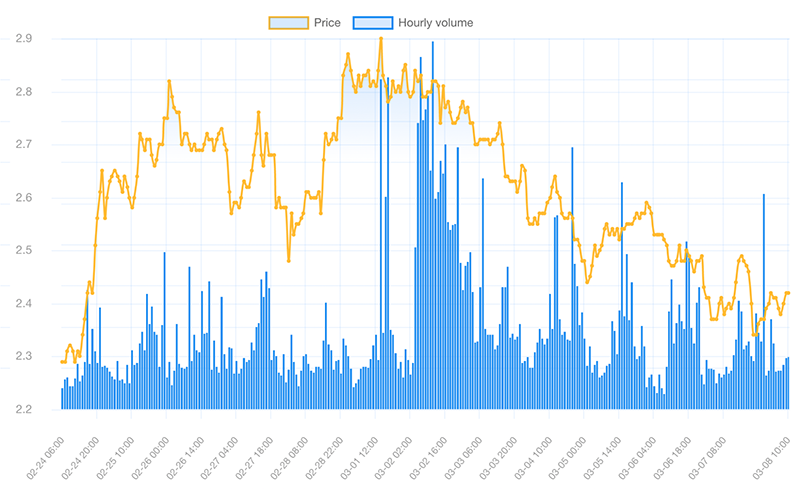 The price has more or less been following the same trajectory. For a more comprehensive sentiment analysis of the general crypto market, we'll now look at the latest reading from the FGI presented by Alternative.me.
The current reading is 21, indicating 'extreme fear' (see below).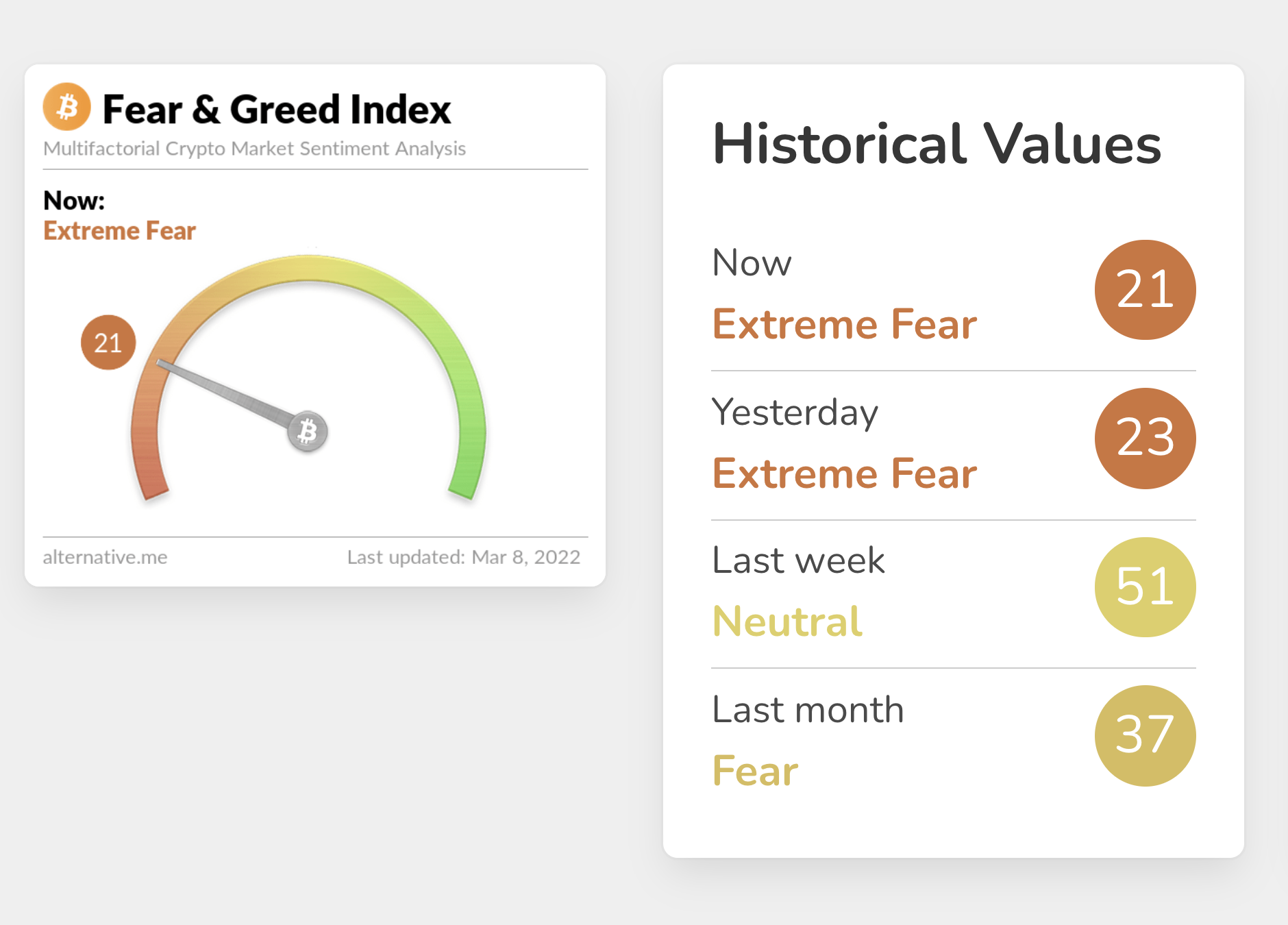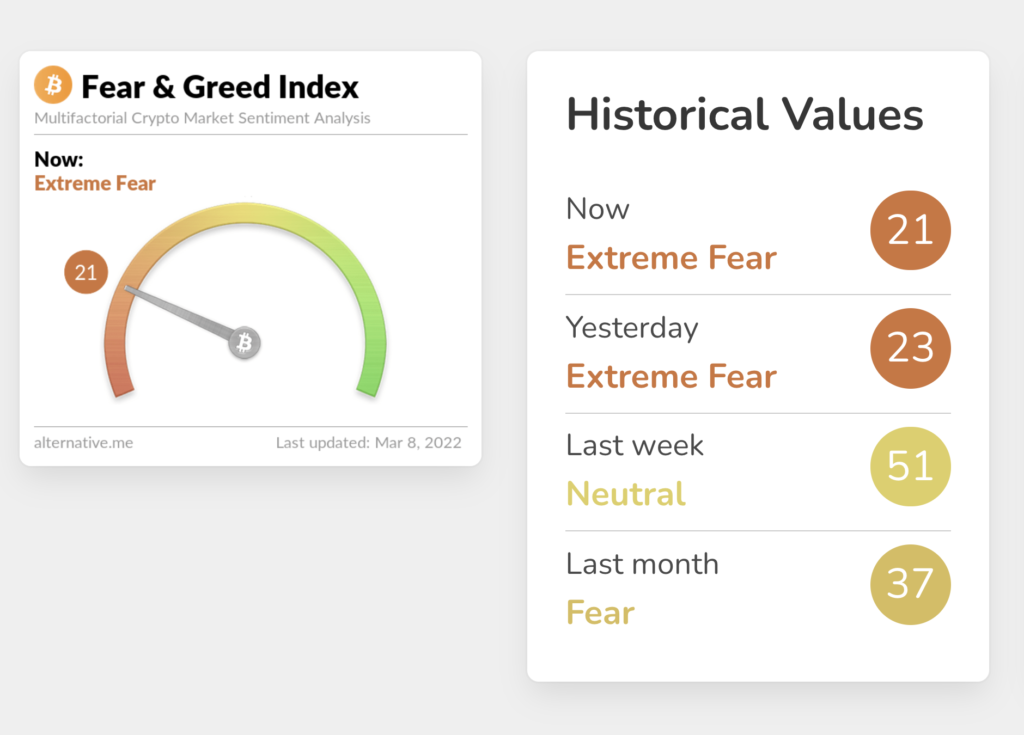 This generally means buying opportunities should be on the cards. However, let's explore the technicals and see whether they align with this sentiment.
Technical analysis
Our technical analysis doesn't present any buying opportunity yet, and we have applied the 50-day (orange) and 200-day (blue) moving averages to confirm this on the chart below.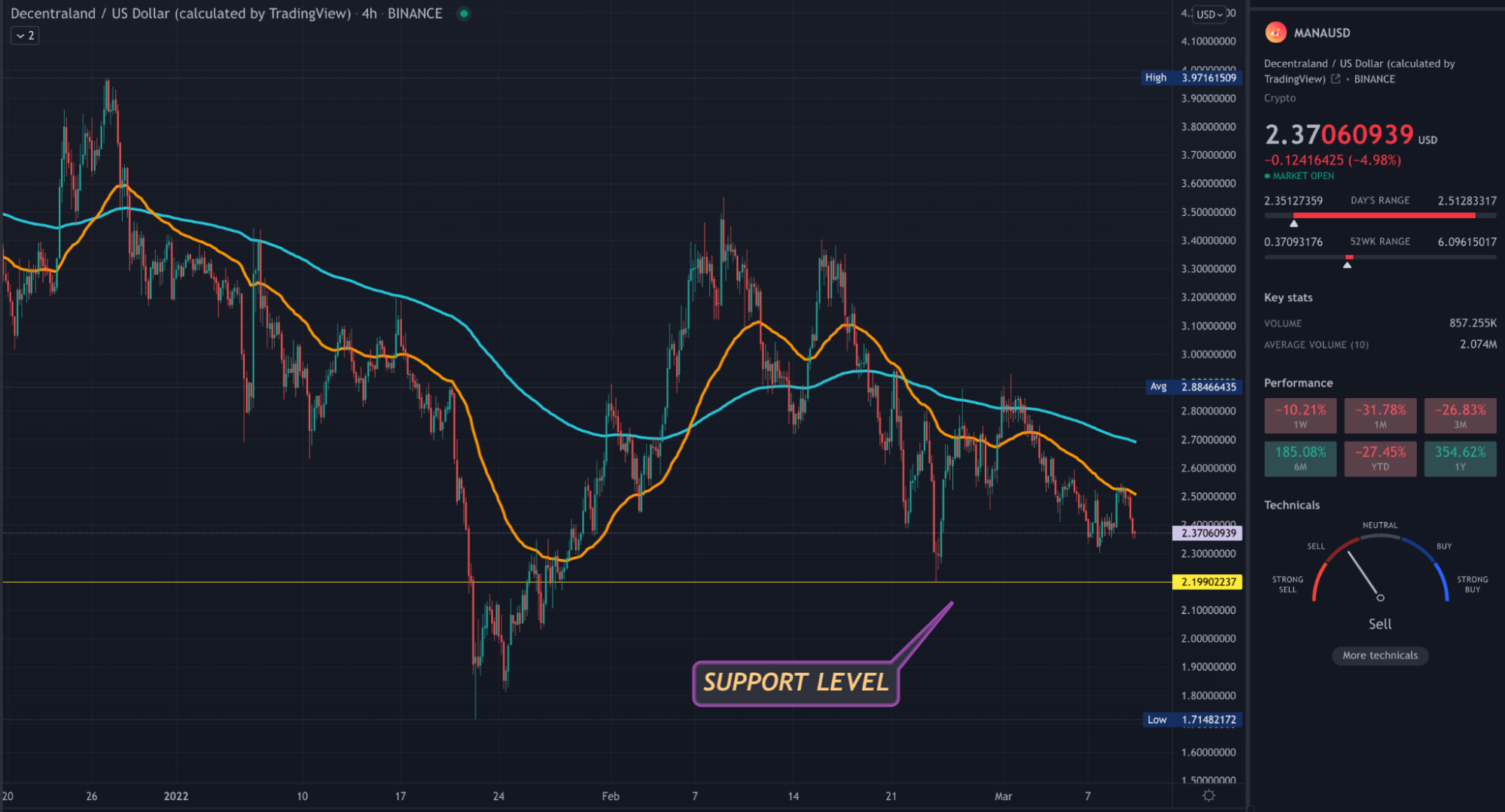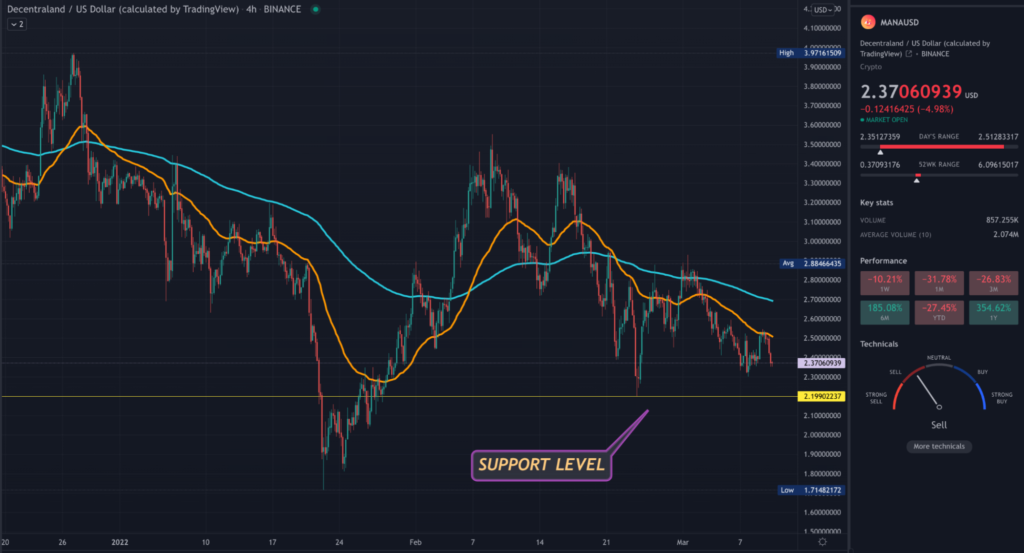 We can see that the price is below the MAs. Plus, the slope of the moving averages is characteristic of a downtrend, meaning we should expect lower prices in the interim.
Traders will view the support area at $2.19 as an area of interest over the next few days or weeks. It will be interesting to see what will happen should the market reach this level.
Alternatively, prices may instead rise, at which point the moving averages may show something different.
Fundamental analysis
As with any cryptocurrency project, Decentraland does face some stiff competition from the likes of Facebook and The Sandbox. Some experts suggest MANA may be overvalued as much of the hype it experienced in the last few months is starting to dye down.
Fortunately, there hasn't been any negative news surrounding this project that we observed. However, Decentraland is still based on some positive fundamentals:
It currently leads the metaverse token market with a market cap of about $4.3 billion (according to CoinMarketCap) and has done so for some time. Projects in this market cap range are considered medium risk. Yet, they can outperform the more established coins by growth.
Decentraland adds scarcity in two ways. Firstly, only a certain number of land parcels exist (90,000). Secondly, the project has a total supply of about 2.1 billion, with 84% or roughly 1.83 billion in circulation.
The developers have conducted numerous 'burns' to reduce the number of tokens to make MANA less inflationary.
Since Facebook changed its parent company name to Meta in late October 2021, more large brands and institutional investors have jumped on the bandwagon, providing substantial economic value.
The concept of a metaverse has been heavily explored and touted as the next generation of the internet.
We have seen land sales of astronomical amounts on Decentraland as NFTs (non-fungible tokens), and there seems to be somewhat of a movement in 'digital real estate.' However, only time will tell whether this trend will continue.
Decentraland (MANA) Price Prediction: 2023-2025
Let's explore 2023 and 2025 price predictions for MANA.
2023 forecasts
The average estimate we calculated from several prediction sites was $4.56 as a realistic price for 2023. So, these expert resources see MANA increasing by roughly 2X or 100%, which is a fair approximation.
For instance, PricePrediction.net presented a minimum value of $4.79; Gov Capital pegs between $3.46 and $4.68. Wallet Investor is slightly more optimistic at a minimum of $4.25 up to a maximum of $5.25.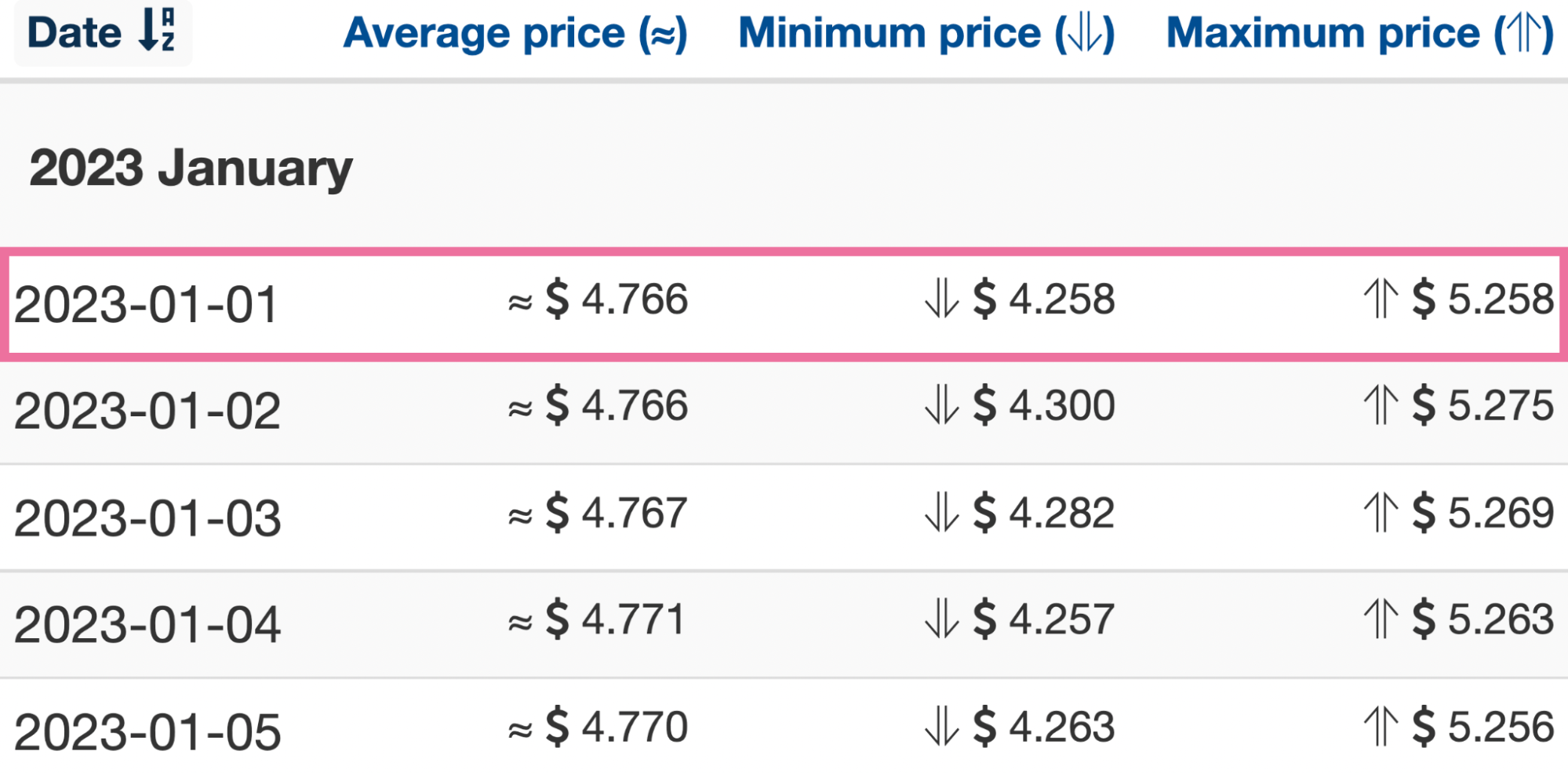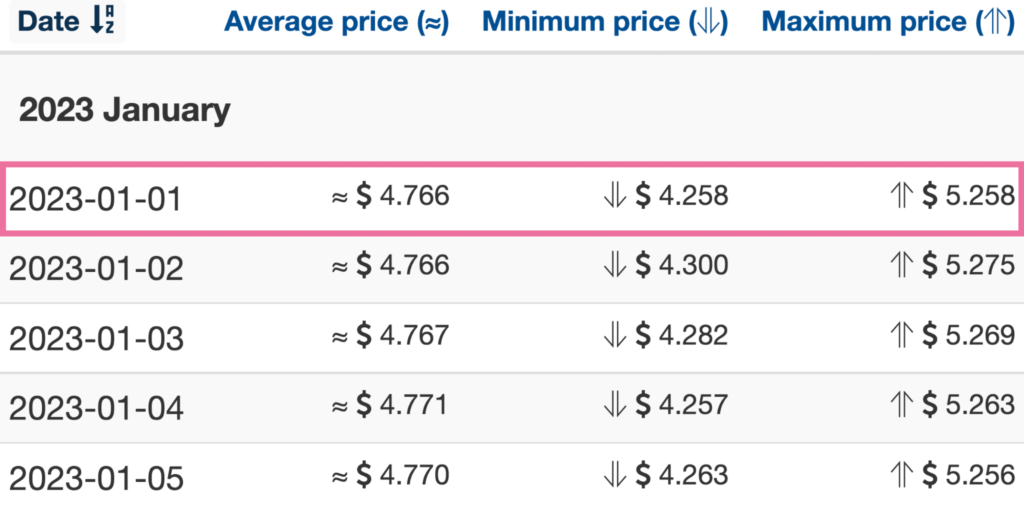 2025 forecasts
This time, the average we derived from various forecasting resources was $9.79. PricePrediction.net offered a minimum price of $10.22; Gov Capital approximates $7.58 to $10.26.
Again, Wallet Investor is slightly on the high end, with evaluations from $8.79 to $11.37 when 2025 begins.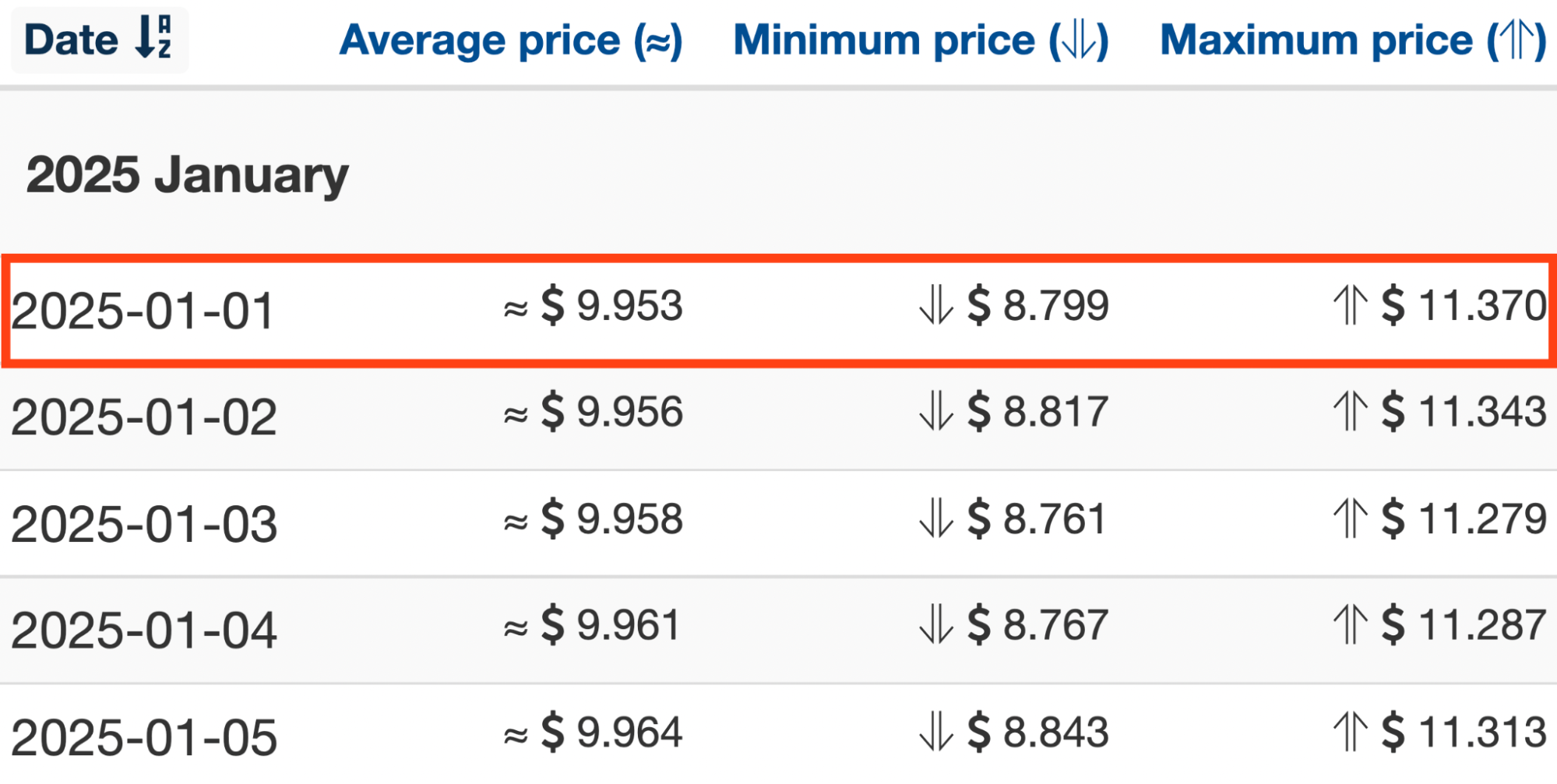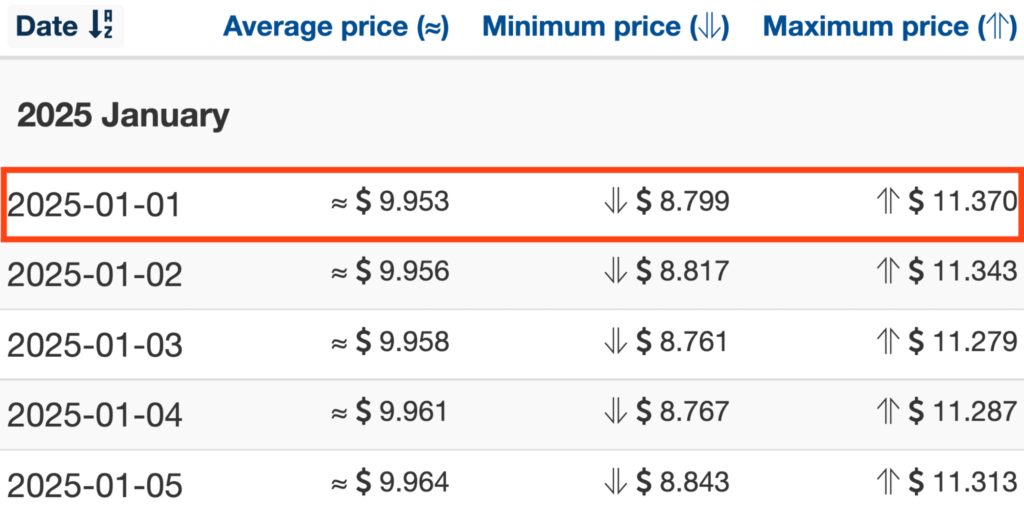 Overall, we feel these figures are relatively conservative if the overall crypto market goes into a bull phase.
Decentraland Frequently Asked Questions (FAQs)
Is Decentraland real?
Yes, it has existed for several years and is the leading metaverse-based platform in cryptocurrencies.
What is the Decentraland price today?
Presently, MANA is valued at $2.38.
Will Decentraland's price reach $10?
With growing adoption over time, $10 is certainly possible and not so much of a far stretch.
Should I buy Decentraland?
Like any cryptocurrency, Decentraland remains a risky bet, despite presenting some evidence that it might be a good buy.
Where do I buy MANA?
You can purchase MANA from numerous well-known exchanges like Coinbase, Binance, Bybit, Huobi, KuCoin, Gate.io, FTX, etc.