The devs of FX Profit Pips purport to help traders increase their returns on the Forex and commodities market. So far, they have only experienced 1 losing week over the last 2 years. We find this said performance to be unrealistic and misleading. As you read this review, you will realize that the team doesn't provide credible evidence to prove their assertions. Therefore, you should not trust everything they say.
Is FX Profit Pips a reliable service provider?
FX Profit Pips is not fully transparent about the identity of its team. The only clear thing is that the members are 56 in total and composed of ex-bankers and industry traders, working in 11 major countries. For a majority of traders, it is not worth taking a chance on signals from people who do not have real credentials.
If you subscribe to this company's services, you will get:
Trading signals through WhatsApp alerts, daily SMS, or email directly to your mobile phone.
Access to signals that cover up to 12 major pairs and 4 commodity pairs.
Customer support.
Signal updates.
A user manual.
The professionals fail to indicate the trading strategy they apply. They do not say what criteria they use to determine which signals will bring you favorable returns and which ones will not. What is clear, though, is that the devs are low-effort signal providers as they only give you the entry price and the SL/TP. For this reason, they should be ignored. You need to be aware of how your signals will work.
How to start trading with FX Profit Pips
FX Profit Pips is a price-friendly service. The signals cost between $10 and $50. You can get signals for gold if you purchase the standard or premium pack. The most expensive option offers some unique features such as a personal manager and minute-to-minute updates, which are not available in the other plans.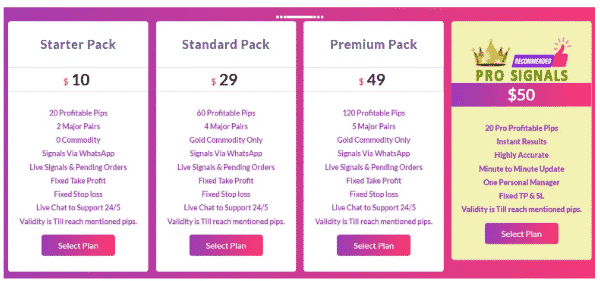 The vendor uses a 3-step process to distribute the signals. In the first stage, a group of 6 senior Forex analysts will send signals to the FX Profit Pips admin group. In the second step, the admin group, which consists of 12 members, will split and send the signals to the client support team (CST). Lastly, this team will send you the signals immediately.
The settings traders are supposed to use while trading with the signals are not specified. There are no recommendations for the minimum deposit, leverage, or timeframe to apply.
FX Profit Pips backtests
The vendor has not provided backtest results that prove that the efficiency of the strategy used to identify profitable signals was tested in the past. So, we are left with no choice but to conclude that no testing was done. In this regard, it would be risky to trust the services since we do not know their track record.
Trading results
Live trading results are missing as well. However, we are shown the supposed performance of the signals throughout the years the company has been active in the market. The outcomes displayed are very impressive and look too good to be true. We are told that the currency pairs traded using the signals were very successful as they attained 200+ pips monthly from January 2021 to September 2021. However, this data is not verified by a third-party site like FXBlue or Myfxbook.com. So, it is not trustworthy.


Other notes
If you want to get in touch with the FX Profit Pips team, you can fill up the "contact us" form on its page. The company's email address is [email protected].
People feedback
There are 4 customer reviews on the official website. As expected, the clients are singing praises of the company. It should be noted that FX Profit Pips claims to have helped thousands of investors to trade successfully. Then, they should have included more reviews, including the negative ones on their site so as to reduce bias. We should also be able to find more reviews on sites like Trustpilot and FPA. Since such feedback is lacking, we are led to conclude that the team is just lying to us about the clients' satisfaction.
Summary
Advantages
Cheap pricing
Customer support is available
Disadvantages
Vendor transparency is seriously lacking
No backtest data
Live trading data provided is not reliable
The strategy used is not highlighted
Clearly, FX Profit Pips is not trustworthy since it has a lot to hide. The devs do not share their credentials, backtest data, the strategy, and verified trading data. Furthermore, there is no reliable customer feedback that can confirm the alleged high accuracy rate of the signals. In our opinion, you should never invest your money in a vendor whose trustworthiness is in doubt.