FX PROfit is alleged to be a powerful Forex trading analysis tool that offers subscribers real-time buy/sell trading signals to assist them attain great results in Forex. The signals usually integrate information about the best way and time to trade as well as the currency pair to use. The vendor also emphasizes that these services are accurate and profitable.
Is it wise to invest in FX PROfit Signals?
Let's look at the services the company offers:
Provides 5-7 short term signals through the VIP channel. It also posts 1-2 free signals daily on this platform.
Sends signals to clients through Telegram messenger and Email notifications.
Offers free training courses and videos.
Provides access to its free services, including competitions, current promos, trading, and news.
Traders are advised to use the XM brokerage.
The analysts post signals when there is a trading opportunity from 8am until 5pm (UK and US sessions) at GMT+2 or GMT+3.
Offers 24/7 customer support.
The team advises traders to begin trading with $10 or more on a standard account or $1,000 on a mini-account.
The team behind the services is said to be composed of professional traders and analysts with more than 10-years experience. There is no evidence to corroborate this though. Notably, we are more interested in knowing their names and comprehensive profiles in order to decide if they are worthy of trust or not.
When it comes to the strategy used, the claim is that the company's experienced traders apply a variety of manual trading methodologies to the markets. Guided by technical indicators, they assess the market and then identify buy/sell signals with entry point, stop loss and possible targets. Clearly, this strategy description is not detailed enough.
How to start trading with FX PROfit Signals
FX PROfit Signals offers 4 different packages for its VIP channel. To receive signals for a month, you have to pay €45. The 3-months pack is €90, whereas the 6-months one is €140. The fourth plan is the most expensive and costs €210. It allows you to receive signals for 12 consecutive months. The devs claim that these packs can deliver 1000-2000 pips on a monthly basis. This is a very ambitious goal and one that makes us doubt the authenticity of the service.
To start accessing the company's trading signals, you are required to follow a 4-step process:
Choose the plan that works well for you.
Complete your purchase utilizing a safe payment method.
Receive a welcome email with the link to join its paid channel in Telegram.
Earn profit from the signals.
FX PROfit Signals backtests
There is no information on the website that proves this company backtested its strategy. This is a big drawback as traders cannot verify if the signals are indeed accurate or gauge the risks they expose accounts to.
Trading results
The team shares the trading results of their VIP Signals. They have posted several images depicting the performance of the services over the years. Our concern is that the data is unverifiable. The image below paints a picture of a very successful provider. All the signals provided supposedly brought in profits. Then, why is the vendor afraid of opening an account with a trusted site like Myfxbook.com? The fact that they don't could mean that they have just manufactured this data to suit their marketing needs.


Other notes
FX PROfit Signals has a platinum channel as well. This platform is used to provide long-term signals, which they call Platinum signals. They reiterate that this model of trading generates large profits and reduces losses drastically through risk management.
People feedback
People are dissatisfied with this service provider. They have expressed this discontentment by giving the team a 1.198 score on FPA. One trader reveals that the signals supplied are ineffective, and the devs never post losing trades on their platform. This is meant to mislead customers into thinking that their service is lucrative. The other one confirms what we suspected: their signals are not as precise as alleged.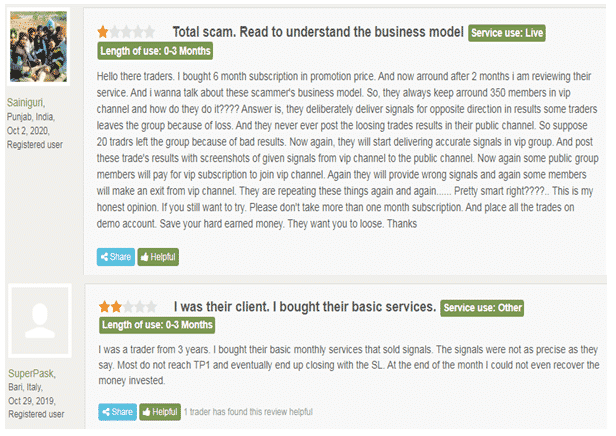 Summary
Advantages
Disadvantages
Negative customer feedback
Vendor transparency is wanting
Lack of past and verified live trading data
Supplies unprofitable signals
We cannot downplay the downsides of FX PROfit Signals. We have found out that professionals' services are not lucrative and accurate. They also do not share reliable data that we can use to gauge the real profitability and risks associated with the signals. Investing in FX PROfit Signals would thus be an unwise thing to do.