Disclaimer: The information provided here does not constitute any form of financial advice. Readers are fully responsible for conducting their due diligence before making any investment decisions.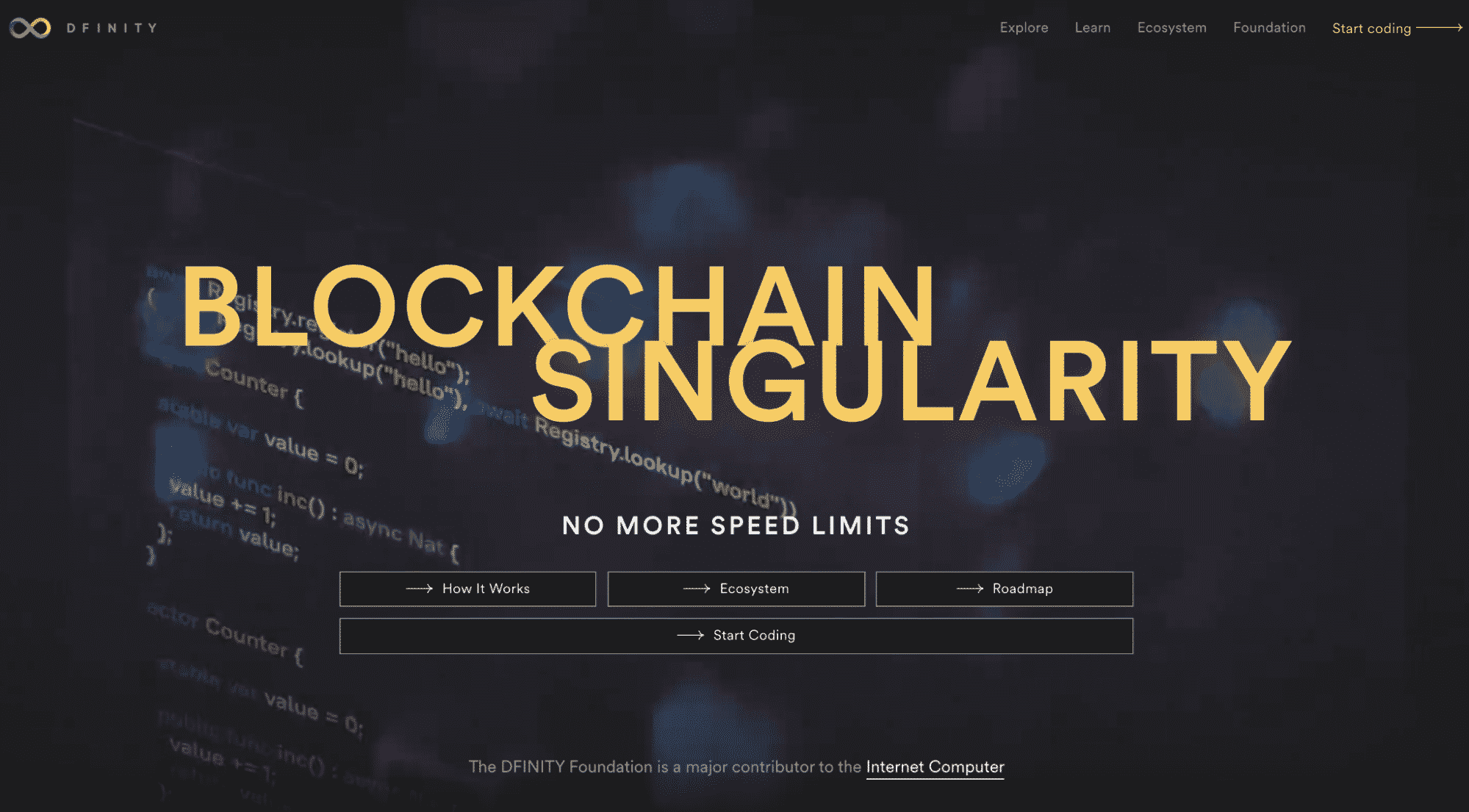 Internet Computer: Market sentiment
Here, we'll look at the social media volume for Internet Computer (from LunarCrush) and the Crypto Fear & Greed Index (from Alternative.me), the latter of which provides the overall sentiment in the crypto markets.
There's generally a positive correlation between social media engagement and the price of a coin; when one goes up, the other tends to follow suit, and vice versa. We've traced a gradual decline in the last day regarding social volume on the graph below.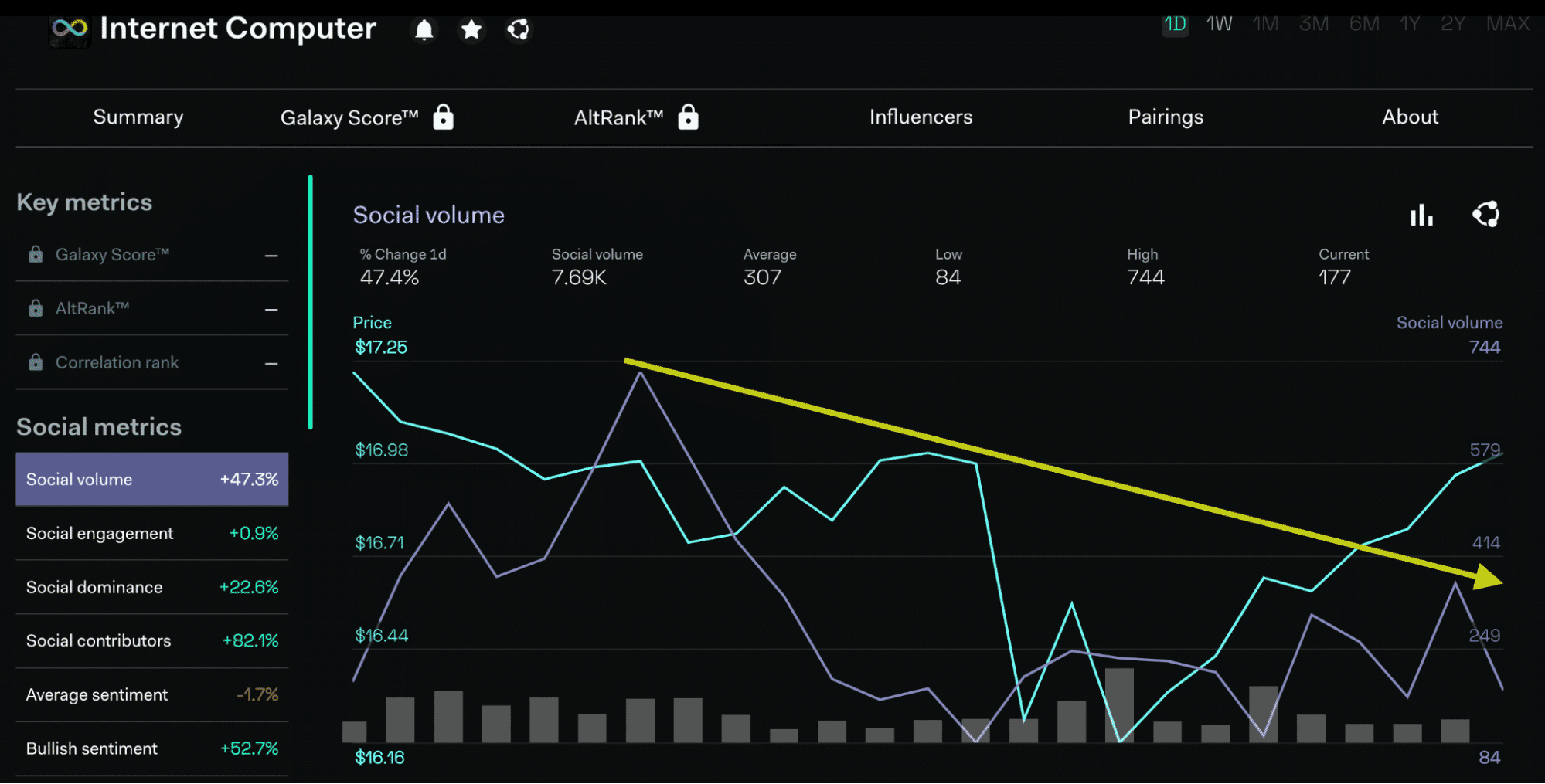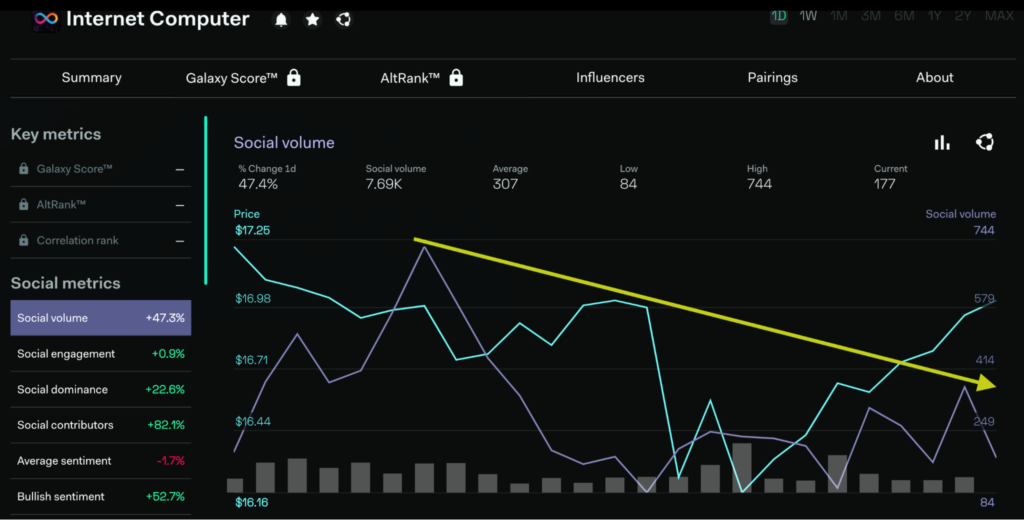 This evidence indicates a temporary lack of interest in ICP. The FGI presents a slightly different picture. Presently, the reading for the index is 30, suggesting fear (figures from 0-50).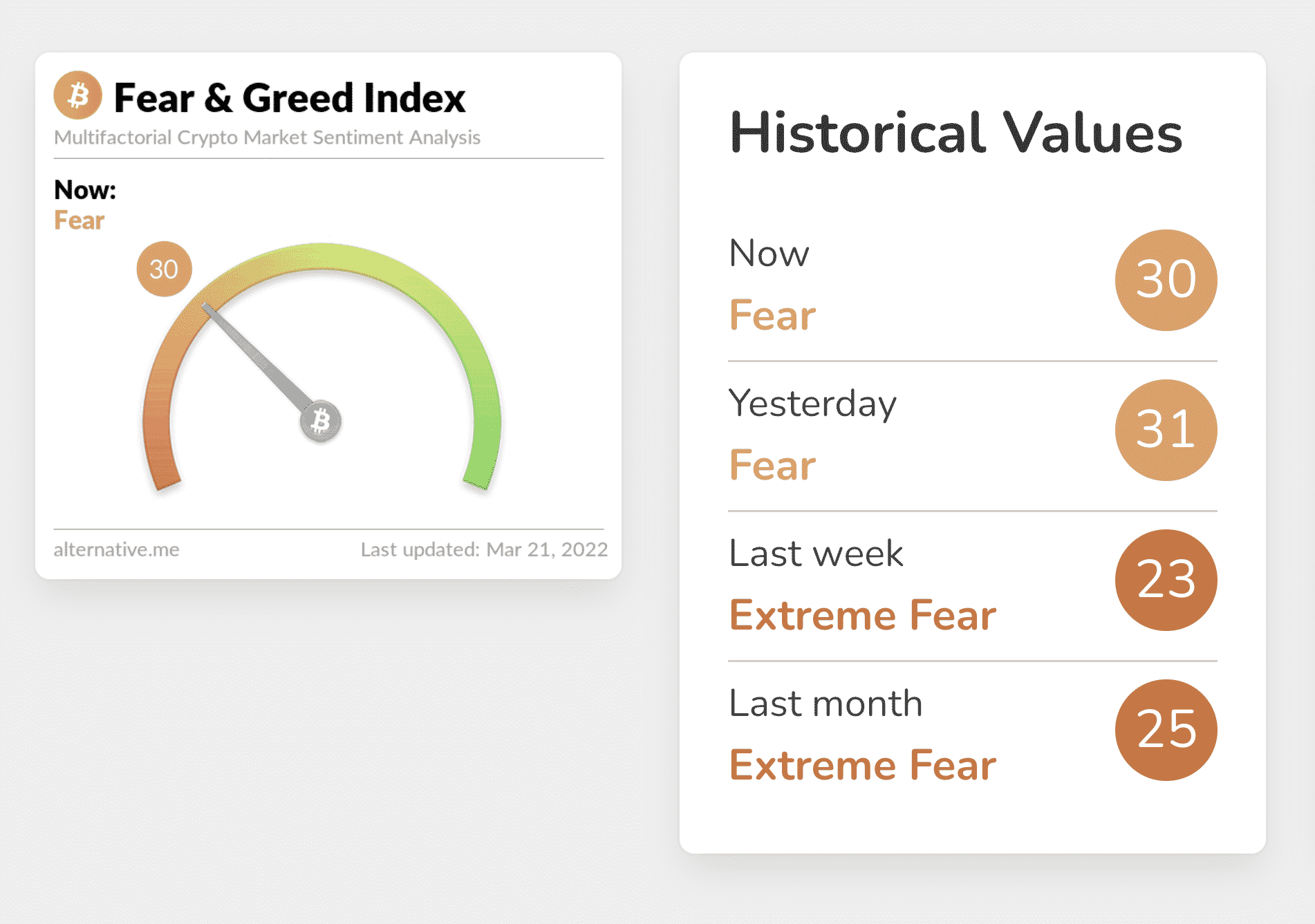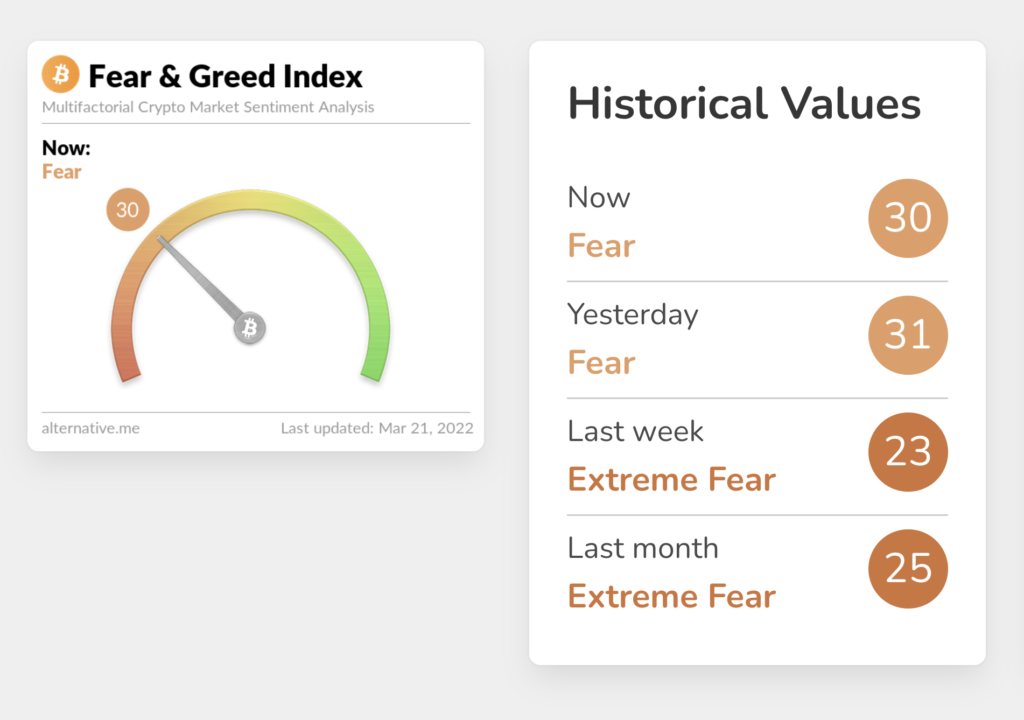 This is taken as a buying opportunity because of the perception that investors are worried about the future.
We can also see that the FGI has shown 'extreme' fear over the past week and month, indicating that we might eventually see bullish markets across the board.
Technical analysis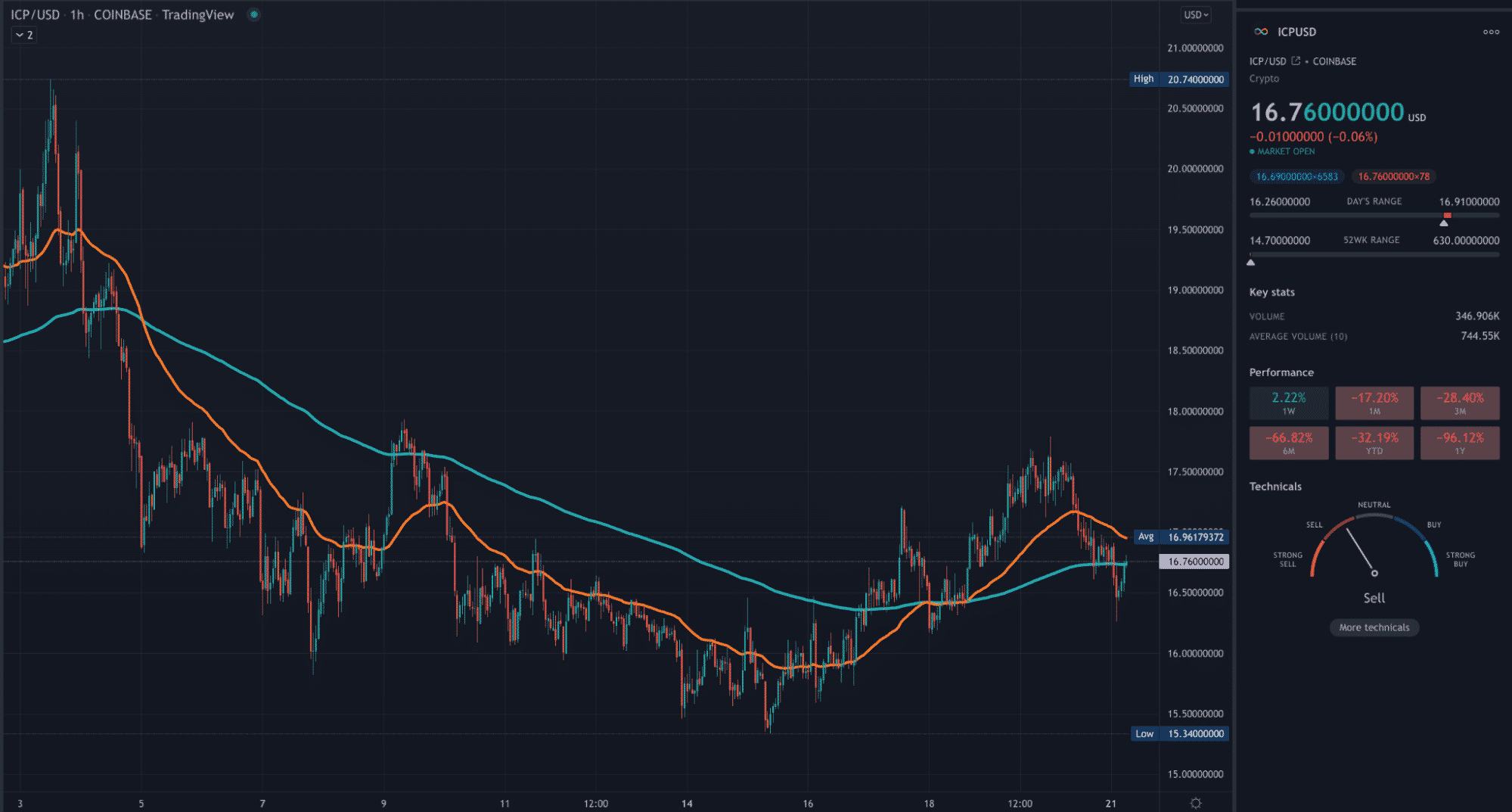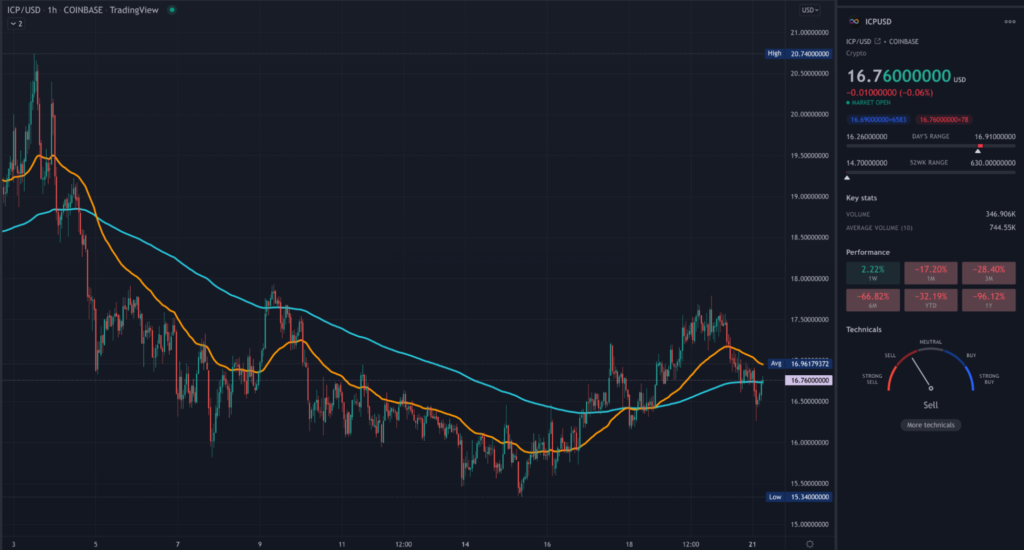 Our technical analysis indicates that the price is in a downtrend. On the chart, we've applied the 50-day (orange) and 200-day (blue) moving averages to show a classic crossover.
The 200 is below the 50, while the price is underneath moving averages. These are characteristics of a bear market. A bullish scenario may present itself if ICP can go above the $18 mark.
Fundamental analysis
One of the most recent developments for this blockchain relates to the soon-to-be-launched smart contract functionality with Bitcoin. This will allow users to transact BTC on the Internet Computer.
We can now observe the goal of this project to understand what it's trying to achieve fundamentally. It's worth noting that Internet Computer is a bit more complex to understand than other blockchains like Ethereum.
DFINITY, the non-profit foundation behind the project, wants to de-monopolize the internet by removing the need for hosting services owned by corporations like Amazon and Microsoft.
This transition is part of the anticipated web 3.0 or web 3.0, referring to a new type of internet that will rely on decentralized blockchains like Internet Computer. Web 3.0 is also characterized by providing most of the power to users instead of a few large tech companies as it is presently.
Therefore, DFINITY aims to offer a platform for developers to build a range of safe, cost-effective, scalable, and secure applications in an ecosystem that's not reliant on any infrastructure from Big Tech.
These findings are the principal fundamental value we derived from Internet Computer. This project is still relatively new and is engaged in a highly competitive space because there are already established blockchains with similar goals.
Internet Computer (ICP) price prediction: 2023-2025
We'll now observe what the forecasting sites say about ICP's value for 2023 and 2025.
2023 forecasts
Based on forecasts from numerous sites, the average we got was $26. From the current price, it seems likely that ICP may increase by roughly 50%, a gain that is realistically possible and moderate.
Tech News Leader gauged a minimum of $21.20, with an average of $23.44; Digitalcoinprice sees ICP being worth at least $22.17, with an average of $24.97. PricePrediction.net gave slightly more optimistic projections: the lowest price of $32.14, averaging $33.07.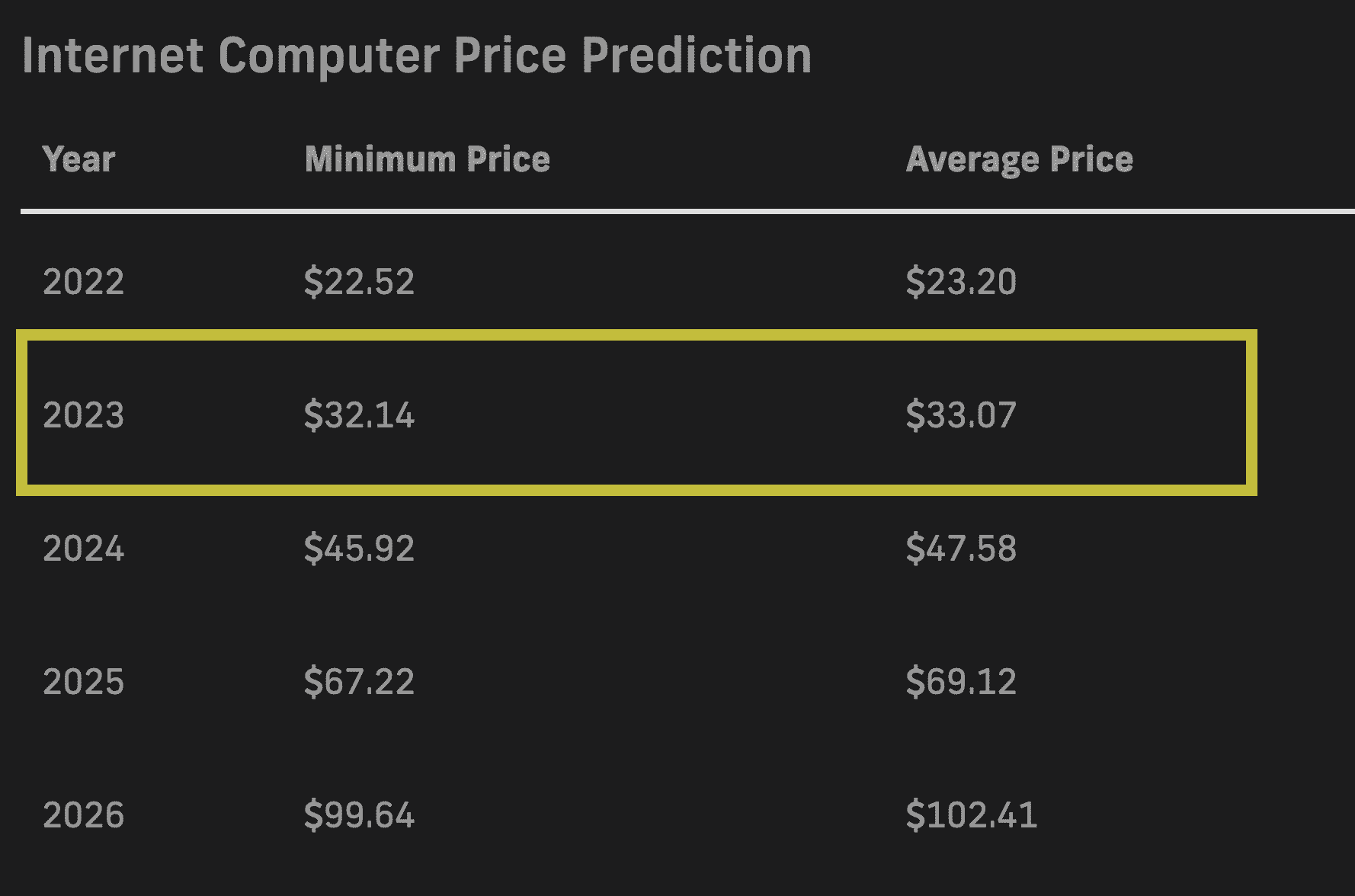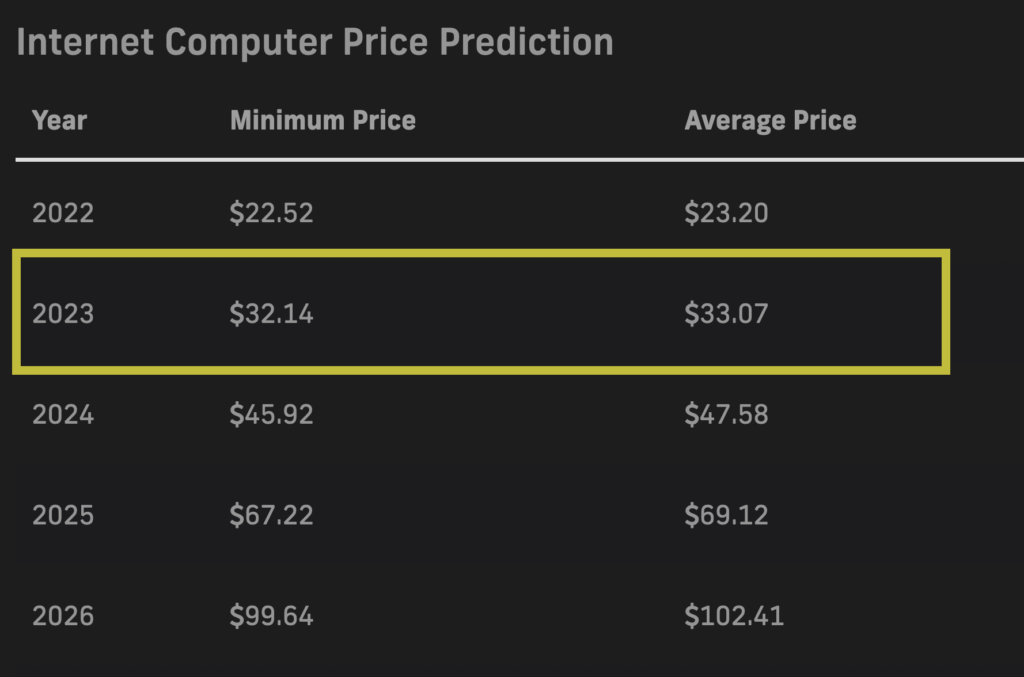 2025 forecasts
For 2025, the average we derived was $48. Prices around this range are sensible within a few years, assuming that Internet Computer performs well along with the rest of the crypto market.
This time, one of the less favorable predictions comes from Digitalcoinprice, with $29.02 and $33.36 as the minimum and average values, respectively; Tech News Leader indicates the lowest price of $45.65 and an average of $50.45.
On the high end, PricePrediction.net estimates from $67.22, with an average of $69.12.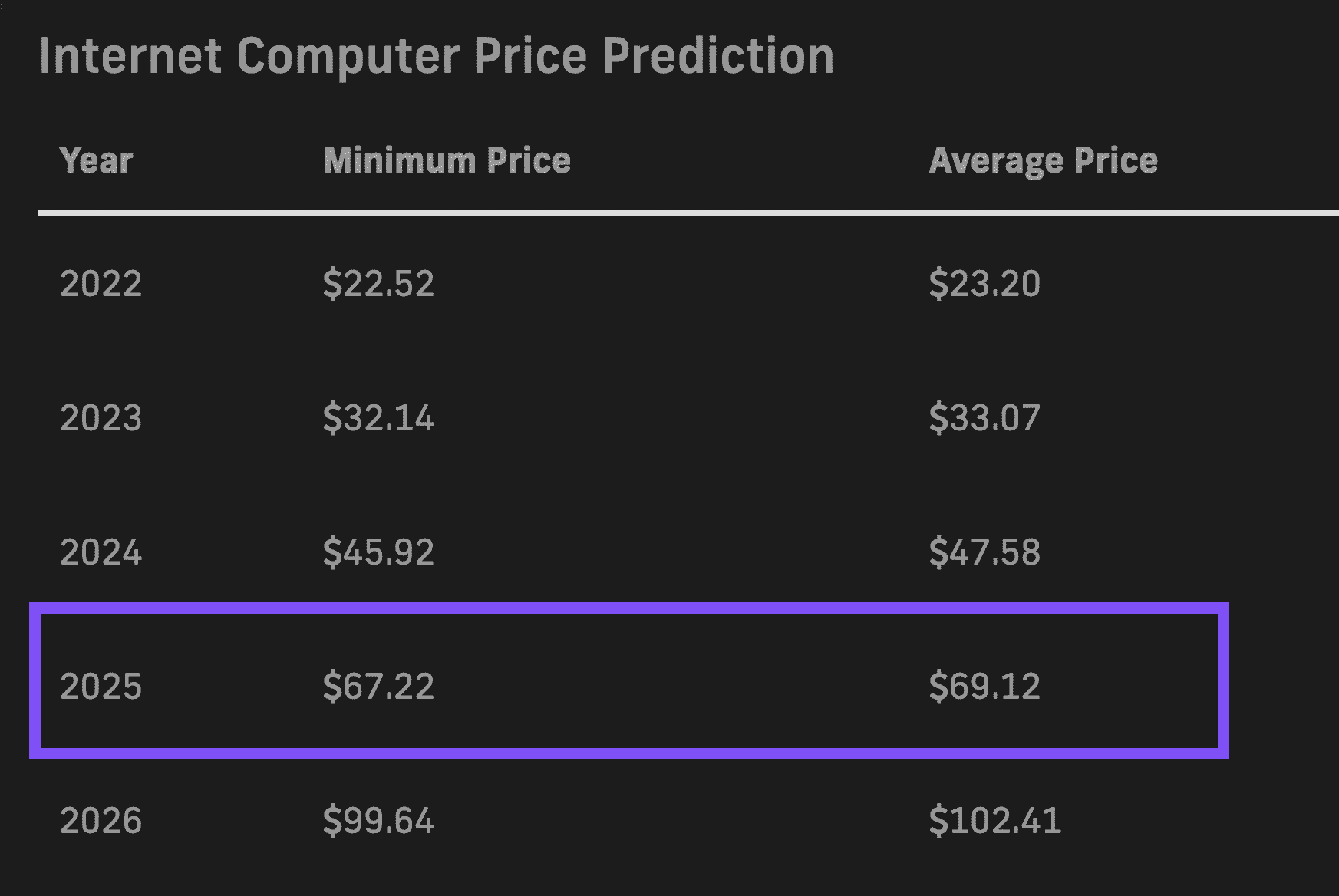 Internet Computer Frequently Asked Questions (FAQs)
Is Internet Computer real?
Yes, this blockchain project has existed for several years, and ICP is among the top 40 traded coins.
What is the Internet Computer price today?
$16.73.
Will Internet Computer's price reach $100?
In several years from now, $100 is possible, assuming the excellent performance of the coin.
Should I buy Internet Computer?
Altcoins like ICP are riskier bets than more large-capped coins like Ethereum and Bitcoin. While ICP possesses much greater growth potential, you should fully accept the possibility that it may not turn out to be a profitable investment in the long run.
Where do I buy ICP?
FTX, Coinbase, Binance, KuCoin, Bybit, and Huobi are just a few exchanges where you can purchase this token.