Lydia Finance is a decentralized exchange that provides staking, swapping, and liquidity pool farming. The team that stands behind the DEX is a crew of professionals who have experience with different blockchains and decentralized platforms. ‌They focus on the Avalanche blockchain to provide a unique experience with low gas fees, quick finality, guaranteed timestamps, etc.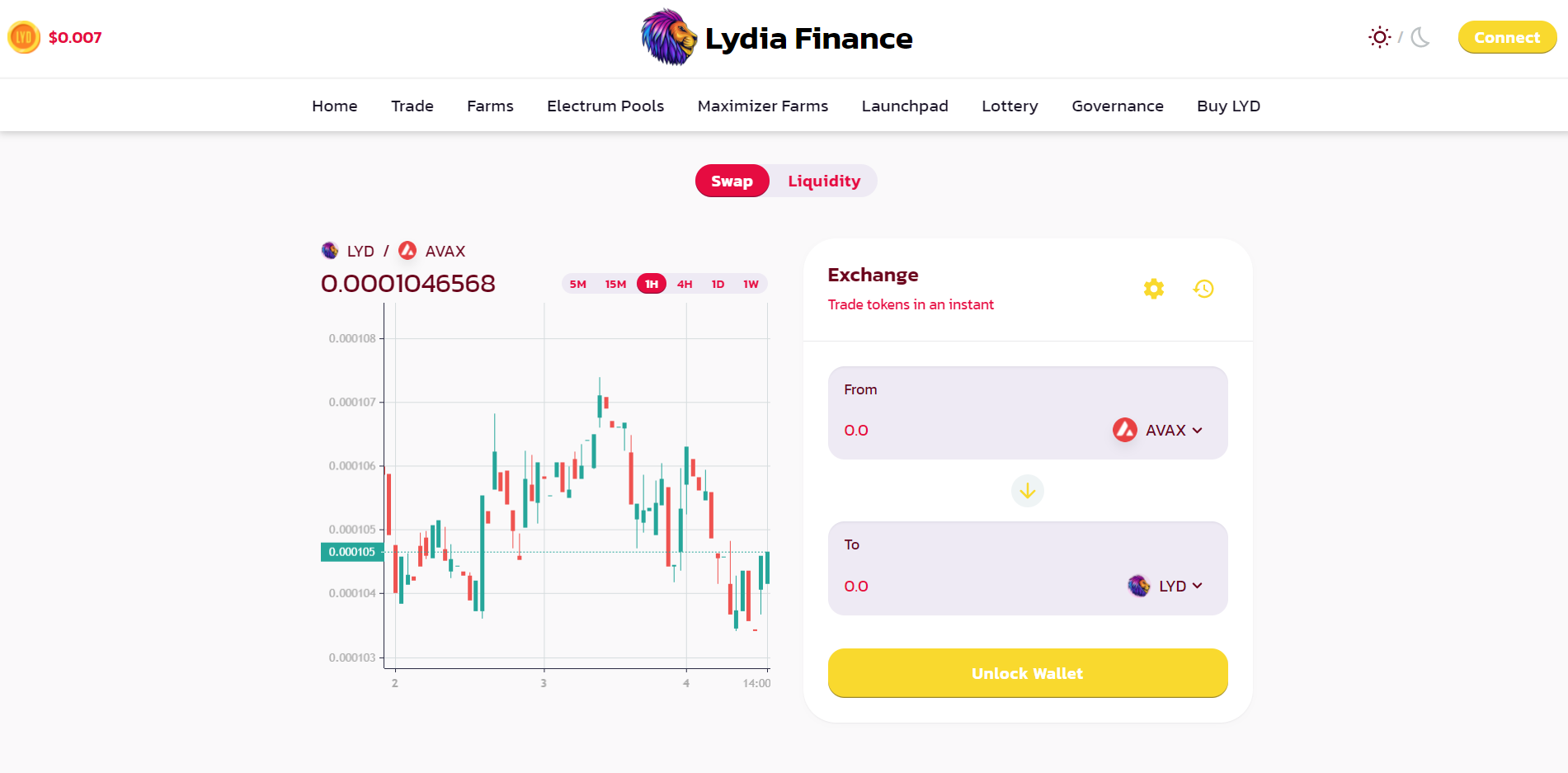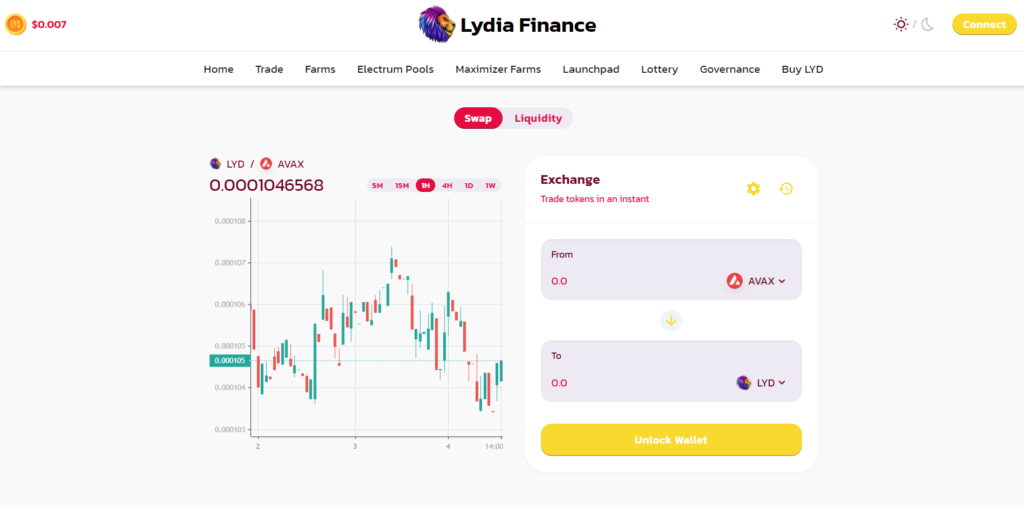 Lydia Finance background
The system is based on Avalanche and absorbs all its features. The developers have proper experience in developing products. They designed not only the platform but also issued LYD tokens for everyone. We don't know details about the developers and their location. The service was created in April 2021.
Lydia Finance overview
We can see a list of farms, everyone can join: LYD-USDT.E, DALE-LYD, AVAX-LYD. There's APR, Liquidity, multiplier, and other data.
There are electrum pools for staking: Auto LYD (APY 73.50%), Lydian's pool (82.57%), and manual LYD (60.26%).
We have a list of other pools: USDT.e-AVAX, AVAX-ETH.e, USDT.e-DAI.e, AVAX-LYD, USDT.e-LYD, PNG-LYD, etc.
Pros & cons
Pros
Native token available
Staking features provided
Yield farming possibilities available.
Cons
No team revealed
The APR/APY rates vary much
No testimonials provided
Key features of Lydia Finance
We can stack tokens that are already bought.
We are allowed to participate in various liquidity pools.
The system allows us to swap coins.
LYD tokens can be used for providing liquidity and getting better profitability.
LYD has total supply of 540,000,000 tokens:
61% of them belong to farmers
21% belongs to holders
3% are airdrops
15% belongs to developers and the team
The chain is Avalanche C-Chain (ERC-20).
Emission rate is 10 LYD/second.
The first airdrop was announced on April 13th, 2021.
Avalanche has low gas fees.
The executing speed is 4,500 transactions a second.
What wallets does it support?
We can work only with Metamask.
How does Lydia Finance work?
It works on Avalanche receiving the best speed and low gas fees.
What can you buy with Lydia Finance?
There are various sales occurred. We can get AVAX-USDT.e LP Tokens and stake them in the liquidity pool to get LP tokens. The Basic Sale got $126,000 and there was LYD burnt for $39,000. The Unlimited Sale got $294,000, LYD burned for $91,000. After the IFO sales finish, you can claim any IFO tokens that we bought. There's the LYD lottery that is going for 5 days more. The prize is 3,048 LYD.
Are there any risks with Lydia Finance?
We don't know for sure because we don't have any testimonial about how good or how bad this service is.
Lydia Finance fees
Electrum Pools have an 8.55% performance fee which will also be burned. There also is a Maximum contract which charges 3% of each yield harvest. The devs state that their LYD auto compounder also charges 6% of yield profit.
Deposit methods
We can work only with the Metamask wallet. It's a short choice of how we can provide our liquidity from. Most likely, the developers will add others in the future.
Should you buy it?
The platform provides everyone with their native token – LYD. Owning it, we can participate in the liquidity pools with higher profitability than others. We can stack our tokens to get more tokens as rewards.
Final word for Lydia Finance
The platform provides a standard pack of services that visitors want to use: swapping, staking, and yield farming. We can also purchase LYD tokens to stake them and get even more tokens as rewards. The site doesn't provide us with relevant testimonials that would explain how people are satisfied with the service.