M15 Signals is a Forex Signals provider. The professionals describe themselves as trustworthy and those who are ready to assist you to fulfill your trading goals. They also claim that their signals have a 90% accuracy rate and can make between 1500 to 3500 pips monthly. So, is M15 Signals legit or a scam? We will provide the answer to this question in this M15 Signals review.
Is it a trustworthy service provider?
The company behind this service indicates that they are a team of experienced traders and stock market experts based in Singapore. They began offering this service officially towards the end of 2018, but the trading department is highly skilled and has traded professionally in Forex and commodities for over 9 years. Nonetheless, we would like to see the faces of these professionals and their individual biographies. This way, we can conclude if they are worthy of our trust.
The service comes with the following features:
Telegram live alerts.
About 2 to 8 signals per day.
No manual close.
Signals for Asia, London & USA times.
Signals on 29 Forex and gold pairs.
Most of the signals are sent during 08:00-19:00 (GMT).
Signals are only given through the company's free and premium Telegram channels.
The minimum balance needed to trade is $100, but $400 is recommended for better results.
We do not know the strategy used. The vendor has not supplied us with this information. Their presentation does not describe or clarify the logic the professionals use to determine and pick out the signals they believe will benefit clients. Therefore, it is impossible to gauge their real profitability and the risks they expose the trader's investment to.
How to start trading with M15 Signals
M15 Signals is sold in three packages. The first one, which is $60, lasts for 1 month. The second plan is $120 and expires after 3 months. The last plan costs $190, and you can use it for a period of 6 months. All the plans feature short term signals, Telegram live alerts, 3 take-profits per signal, signals for currencies and gold, and risk management advice.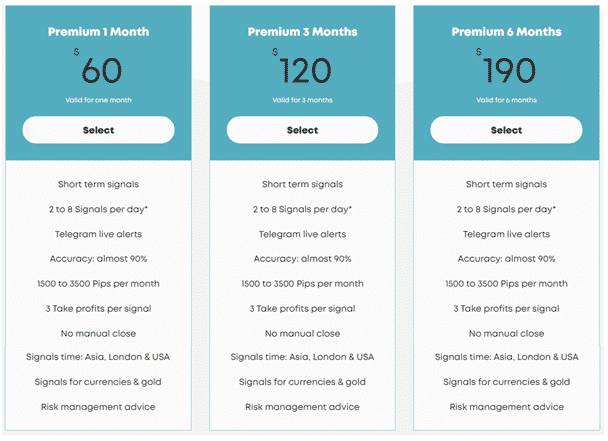 M15 Signals provide Forex and Gold intraday signals on the 15 minutes chart. To start receiving this service, you are required to select one of the above premium plans. The second step is to join the company's Telegram channel and verify your premium plan account. Lastly, you will begin receiving Forex signals that will help you to trade.
M15 Signals backtests
The devs have not displayed the backtest results of their signals. In this regard, ascertaining the risk/reward ratio of the signals in the past is an act of futility. We are not even certain that backtesting was done. This makes subscribing to this service a risky venture. You can easily lose your money.
Trading results
The vendor has posted a table with data highlighting the performance of the signals since December 2018. The problem with this kind of results is that they are unverifiable. For all we know, the devs manufactured them to convince traders that their signals are lucrative. If they are truly confident about the efficiency of the service, then they would have no problem opening an account with third party sites like FXBlue, Myfxbook.com, or FXBlue for us to track.
Other notes
The team offers risk management because according to them, this knowledge is very vital for all traders in Forex. Therefore, like no other Signals Providers, the analysts will provide you with recommendations and advice on how to manage risk.
People feedback
Many customers have expressed their dissatisfaction with M15 Signals on FPA. They are saying that the signals are not profitable and the vendor is a scam. Also, one client suspects that the martingale strategy is being used. So, traders are warned to stay away from this service.



Summary
Advantages
Provides live telegram alerts
Disadvantages
No backtest data
Trading results available are not credible
Negative feedback from clients
No strategy explanation
M15 Signals is simply a scam. The vendors are just there to make a quick buck from traders desperate to earn big in Forex. From what customers are saying, it is apparent that their signals are nowhere near to being profitable and accurate. The lack of strategy insight also makes us suspect that the analysts are picking out signals randomly and supplying them to traders. To that end, avoid using this service.