Disclaimer: The information provided here does not constitute any form of financial advice. Readers are fully responsible for conducting their due diligence before making any investment decisions.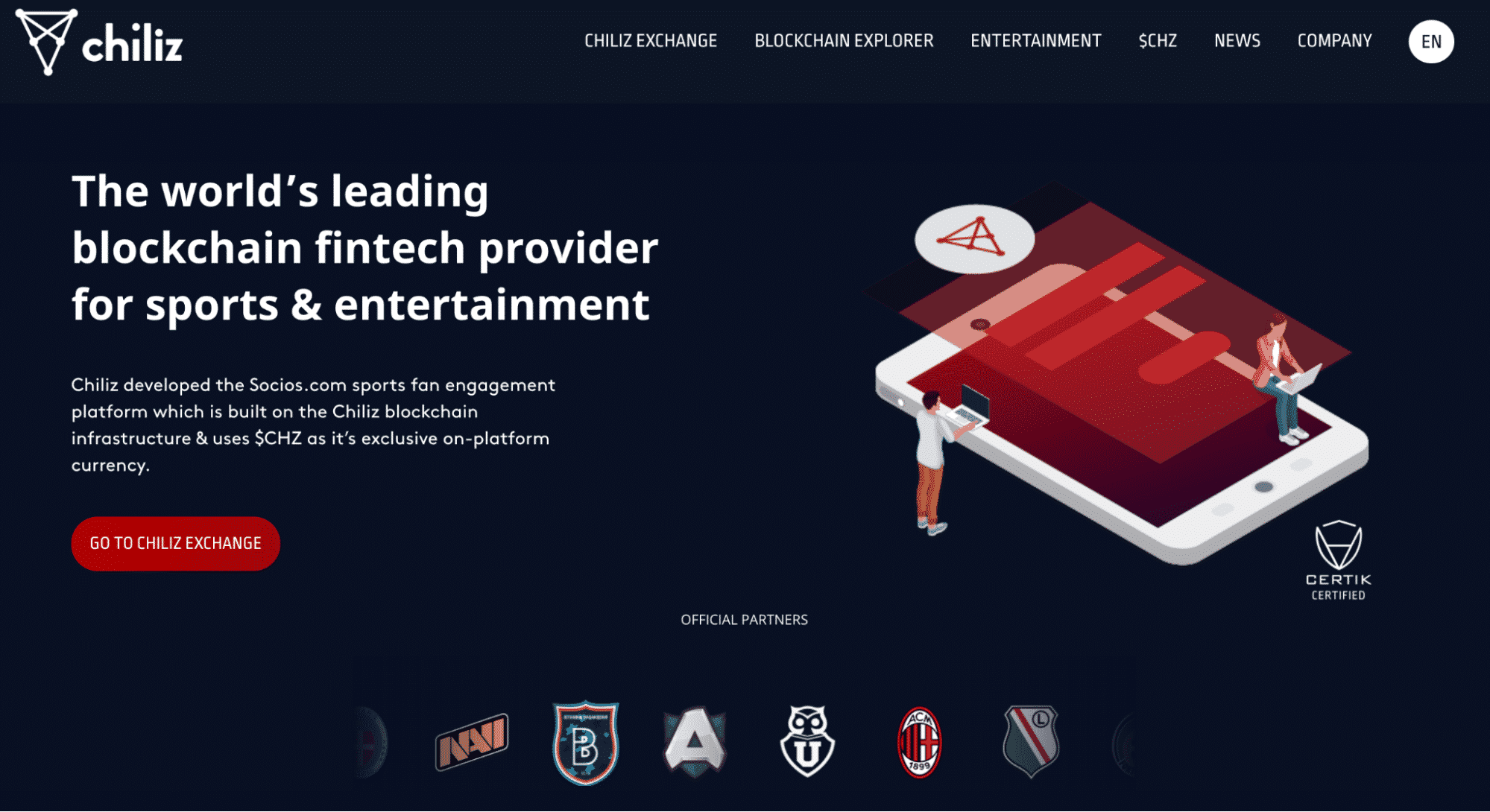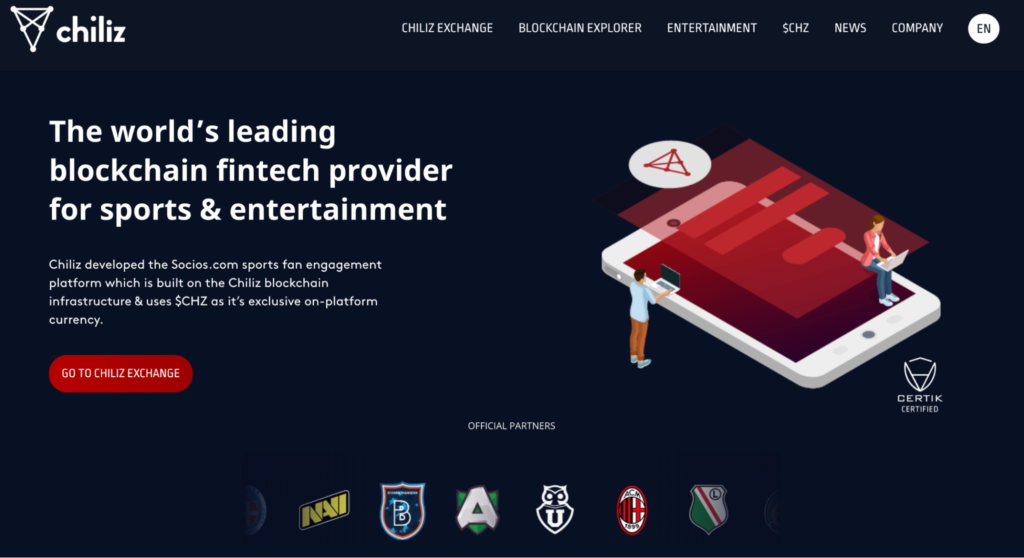 Chiliz market sentiment
For Chiliz's market sentiment, we'll look at the Crypto Fear & Greed Index (FGI). Although this tool is primarily based on Bitcoin, it is impactful across many large and medium-capped coins.
The current reading for the index is 18, a figure representing 'extreme fear.' This sentiment usually signifies buying opportunities. The chart below shows us the readings of the FGI over the past week.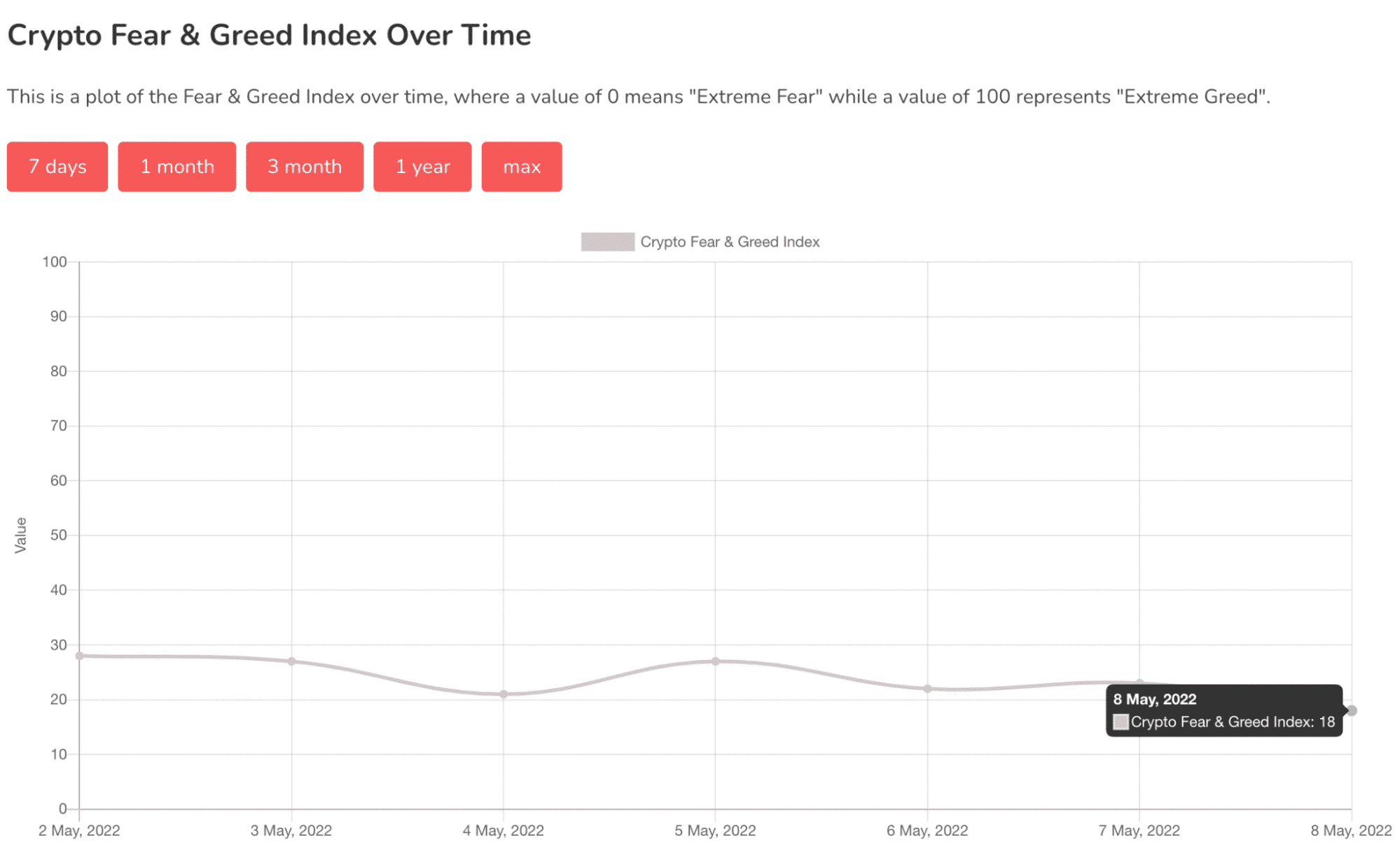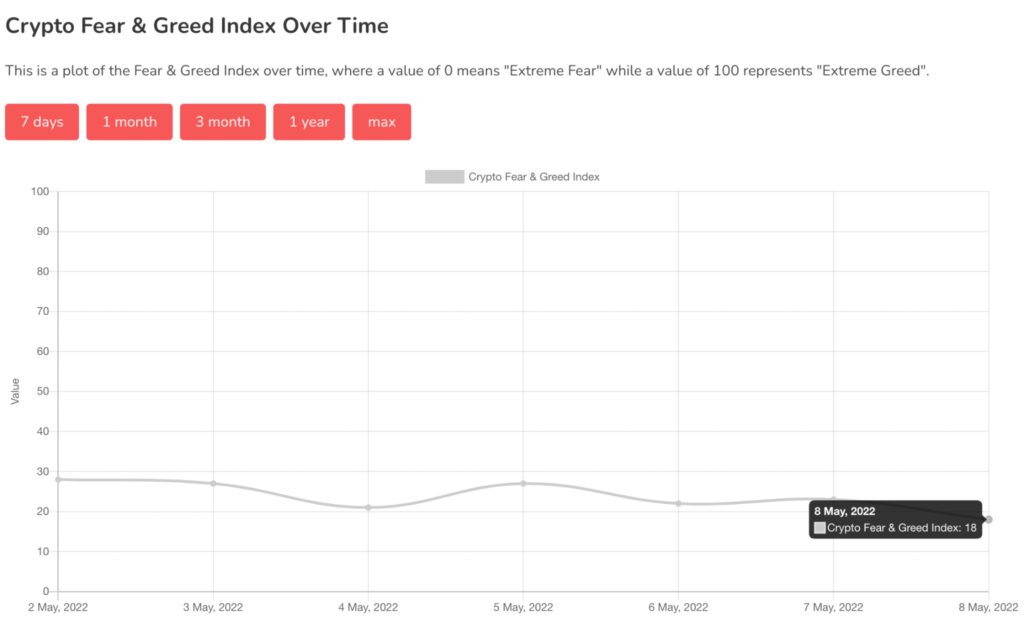 Interestingly, 18 is the lowest the FGI has been since 25 January 2022. While fear is understandably good for buying, the overall crypto market has been declining for several weeks now.
We should note that the FGI indicator doesn't always align with actual price movements. So, for the time being, we should expect lower values for Chiliz as many coins have been in a sustained downtrend. Much of the decline in crypto is due to geopolitical and global inflation concerns.
Technical analysis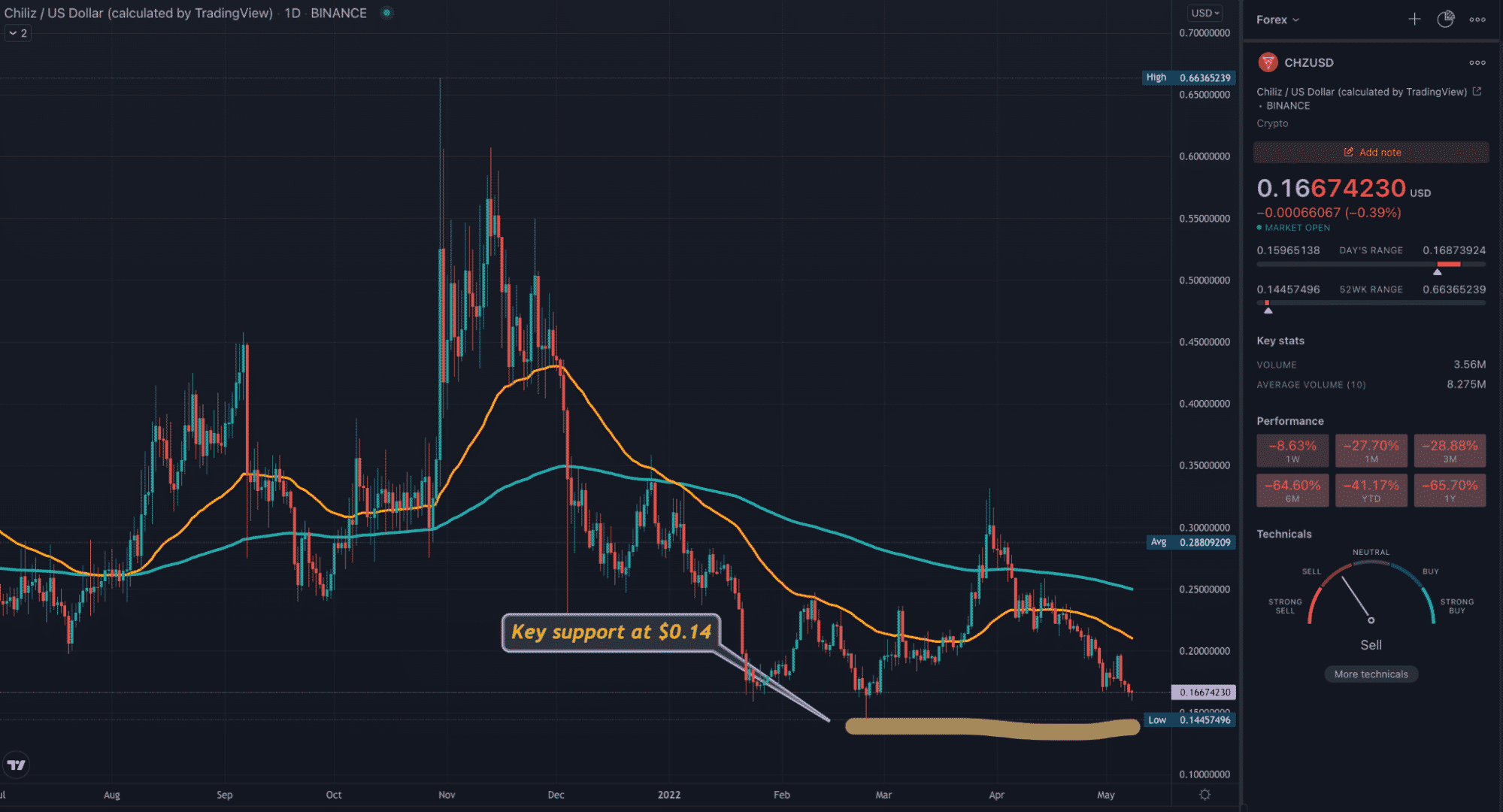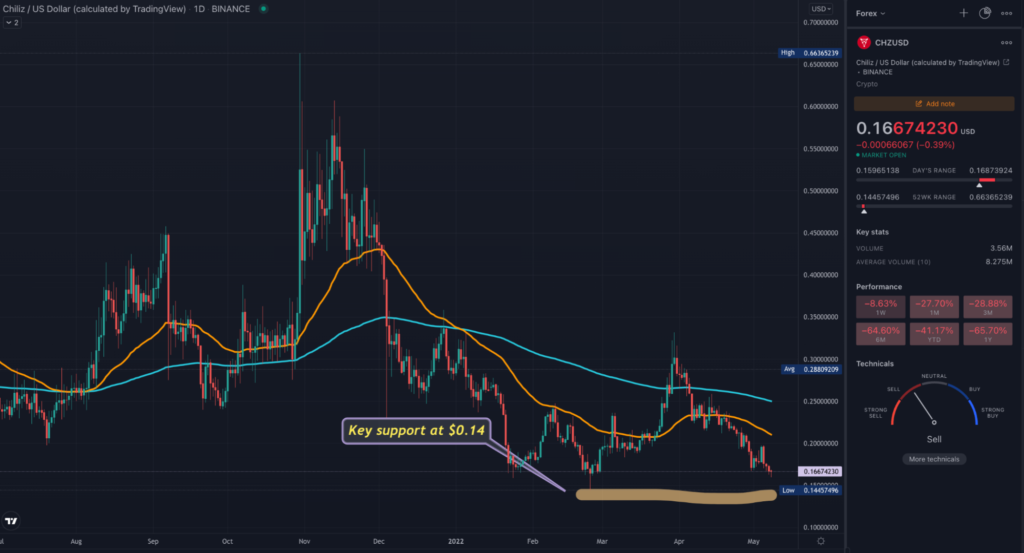 As briefly mentioned in the last section, most coins have been in a slump, and Chiliz is no exception. Without applying any indicators, it's easy to tell the market is bearish by looking at the directional slope of the price.
The moving averages we've applied, the 50-day (orange) and 200-day (blue), understandably provide the technical confirmation. We can see the price is well below the two, and that the 50 is below the 200. These are tell-tale signs of a downtrend.
CHZ would need to be trading around $0.30 before the moving averages confirm a buying signal. Interestingly, CHZ seems to be approaching the key support level at the 14 cents area.
One of two things can happen going forward. The price could, of course, break this zone and continue moving down further. Alternatively, if the market sentiment continues being fearful, this support level may be strong enough to encourage more bulls, slowly picking up the price.
Fundamental analysis
Despite the technical analysis not being favorable presently, Chiliz remains one of the leading digital fan tokens, making it particularly attractive for large sports brands. Currently, there are over 130 branded fan tokens on Socios, the sports fan engagement platform where fans use CHZ.
Socios recently signed marketing agreements with 13 NFL teams, establishing Chiliz's reach in the relatively untapped American demographic. We believe two key fundamental elements make Chiliz an attractive investment:
Chiliz 2.0: Chiliz's developers have recently launched a testnet (dubbed Scoville or Chiliz 2.0) to upgrade their blockchain.
Some of the new features expected in the future include several DeFi (decentralized finance) products, the ability to mint NFTs, play-to-earn games, loyalty and merchandising programs, event ticketing, etc.
Chiliz 2.0 will also be Ethereum-compatible, although it will use the proof-of-stake model and offer transaction costs '200 times cheaper than the Ethereum network.' Ultimately, these enhancements should only increase CHZ's utility.
Deflationary tokenomics: CHZ has a fixed supply of 8.888.888.888 (or about 8.8 billion), with roughly 68% or 6 billion presently in circulation. Investors generally see a coin with a hard cap more favorably from a long-term value perspective.
Chiliz (CHZ) price prediction: 2023-2025
So, where to place orders for CHZ in 2023 and 2025?
2023 forecasts
$0.26 is the average figure we got for Chiliz, having observed numerous prediction resources. This would represent an increase of about 50-60%, which is feasible and conservative in a few months.
Gov Capital offered the most favorable forecasts, with minimum and maximum prices of $0.22 and $0.29, respectively.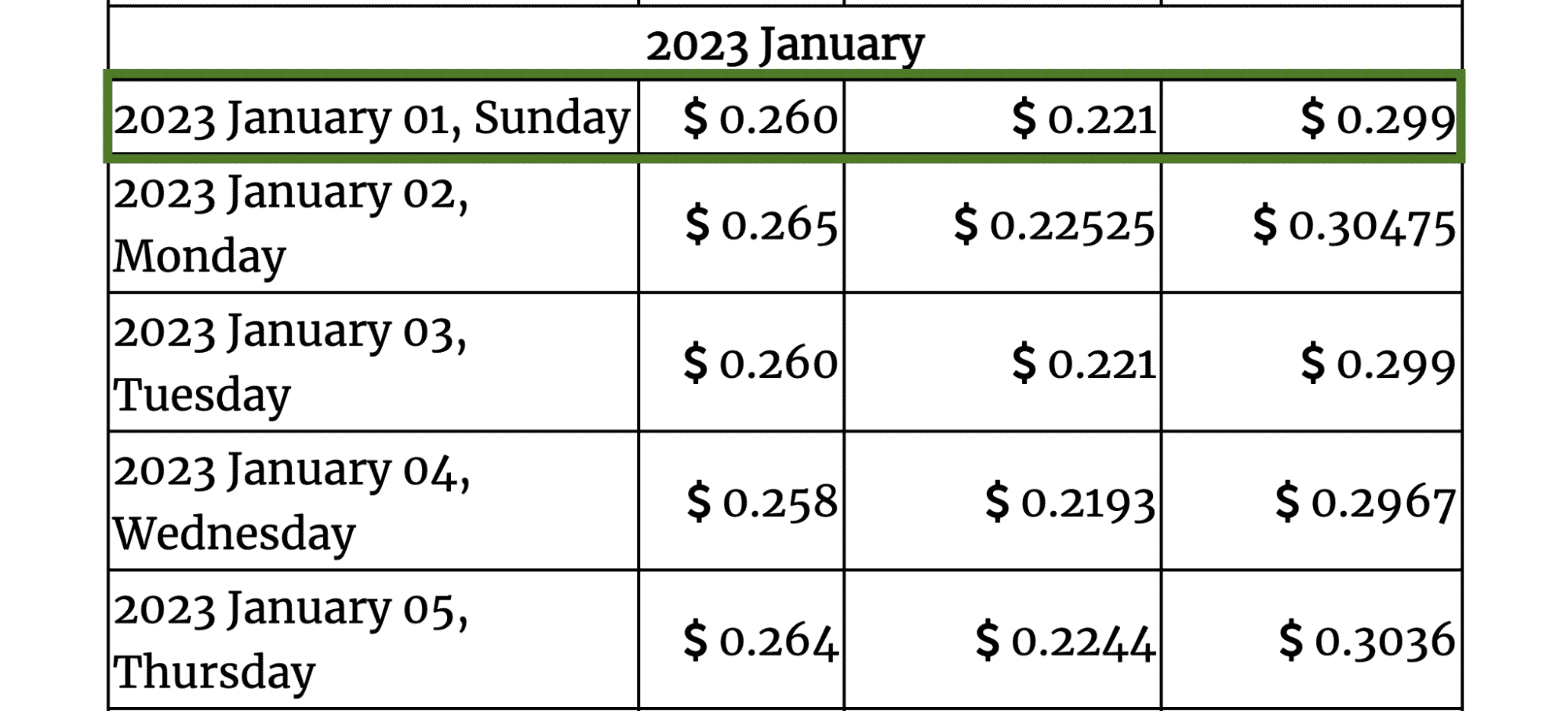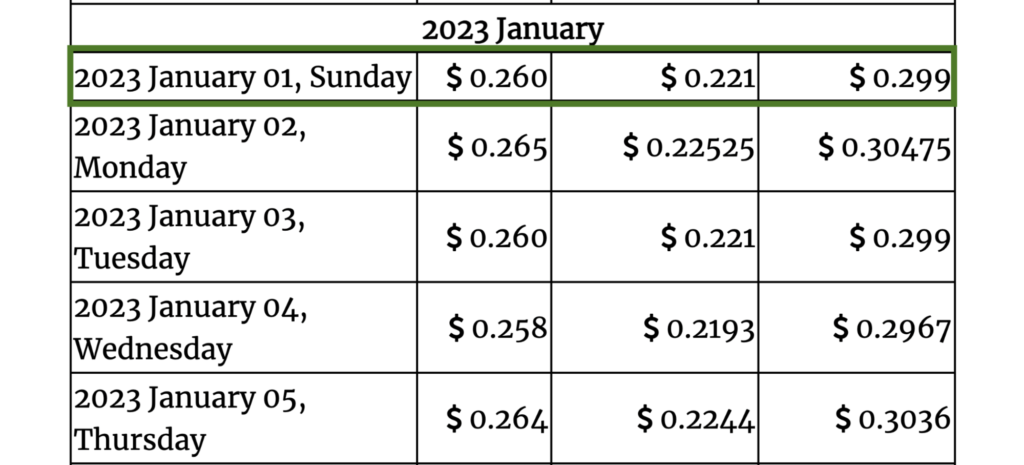 2025 forecasts
It is reasonable to believe CHZ could be close to the dollar mark within a few years. For 2025, the average estimate we got was $0.95, almost four times higher than the 2023 average. This figure is just above Chiliz's all-time high of 89 cents.
Again, Gov Capital is the most optimistic of the prediction sites we observed, forecasting a minimum of $1.56 and a maximum value of $2.12.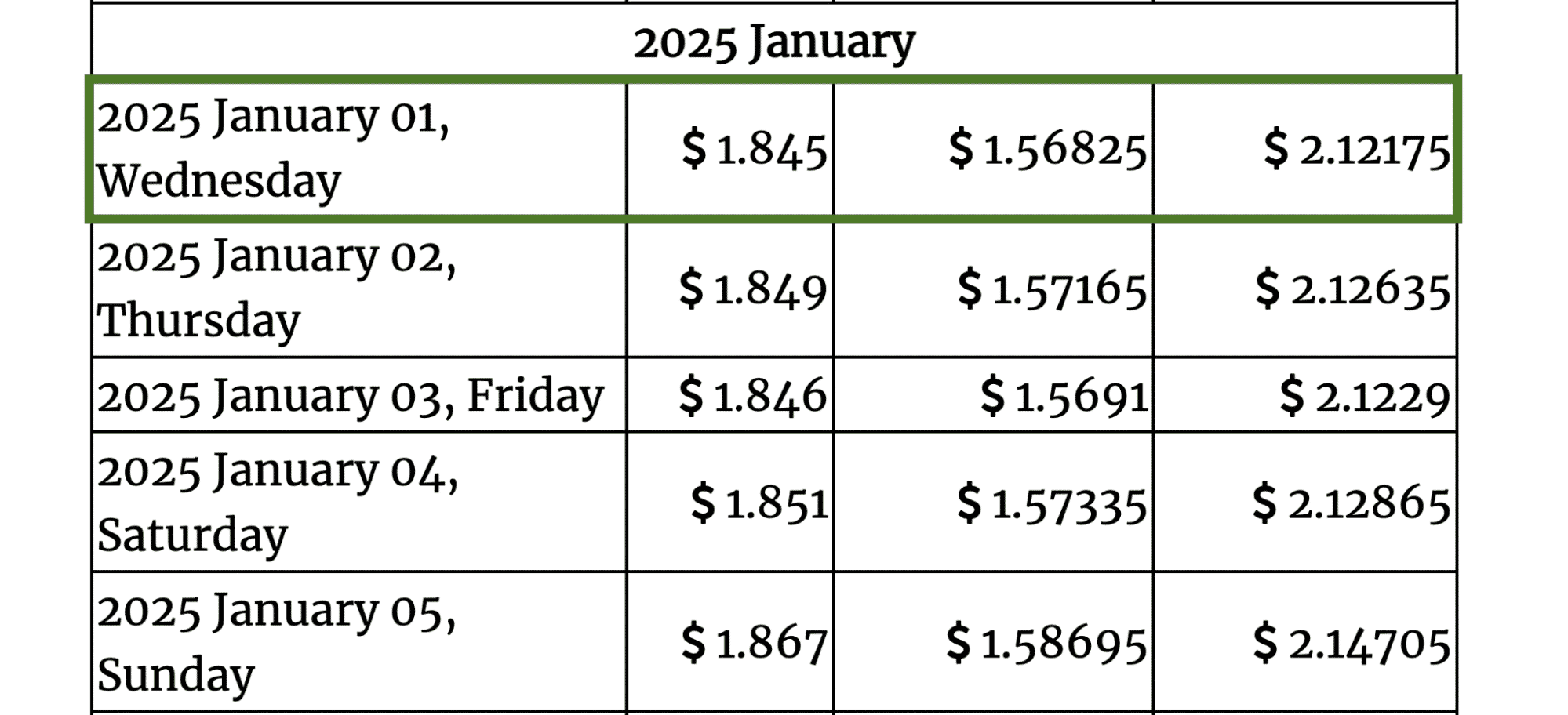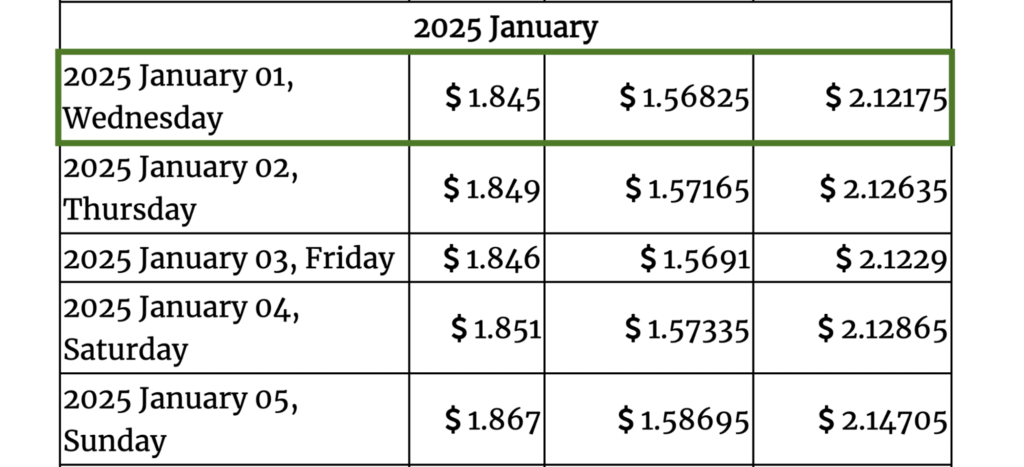 Chiliz frequently asked questions (FAQs)
Is Chiliz real?
Yes, it has been around since October 2018 and is the native currency for Socios, one of the largest blockchain-based sports fan engagement platforms.
What is the CHZ price today?
$0.16 or 16 cents.
Will CHZ's price reach $1?
Within a few years, $1 is certainly possible. However, the price would need to increase by 525% or 6.25X, which is quite a considerable distance.
Should I buy CHZ?
You should always do your own research and accept the risks of buying any cryptocurrency. However, as Chiliz is one of the world's leading blockchains for entertainment and sports-branded tokens, CHZ could become more valuable over the years.
Where do I buy CHZ?
Binance, KuCoin, Kraken, Coinbase, Gate.io, FTX, and Bybit are some of the most well-known platforms to buy Chiliz.