Robofi uses blockchain technology by creating a marketplace for Decentralized autonomous organization (DAO) crypto trading bots. The platform enables traders to sell their algorithms, stake, and generate passive income. This review will discuss the working, features, pricing, reliability, safety, and security of the bot.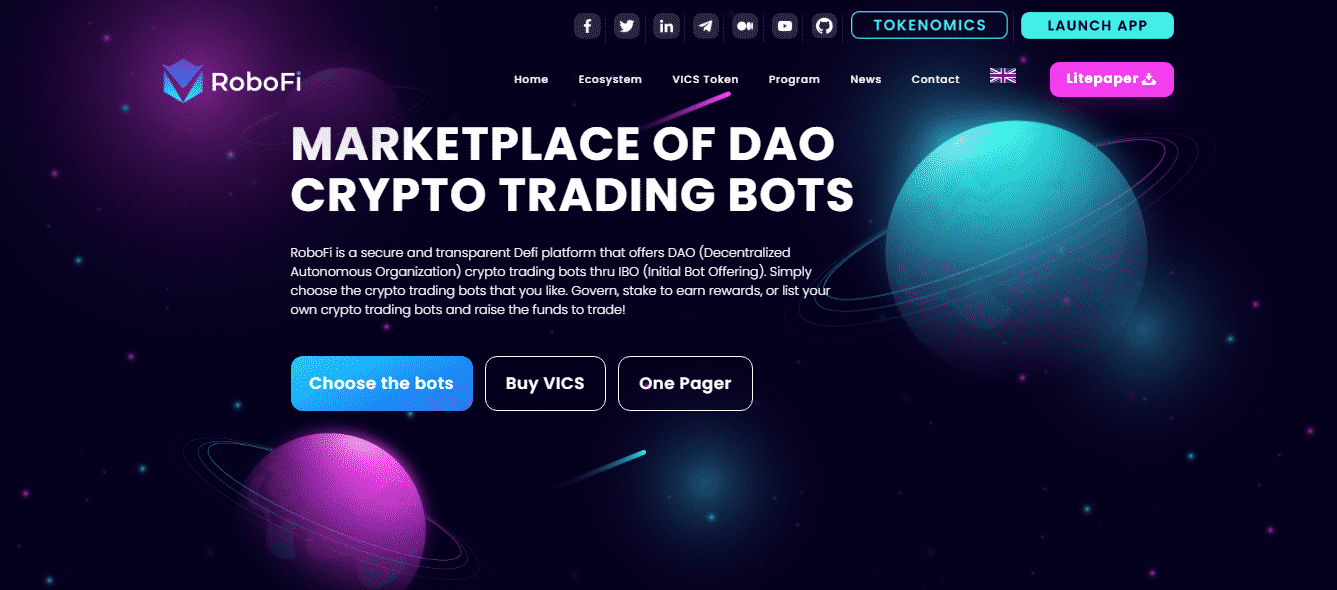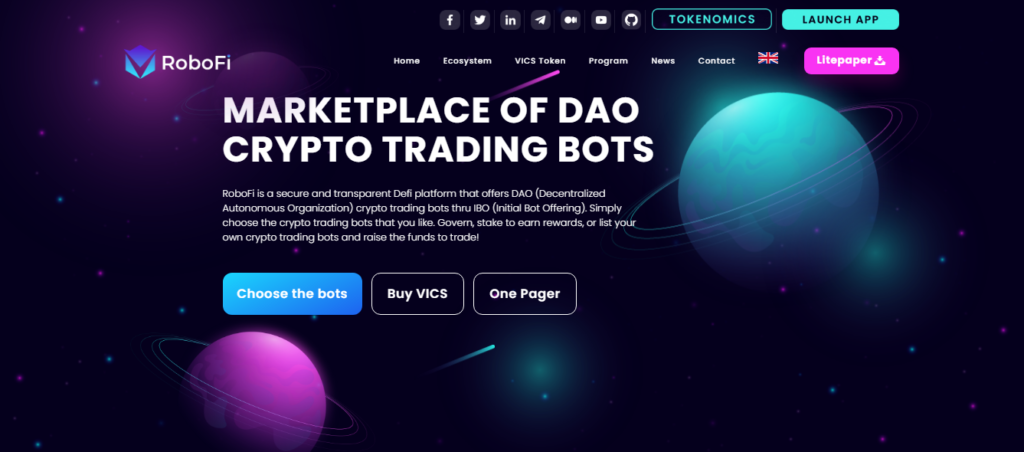 What is Robofi?
RoboFi is a marketplace for crypto bots that presents algorithms via IBO (initial bot offering). Traders can use three types of robots: DEX, CEX, and Farming, on several exchanges like Uniswap, Pancake, Binance, and Kucoin.
Quick summary
The most important features of RoboFi include:
The system is completely fuelled by the VICS token that allows users to participate in IBO, staking, or lending.
RoboFi is based on blockchain technology with the DAO principle that provides transparency, efficiency, and security.
The platform aims to connect bot creators and users for earning opportunities in a safe environment.
Bot creators can list their algorithms for sale and raise funds for trading.
Robofi: background
Robofi platform is powered by Snapbots limited, and the company headquarters is in Tortola VG, British Virgin Islands. It was launched in 2021, but there is no information about the team behind the company. A LinkedIn profile shows 300-500 employees and Lee Donna as head of global marketing. A community of about 13k members is present on Telegram and other social media platforms.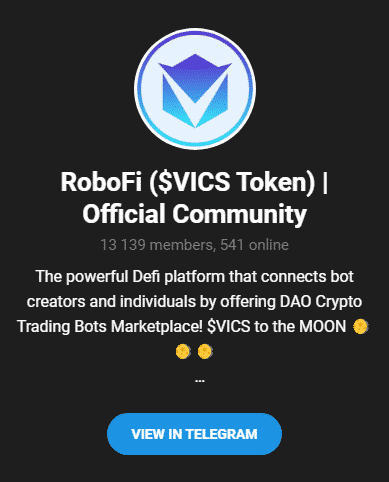 How does it work?
The trading approach that the robot follows is unclear and not explained by the vendor on their website. We only know that participants in RoboFi can earn incentives by staking or by listing their bots for sale. Staking traders can deposit crypto assets and gain a significant share of the bots' profit.
How to sign up with Robofi?
Traders can signup with Robofi by buying a VICS token as it is the governance token. This coin allows you to access all the services and features of the platform. Investors need to register their email and password, or they can add their Metamask wallet to use the system.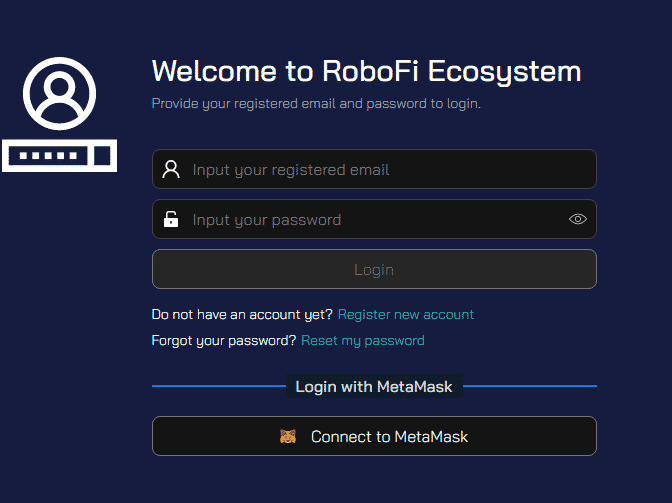 Does Robofi offer a demo account?
The platform provides no details about a demo account or pricing of the robots.
Profitability of Robofi
The white paper states that the RoboFi platform is still in development and may undergo additional changes, upgrades, and adjustments before it is released. There are risks of losing money, and the profits are not guaranteed.
Payments, deposits, and withdrawals
At RoboFi, the payments are only possible with a VICS token, and it can be traded on Hotbit or Pancakeswap. The provider has not mentioned the bots' minimum deposit requirement or withdrawal policy.
Exchanges supported
Robofi platforms support the following cryptocurrency exchanges, including centralized and DEX.
Uniswap
Sushiswap
Pancake
Binance
Kucoin
Huobi
What about customer support?
AT RoboFi, traders can reach out to the support via email or an online contact form. They do not have a live chat option that provides 24/7 service for its users.


Benefits of using Robofi
The benefits of trading with RoboFi crypto bots are as follows:
It supports both centralized and decentralized exchanges
Traders can use unique tools like RoboFi lending, staking, etc., to generate passive income
Drawbacks of using Robofi
The flaws of using RoboFi are listed below:
The platform provides minimal details about the functioning and strategies of the bots.
All its features can be accessed only via a VICS token
The user interface is complex making it not suitable for beginners
Pricing review
There is no information about the monthly or annual pricing plan to use the system. The VICS token is available on the following platforms.

What are security measures?
The vendor is unclear about the bots' security approach to protect traders' funds and accounts. There is no mention of API keys, two-factor authentication, etc., but the developer states that it uses blockchain technology in a transparent and secure environment.
Is Robofi legit?
RoboFi lacks major information on its security and pricing plans. Four user reviews are available on trusted third-party websites like TrustPilot, all of which are positive. A customer writes that the bots helped him generate profits.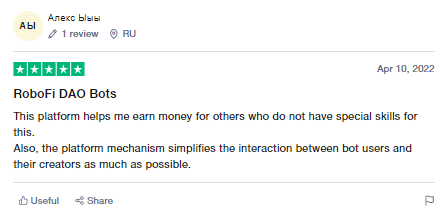 Ease of use
According to the provider, no prior experience is required to use the bots. It is ideal for people who do not have coding abilities and do not know how to set up trading strategies. The interface leads us to conclude that the service demands knowledge of the crypto world. It can be difficult for a novice trader to understand its operations or applications.
Is Robofi a good choice for automated trades?
RoboFi uses blockchain technology that makes it stand out from other platforms. The bots can trade on centralized and decentralized exchanges giving traders more options. The complexity of the platform can be disturbing for some, as mentioned above.
What are the risks of using Robofi?
RoboFi is prone to risks because decentralized exchanges can be hacked and do not support high-volume trading. Token Purchase is an unregulated fundraising scheme. It exposes buyers to many dangers, including losing all funds traded for VICS tokens.
The Review
Review verdict: unregulated blockchain platform
After evaluating the platform's features and functioning, we find that it lacks vendor transparency and proper security measures, making it hard for traders to trust. There are no live or backtesting records available for the robots offered via IBO. Only the VICS token can be used for major transactions on the platform.
Review Breakdown
Features:

Exchanges Supported:

Security:

Price:

Customer Support: