PZ Trend Trading is an indicator that targets trend traders who prefer to trade charts and can have positions opened for days, weeks or months. The vendor published it on the mql5 website on December 6, 2013. So, it has been in the FX market for quite a while.
Is PZ Trend Trading a viable trading solution?
The presentation of this product mainly focuses on highlightighting how it works (including screenshots and links to demo videos), its features, strategy, vendor's profile, price, input parameters and customer feedback.
Arturo Lopez Perez is the person behind this indicator. He is the director at PZ Trading Solutions, a company whose mission is to develop top-quality and distinctive trading tools for the Metatrader terminal. Arturo says that he is also a programmer and has been developing FX indicators and EAs for the last 10 years. There are a total of 179 products in his portfolio.
However, we feel that this profile does not give us enough details about the vendor. It would have been better if the developer had highlighted his achievements, the professionals he works with and their qualifications, physical location of his company, its history, and contact details. This would have made it easier for us to gauge his trustworthiness and credibility.
Moving on, the features of the system are:
Runs on the MT4 platform
Trades with numerous pairs including AUDUSD, EURJPY, EURUSD, GBPJPY, GBPUSD, NZDUSD, USDCAD, USDJPY and XAUUSD
Executes a multi-timeframe dashboard
Is capable of assessing its own quality and performance
Implements sound, visual and email alerts
Is non-repainting
Integrates a multi-symbol and multi-timeframe scanner
The scanner scans all the instruments in the Market Watch
Can display at least ten different trades per trend
Offers 24/7 customer support
Provides free updates
Installation and update guides are available
When it comes to the trading strategy, Arturo states that his indicator exploits the trading opportunities provided by established trends. So, it identifies lucrative pullbacks, breakouts and early reversals. He says that as a result, the trader is assisted to earn profits.
How to start trading with PZ Trend Trading
The system works by identifying trading opportunities for the users. It basically achieves this by assessing the behavior of prices during established trends.
It can be purchased on the mql5 website at $299. It can also be rented at $49 for 1 month. However, this selling price is too high for an indicator. The vendor does not mention any refund offers. So, you should not expect one in case the product does not perform as expected.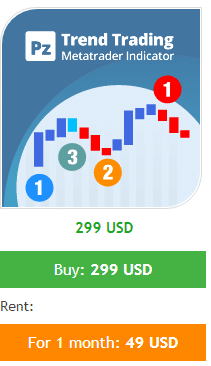 PZ Trend Trading backtests
We could not find any backtest reports. For this reason, it is difficult to determine if this system was tested well before it was published or if its past performance was promising.
Trading results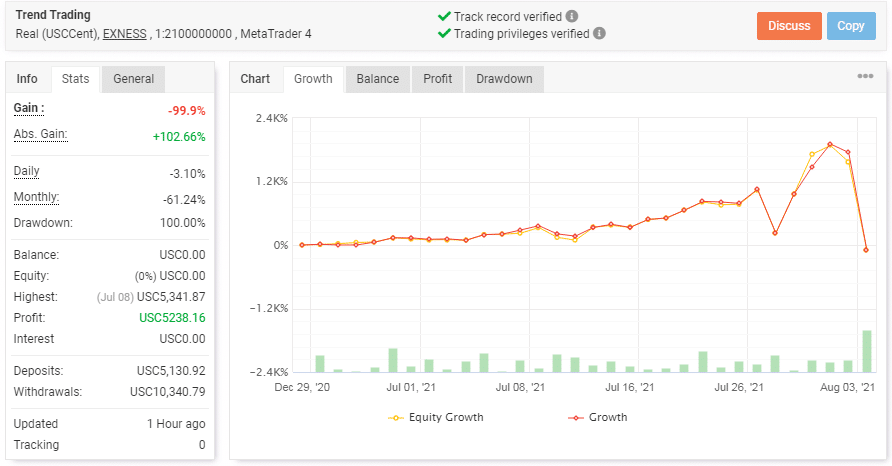 What we have here is a real USCCent account being operated under EXNESS brokerage. It was opened on December 29, 2020. With a deposit of USC 5,130.92, the indicator has made a profit of USC 5,238.16. However, the account has suffered immense losses as shown by a negative gain (-99.9%). The balance is now zero. A total of USC 10,340.79 has been withdrawn.
The system has also been making daily losses (-3.10%) and monthly losses (-61.24%). The drawdown rate of 100% is proof that there is no hope for this account. It is only a matter of time before it is wiped out completely.  

The software has performed 202 trades with 79.68 lots. The win rates for longs are 60% and 63% for shorts. These results are mediocre. The pips are 2915. The average loss (-132.67 pips) is by far higher than the average win (105.05 pips). This means that the system is making more losses compared to wins. The profit factor of 1.65 is also disappointing.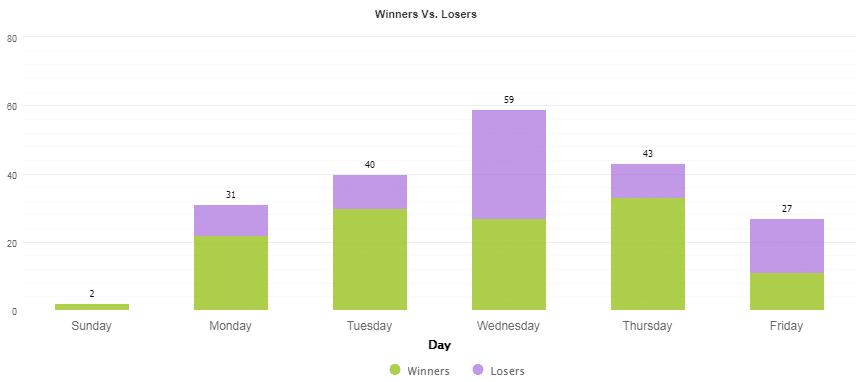 Wednesday has the highest number of trades, having closed 59 deals. Sunday has the least trades. 

The account's risk of ruin is very high.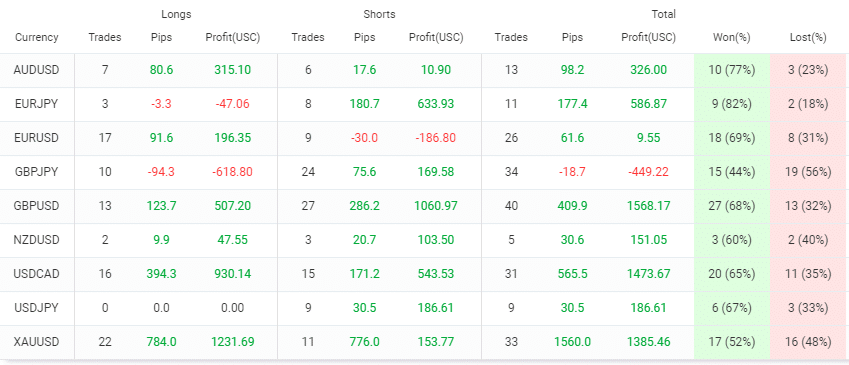 GBPUSD is the most traded pair with 40 trades. It is also the most profitable pair (USC 1568.17).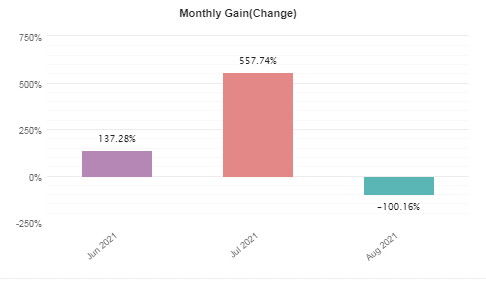 The account had high profit rates in June and July. However, it took a big hit in August to record -100.16% in losses.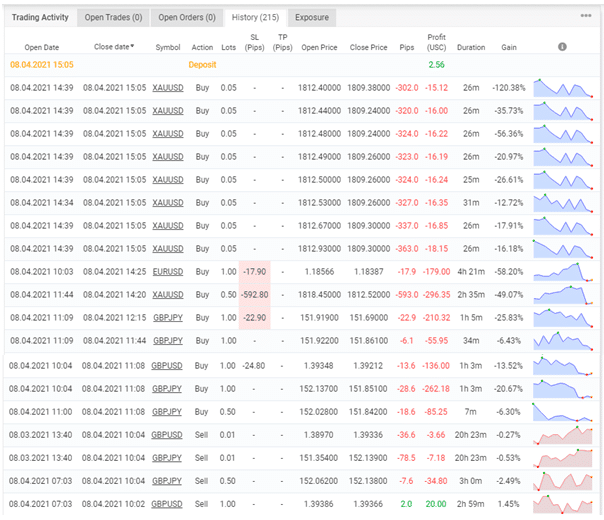 From the trading history, it is evident that the trading tool uses large lot sizes. It also utilizes trailing stop losses. We can as well see that account is on its way to being blown up completely as evidenced by the series of losses it has made.
Other notes
The indicator does not trade changes in trend on small timeframes.
People feedback
There are only 3 customer reviews on the mql5 website despite the high number of activations. All the testimonials are positive but we find them unreliable since we already know the system is unprofitable.
Conclusion
Advantages
Offers customer support
Is automated
Disadvantages
The trading strategy used is not profitable
Inadequate vendor transparency
Unreliable customer reviews
Massive drawdown
Avoid PZ Trend Trading like a plague. The trading results show us that it has done a terrible job as it has only managed to generate losses. So, your money will just go down the drain if you decide to buy it. The vendor is also not fully transparent and consequently, unreliable. In addition, the available reviews are not credible and may not represent a true picture of how customers feel about this product.