Robocopy FX is a company that provides signals for clients based on several strategies. The presentation didn't convince us that the service is good to follow.
Is this service a viable option?
No, it is not. The service looks like it's out of place. The developers must prove the system can make money for several months, not less, before we even start thinking about buying it.
How to start trading with Robocopy FX
We can receive signals only on the MT4 platform.
There are two strategies – Robocopy FX1 and Robocopy FX2.
On the live account, the robot trades 11 currency pairs where some are more frequently executed.
The system focuses on trading these pairs: EUR/USD, GBP/USD, and USD/JPY.
It places Stop Loss and Take Profit levels for every deal it opens.


It's hard to tell what they mean. There's no additional account to copy.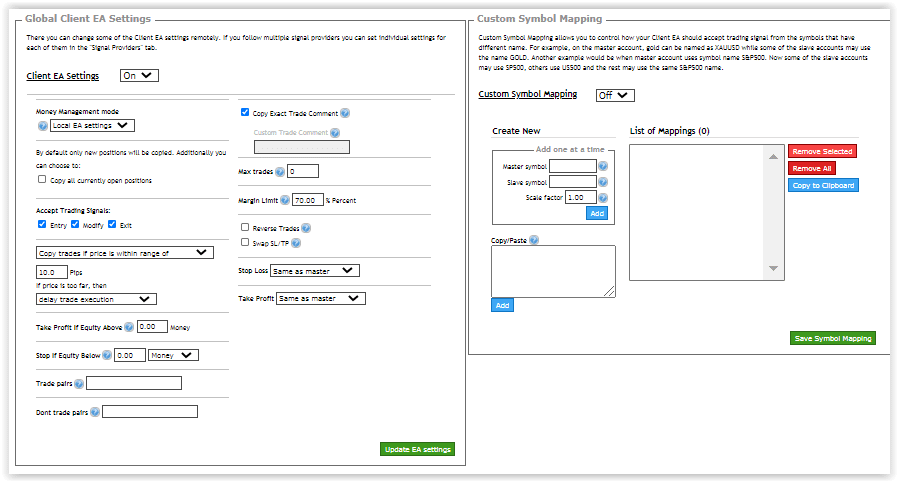 There's a screenshot of copy-trading software published. We can see that we're allied to customize: money management mode, Accept Trading Signals, Risk to Reward Ratio, Trade Pairs, Lot Sizes, Lot Multiplier, Risk in percent to the account balance, Lot money ratio, Risk money, and much more.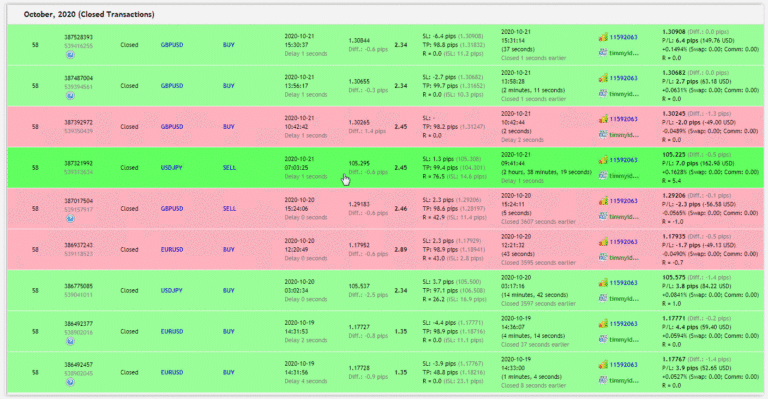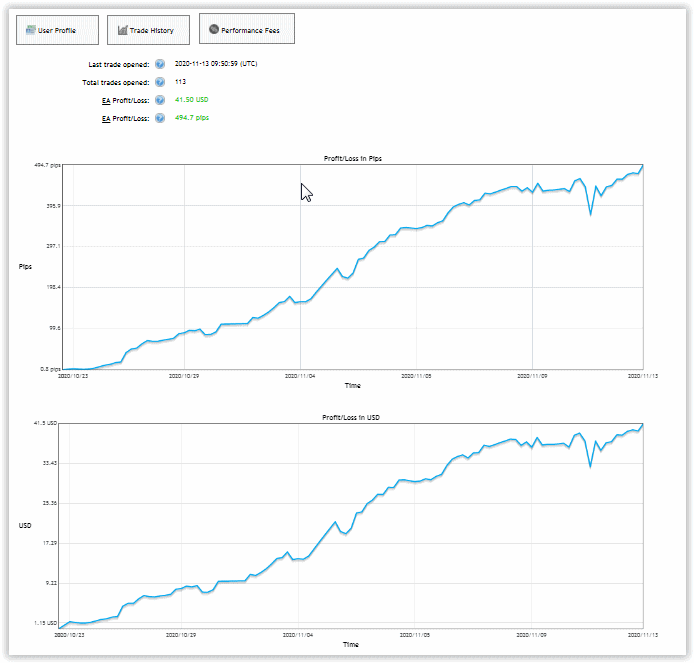 There are two screenshots of possible trades on an account the developers decided not to disclose.


We have a suggestion to trade through IC Markets.


The same we have with ForexVPS.
The developers are consistently seeking for new trading strategies to work with.

It's absolutely weird to see that the support can take that long.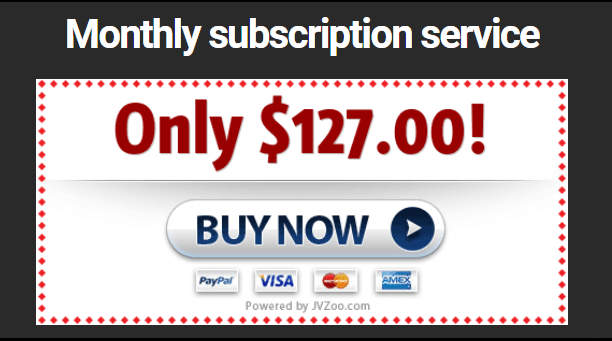 The service is available for $127 monthly.
It's medium pricing for these signals that are not so good.

The deal is supported by a 7-day money-back guarantee.


We can cancel the subscription only if we write a letter five days ahead of the invoice day. Taking into account, the support takes two days. We have to write seven days ahead instead.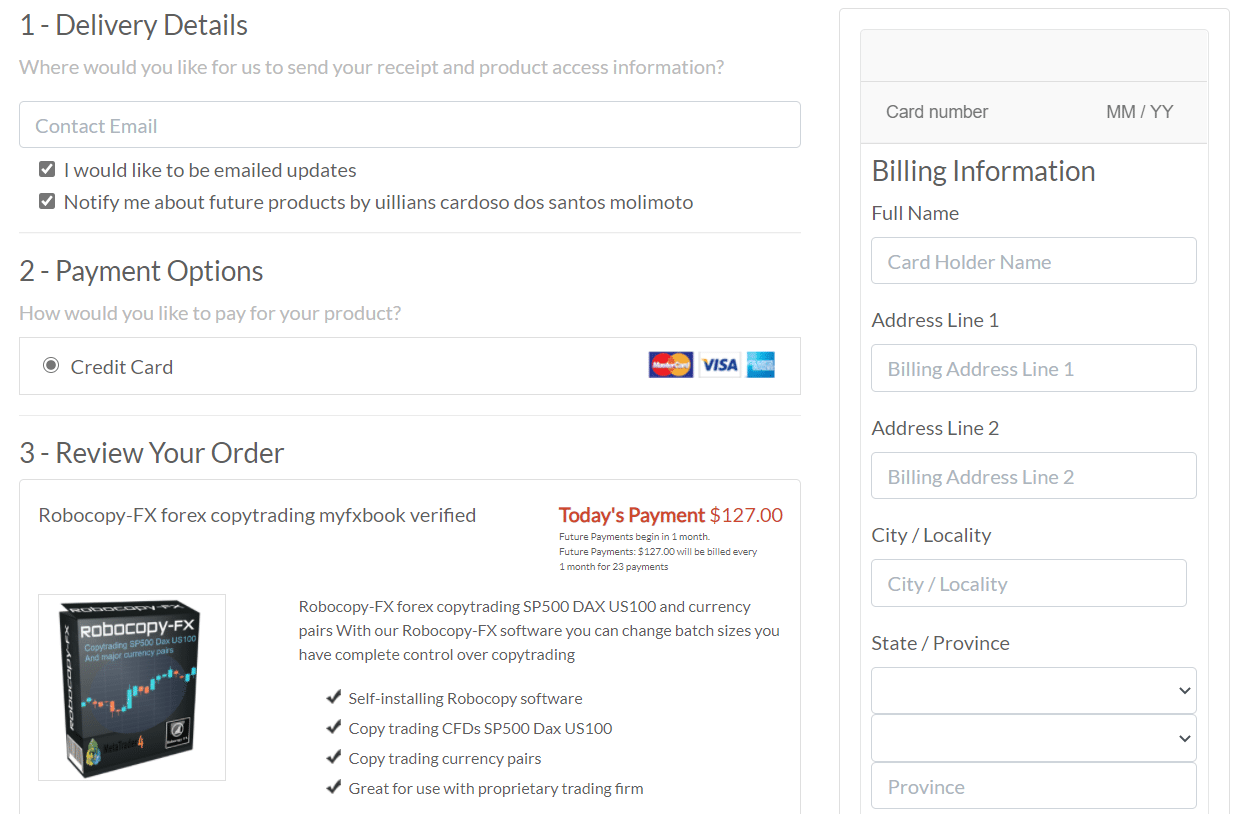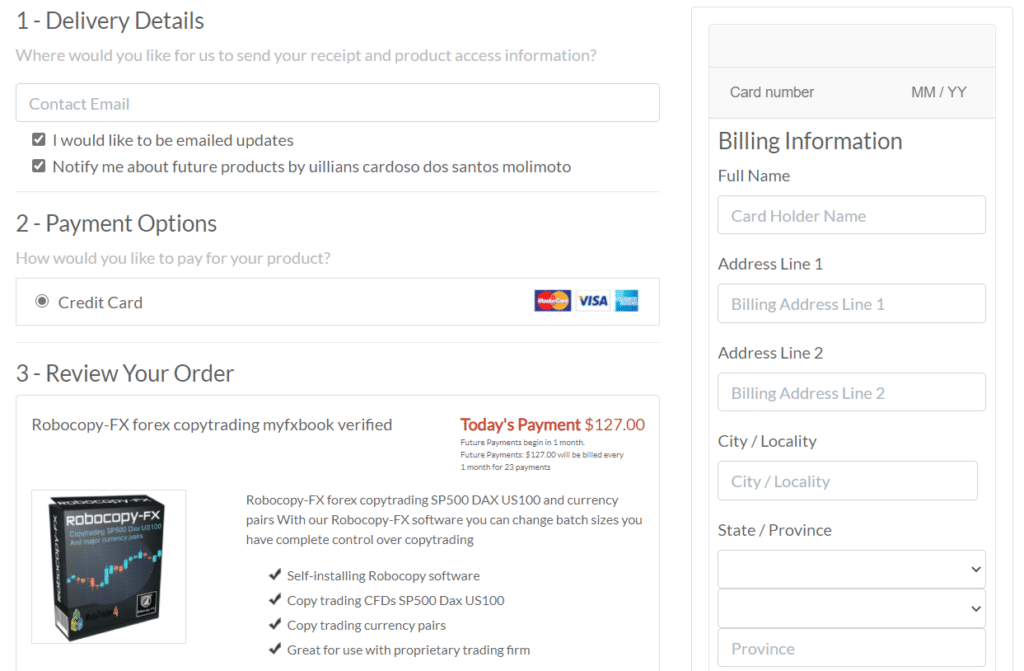 We have to provide all our personal data, including all card data, to purchase signals from Robocopy-FX.
Robocopy FX backtests
The systems have no backtest reports published. If these strategies are that good, so, they had to be well backtested.
Trading results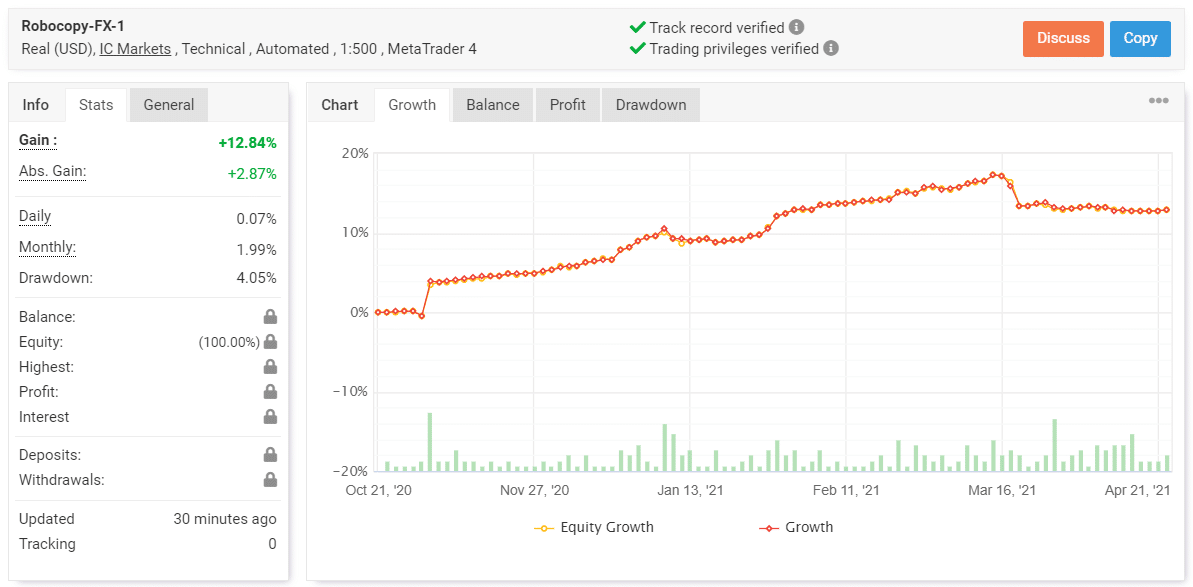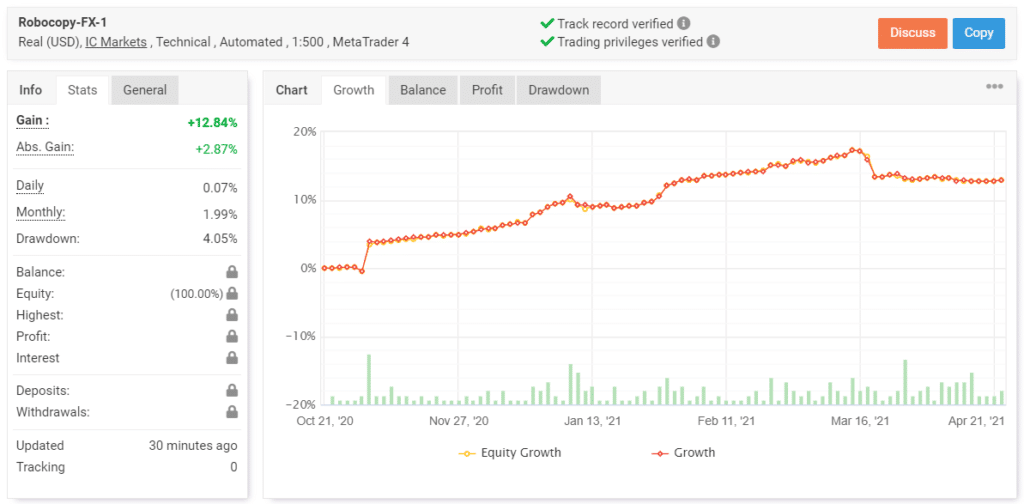 There are two accounts deployed. This is a real USD account of Robocopy-1 on IC Markets. The robot works automatically with 1:500 leverage on the MetaTrader 4 platform. The account has a verified track record and verified trading privileges. It was created on October 21, 2020. Since then, the absolute gain has become +12.84%. An average monthly gain is +1.99%. The maximum drawdown is on the low level of 4.05%. People don't track the account for trading results.

The robot has closed 242 deals with 709.6 pips. An average win is 7.99 pips when an average loss is -7.70 pips. The win-rate is 68% for Longs (137/201) and 65% for Shorts (27/41). An average trade length is five hours. The Profit Factor is 1.89.


The system trades six symbols. The most traded is EUR/AUD with 79 deals when the most profitable currency pair is GBP/CAD with 401.0 pips.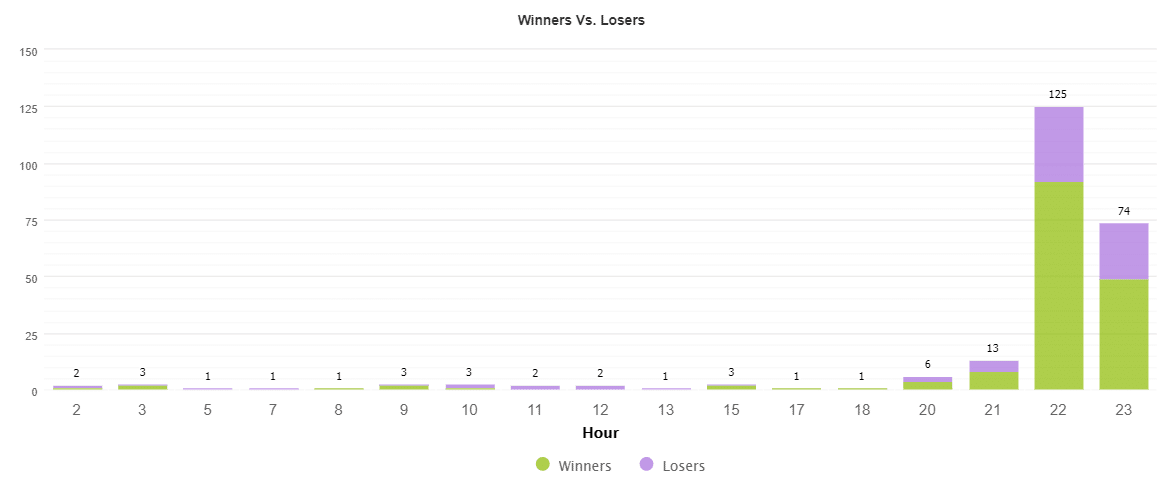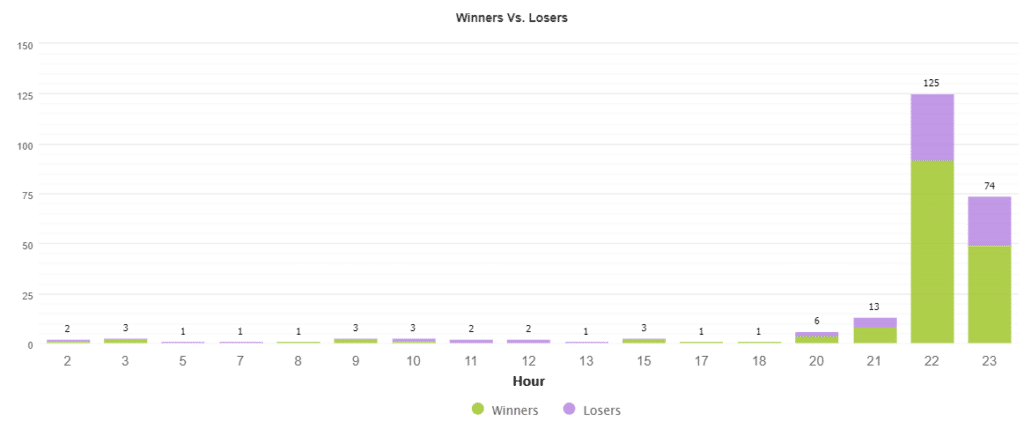 As we can see, this strategy is a night scalper that works mostly after 10 p.m.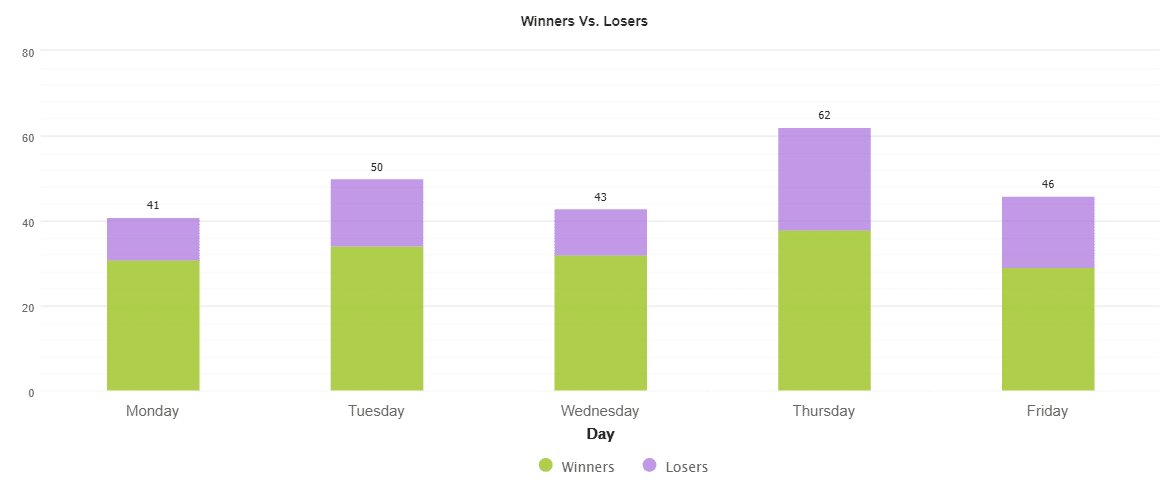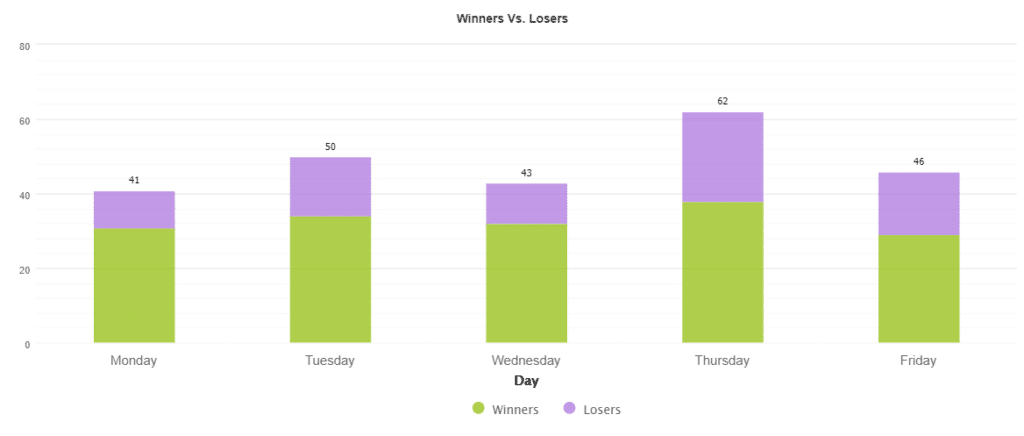 Thursday (62 deals) is the most traded day.


The system works with low risks to the account balance. For losing 10% of it, the robot has to lose 55 deals in a row.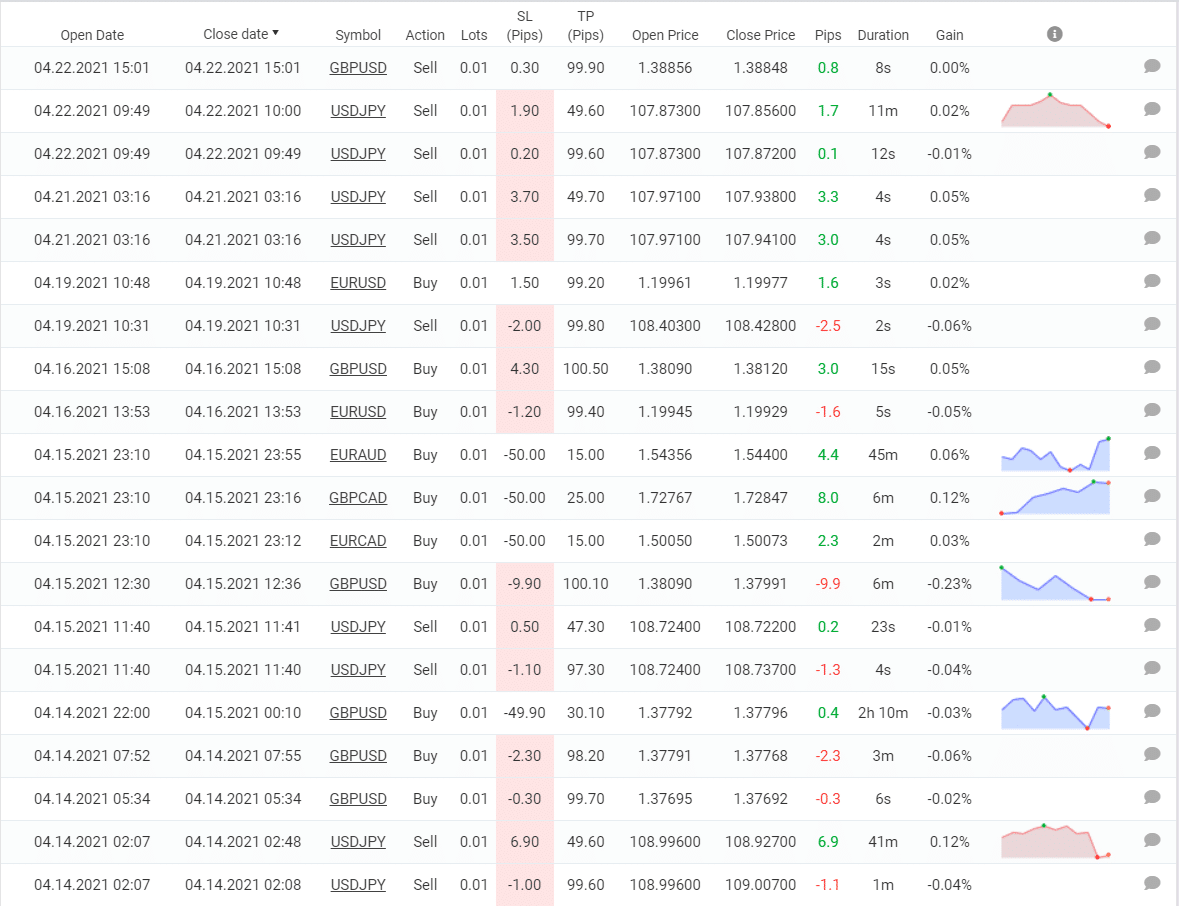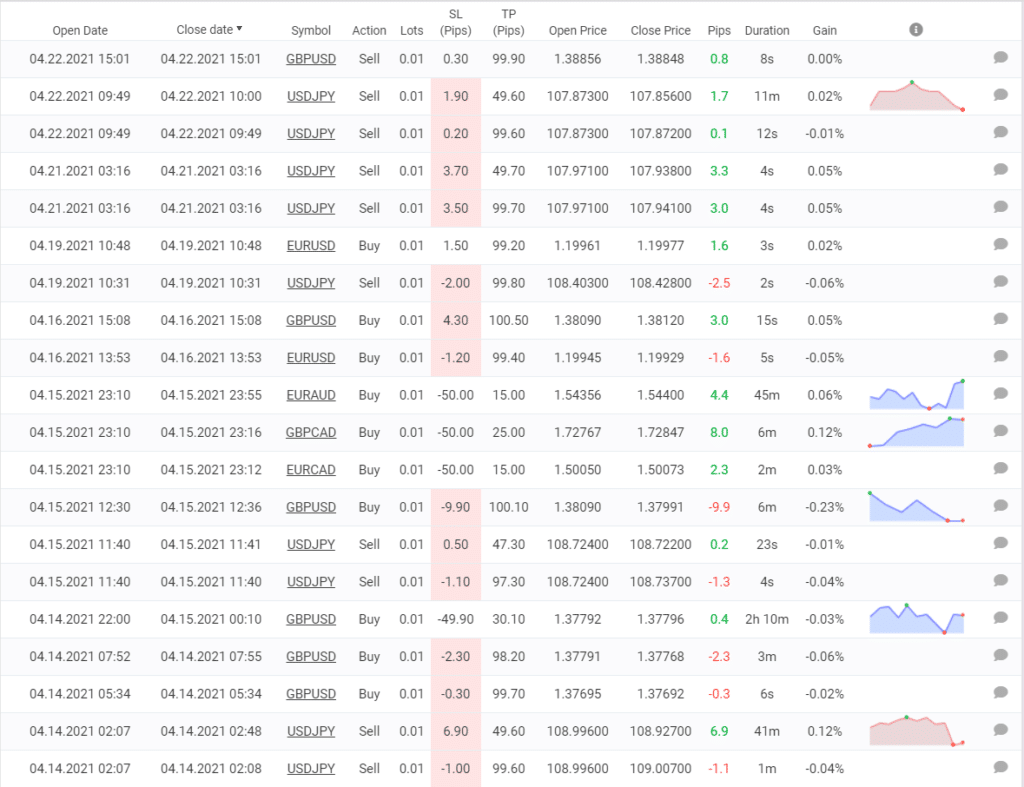 As we can see, there are few profits in pips compared with the losses in pips.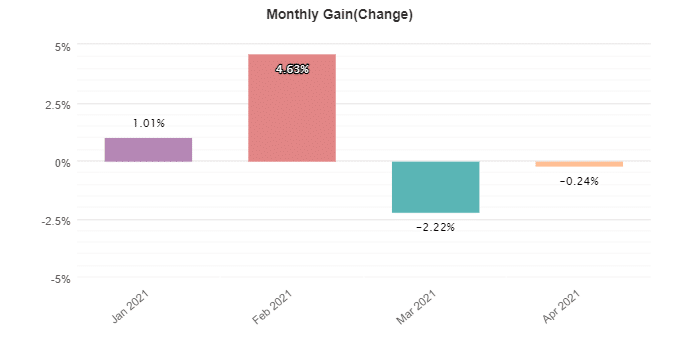 The robot works horribly on this account. Night scalpers are the simplest and the most stable advisors to design and work. This one is not one of them.
Other notes


The robot is listed on Forex Store. It had a 6.5 rate several weeks ago. Now, it's 3.8. The system of two EAs is a scam.
People feedback
There are no testimonials on the site, Trustpilot, or Forex Peace Army provided.
Wrapping up
Advantages
Real-account trading results
Disadvantages
No team revealed
No settings explanations provided
No strategies details provided
No backtests provided
One of the strategies is a night scalper
Mediocre trading results
The pricing is high compared with other MQL5 services
A 7-day money-back guarantee
There is a lack of people feedback
Summary
Robocopy FX is a signal service that has several months behind it. There are two strategies without explanations. The first one is night scalping. The second one can be trend trading or price action. If we have to guess, it means that the developers are not professionals. Trading results just proved this.