Disclaimer: The information provided here does not constitute any form of financial advice. Readers are fully responsible for conducting their due diligence before making any investment decisions.
Sandbox: Market Sentiment
For market sentiment related to Sandbox, we'll look at social media metrics from LunarCrush and the Crypto Fear & Greed Index (FGI) from Alternative.me. The graph below shows social media volume and its correlation with SAND's price over the past week.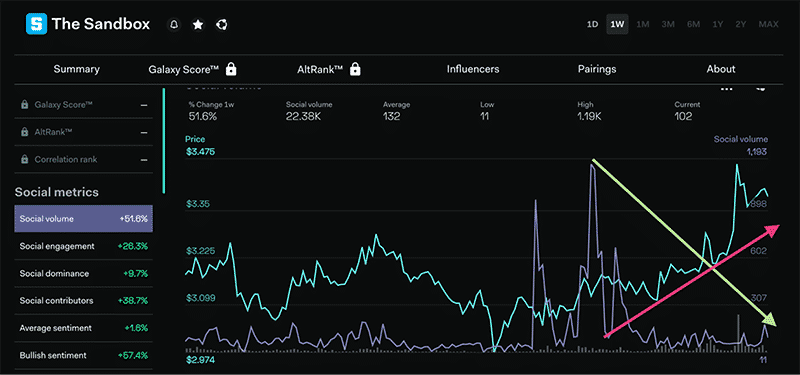 Generally, the value of a coin correlates positively with social media engagement. However, we see somewhat of a divergence. Interestingly, however, while volume has dipped steadily, SAND's value has increased.
The FGI, which is updated daily, shows a figure of 40. Readings between 0-50 are taken as the market being fearful, translating to buying opportunities.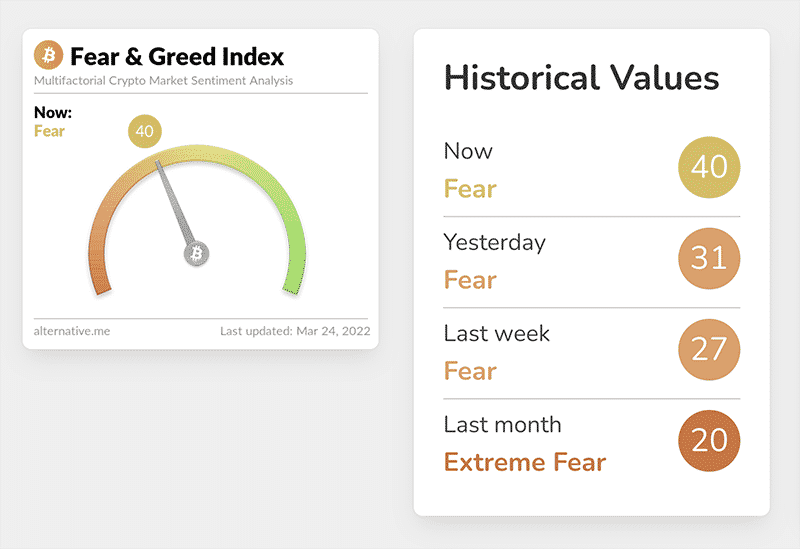 However, if we observe the historical values, the index has steadily risen from 20 ('extreme fear'). While the current reading is 40, it is nearer to 50 than it was over the last few weeks.
Therefore, the amount of fear isn't as much as it was recently. So, while it does suggest eventual bullish scenarios, it could ultimately show 'greed.'
Technical analysis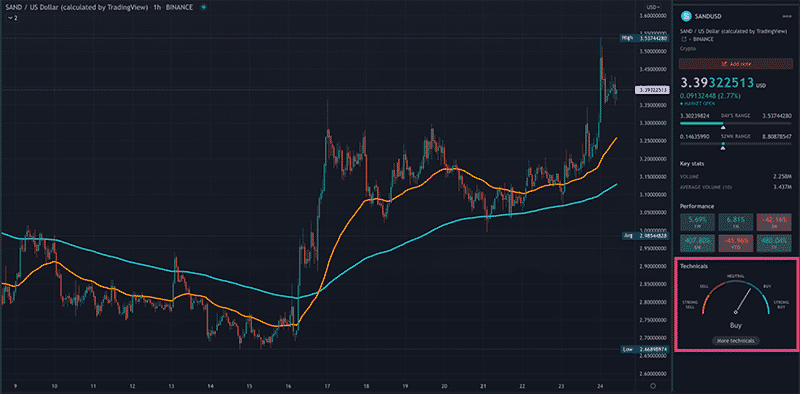 The 1HR chart above for SAND shows us a bullish scenario, further confirmed by TradingView's technicals (bottom right corner). Our primary analysis consists of the 50-day (orange) and 200-day (blue) moving averages.
It's evident that the 50 has crossed above the 200, and the price is above both. These are two excellent signs that we should be expecting higher values for Sandbox.
Fundamental analysis
The Sandbox has recently partnered with HSBC, adding to its gradually increasing list of brands that include The Smurfs, Square Enix, Snoop Dogg, The Walking Dead, and blockchains such as Binance, Harmony, and Polygon.
Interestingly, HSBC is the first global bank entering the metaverse, having, not long ago, expressed strong disapproval against cryptocurrencies. This is the most impactful news regarding Sandbox at present.
Fundamentally, this project is still quite valuable for a few reasons:
By market capitalization, The Sandbox is the third-largest metaverse project after Axie Infinity and Decentraland.
According to Bloomberg research, the metaverse industry is expected to be worth at least $800 billion by 2024. However, Sandbox also has considerable influence in the DeFi (decentralized finance) and GameFi (gaming and finance) sectors as well.
Sandbox relies on the proof-of-stake consensus mechanism, a far less energy-consuming model which is more scalable and cheaper in transactions. Moreover, gamers can generate passive income by staking SAND tokens.
Sandbox introduces scarcity in two interesting ways. Firstly, only 166,464 LAND pieces have been slated to exist on the virtual world's entire map. As more people join Sandbox, it makes each land parcel more valuable.
The second aspect relates to supply. Only 3 billion tokens are set to exist in Sandbox's entire lifetime, with about 38% or 1.14 billion presently in circulation.
Sandbox (SAND) Price Prediction: 2023-2025
Let's now investigate 2023 and 2025 price predictions for SAND.
2023 forecasts
For 2023, the average estimate we got from analyzing several forecasting sites was $7.69. From its current price, it's realistic to believe SAND should at least double in value.
Forecasts tend to be conservative in many instances, meaning Sandbox could perform much better than expected.
Some of the prediction services we analyzed include the following (with estimates):
Digitalcoinprice ($4.41 minimum; $4.98 maximum)
PricePrediction.net ($6.09 minimum; $7.18 maximum)
Wallet Investor ($5 minimum; $7.79 maximum)
One of the most optimistic forecasts came from Gov Capital, estimating the lowest price of $11.10 with a peak of $15.02.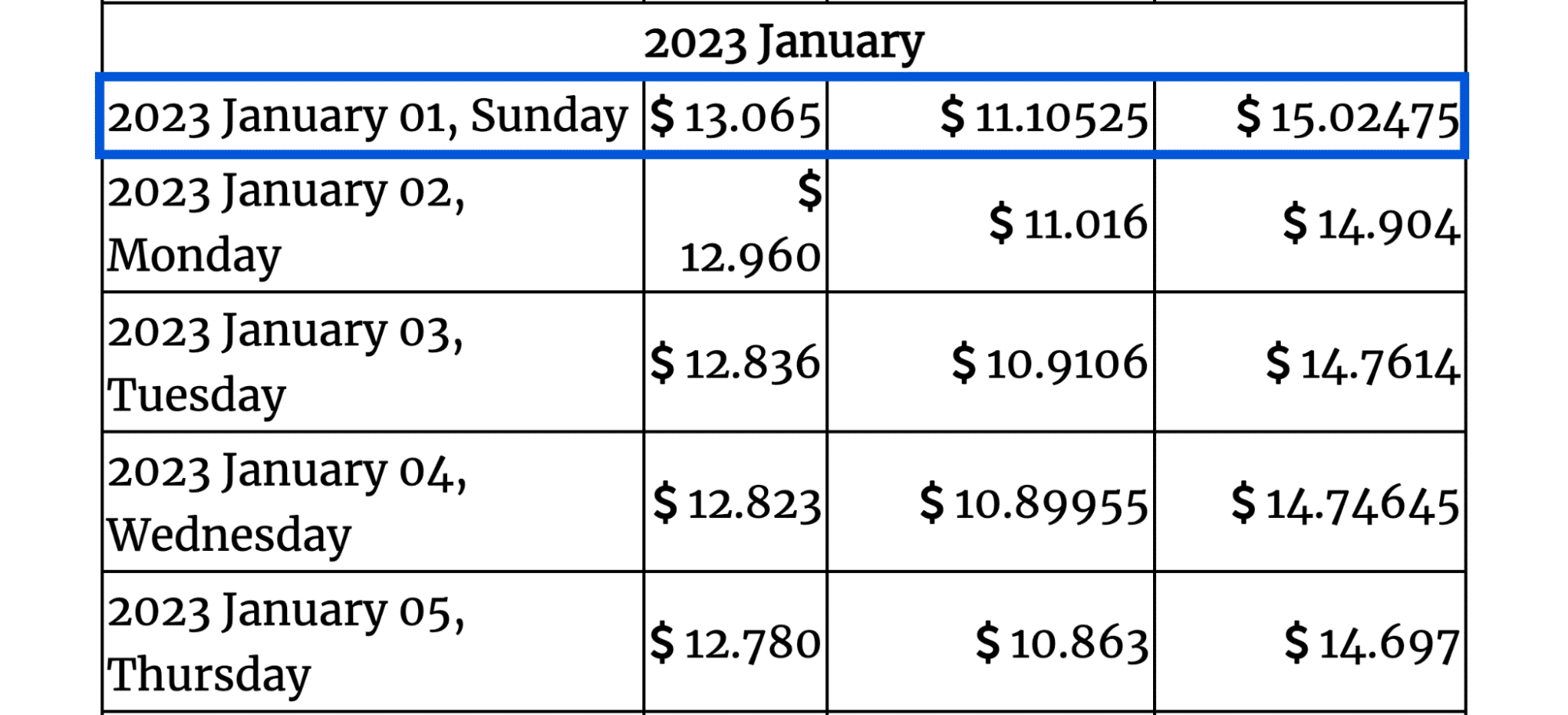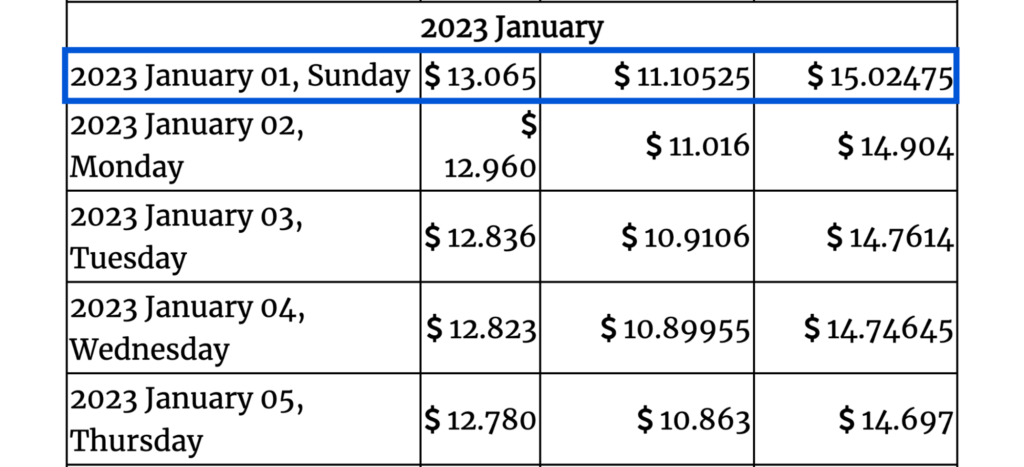 2025 forecasts
If the metaverse industry continues to grow, as experts have suggested, there's no reason why the price of SAND shouldn't be in the double figures. The average we derived from the different analyzed prediction sites was $11.93, which, similar to 2023, is rather cautious.
Some of the forecasting sites we observed include the following (with predictions):
Digitalcoinprice ($5.75 minimum; $7.03 maximum)
PricePrediction.net ($13.79 minimum; $15.34 maximum)
Wallet Investor ($12.60 minimum; $17.12 maximum)
Gov Capital was, again, one of the most bullish of the lot, with minimum and maximum prices of $41.10 and $55.61, respectively.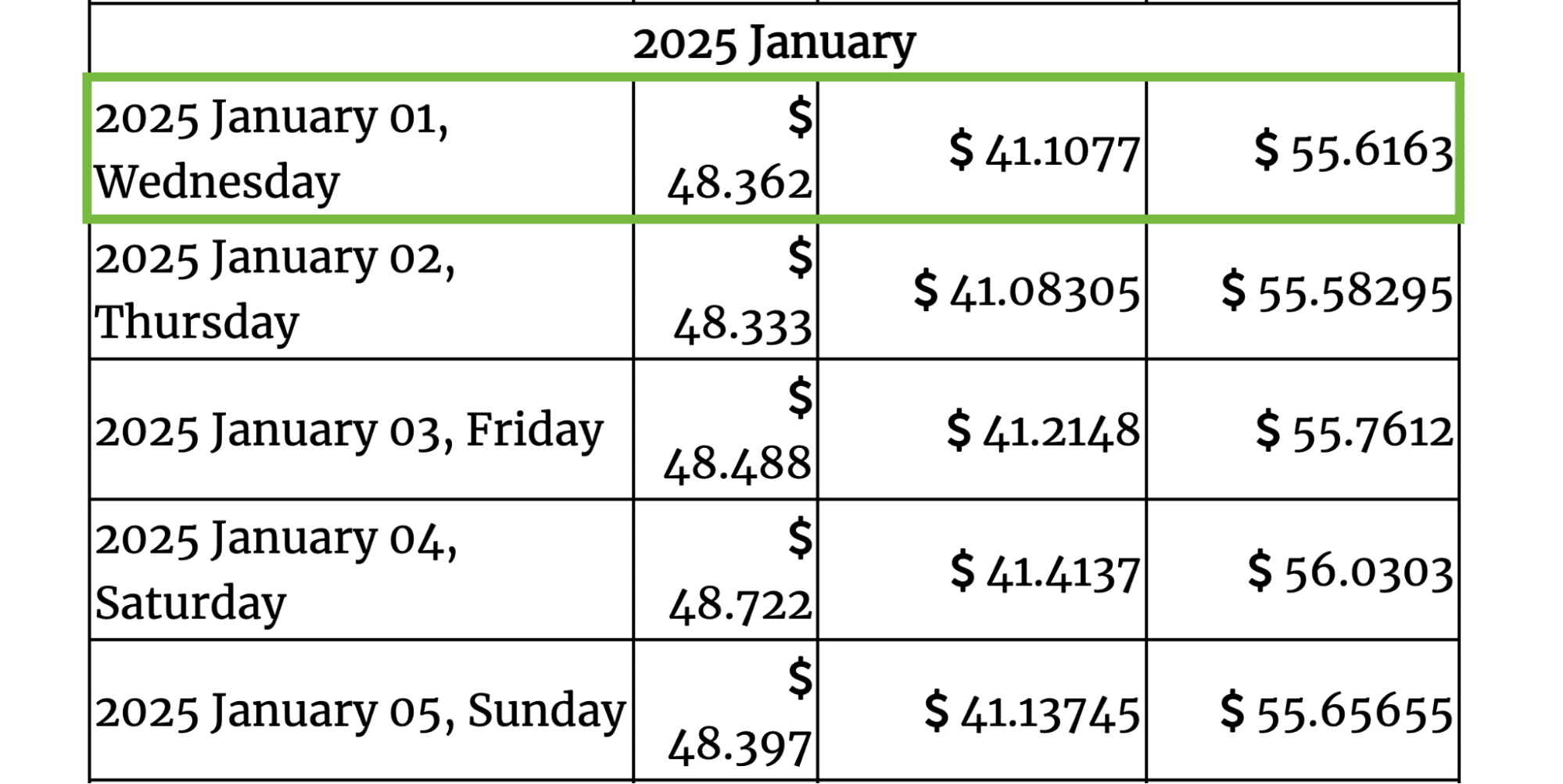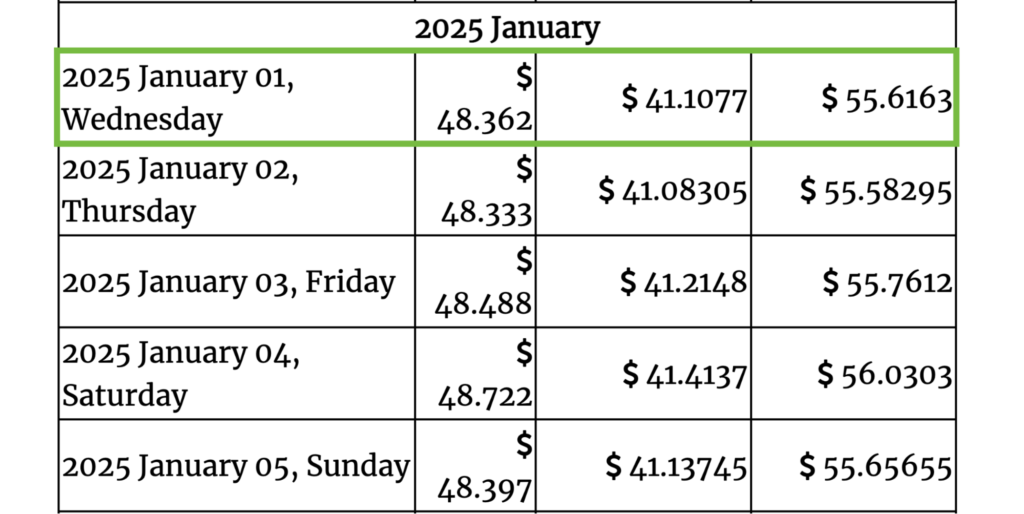 Sandbox Frequently Asked Questions (FAQs)
Is Sandbox real?
Yes, Sandbox was initially launched in 2012 and remains one of the largest metaverse-based projects in cryptocurrencies.
What is the Sandbox price today?
$3.38.
Will Sandbox's price reach $10?
With enough adoption, $10 is realistic and possible as it would take about a 200% increase from its current price to reach this value.
Should I buy Sandbox?
If you believe in the potential growth of metaverses, then Sandbox makes sense as an investment. However, you should fully accept all the risks involved.
Where do I buy SAND?
You can purchase SAND from several reputable exchanges like Binance, Uniswap, KuCoin, Huobi, Bithumb, Gemini, Kraken, FTX, Bitstamp, and many others.