SushiSwap is a decentralized exchange that provides various services like swapping, staking, and participating in providing liquidity into the liquidity pools. The system was designed to solve the liquidity problem. So, the goal is to provide all necessary liquidity for all market participants. We have not only DEX but also a decentralized lending market, yield instruments, and staking derivatives.
SushiSwap background
The main developer is Sushi Chef 0xMaki and the core team. SushiSwap was built around Uniswap and it was released in September 2020.
SushiSwap overview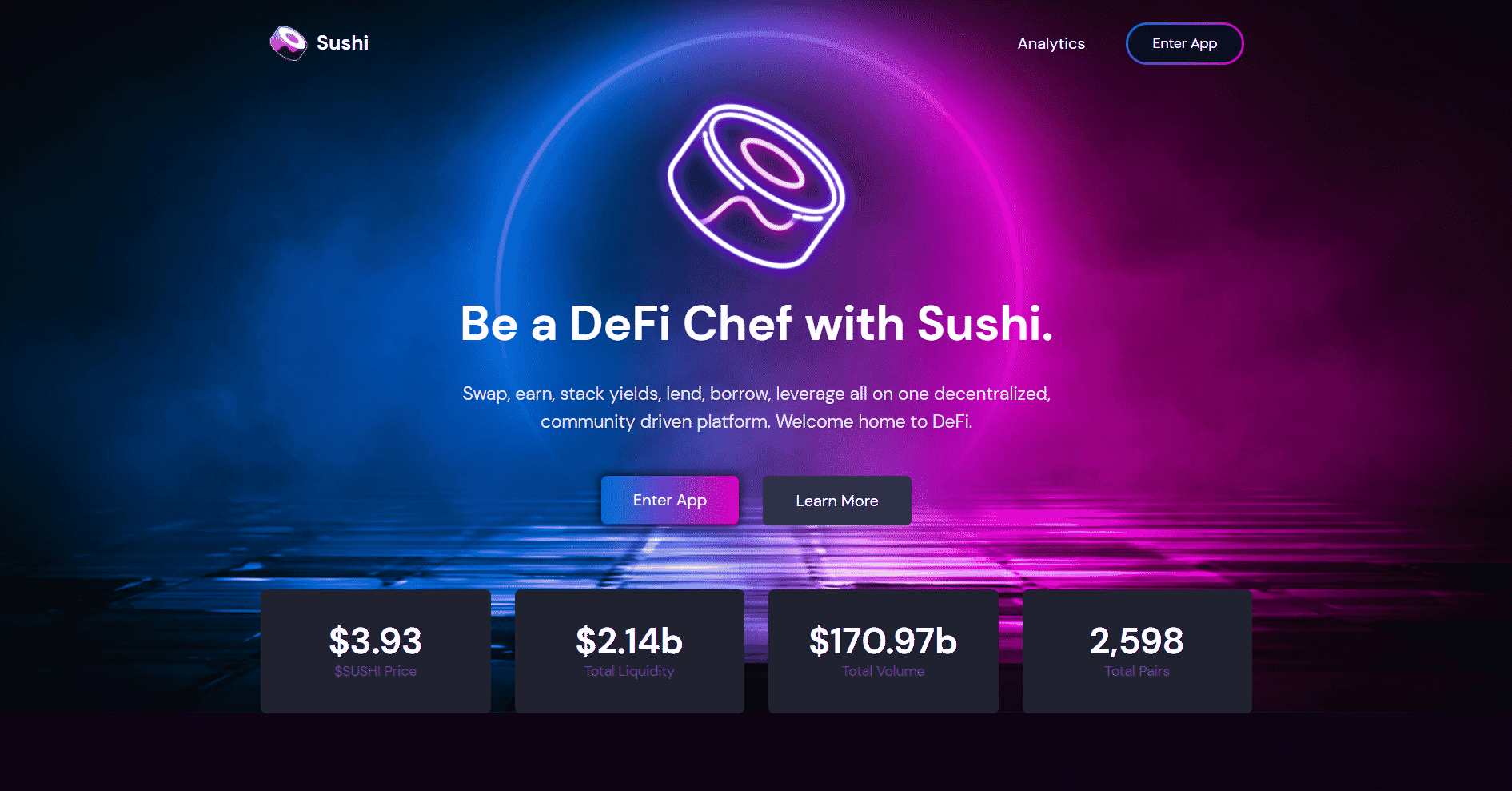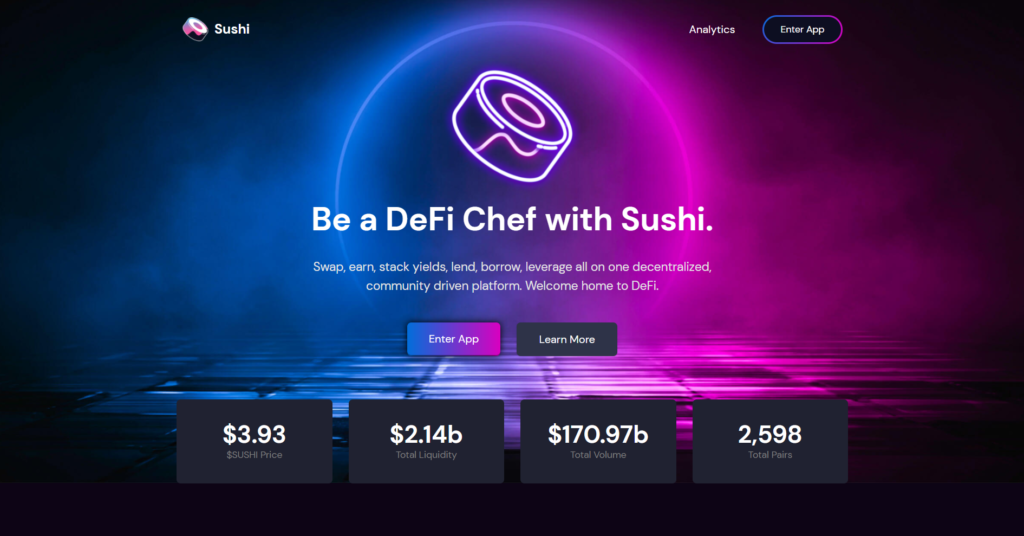 SyshiSwap is a non-custodial exchange.
We can trade peer-to-peer without joining a third party.
People can provide liquidity and get SushiSwap liquidity tokens as rewards.
We are allowed to switch between blockchains in one click.
We can leverage long, short, or create our own market.
It includes an innovative ecosystem that uses dapps gas-efficiently and gains extra yield.
We can stake SUSHI for more rewards–0.05%
The system supports over 20 wallets.
There are 14 chains supported.
They have over 25,000 Discord members.
We have over 150,000 SUSHI holders.
The current price of it is $3.93 per coin.
The total liquidity is $170.97b.
We can check the top SUSHI liquidity pairs: ILV-ETH, USDC-ETH, BIT-ETH, TOKE-ETH, WBTC-ETH, OHM-DAI, ETH-USDT, ETH-ALCX, DAI-ETH, OHM-ETH.
Pros & cons
Pros
Various liquidity pools available
We can stake SUSHI tokens
We can get passive income
The fees policy is preferable compared with the other decentralized exchanges
Cons
No team revealed
No risks explained
No people's feedback provided
| | |
| --- | --- |
| Funding methods: | Cryptocurrencies |
| Cryptocurrencies supported: | 80+ |
| Countries: | Every country where are crypto assets allowed |
Key features of SushiSwap
We can swap tokens.
The system allows us to switch between chaines.
There are many wallets allowed.
We can stake SUSHI for getting rewards.
There's a possibility to join various two-coin liquidity pools.
We can maximize our yield with staking pools. The devs insisted that it's the best way to use our margin. When we stake our SUSHI we will get xSUSHI tokens. So, these tokens provide us with voting rights. When we unstake our tokens all of them will be transformed into the original SUSHI. An expected APR is as low as 10.76%. Now, the rate is 1 xSUSHI = 1.2441 SUSHI.
What wallets does it support?
The exchange supports the following wallets: MetaMask, WalletConnect, Keystone, Lattice, Coinbase Wallet, Fortmatic, Portis, Torus, Binance, and Clover.
How does SushiSwap work?
It allows us to swap, deposit in the liquidity pools our tokens, lend, borrow, and stake SUSHI to get generous rewards. So, we have to decide what staking or deposit pool rewards fit our expectations and then, measuring the risk, provide our tokens.
What can you buy with SushiSwap?
We can purchase SUSHI tokens or swap ours.
Are there any risks with SushiSwap?
1) Volatility
The token price can change dramatically within a day. So, the annual profitability can even cover a part of the lost value.
2) Hacking
Pools can be hacked and exploited. It's a common risk that everyone knows about. So, you have to take it into account too.
SushiSwap fees
The owners charge 0.25% fees for every trade.
Deposit methods
To trade on this DEX you need to have ETH coins to pay for the gas fees. The exchange has zero deposit fees.
Should you buy it?
It's completely up to you. We can't provide you with that type of advice.
Final word for SushiSwap
SushiSwap is a decentralized exchange that was designed around UniSwap. The platform provides a common pack of services like swapping, staking, and participating in two-coin liquidity pools. The site isn't featured by people's testimonials to let us know what we should wait for.