As forex is a financial industry with low barriers to entry, this discrepancy leaves room for malpractice. The other unfortunate part is that there seem to be very few accredited institutions that offer courses specifically related to forex trading. Most institutional traders that trade for prop firms, banks, and other finance firms got their education through finance, mathematics, and economics degrees rather than a so-called 'forex trading degree.'
Grasping the technical concepts of forex can take as long as a typical degree would because it's a challenging career. The best way for anyone seriously wanting to learn is often by dedicating their time practicing on demo accounts and visiting several well-known educational sites online. Trading courses, unless they have some form of accreditation and uniqueness, are generally frowned upon since much of the information is freely available on the internet.
Regarding mentors, while they can drastically shorten one's learning curve, it's hard to find a credible mentor with ample experience and knowledge. It's best for anyone looking for any mentor to research and gain enough personal interaction to ensure their credentials.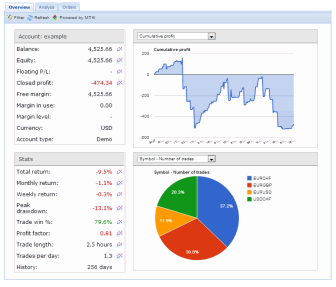 Plenty of analytics platforms like Myfxbook, Psyquation, and FXBlue allow traders to link their live accounts. These applications are probably the only and best way to verify how profitable a trader is. A credible trader or mentor, whether they are selling an expert advisor, a trading strategy, or signals, should be able to provide these details and a track record of at least a year's worth of trading activity (but ideally more).
In the beginning, new traders should learn the basics on their own and seek more advanced information through more personal study or from a trustworthy mentor. The best method to avoid any scam is never to commit any money from the get-go.
Common forex scams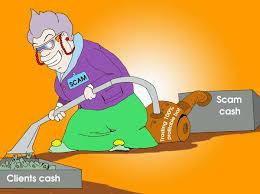 Nearly all of the scams in forex take place on the internet, which is naturally the simplest avenue for such and a breeding ground for unsuspecting beginners. It's good to preface these scams by some of the familiar tell-tale signs that scammers reveal.
Typically, scammers will make use of numerous social media accounts, mainly Facebook, YouTube, and Instagram. Although there are others, these are the go-to platforms as they are more visually appealing.
It's not unusual for scammers to be well-versed with photo-editing software such as Adobe Photoshop. This discovery is important to note as scammers can manipulate trading results, charts, and many other physical things for their required effects. On another point of visuals, most scammers display unusually exuberant lifestyles of expensive cars, houses, and other so-called signs of wealth, many of which are rented or borrowed.
Regarding brokers who may be unregulated, verifying the regulation of an organization is simply a search on the regulator's website. Ideally, one should stay away from unregulated and offshore brokers from remote countries like Seychelles, Belize, and St. Vincent and the Grenadines, to name a few. Even though there are legit brokers from such places, a safer option would be if the broker in question also has licenses from CySec (Cyprus Securities Exchange Commission), the FCA (Financial Conduct Authority), or other European regulators.
While there are variations to these scams, plenty of them are similar in principles and promises.
Robots/expert advisors and trading strategies that promise crazy returns
In this situation, scammers may purport to new traders about purchasing an expert advisor or robot making a high daily return with little effort. Though expert advisors automatically trade and only require very little or no human intervention, no trading system is capable of predicting a consistent daily return, at least not without significant risk. Also, a scammer may sell trading software like MT4 (MetaTrader 4) expensively and make it appear as their proprietary trading platform, even though most trading platforms are free.
Scammers predicate trading strategies on near-identical tactics, promises of quick profits with little losses and effort, which is a particular staple of scalping and day trading strategies. Naturally, scammers sell strategies as courses with information that they've plagiarized from other forex content websites like Babypips, or the strategy may not be sustainable in the long term.
Investment programs or account managers
Scammers usually market these forms of scams to people that prefer not to trade the markets directly but instead hand their funds to them to trade on their behalf. Interestingly, some scammers may have some profitable track record. However, anyone trading other people's money must have a license to do so.
The first common scenario for the scammer may be to create a program with different investment amounts that supposedly generate a set daily or weekly return. They would suggest to clients that they'd be trading these funds themselves and are capable of producing those returns. What tends to happen is as many of these scammers are irresponsible and high-risk traders, they'd abuse those funds and end up losing or wasting them on other purchases.
Alternatively, to avoid directly trading, they may create a different type of program where they collect a large pool of funds. However, this would be a pyramid scheme of sorts where they are essentially paying new investors with old investors' money rather than investing in the markets. At some point in time, since they could use the money to fund their lifestyles, the operation eventually ceases, leaving countless investors with huge deficits.
Conclusion
Quick recap:
Any account managers or traders who trade other people's money are supposed to be qualified and licensed.
Expensive courses are often not worth the price as most of the information is available online.
Any trader or mentor selling or claiming any form of results for a strategy, expert advisor, or signals should verify them using trade result analytics tools with a year's worth of data.
The whole issue of forex scams can be summed up by the adage, 'If it sounds too good to be true, it probably is.' On the one hand, the education in forex has minute inspection, which therefore means one doesn't need to pay high tuition fees that you would pay for a college or university.
On the other hand, the internet has made it easier than ever for scammers to thrive and find ways for people to fork out their hard-earned money. What it comes down to is that anyone must take full responsibility for their education in navigating the markets and never trusting any strangers or companies without thoroughly researching them first.