Telegram Connector helps traders to connect their signal providers' Telegram group with their trading account. In a way, the software acts as a link between a trader's signal provider and their customized trading account. The system takes all the trade that the signal provider posts in the telegram group. According to the vendor, this approach ensures that traders do not miss on any good trades. So far, Telegram Connector has been downloaded 1384 times. It boasts of having 1255 happy customers, 1186 VIP users and receiving 1255 positive feedback.
Is Telegram Connector Worthwhile?
Telegram Connector's official website is organized into various sections which describe what the system does, steps of setting it up, and the EA's individual features. The remaining segments highlight the signal formats it reads, pricing plans, FAQs, customer feedback, and a contact form.
Vendor transparency is lacking. We could not find any useful information about the software developers. The only thing we were able to determine is that the vendor is situated in Denmark based on the address provided on the system's official website. The software has the following features:
In-built signal analytics
Customizable Stop Loss and Take Profit levels
In-built multi language tool
Runs on both MT4 and MT5 platforms
Multiple Take Profits levels
Carries out signals immediately
Manages risk for the user
Trades all types of instruments including cryptocurrencies, FX, commodities and indices
Different TP and SL rules
Permits a trader to customize the expiry time on pending orders
Provides customer support
How to start trading with Telegram Connector
Telegram 3 different subscription offers. The basic plan which costs $34.99 monthly features 2 MT4 or MT5 accounts. The pro package is $49.99/month and integrates 5 MT4 or MT5 accounts. The VIP pack is priced at 79.99/month and comes with 10 MT4 or MT5 accounts. All the three packages come with unlimited telegram signals and signal groups, and lifetime updates and support. No money-back guarantee is provided.
In order to begin using Telegram Connector, traders have to choose the subscription plan they want. Once they do so, an email with the system is sent to them. The next step is to follow the installation steps. The user's Meta Trader account can then start getting signals from Telegram.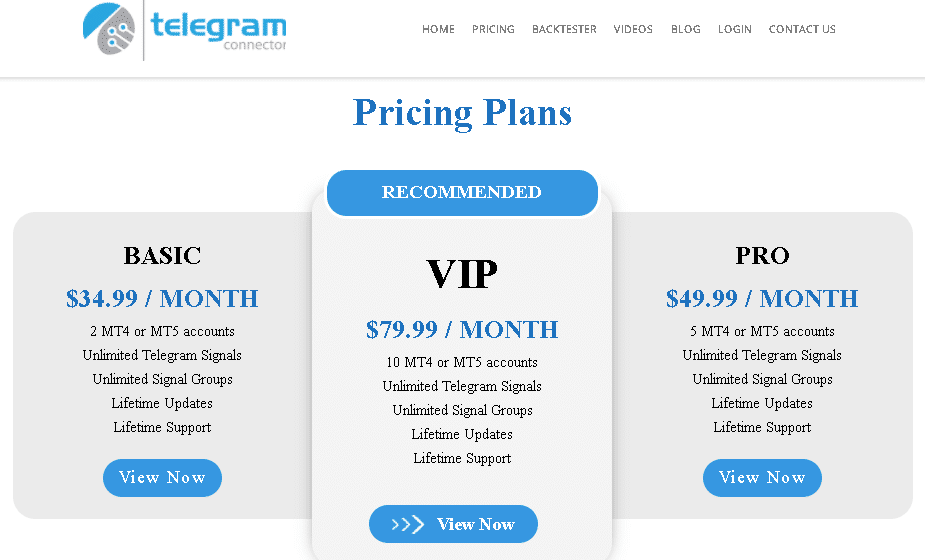 Telegram Connector Backtests
Backtest reports are not provided. This is a very huge con. This data is crucial as it helps a user to ascertain the profitability rate of a trading system in the long run. Therefore, we cannot trust Telegram Connector developers to deliver on their promises in terms of helping their clients to benefit from the trading signals provided. Notably, the vendor provides users with an option of purchasing a backtester. The Telegram Connector backtester enables the trader to ascertain if the signal provider is profitable or not.
Trading Results
Live trading results for this system are also lacking. These statistics are important as they help a trader to establish how a system performs in the live market. This way, it is possible to gauge if the software can really generate profits and the level of risks it carries.
Other Notes
The developers update the system regularly. In case traders lack a signal format that Telegram Connector supports, they are welcome to send the vendor an email. The vendor will then respond by adding it within the shortest time possible. All a trader needs to do is to ensure that their signal provider replies to the original signal given in Telegram.
People Feedback
We were able to find some user testimonials for Telegram Connector on the Trustpilot website. The system has received mixed reviews from its customers, but most of the feedback is positive. Out of the 52 client feedbacks, 15% of the users have rated the system as bad while 2% have rated it as poor as shown below: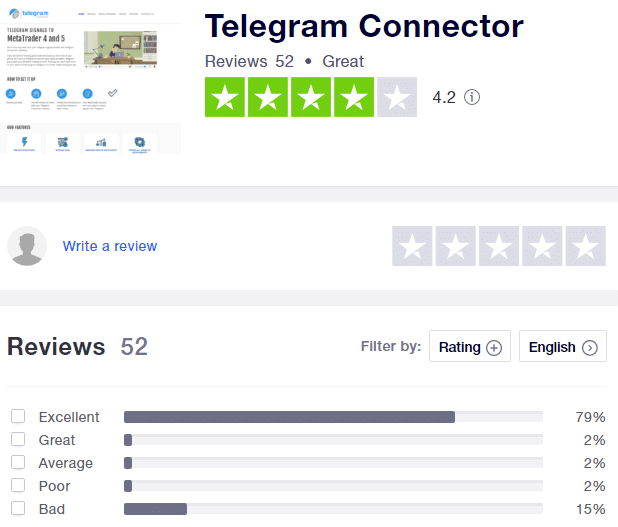 We noted several complaints. One trader stated that he did not get the plan he subscribed for and is overcharged every month. Another customer complained that he could not comprehend how to use the system. Screenshots for the bad reviews are provided below:


Summary
Advantages
Customer support is offered
Disadvantages
Vendor transparency is lacking
Live trading results and backtest reports are absent
Money-back guarantee is not provided
We advise against purchasing this software. We do not know how it performs in the live market or its profitability rate over a long period of time. Also, developers who do not reveal their identities should not be trusted. Since the vendor does not provide a refund policy, the system is not worth the trader's money.