Australian government confirmed the addition of 160,000 people to the labor force from pre-pandemic times with close to A$500 paid by Services Australia to workers. 
June 2021 saw Canada's manufacturing PMI inch down to 56.5 from 57 achieved in May 2021.
Canada's GDP may hit levels above C$2.00 trillion by the end of 2021. 
The AUDCAD pair added 0.68% as of 4:05 pm GMT on August 2, 2021, from the previous day's close. It traded to a high of 0.9216 with a dismal annual performance of -3.89%. At the same time, the Canadian dollar lost 0.64% against the Japanese yen and 0.32% against the greenback as trading weakened during Canada's Civic Holiday.
Strong fundamentals
Federal Treasurer Josh Frydenberg stated that going into the pandemic, Australia had displayed resilience in its economic growth as compared to other nations. An additional 160,000 people had been added to the labor force, with a bounce-back expected into 2022.
Sydney is currently in a 5-week lockdown, and the September 2021 quarter may experience a hard-hit economy. The Federal government joined the New South Wales State government in a "50-50 split" to support businesses.
Prime Minister Scott Morrison announced an increment in financial support among eligible workers. Employees that lost more than 20 hours in a week were to earn a weekly payment of A$750, while those that lost 8-20 hours were to get a weekly payment of A$450. This model was to commence on August 2, 2021.  Already the AUD/USD pair was trading at +0.56% when this model came into effect. 
Up to $490 million has been paid by Services Australia to employees in NSW and Victoria. About 955,000 payment claims have also been processed through this initiative.
Digital economy transformation
The Australian economy is scheduled to benefit from a A$224 billion injection based on digital transformation using the future generation Software as a Service (SaaS) technology. Over the next decade, the GDP is estimated to grow by more than 1.3%, saving more than A$70 billion spent on redundant software that causes higher emissions.  
The unlocking of this dividend-type of the economy will release at least A$62 billion to the Federal and state government to enable infrastructural development. As the country is fighting the Covid-19 pandemic, an additional 11 million hospital services will be released to the public consisting of 883,000 more residential care places for the aged.
Manufacturing PMI
Canada is slated to release its manufacturing PMI on August 3, 2021, with factory activity pointing to ease in production into Q3 2021.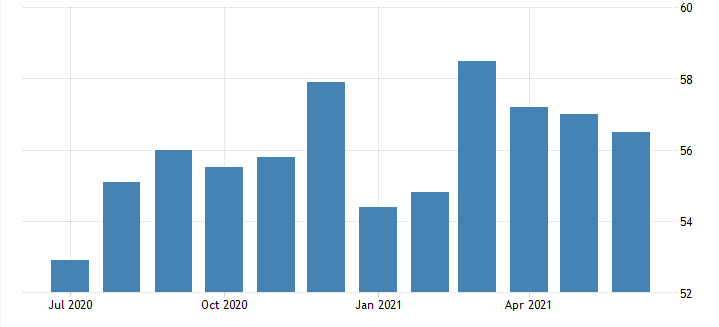 Canada's Manufacturing PMI
June 2021 saw Canada's manufacturing PMI inch down to 56.5 from 57 achieved in May 2021. While it still showed an expansion (above 50), it still indicated a decline in factory activity – the softest since March 2021. Oil prices have since reduced, with WTI crude selling at $71.13 (-0.18%) and Brent crude at $72.75 (-0.19%).
Economists, however, expect Canada's economy to grow at an annualized rate of 2.5% into 2022 as it rebounds post-pandemic. June 2021 estimates have put the growth rate at 0.7% after falling 0.3% in May 2021.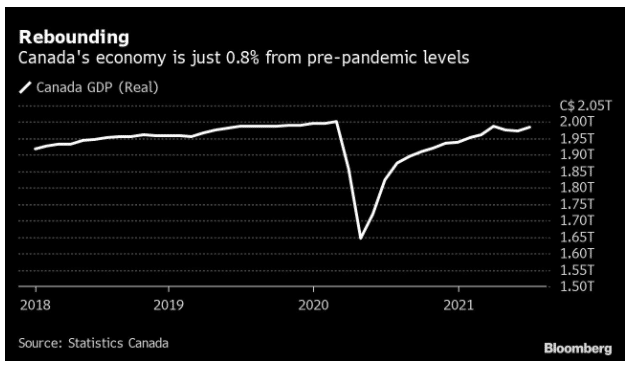 GDP Growth estimate in 2021
The GDP may hit levels above C$2.00 trillion by the end of 2021, with heightened factory activity in Q3 2021.
Technical analysis
The AUDCAD pair began a downtrend from March 2, 2021. A pullback ensued on April 5, 2021, leading to a slight busted pattern upwards. Prices declined after hitting a major resistance at 0.9985.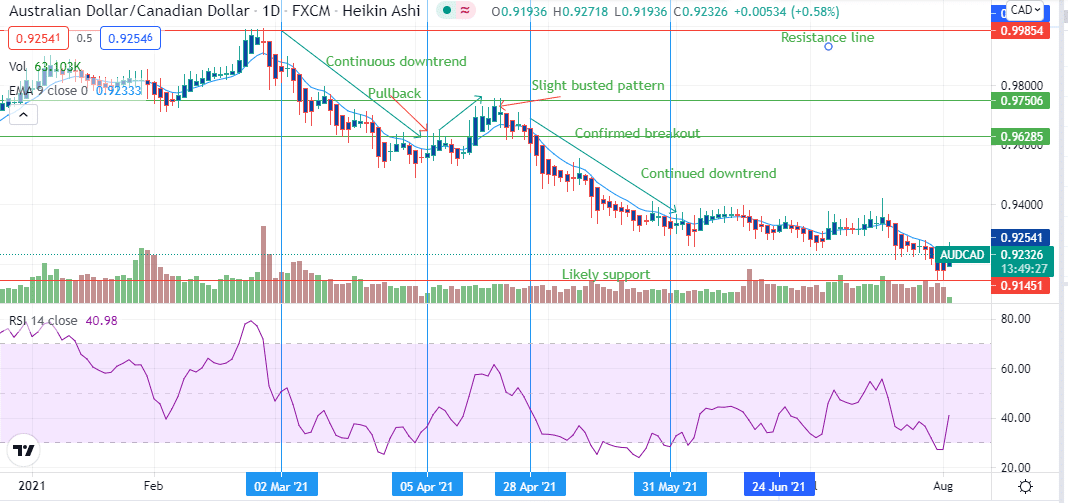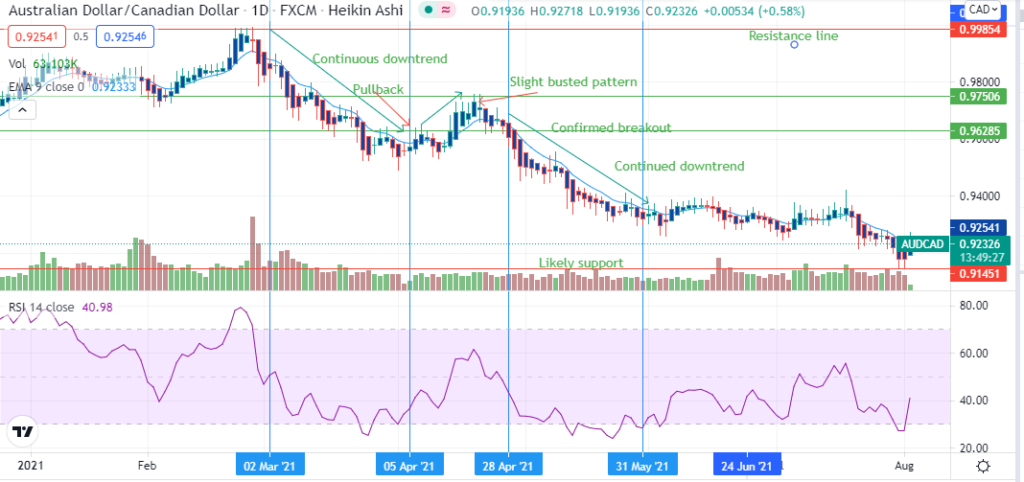 The busted pattern gave way for a bearish movement after prices hit a high of 0.9751 and confirmed the downward breakout at 0.9628. We are likely to find support at 0.9145. At 0.9254, the price rose above the 9-day EMA at 0.9233, and we expect the pullback to take shape.