Biswap is the first decentralized exchange on Binance Smart Chain that has a several steps referral program. We can work with various services like yield farming, low swap fees, and high execution speed. The fees are 0.1% only. The exchange fee reimbursement is up to 90%. The total locked value is $469 708 287 when the total trading volume is $33 232 169 986.
Biswap background
Biswap works with BEP-20 tokens. The platform was launched in April 2021. The company has two unknown investors and it was registered in the United Kingdoms. According to the road map, we have lottery, analytics, NFT Earn/Marketplace, Launchpad, GameFi integration, and pools for token holders. The devs focus on providing the following features: listing on the main crypto exchanges, updating Squid NFT World, developing multi-chain connection, more rewards for token holders, and updating the Launchpad system.
Biswap overview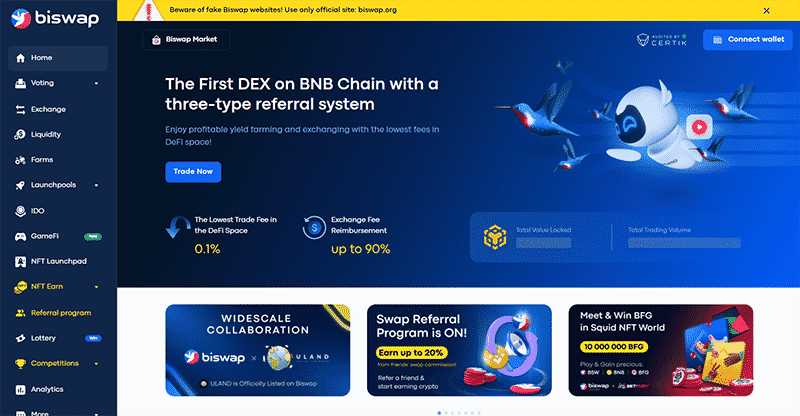 Let's talk about features and details that let us understand if this exchange fits our expectations.
Biswap works with insanely low transaction fees. They are only 0.1%.
0.05% is returned to liquidity providers in the form of a fee reward.
0.05% is used for BSW token burning.
The core black chain is the Binance Smart Chain.
We can rely on high execution speed.
They want to work with true value, fairness, and innovation to decentralized finance through our high-quality products and services.
The system is secure.
We can get fee refunds from trading volumes.
We can farm BSW reward tokens on the Biswap farms.
There's lauchpool for distribution of tokens within over 45,000 holders.
There's marketing power to reach 170,000 people on social networks.
They collaborate with Betfury that is #1 I-gaming platform.
There is a tournament for the best project to help you maximize trading volume with your token.
We can get from $10,000 to $30,000 for game development.
We can participate in providing our liquidity to various pools.
The system allows us to get tokens that we need as rewards.
There are many liquidity pairs for that purpose.
We can earn crypto via NFTs.
They have huge NFT partnerships.
We can purchase NFTs using 4 cryptocurrencies: BSW, WBNB, USDT, and BUSD.
There are three ways of buying NFT: Fixed Price Sale, Auction, and Offer to Buy.
There's a lottery that is going from February 18 to February 25, 2022.
To participate we should have at least one ticket.
First 100 participants ranked by the highest ticket volume during the competition period will share 94% of the prize.
5% from every purchased lottery ticket will be allocated to the prize pool
We can go to the government to vote for updates and changes.
Now, they vote for going on another blockchain.
We can release our game project on the platform.
Pros & cons
Pros
We can deposit and stake our tokens
We are allowed to release our projects
It's possible to participate in the lottery
Cons
No risk explanations provided
No people testimonials written
| | |
| --- | --- |
| Funding methods: | Cryptocurrencies |
| Cryptocurrencies supported: | Over 50 tokens |
| Countries: | All |
Key features of Biswap
The platform allows us to swap tokens.
They have the best fee reward rate.
We can participate in the lottery event.
What wallets does it support?
It supports the following wallets: Metamask, TrustWallet, WalletConnect, TokenPocket, MathWallet, Coin98, Binance Chain, SafePal Wallet, and Coinbase.
How does Biswap work?
The system works on the Binance Smart Chain revising the low swap fees and quick deposit riders execution.
What can you buy with Biswap?
We can buy their tokens, NFT works, or stuff within games.
Are there any risks with Biswap?
The risks are average as for working with decentralized exchange. So, the pool can be exploited and all our funds will be wasted.
Biswap fees
Biswap works with insanely low transaction fees. They are only 0.1%.
0.05% is returned to liquidity providers in the form of a fee reward.
0.05% is used for BSW token burning.
Deposit methods
We can deposit with any token that is supported by the system.
Should you buy it?
It's up to you. So, everything is risky in the crypto world.
Final word for Biswap
The platform looks much above average because there's a NFT marketplace connected. The system works with one of the best fees on the market. So, swapping here is "profitable" because we lose less on commissions. So, to use it or not to use is completely up to you.