BitUniverse offers a 24/7 smart crypto trading bot with an average ARR of more than 100%. The platform offers 16 different bots, supports more than 26 exchanges, and covers over 6000 crypto coins. This is a free bot promising safety and ease of use. In this review, we will analyze the features, functionality, performance, support, and other aspects to verify the efficacy and reliability of BitUniverse.
What is BitUniverse?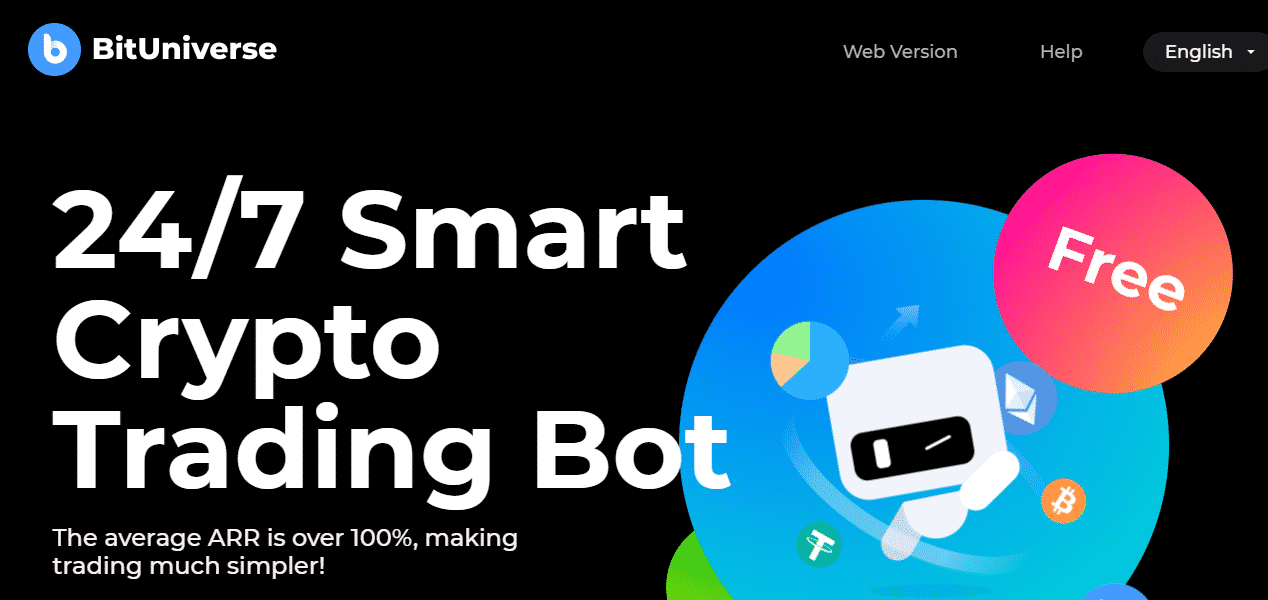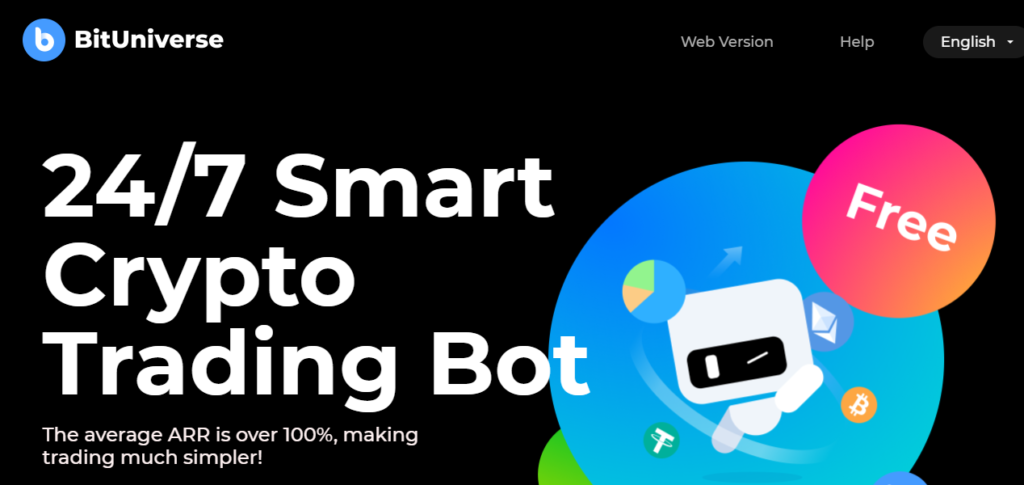 BitUniverse is a crypto platform offering a wide selection of ready-to-use bots that ensure automated trading. The bots operate automatically 24/6 and are reliable. They look for profitable opportunities and do not miss a trade. With the unique algorithms, the bots use grid trading, intelligent tracking, TP, SL, and other approaches for profitable results.
Quick summary
Some of the key features that make this service stand apart from its competitors are:
Free smart bot
A beneficial feature of this service is its free bots that work 24/7. They are fully automated and use algorithms that can work on different approaches including grid, SL, TP, and more.
Secure and encrypted
As per the vendor, the system uses military-grade security. Your funds are held securely in your exchange and the service does not have access to the funds. It uses official exchange API keys for trading which do not have direct fund access.
Easy to use
The bots are designed to work without any input on your part other than the initial configuration of parameters. With exposure to more than 6000 cryptocurrencies and over 26 exchanges, the platform offers an effective trading environment.
BitUniverse: background
The official site does not reveal much info on the company such as its founding year, location, team members, etc. As per the Twitter feed info, the company is located in San Francisco and has been on the social media site since 2017. Team members include Dave Yeh, Emma, and Sunshine as per the Medium.com profile.
How does it work?
The service has multiple bots that you can choose from for your trading. As per the vendor, the grid bot is an entry-level bot that is ideal for beginners to use.
How to sign up with BitUniverse?
Here are the steps to register and use the service:
Visit the official website and download the mobile app
Register for an account using your phone number or email address
Create an API key on your exchange account
Connect your exchange to the account you have created by importing the API keys
Now you can choose from the bots present on the platform and start trading
Does BitUniverse offer a demo account?
No, the vendor does not offer a demo account which you can try before you go for real-time trading.
Profitability of BitUniverse
As per the vendor, the platform has a daily trading volume of more than $50 million and a trader base of more than 600,000. But we could not find verified proof of performance to check the profitability of the company.
Payments, deposits, and withdrawals
The bots are free to use and you need not transfer your funds to the platform. All funds are handled by your exchange. So, there are no deposit or withdrawal fees present.
Exchanges supported
Over 26 exchanges are supported by the company and they include:
Binance
Bittrex
Huobi
Kucoin
OKEx
BigONE
Bithumb
Pionex
Poloniex
Coinbase Pro
Gate.io
FTX
Indodax
Bitget
Bitfinex
Bybit
Liquid
ProBit
Lbank
Bitbns
BitoPro
CEO Global
HBTC
Hydax
MEXC
Shubao
HBTC
What about customer support?
For support, the vendor offers links to social media pages on Discord, Telegram, Twitter, and an email address.
Benefits of using BitUniverse
Free bots
Wide range of crypto coins and exchanges
Multiple strategies
Drawbacks of using BitUniverse
No verified performance proof
Insufficient security info
Pricing review
The bots are free to use so there is no subscription fee present. We could not find further info on the transaction fees and other charges as the vendor does not provide pricing-related info.
What are security measures?
According to the vendor, the company uses military-grade security and encryption to ensure the safety of user data and privacy. It does not have access to your funds and uses only the exchange API for trading.
Is BitUniverse legit?
The vendor does not provide info on regulatory measures the service is compliant with.
Ease of use
The website design is user-friendly and navigation is easy. Beginners and seasoned traders would find the service convenient to use.
Is BitUniverse a good choice for automated trades?
The lack of verified performance proof makes it difficult to assess the reliability of the automated bots.
What are the risks of using BitUniverse?
Some of the risks we identified with the service include
Lack of info on the pricing, fees, and commission
Absence of verified track record
The Review
Review verdict: a free automated bot with diverse strategies
BitUniverse offers free crypto bots that ensure hands-free and efficient trading. The ease of use, free bots, multiple strategies, and wide exchange support are benefits of the system. However, the lack of transparency concerning the pricing and performance are drawbacks you need to consider.
Review Breakdown
Features:

Exchanges Supported:

Security:

Price:

Customer Support: