ComethSwap is a platform that provides decentralized exchange services for everyone who needs them. It has various features like: swapping tokens directly from our wallet, staking MUST coins, and providing liquidity in dual pools.
ComethSwap background
The platform was designed based on the Polygon blockchain. The system was launched approximately 10 months ago, according to the documentation updates. We don't have any information about the owners provided.
ComethSwap overview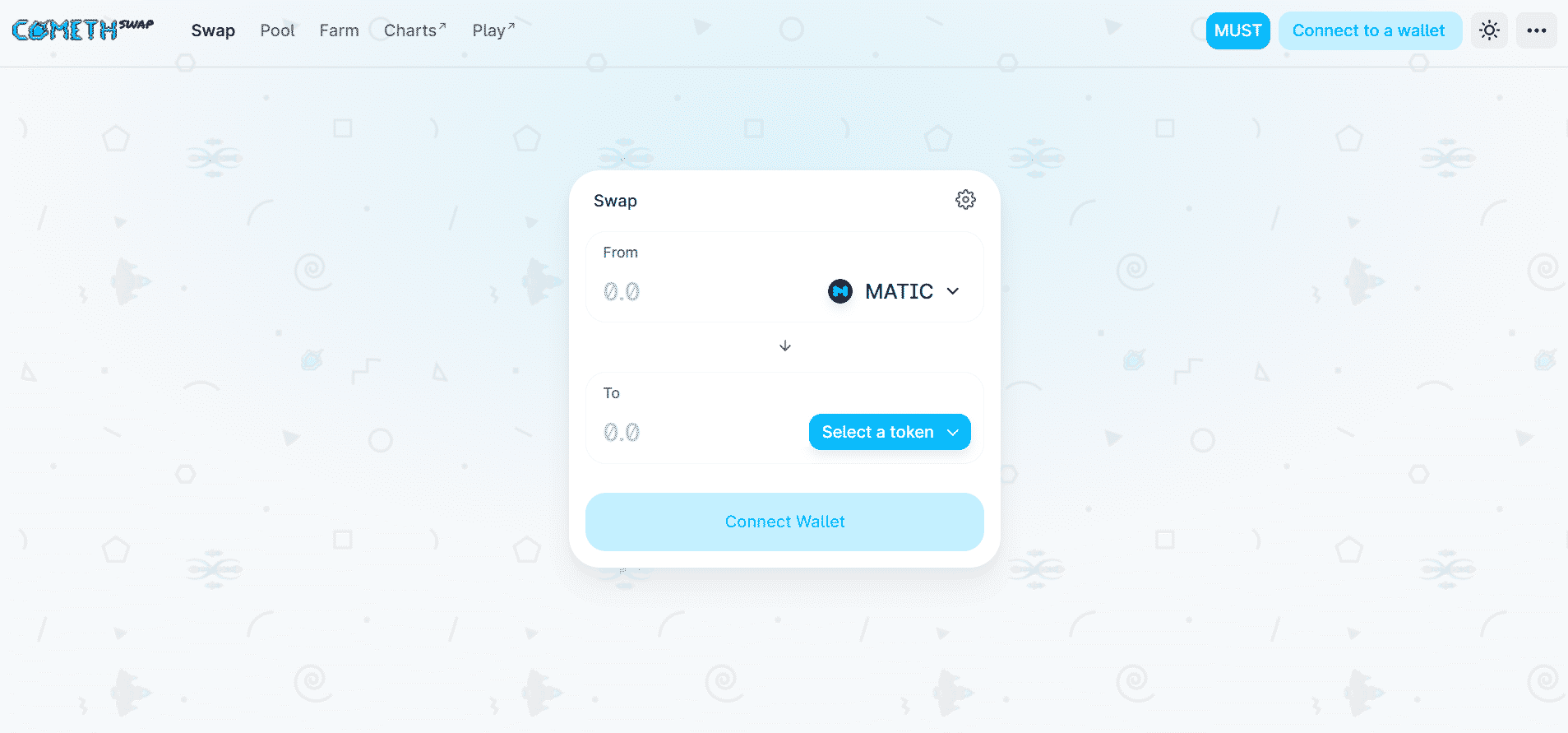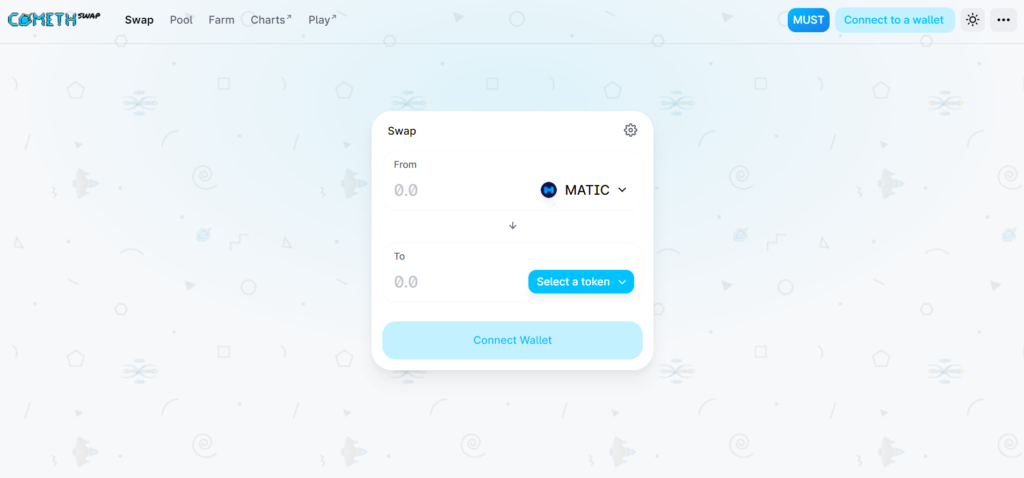 ComethSwap exchange allows us to buy its native token and stake it for making more tokens as rewards. We are also allowed to participate in two token liquidity pools.
Pros & cons
Pros
We can work with various pools
Users are allowed to purchase a native token
Cons
No developer team revealed
No people feedback available
Key features of ComethSwap
The documentation lacks many explanations about how the platform functions and if we are safe here.
The service allows swapping coins.
We can participate in the liquidity pools to have more rewards.
It's possible to stack coins.
We can purchase their native token with government functions – MUST.
We can be rewarded for providing liquidity for those who trade the pair we support.
There are 0.5% fees for swapping tokens.
The liquidity providers keep for themself 90% of the fees, the owners only 10%.
There's a ComethDAO coin available.
We are informed that rewards from pools can be claimed only on Mondays.
We can work with an average list of liquidity pools: PSP-MUST, PSP-MATIC, LUCHA-MUST, USDC-MUST, LUCHA-MATIC, mWBTC-MUST, mWETH-MUST, MATIC-wPTG, LADZ-MUST, MATIC-WETH, WETH-MORK, WETH-MUST, LADZ-WETH, APW-WETH, BPT-MUST, BPT-WETH, WETH-SDT, WETH-USDC, WETH-WBTC, PICKLE-MUST, and MM-MUST.
There's a page with swap analytics: ETH Price: $2,800, Transactions (24H): 1943, Pairs: 473, Fees (24H): $700.59
The list of top tokens includes: Wrapped Ether, MUST, Wrapped Matic, Stake DAO, beefy.finance, BlackPool Token, AGA Carbon, DokiDoki, and Staked SDT (PoS)
What wallets does it support?
The platform supports the following wallets: METAMASK, WalletConnect, StakeDAO.
After connecting a wallet we can work with all functionalities of the site.
How does ComethSwap work?
The interface looks familiar for people who use DEX to work with
There are following pairs available: WMATIC-MUST, $613,864, +7.87%. WETH-BIFI, $573,574, +7.60%. BPT-MUST, $412,511, +3.07%. BND-WETH, $398,002, +0.09%. SDT-xSDT, $395,544, +0.21%. WMATIC-WETH, $390,115, +3.14%. APW-WETH, $272,443, +2.01%. USDC-WETH, $250,257, +5.25%. WBTC-WETH, $245,030, +0.76%. WMATIC-LUCHA, $218,441, +2.51%.
What can you buy with ComethSwap?
There are Binance and Kraken that allow people to trade the MUST tokens. The most common trading pairs are MUSTBTC, MUSTUSD, MUSTETH.
Are there any risks with ComethSwap?
We have average risks of using the DEX service like pool exploitation, etc.
ComethSwap fees
The transaction fee is 0.5%. It is split between Liquidity Providers for 90% and Cometh players for 10%.
Deposit methods
The platform provides us with two deposit methods: wire transfer and credit card.
Should you buy it?
We can buy MUST tokens to stake them or use them to provide liquidity in the pools. The risks are average.
Final word for ComethSwap
ComethSwap is a trading exchange that has its own native token to work with. We have a familiar package of services that includes purchasing and staking their native token, swapping coins, and providing liquidity to pools. We don't know what people experience using this service.