Disclaimer: The information provided here does not constitute any form of financial advice. Readers are fully responsible for conducting their due diligence before making any investment decisions.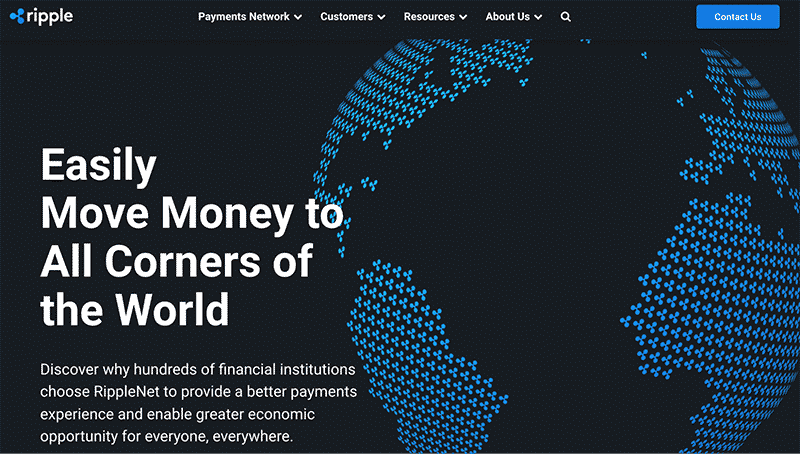 Ripple: Market Sentiment
Before getting into the nitty-gritties of technical and fundamental analysis, it's always good to gauge the mood dominating the market, particularly as cryptocurrencies are often emotionally-driven.
In this regard, the leading indicator to measure sentiment is the hourly-updated Crypto Fear & Greed Index (FGI), a highly influential indicator in the price movements of the coins like XRP in the top 20-30 rankings.
The index accounts for a range of factors (namely volume, volatility, social media behavior, Google searches, and market cap) to compute a score between 0 and 100. Readings between 0 and 50 are seen as the market being fearful (with 25 and 49 on the extreme end), indicating buying opportunities.
Conversely, scores from 50 to 100 are regarded as a greedy market (with 75-100 on the extreme end), suggesting a potential sell-off. Presently, the FGI sits at 51, which is somewhat neutral or mixed.
Over the last week, the index has hovered around the 50 mark, dipping just below to suggest some fear on certain occasions (figure 1). Yet, sentiment is somewhat mixed and doesn't provide a clear bias for the most part.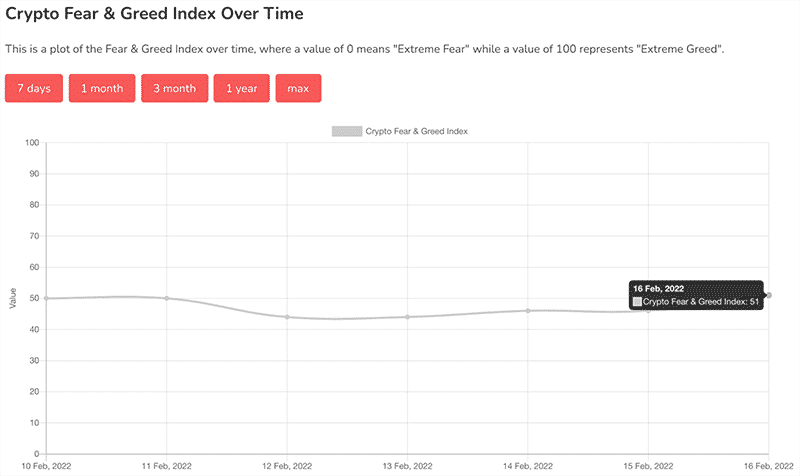 Technical analysis
Our technical analysis on the 4HR chart of Ripple (figure 2) shows a buying opportunity, despite the mixed sentiment. We've added two moving averages, the 50-day (orange) and 200-day (blue) periods, to show a tried-and-tested crossover system.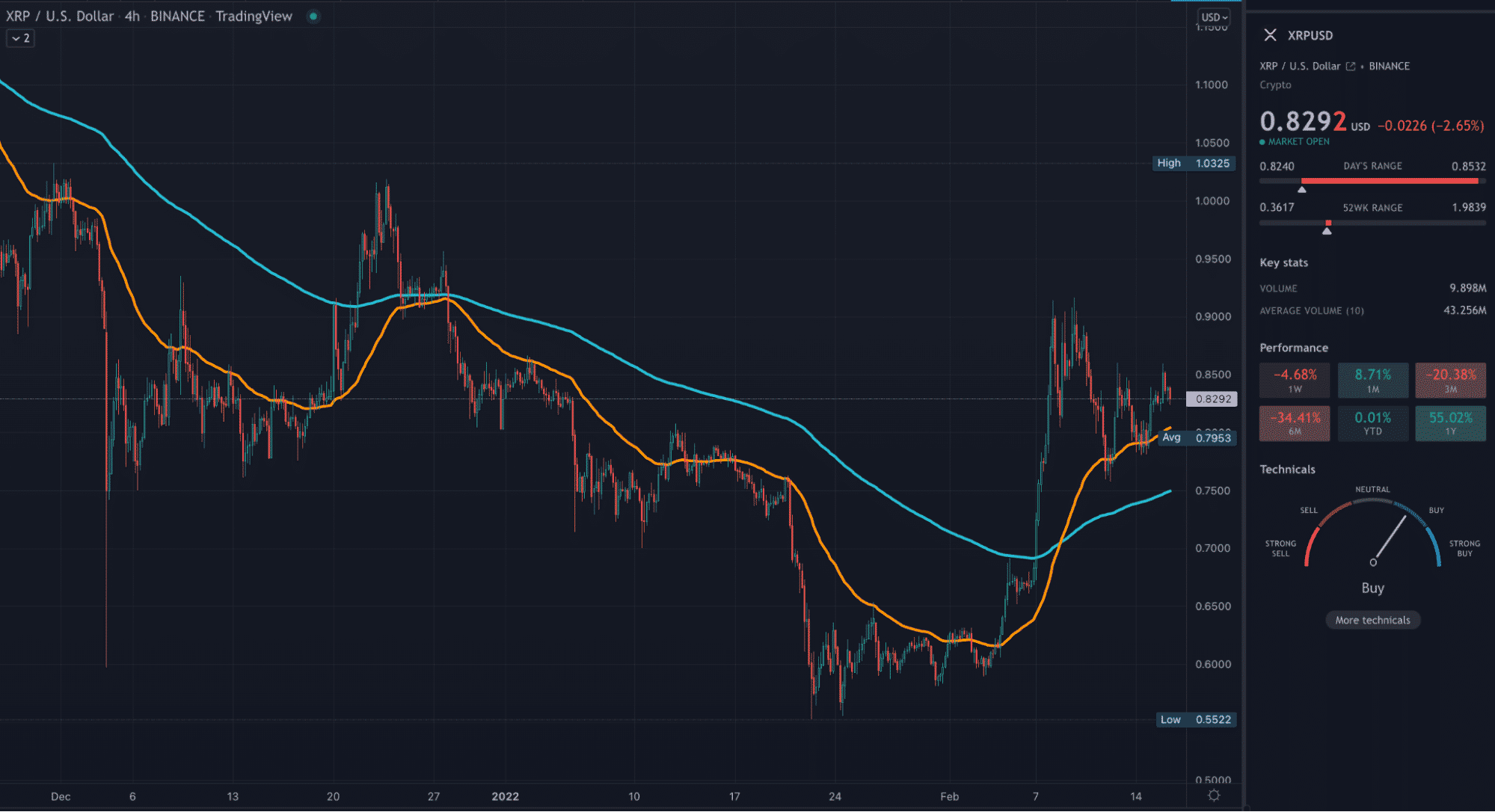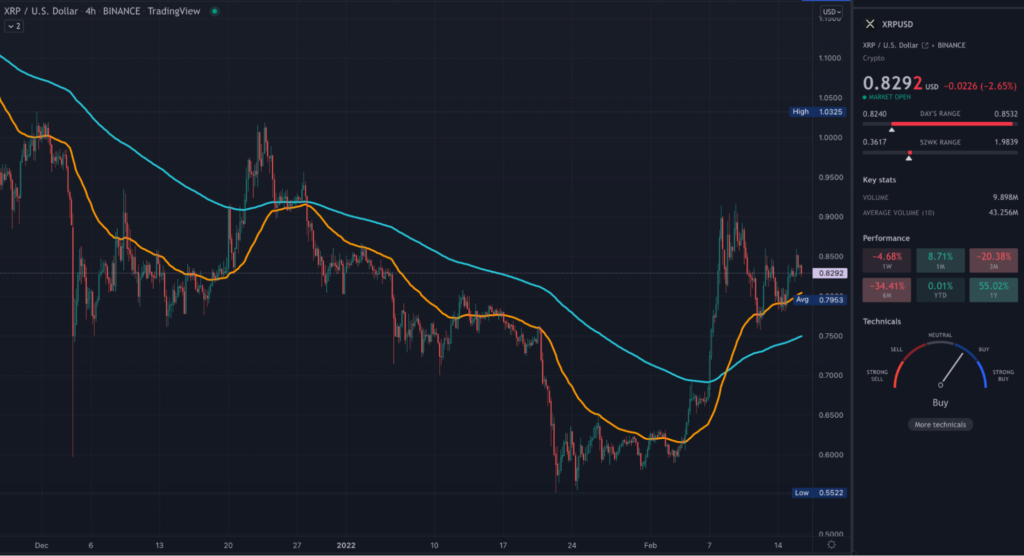 Here, traders look for the 50 to cross above the 200 and for the market to trade above both moving averages. Fortunately, XRP's price meets both criteria, meaning there's a possibility for higher prices in the coming weeks.
Another interesting point worth noting here is how XRP has bounced off the weekly support level around $0.59 that formed a few months prior (figure 3).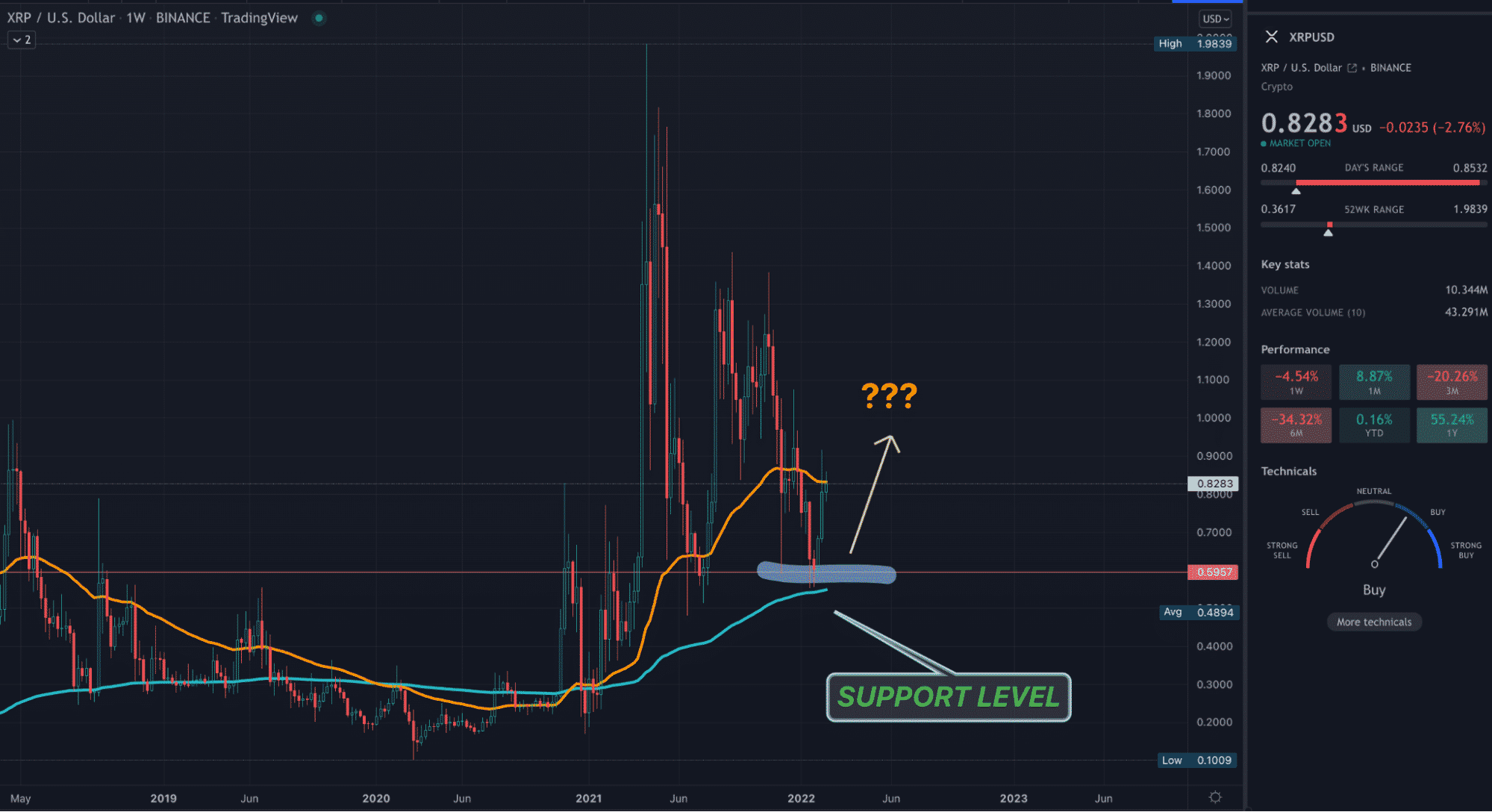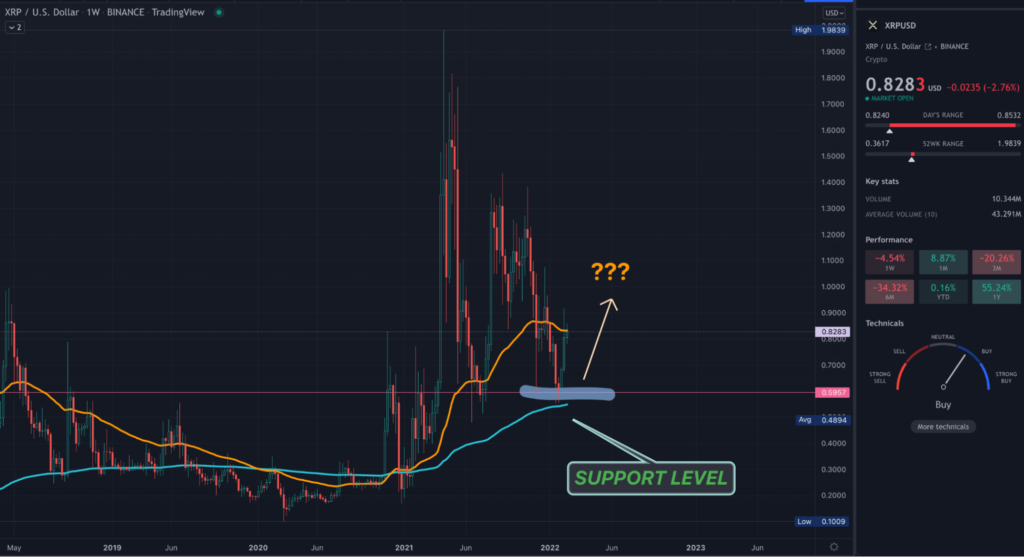 Depending on some potential fundamental changes in the coming weeks, this may provide a 'springboard' for even higher prices.
Fundamental analysis
XRP has consistently ranked quite high in market dominance. At some point, it was in the top 3 of most traded coins after Bitcoin and Ethereum (now #6, according to present CoinMarketCap rankings).
As a project with a market cap worth around $39 billion, it's often regarded as a safe long-term investment characterized by low volatility, little competition, and steady growth.
XRP is also a deflationary coin as it has a fixed supply of 100 billion tokens, with roughly 48% or 47.89 billion of these presently in circulation. These are attractive tokenomics when evaluating any cryptocurrency.
Ripple's most anticipated fundamental news has been the ongoing legal dispute with the SEC (Securities & Exchanges Commission), which began in December 2020.
As with most law-related battles, there is no ultimate date when this case will be settled. However, the most recent court appearance suggests good progress and the likelihood that the matter will swing in XRP's favor.
Ripple (XRP) Price Prediction: 2023-2025
More than four years have passed since XRP reached its all-time high of $3.84. Of course, the most anticipated targets ever since have been $5 and $10. Let's see what can realistically happen for this coin over the next few years.
2023 forecasts
Having analyzed three reliable prediction resources, it seems fair to assume XRP could be worth between $1 and $2. Gov Capital estimates $0.82 to $1.12 when 2023 starts; PricePrediction.net suggests a minimum value of $1.70.
Similarly, Wallet Investor pegs for XRP to have a price ranging from $1.02 to as high as $1.67 (figure 4).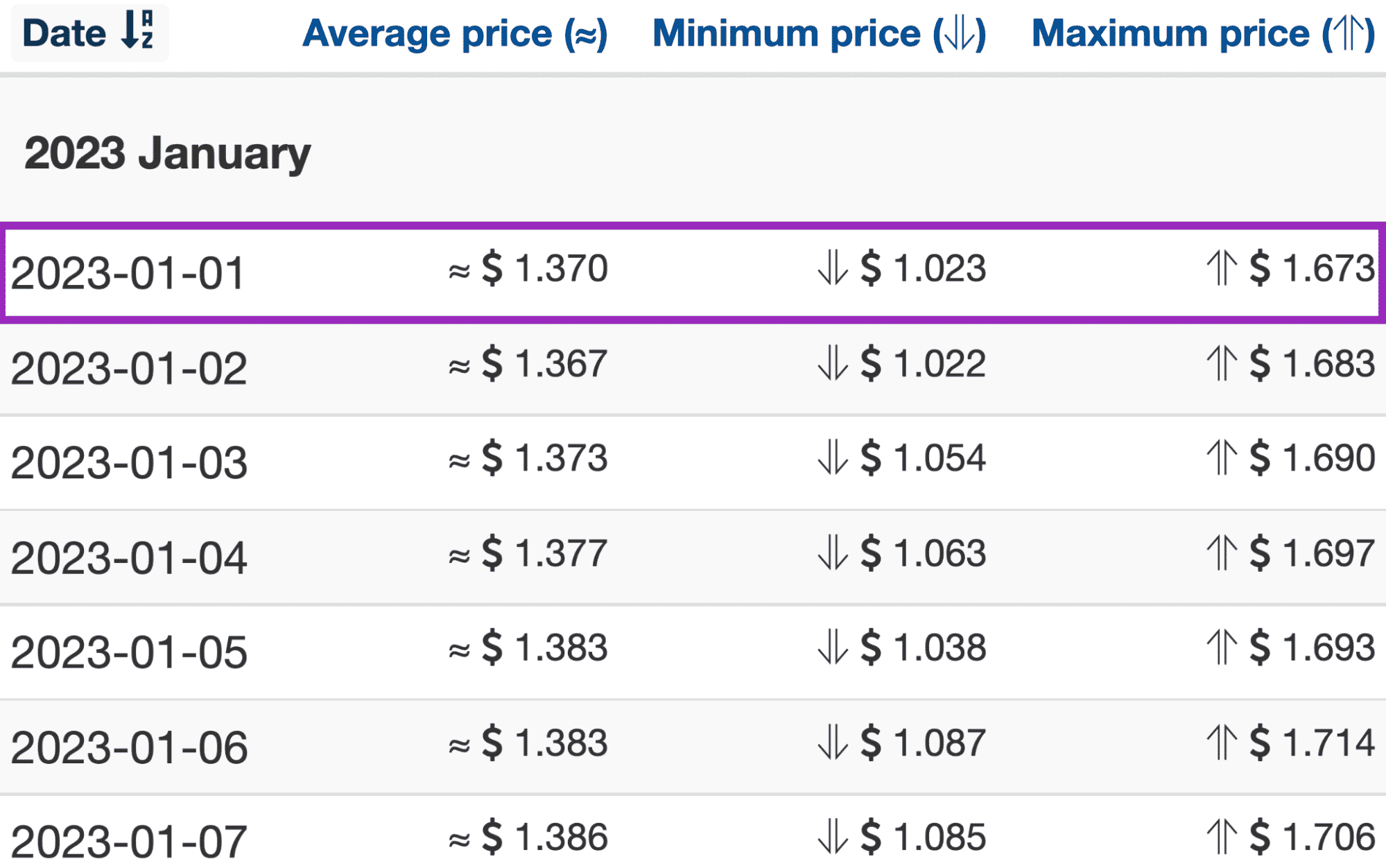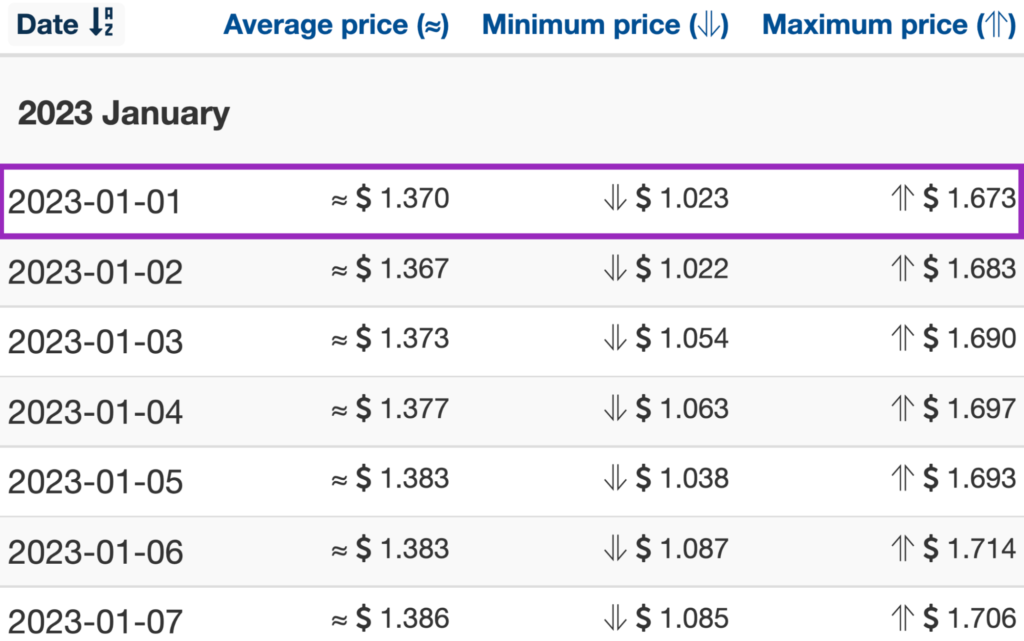 Such forecasts would result in 50-100% gains, which are conservative for a large-capped token like XRP that is unlikely to perform way beyond expectations as it might have before the 2017 bull run period.
2025 forecasts
For 2025, the forecasting sites from the previous section aren't overly bullish on XRP, with no prediction above $5. The most optimistic forecast comes from Gov Capital, with prices ranging from $2.26 to $3.06 (figure 5).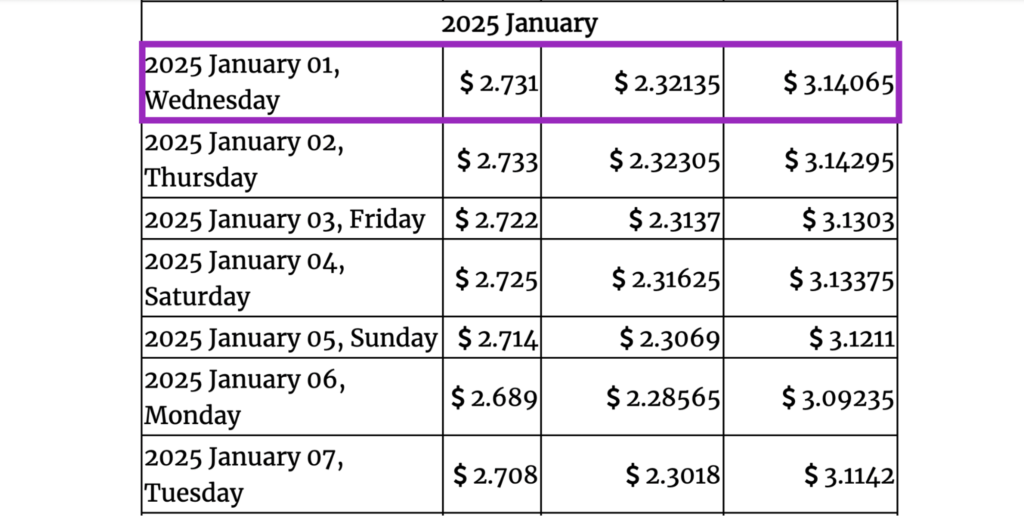 When CoinPricePredict polled its users, the average prediction was $30.47. Overly positive? As with any projection, these are all highly speculative as no indicator can accurately foresee the future.
Ripple Frequently Asked Questions (FAQs)
Is Ripple real?
Yes, it is one of the oldest cryptocurrencies in the markets.
What is the Ripple price today?
$0.83
Will Ripple's price reach $10?
If more and more organizations continue to use this cryptocurrency, $10 is possible.
Should I buy Ripple?
You should always do your own research before buying any coin. However, as one of the most well-known large-capped cryptocurrencies, Ripple is a conservative bet for the long term.
Where do I buy Ripple?
Binance, Bithumb, Bybit, Coinbase, KuCoin, Bitstamp, and Bitfinex are a few of the many popular exchanges to buy XRP.