Crude oil price has rallied this week after a series of positive news.
Saudi Arabia agreed to slash production by 1 million barrels.
US inventories are falling sharply.
Crude oil price is soaring after a series of positive news from the United States and in the Middle East. On Thursday, the price of Brent, the global benchmark, soared to $54.27 while that of the West Texas Intermediate (WTI) rose to $51. 
US inventories drop
The number of American inventories dropped last week, according to the latest data by the American Petroleum Institute (API) and the Energy Information Administration (API). On Tuesday, data by API showed that the inventories declined by more than 1.27 million last week.
Data from the EIA was much better as the number of inventories declined by more than 8 million barrels to 485.6 million barrels. Economists polled by S&P Global were expecting a draw of about 4.4 million barrels. Notably, the inventories have been dropping in the past four consecutive weeks.
However, on the negative side, data from the EIA showed that gasoline stockpiles grew by more than 4.5 million barrels to 215 million barrels. This increase is thrice as big as the expected 1.5+ million barrels. It was the biggest buildup since April last year.
Saudi Arabia makes a big concession
Crude oil price is also rising in response to a decision by Saudi Arabia to slow production. In a contentious meeting this week, the kingdom agreed to slash production by more than 1 million barrels per day. These cuts will help offset the 75,000 increase by Russia and Kazakhstan. Other countries will retain supplies at the current level.
This was an excellent New Year's gift from Saudi Arabia since many experts were expecting OPEC members to vote for more supplies.
Further, in addition, oil prices rose after the contentious election in Georgia, where Democrats won the two seats. This victory was positive for oil prices for two primary reasons.
First, Joe Biden will now have the votes he needs to implement a new large stimulus package. Stimulus tends to be good for crude oil prices because they boost demand and devalue the dollar. And the USD and oil prices usually have an inverse relationship.
Second, Biden will have the votes he needs to add more regulations in the United States. For example, he has committed to stop fracking on public land. Like Obama, he could also decide to suspend the oil pipeline construction.
Potential risks
Still, crude oil prices face significant risks ahead. For example, higher prices could incentivize more American shale producers to drill more. In fact, in the past few months, the number of active oil rigs has been on an upward trend. This means that production will continue to be robust.
Another risk comes from Iran. Biden has talked about a return of the Iran nuclear deal. If this happens, it means that the country will bring online millions of oil barrels. This could have an effect on the price of oil in the longer term.
Brent technical outlook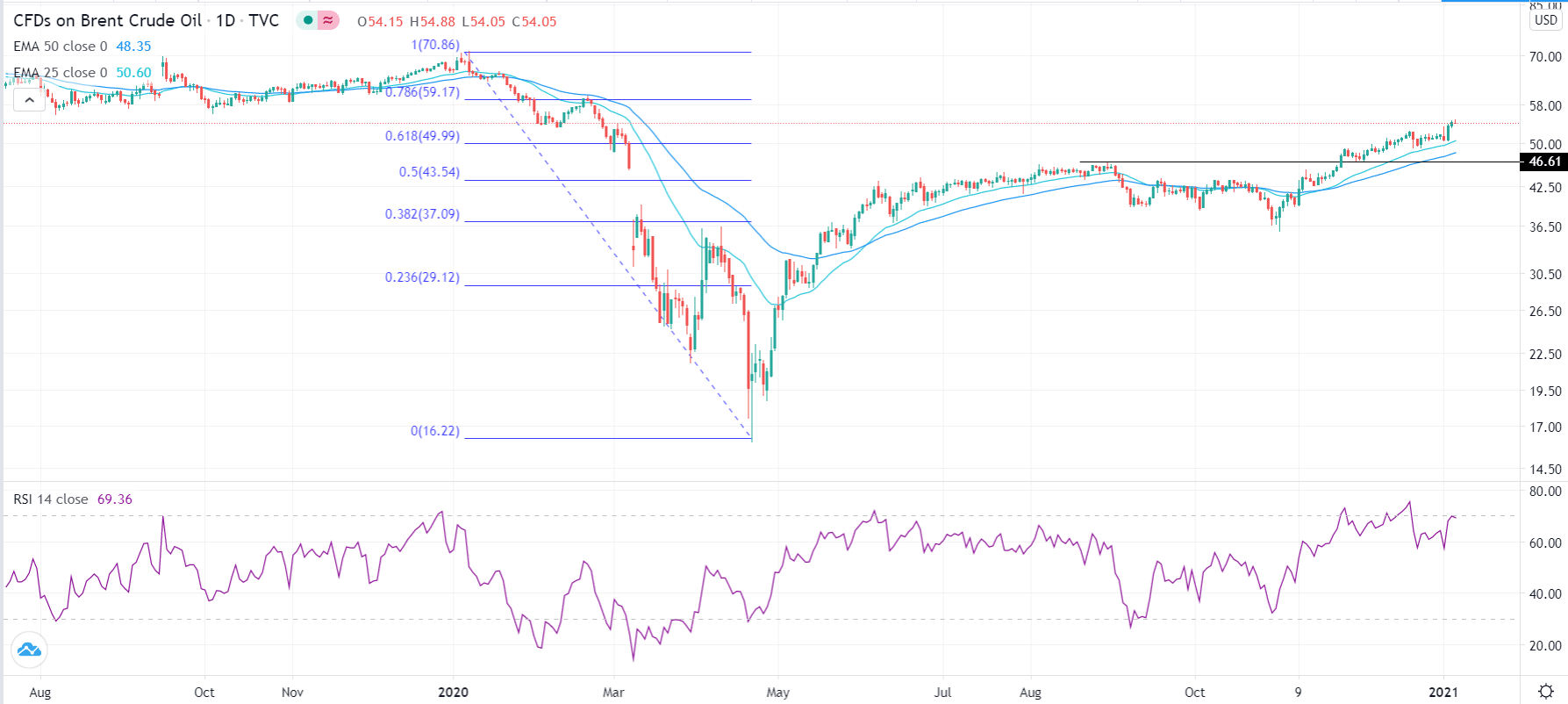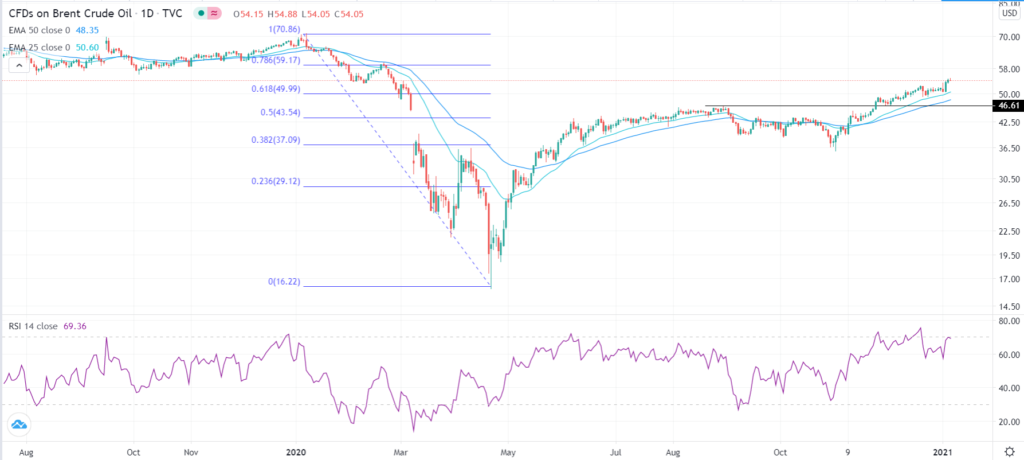 On the daily chart, we see that crude oil price moved above the vital resistance at $46.61 in December. Since then, it has moved closer to the 78.6% Fibonacci retracement level. It remains above the 25-day and 50-day exponential moving averages while the Relative Strength Index has jumped to the overbought level. In the near term, it is inevitable that the price will move to $60. After that, it will likely continue rising with bulls aiming at $70 or drop to below $50.