The GDP per inhabitant in Germany decreased from €40,116 in Q1 2020 to €10,126 in Q1 2021.
Germany's recovery to be enhanced by strong retail sales and exports.
Germany increased natural gas imports as it stepped up industrial production.
DAX index futures traded at +1.33% on May 5, 2021 after closing $14,856.48 the previous day and opening at $15,250.6. The DAX index has gained 40.28% year-on-year.
March 2021 saw retail sales (month-on-month) inch up 7.7% and +4.4% year-on-year compared to February 2020. This surge exceeded analyst predictions that had put retail growth at 3%, MoM, in March 2021. 
The bulk of the gain was attributed to increased goods sales in departmental stores that jumped 23% (YoY). Online shopping also increased 49% YoY as more retailers turned to the internet to make their sales due to the restrictions posed by the pandemic.
Germany's economic growth slumped -1.7% as the GDP (at current prices) hit a low of €841.80 billion from a high of €3,336 billion into Q1 2020.


Germany's price GDP from 2019-2020


Tabulated GDP progression in Q1 2020 — Q1 2021
The GDP per inhabitant in Germany decreased from €40,116 in Q1 2020 to €10,126 in Q1 2021. However, improved capital expenditures into Q2 2021 will likely increase Germany's GDP as the economy shifts into a digital economy.
Post-pandemic recovery spending
Germany and France planned to spend billions in post-pandemic spending to guide climate change projects and widen digital technology use.
The two economies had a slow rebound as compared to the US and China. While analysts expect the US economy to grow 6.7% into 2022, the economy grew 6.4% in the first quarter due to an efficient vaccination and stimulus campaign. On its part, China's economy surged 18.3% YoY in Q1 2021, with growth expected to hit 8-9% by the end of 2021.  
The EU set up its recovery fund of €750 billion ($906 billion) in 2020 to help member states recover in 2021. The French economy shrank 8.3% into 2021, while Germany went down 1.7%.
Using the EU's pandemic recovery fund, France will get €40 billion, while Germany is hoping to use €28 billion. 
The German government passed the Covid domestic relief package and other stimulus measures to uplift the economy in the second quarter of 2021. Countries like Spain have planned recovery aid at €140 billion ($166 billion), while Italy is at €221.1 billion ($267.3 billion).
Export growth forecast
DAX index futures also rose after an optimistic forecast indicated that Germany's exports would increase 8% in 2021.
German companies expect heightened demand from the US and China due to strong economic recovery around the globe. The Chamber of Industry and Commerce (Germany's DIHK) increased the forecast by 2% from an earlier prediction of 6%.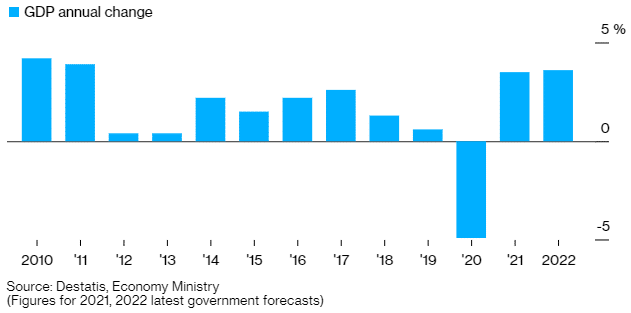 Germany's growth forecast 
Germany more than doubled its year-on-year natural gas purchase in March 2021 to 4.5 billion cubic meters (at +66.3%). 
After Petroleum, natural gas forms an integral part of Germany's energy mix. The increased import shows Germany's plan to increase manufacturing later in the year.
After contracting 5% in 2020, growth forecast is expected at 3.5% in 2021. Exports and manufacturing dockets are important in this recovery.
In February 2021, industrial production was down 1.6% after contracting -2.0% a month earlier. The German economy is emerging from lockdowns instituted since November 2020. 
Technical analysis
DAX Index futures have hit a support level at 15,000, with the RSI indicating a neutral position at 46.71.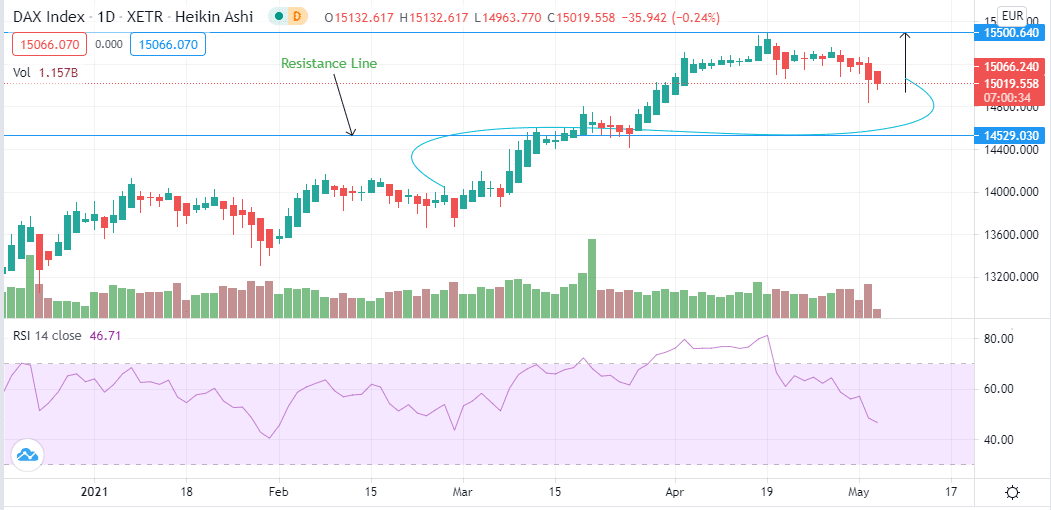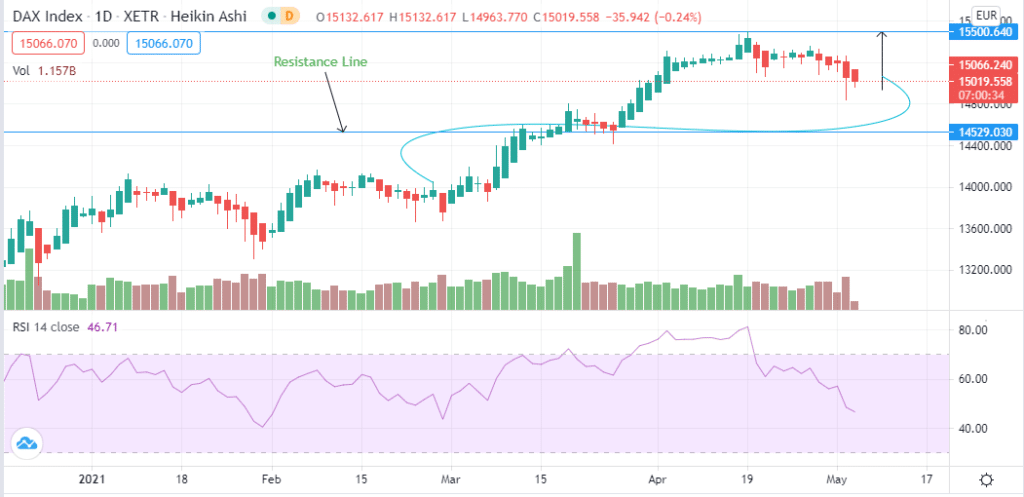 DAX Index Trading analysis
The declining volume indicates the price is consolidating, losing momentum, and may be close to the breakout. The index is expected to rise to 15,500 after Germany releases strong manufacturing/export data. The index may also fall towards fundamental support at 14,529, where the double curve has crossed.