Dfyn is a decentralized exchange which is optimized for the multi blockchain universe. Dfyn cooperates with multiple providers across chains, including the cross-chain liquidity ecosystem that was developed by Router Protocol. We decided to take a closer look at its functionality.
Dfyn background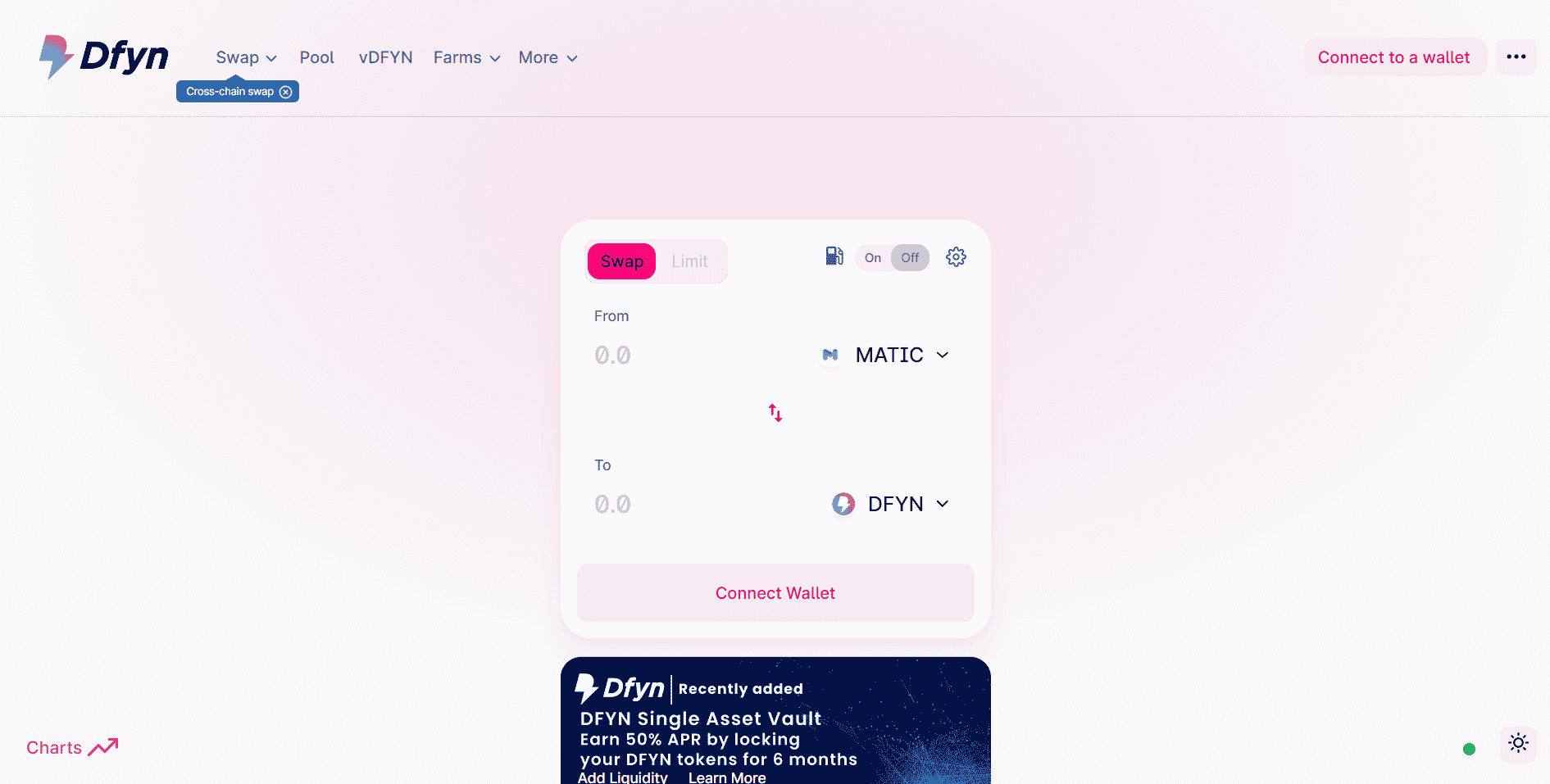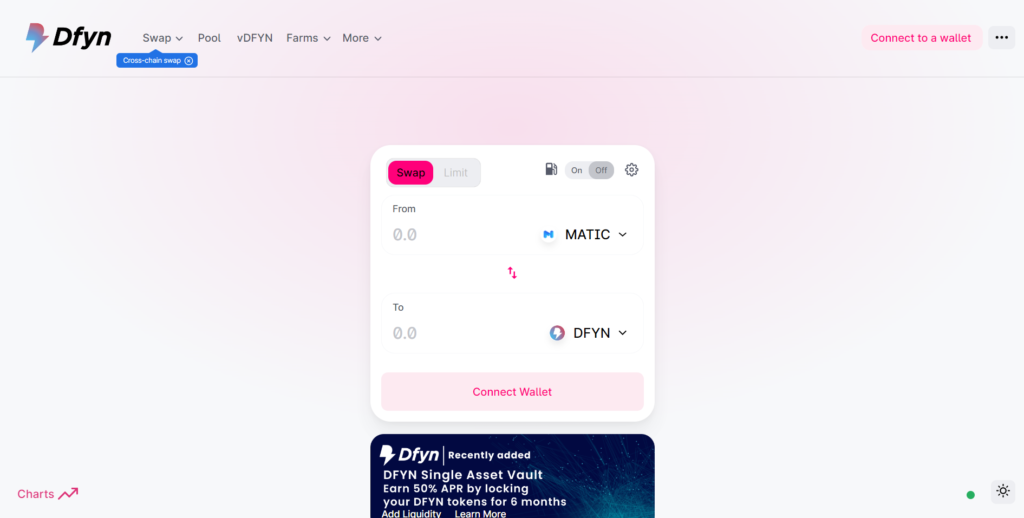 The system receives an ecosystem to manage all orders decentralized. It works as an ultra-fast automated market maker.
Dfyn overview
You can swap tokens quickly
There's a common 0.3% fee for a transaction
Users can work with DFYN native tokens.
Pros & cons
Pros
Native token available
Fair fee sharing
Cons
No risk advice given
No team revealed
Key features of Dfyn?
We have systemized all available features that we could manage to find in the documentation. Please, take a look at the list below.
Dfyn is a decentralized exchange that is based on the principles of automated market-making.
We can swap tokens using this functionality.
It's possible to earn fees providing liquidity,
It works based on low-gas networks such as Polygon.
There are Phantom, Arbitrum, OKExChain, and Polygon chains underlying the projects.
The developers claimed that Dfyn will utilize Router Protocol's cross-chain bridges to seamlessly allow communication and value transfer between different Dfyn nodes.
You can expect that the developers released a Layer 2 launchpad that allows everyone to launch tokens, be listed on Dfyn, start farming pools, staking, etc.
The transaction cost will be much lower than in the Ethereum network.
There are 71,026,180 DFYN coins in circulation.
The total supply is 250,000,000 DFYN coins.
The Dfyn platform was launched on the Polygon blockchain in August 2020.
You have a DFYN token to stack them up.
What wallets does it support?
The platform allows users to attach their MetaMask, WalletConnect, Coinbase Wallet, Fortmatic, and Portis wallets to their trading accounts.
How does Dfyn work?
The decentralized exchange works based on various chains such as Phantom, Arbitrum, OKExChain, and Polygon.
What can you buy with Dfyn?
There are DFYN tokens that allow users to stake them or provide liquidity to the pools.
Are there any risks with Dfyn?
The developers' team didn't provide any explanations of the possible risks.
Dfyn fees
Owners charge a 0.3% fee for every transaction.
0.25% of it goes to liquidity providers.
0.05% is distributed to Dfyn token holders who have staked their Dfyn tokens in the vDfyn vault.
Deposit methods
You can swap tokens directly from your wallet. No deposits are needed.
Should you buy it?
DFYN tokens can be bought by every investor. So, the final decision is up to you.
The Review
Dfyn is a decentralized exchange that allows traders to swap their tokens without huge commissions and quickly. We can participate in investing in this project by purchasing DFYN tokens. So, we are allowed to stake them to get more rewards and participated in DAO and deposit them into dual liquidity pools.