Forexsignals.com provides multiple analyses on multiple trading strategies and utilizes different algorithms to trade on the markets. The company has various plans that traders can choose from based on their budget and financial goals. They aim to educate traders through their subscription services and educational programs. We will see in our review if the signal service is as profitable as they say and whether we can benefit from it after joining.
Is Forexsignals.com still profitable?
Forexsignals.com is not transparent with us on their portfolios. The company also does not track its performance through monitoring websites such as Myfxbook, which is quite suspicious and renders the service useless.
Vendor transparency
The company owner is Nick Mcdonald, who claims to have founded the site back in 2012. He claims to have little IT skills; therefore, he relied on an Indian team to build his website. Later on, he partnered with Will Thomas and employed a staff of 52 people and has currently 500000 members registered on the website. They are not transparent in providing a trading portfolio or records that could date back a few years.
Strategy
The company states that they provide signals using three different strategies that are mentioned below:
The naked strategy provides signals by analyzing the markets through price action and key support and resistance levels.
FX propulsion is an intraday trading method that employs certain indicators for identifying the movements on the market.
Trend surfing provides trades for those who like to trade for a long term.
How to start trading with Forexsignals.com
To start trading, traders have to follow the following steps:
Purchase the subscription service from the website.
Sign in at the traders' platform.
Head over to the signals tab to receive trades from mentors.
Price
The service is available through a monthly subscription. Traders can extend their packages for six months and one year and receive a discount and more benefits. There is a seven-day free trial for those who'd like to try them out.
The apprentice program offers a 1-month service for $97, while the commitment allows traders to avail their offerings for six months at $49.5 each month. The professional program for one year comes at $47 a month. There is no money-back guarantee.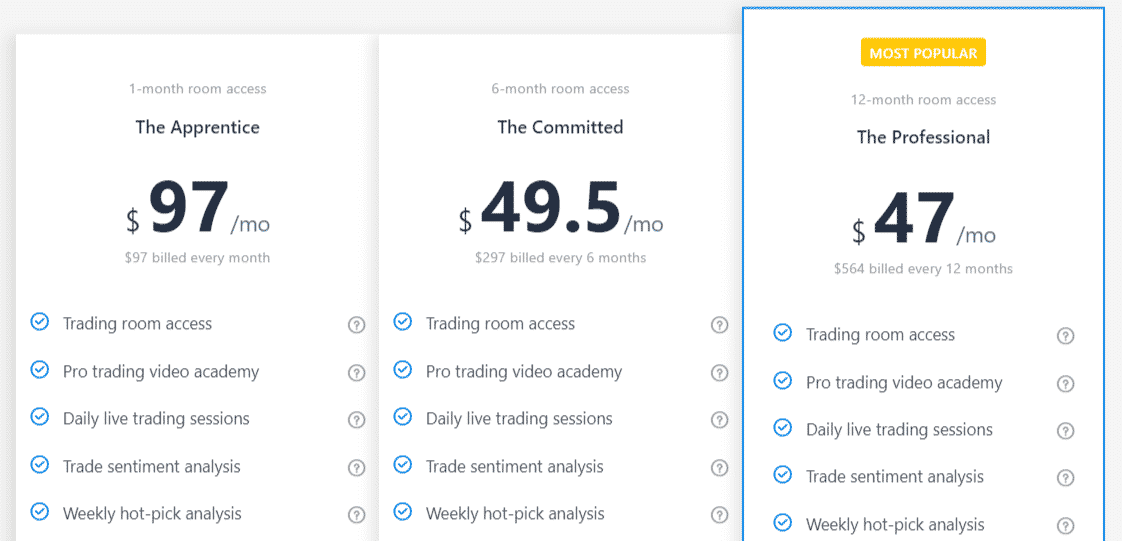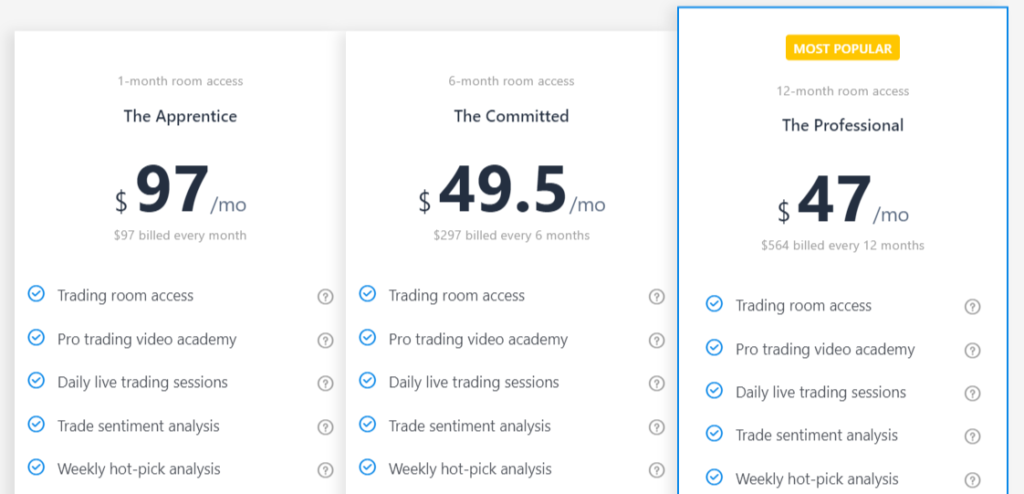 Forexsignals.com backtests
There are no backtesting records available for the signal program. There is a possibility of testing the trading strategies on a forex simulator program and providing us with a detailed statement on the records.
Trading results
The company is also not transparent in providing a link to their live records. It looks as if they are bent on selling their service through an attractive website. Live performance reports on verified websites such as Myfxbook can prove that they are profitable in the long run.
People feedback
Traders review the service at Forex Peace Army and give them a rating of 4.454 for a total of 162 pieces of feedback. A trader says that the company is a huge fraud and does not share their live records with customers, which supports the point. They are only blowing up the accounts and are looking to make money through their plans.

Summary
Advantages
Disadvantages
No money-back guarantee
Not enough transparency on the strategy
No backtesting or live records
Forexsignals.com is not the best choice for traders to join as the company is not transparent on many factors. They do not provide us information on their live records, which could prove their profitability. This type of activity is a major practice of scammers in the financial markets. We cannot suggest anyone join the company as of now.