Forex trading, with the help of automated trading systems or manually, excites people who cherish their freedom. The opportunity to make money without stepping foot into an office, let alone contend with a stubborn boss, is why most people are increasingly eyeing careers as forex traders.
Forex trading has allowed some people to become filthy rich while also causing anguish and pain to millions of people worldwide. While forex trading presents an opportunity to live a comfortable life, it is not easy as it may sound. For this reason, it is important to consider whether to be a full-time forex trader or engage in trading as a side hustle.
Full-time forex trading comes with its fair share benefits, among them being freedom of time, freedom from 8 to 5 jobs, as well as freedom of opportunities to pursue in the capital markets. However, full-time trading is not for everyone regardless of whether one uses automated systems such as forex robots.
When to Pursue Full Time Forex Trading
Enough Capital
Given the extreme levels of volatility in the forex market, one should only pursue forex trading full time when there is enough capital to open a trading account. While it is possible to trade with as little as $50 in a trading account, it might be challenging to take advantage of some opportunities, let alone stay in the game longer.
Likewise, any person looking to pursue forex trading full time should have enough money in the bank to cater to the day to day bills. There is usually no guarantee of generating consistent profits, especially in the early days of trading.
If you can't live without your salary, you may not be able to go for weeks without profits in the forex market.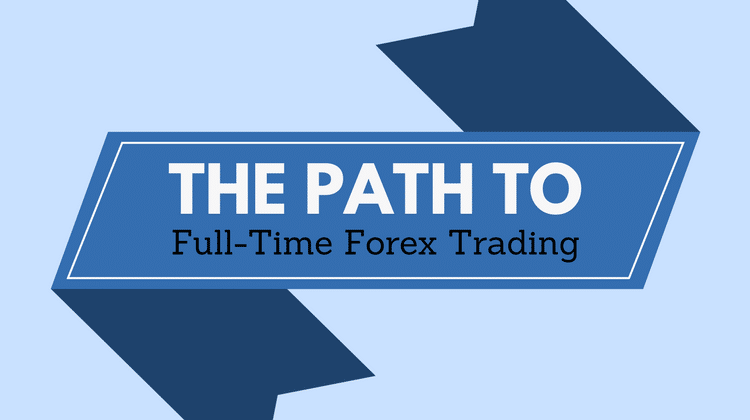 Tried and Tested Trading Strategies
One should pursue full-time forex trading backed by a proven trading strategy. A proven strategy for news trading, scalping, hedging, or trend trading is the only way one can be able to generate consistent profits ideal for sustaining a given lifestyle.
In addition to a proven strategy, an upcoming full-time trader must have equally qualified methods that can work for other trading conditions. Access to algorithmic trading systems such as Forex EAs would be an excellent addition for complimenting any trading strategy as a way of increasing the chances of generating consistent profits.
Spend a Considerable amount of Time Trading Live
Forex trading is just like any other profession whereby one requires hours of training to perfect various trading strategies and have a clear understanding of various forex trading instruments. Doctors, lawyers, as well as pilots, spend lots of hours in simulation as well as internship programs polishing their skills.
Likewise, any person thinking of doing forex trading full time should first spend hours polishing their skills in the demo as well as a live account. This is the only way one can know whether their strategies are up to the task for a transition into a full-time trader.
Similarly, spending hours simulating various strategies would also help in identifying various forex trading instruments as well as chart patterns that would make it possible to generate consistent profits as a full-time trader.
Live trading before becoming a full-time trader would also help one grasp trading strengths and weaknesses, crucial to staying in the game longer.
Passion
Forex trading should be a passion for anyone thinking of going full time. Currency trading should be something one looks up to when getting up in the morning. Likewise, one should be ready to spend hours researching and simulating various trading strategies.
The forex market keeps on changing from time to time. Similarly, a strategy that works well now may not work in the future. Conversely, a trader should be ready to explore new strategies as a way of staying ahead of the curve and having an edge when it comes to forex trading.
Advantages of being full-Time Forex Trader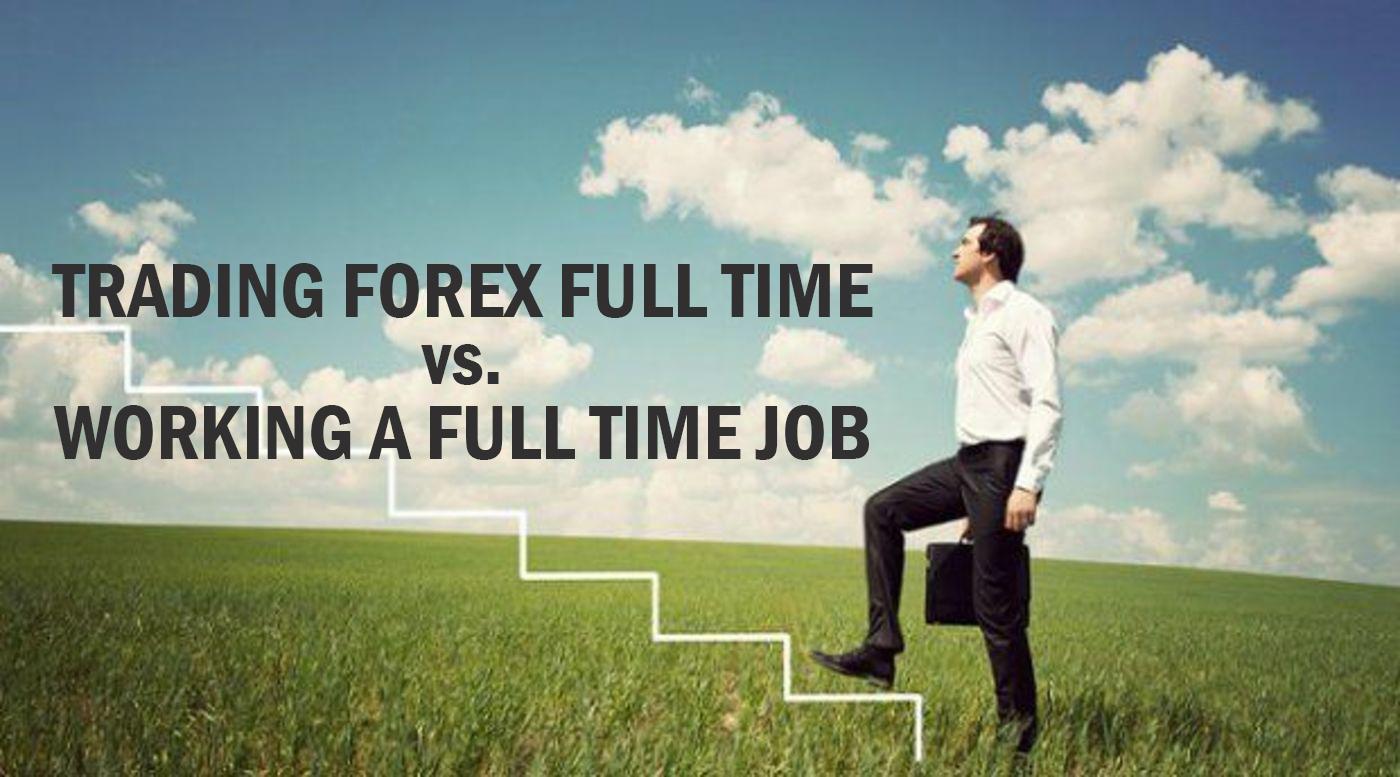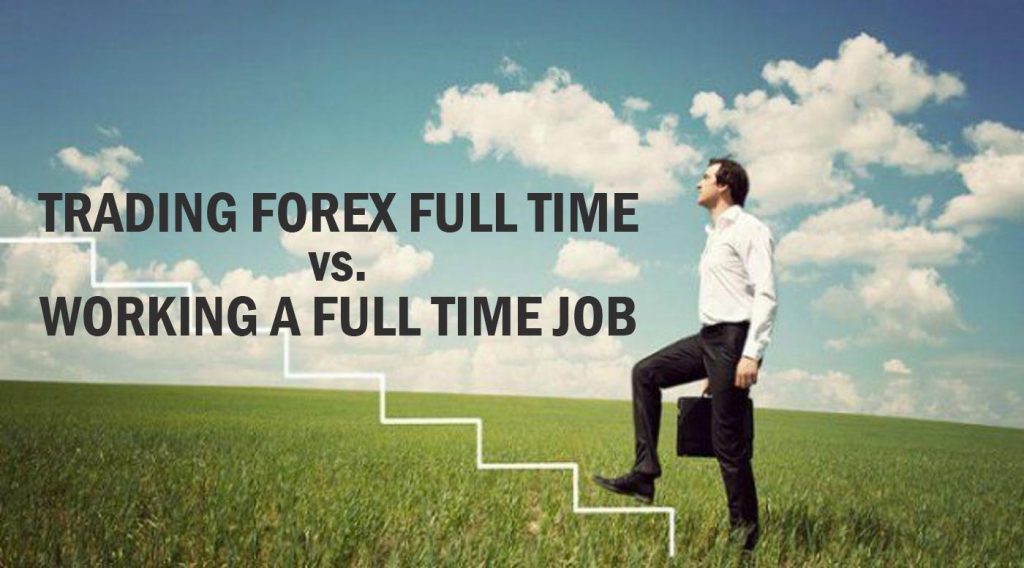 Flexibility
Forex trading is like any other professional as it does not come with restrictions on when to place trades in the market. The market is open 24 hours, five days a week. Full-time forex traders design their own trading schedule. Likewise, they are not limited to when they can trade. Full-time forex trading thus comes with high levels of flexibility when it comes to hours of trading.
Easy To Start
Unlike other professions, forex trading is pretty much easy to start as it does not involve complicated application processes. All one needs is enough capital to open an account and have a connection to the internet and a laptop, tablet, or desktop.
Low Costs
Compared to starting businesses, many people opt to become full-time forex traders, given the low costs involved. Contrary to perception, there are no commissions. Forex brokers make their money from spreads between currency pairs.
Disadvantages of Being a Full-Time Forex Trader
Time-consuming
While forex trading does come with some level of flexibility, it can also be time-consuming. Learning forex trading can be time-consuming. One must spend time hours looking for ideal entry and exit points in the market.
Risk
Forex trading does carry a fair share of risk. Being a double-edged sword, it's possible to make huge chunks of profits as well as incur losses. Risk management strategies are thus essential to protect capital.
Conclusion
Becoming a full time forex trader is easy. However one must have tested trading strategies for identifying entry and exit points. Similarly one must have defined strategies for risk management for protecting capital.