FX Premiere is a service that provides signals, educational courses, forum, and many other services to everyone. We've written an FX Premier review for you. The company has headquarters in Belmopan, Belize.


Is this service a viable option?
The presentation has a medium level of informativity. We'd like to know more about these signals. The same we've got about vendor transparency because the presentation isn't featured by backtest reports, trading results, or info about who these traders are and who generates signals.
It's hard to tell because we know little about these signals, quality, and the people who generate them. Checking free signals can take much time before we can understand if they fit us.
How to start trading with FX Premiere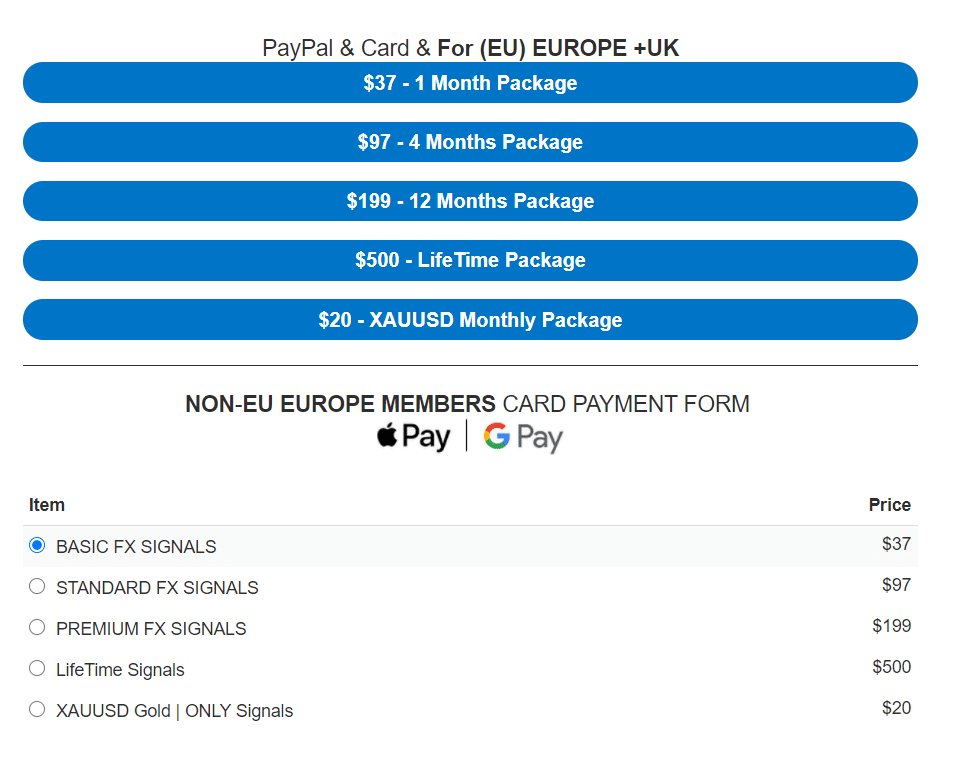 There are five packages. The one-month Basic FX Signals pack costs $37. The four-month Standard FX Signals pack costs $97. The annual Premium FX Signals pack costs $199. The Lifetime pack costs $500. Signals for Gold costs $20. All prices are honest and affordable.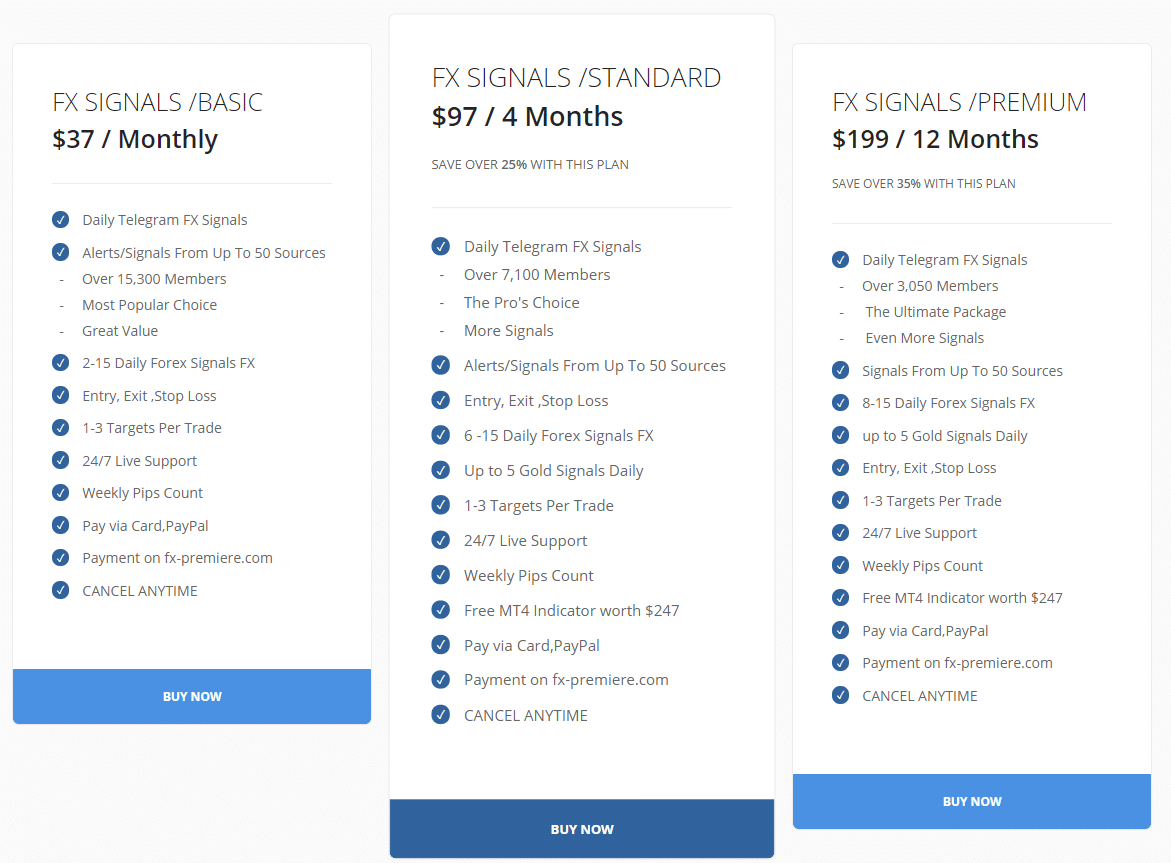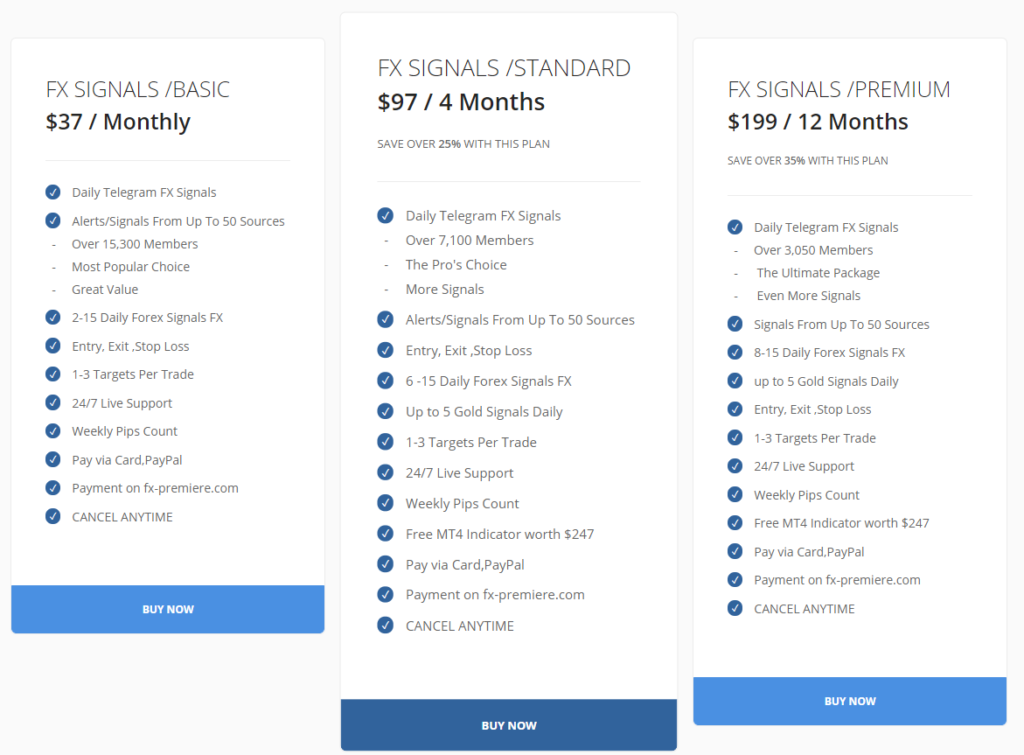 Let's talk about the service's features:
We can get access to over 50 FX Signals FX sources of Daily Forex Signals.
Signals are generated for 15 Forex currency pairs and Gold.
There are from 2 up to 15 signals daily provided.
They're delivered with Entry Price, Stop Loss, and Take Profit levels.
There are up to five Gold signals daily.
Every trade can have from one to three targets (TP levels).
The channel is featured by the pip counter.
We are free to pay via Card or PayPal.
We have to pay through their site if we'd like to pay via Card.
We can cancel the subscription we choose anytime.
Standard and Premium packs include a free BUY/SELL indicator.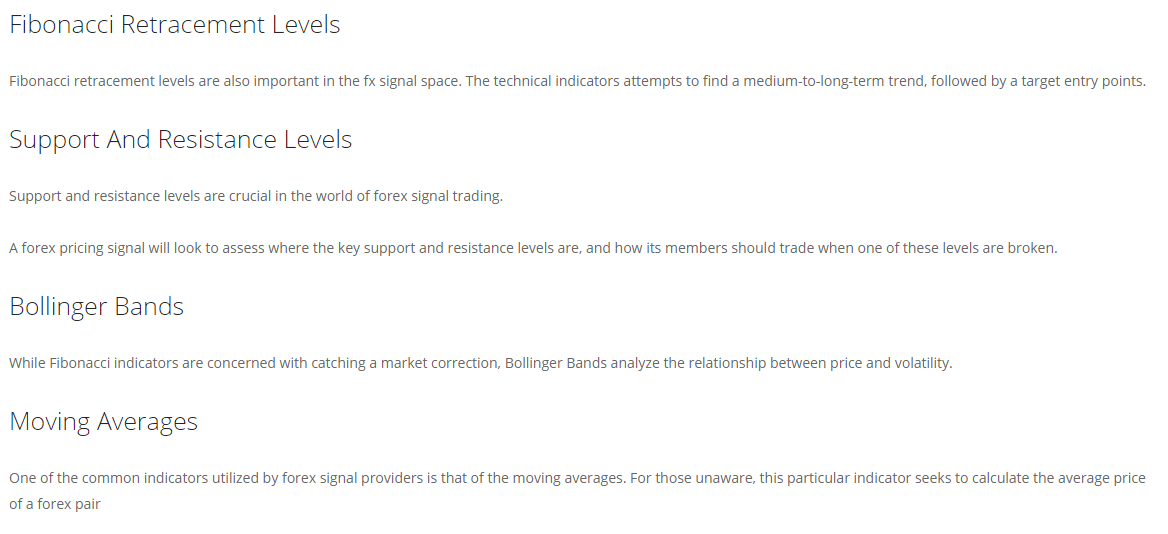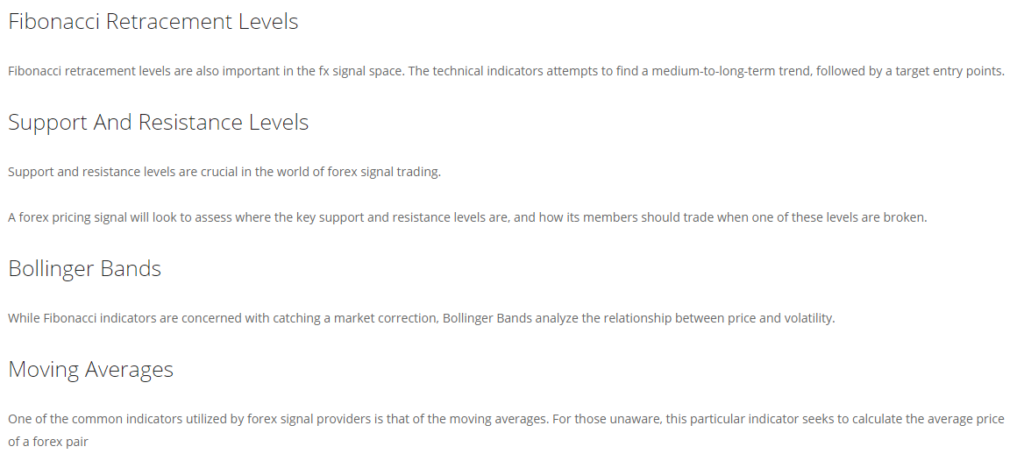 These signals are generated based on the next Indicators: Fibonacci Retracement Levels, Support and Resistance levels, Bollinger Bands, Moving Averages.
Most of them are focused on spotting trend opportunities.


The company also takes into account High Impact News when forming the signals.
We have to execute the signals asap.
There's 24/7 welcome support.
We have to contact them via Live Chat with a representative.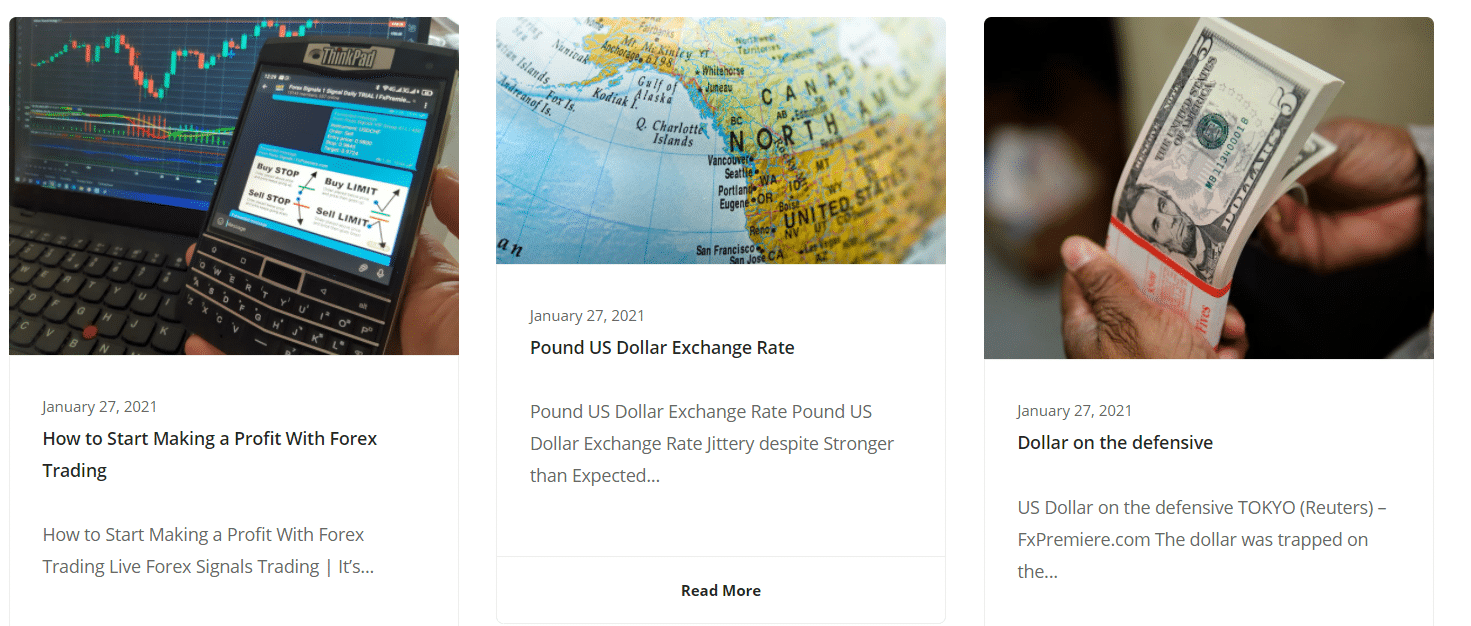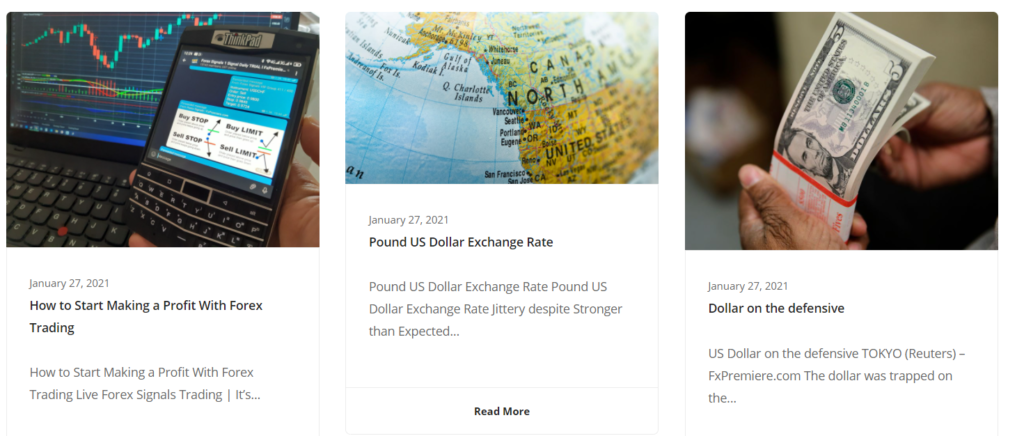 The blog includes some posts that are published daily.
FX Premiere backtests
The company provides no backtest because there are over 50 sources of the signals. It's a con because we can't be sure it'll work for a long time range.
Trading results
The company doesn't have myfxbook-verified trading results. We have only these pips counters from the Telegram channel. According to them, the signals' win-rate is low. This post was checked only by 1200 people among 13000 subscribers.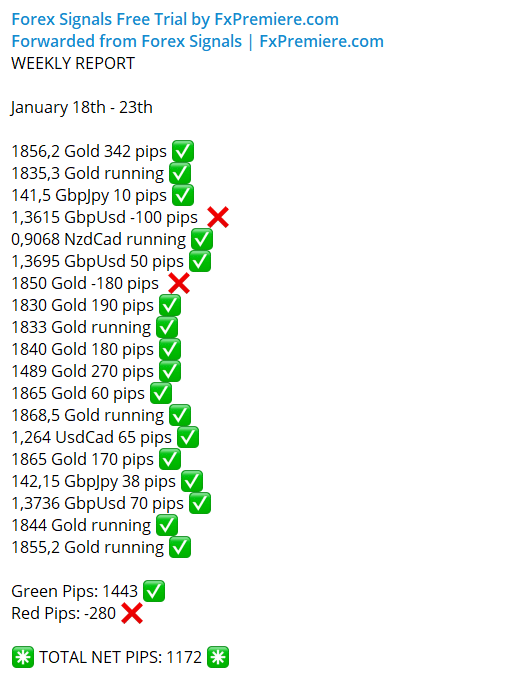 The pre last week looks much better by the number of trades and profitability in general.
Other notes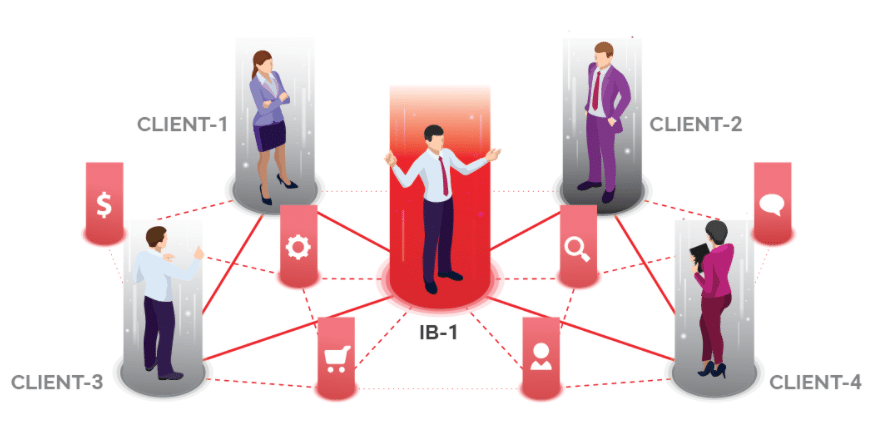 There's an affiliate program for everyone who wants to help this service grow.


We can expect to get a 30% approximately commission from each client monthly.
People feedback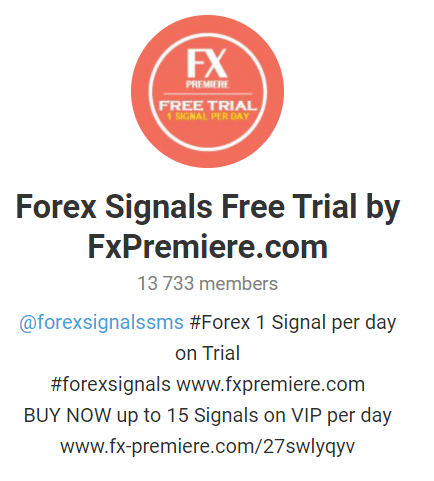 FX Premiere runs a Telegram account that has 13733 members.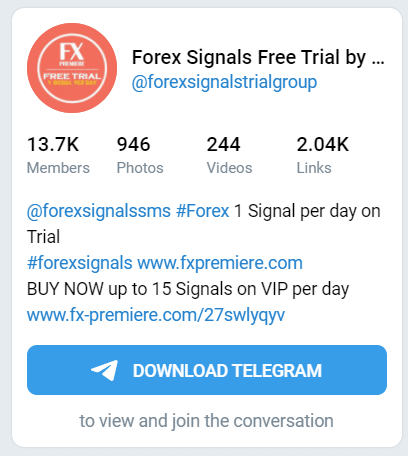 The main Telegram channel for delivering free signals and sharing marketing information amounts to 13700 subscribers, 946 photos, 244 videos, and 2040 links.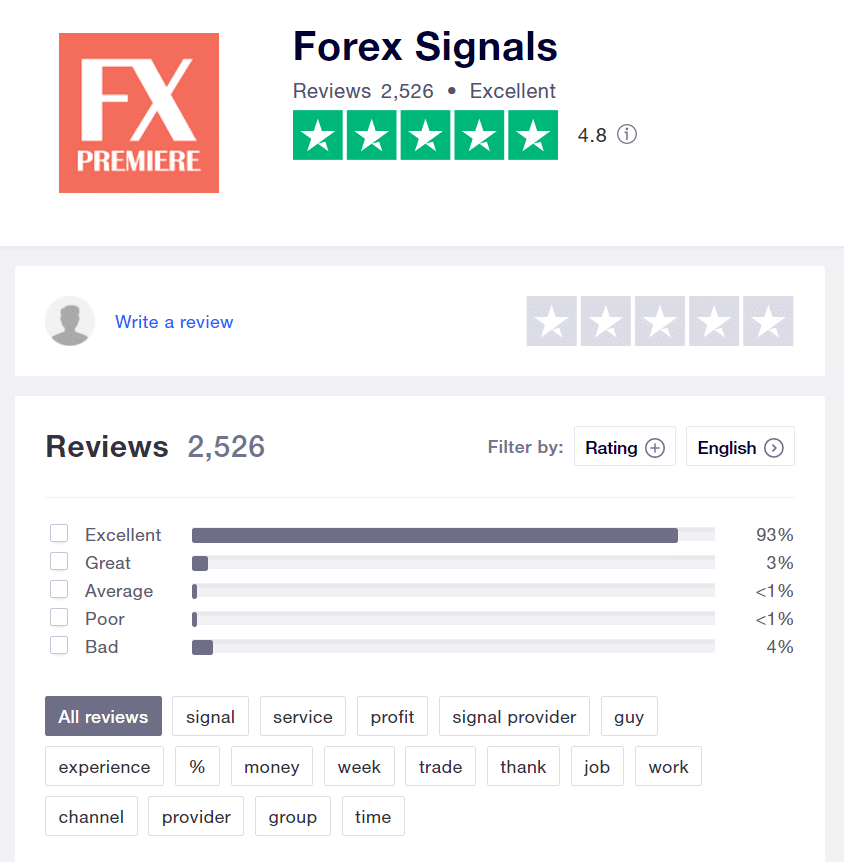 The company has a solid page on Trustpilot with 93% of the 5-star reviews, and the average score equals 4.8, based on 2526 reviews. There's much feedback as for this type of service.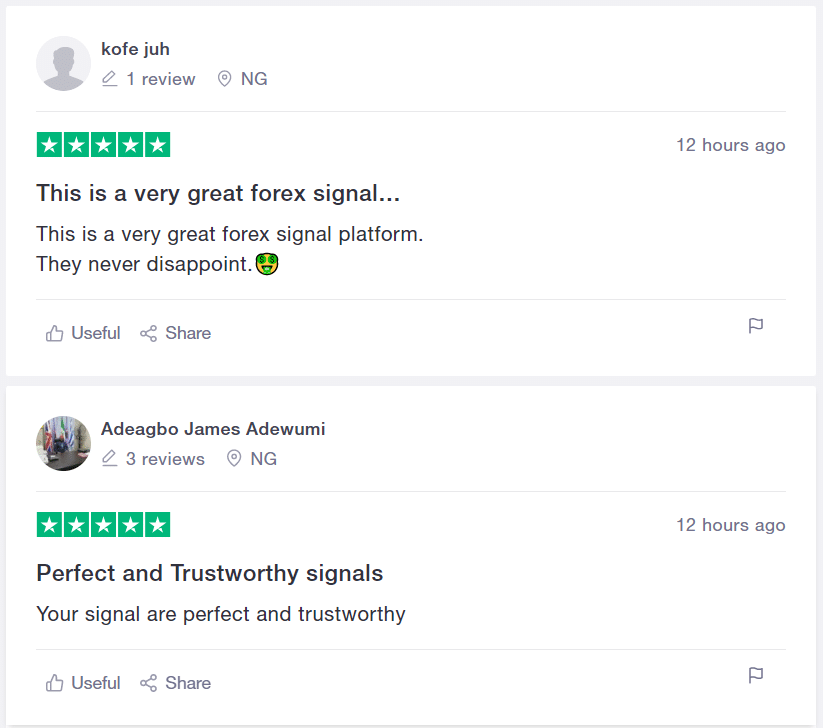 There is much feedback from people from Nigeria. We can't be sure if they are real.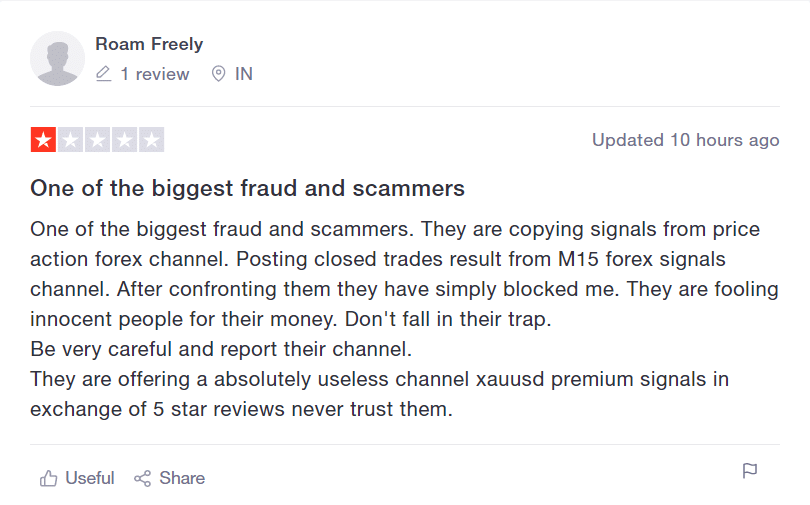 This person just mentioned that the signals aren't original and are transferred from another channel.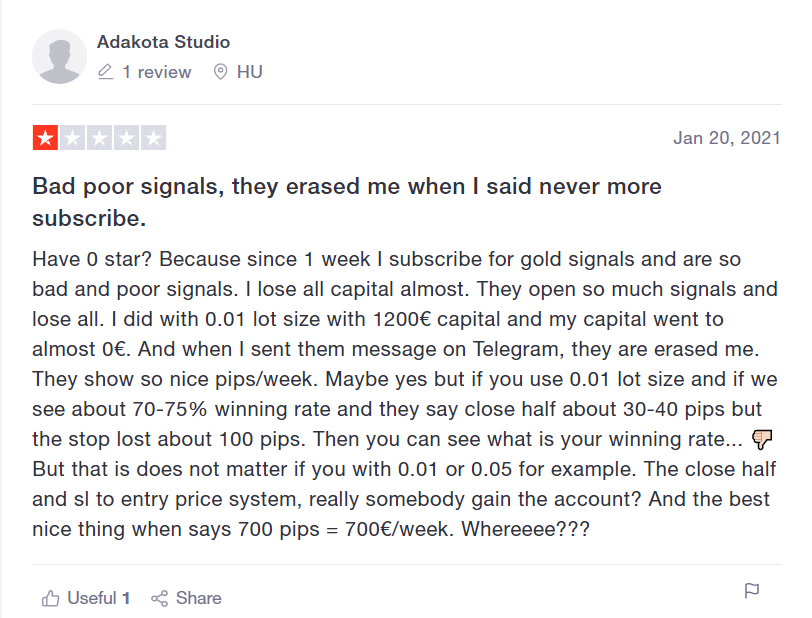 There are huge SL levels compared to the TP ones.
Wrapping up
Advantages
Strategy explanations provided
Free signals are delivered
There are many subscribers in the Telegram channel
Disadvantages
No team revealed
No settings explanations provided
No copy-trading service deployed
No backtest reports provided
No real account 3rd-party verified trading results provided
Some of the weeks have a low win-rate according to the channel reports
There are some negative testimonials on the Trustpilot site
Summary
FX Premiere looks like a service that managed to create a big free-to-play channel with some signals and trading ideas for everyone. At the same time, there are no backtest reports from those people who generate the signals provided. We developers didn't share an account where these signals are traded. It means that they don't generate these signals but just resend them from the real signal providers. We wouldn't like to follow the service with a lack of transparency.