Hassonline is an automated platform with multiple crypto bots and supported exchanges. It allows traders to develop customized bots and offers them to use their own pre-built algorithms. The developers state that there are no volume restrictions or trade fees. Currently, they support more than 20 major cryptocurrency exchanges like Coinbase, Binance, and many more. We will discuss the safety, legitimacy, and features of HassOnline in this review.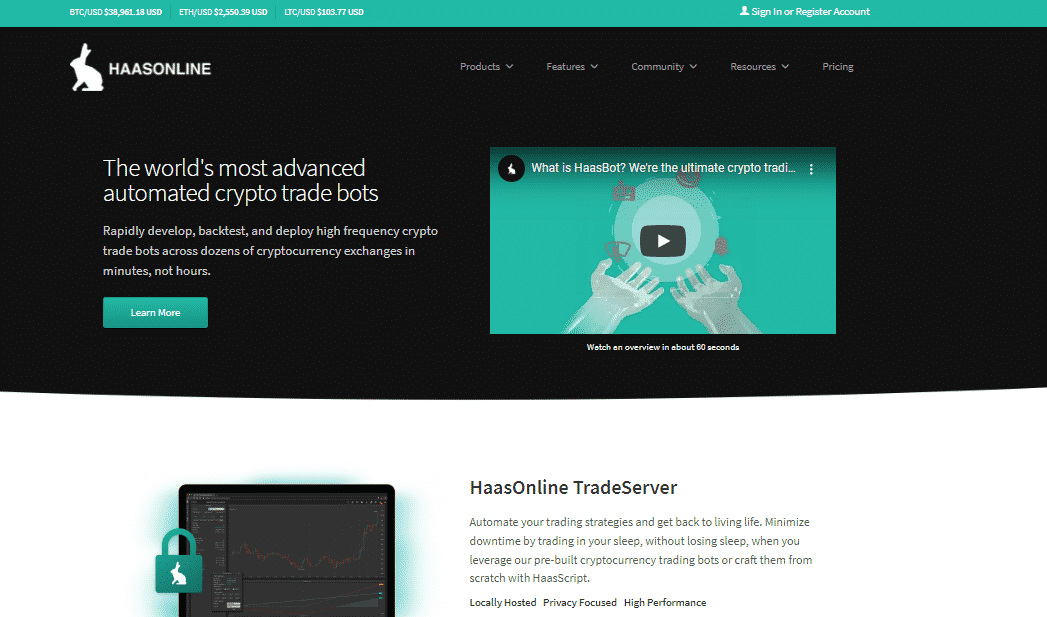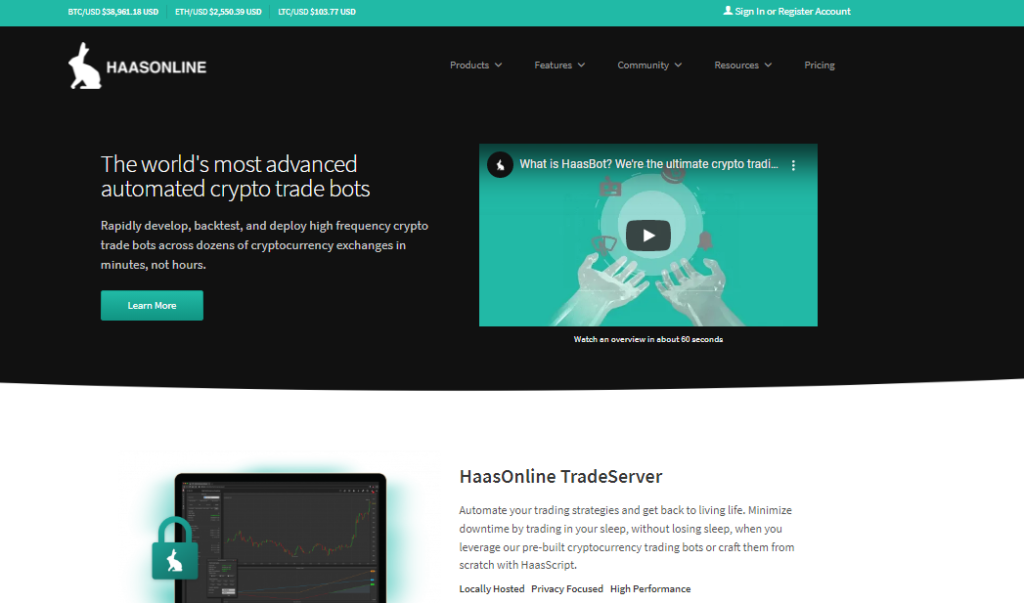 What is HassOnline?
HassOnline is a crypto trading platform that has been living since 2014. It comes with preset functions and paper-trading where traders can monitor the performance of the bot. Their backtesting engines allow users to test the algorithm with different market conditions.
Quick summary
The essential features and products of HassOnline include:
HassOnline trading server is locally hosted and privacy-focused to maximize the wallet security of traders.
HassOnline cloud optimizes your trading strategies and has a marketplace to select the bots and third-party signals.
The team developed their scripting language, HassScript, to create complex trading algorithms and indicators.
With backtesting engines, traders can choose between closing or order book prices to test strategies with historical market data.
HassOnline: background
HassOnline was founded in 2014 for trading on digital assets by leveraging integration through APIs. The experts include Stephan de Haas, CEO, and Quintus de Haas as Chief technology officer. You can reach the developers through LinkedIn profiles. There are no location details and whereabouts of the company.
How does it work?
To trade with HassOnline bots, we need to buy the license and create an account. After this process, download the Hassonline trade server based on your operating system (Windows, Linux, or macOS). Now you can create trading bots and connect them to your exchanges via API keys. Configure your system and run it.
How to sign up with HassOnline?
For signing up with this bot, you need to create an account on the website by entering your email and setting up your password. As mentioned before, traders have to connect their exchange using the API key to start trading.
Does HassOnline offer a demo account?
Hassonline offers its users a demo server to test strategies. Through backtesting records, traders can gauge the drawdown and profitability of their bots.
Profitability of HassOnline
HassOnline does not provide any historical and live record on the website. They do not guarantee the profitability of their bot as the cryptocurrency market is highly volatile.
Payments, deposits, and withdrawals
For using HassOnline bots, payments can only be made in Bitcoin. They do not charge any trading fees from investors. Traders can perform unlimited trades with no exchange restriction.
Exchanges supported
HassOnline currently supports 23 exchanges which are listed below:
Coinbase Pro
Binance
Binance Futures
Binance US
Bitfinex
BitMEX
Bitstamp
Bittrex
Deribit
Gemini
HitBTC
Huobi
Kraken Futures
Kraken
KuCoin
OKX
OKEX
BiBit
Bitpanda pro
CEX.IO
FTX
Ionomy
POLONIEX
What about customer support?
Customer service can be reached through live chat, which is not available 24/7, or you can send them your queries through a contact form available on their website. They do not provide phone support.
Users can also ask them questions by signing up to the platform, and the service will reply within 24 hours. Links to their social media profiles and tutorials are available on the website.
Benefits of using HassOnline
Some of the pros of HassOnline are listed below:
Backtesting and real-time results allow users to view, test their bots and get an idea about their performance
Multiple numbers of preset strategies are provided
Drawbacks of using HassOnline
HassOnline do not have a mobile application
Lack of free trial
This bot is not beginner-friendly
Expensive subscription offers
Pricing review
HassOnline only accepts payments in Bitcoin and offers three subscription packages. A three-month beginner plan will cost you 0.004 BTC, including ten bots.
In comparison, the simple plan is 0.006BTC with 20 algorithms. For 0.009 BTC, you can purchase the advanced plan with an unlimited number of expert advisers.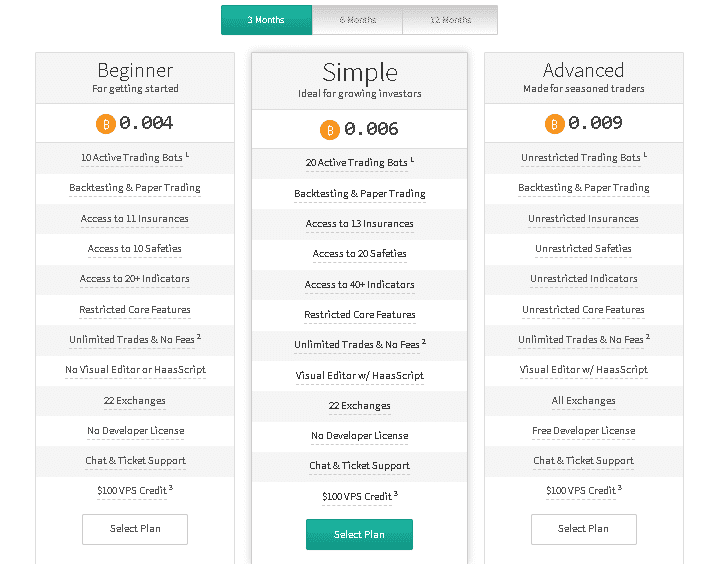 Traders can purchase the beginner six-month plan for 0.006 BTC. The simple will cost 0.011 BTC while the advanced package is at 0.018 BTC.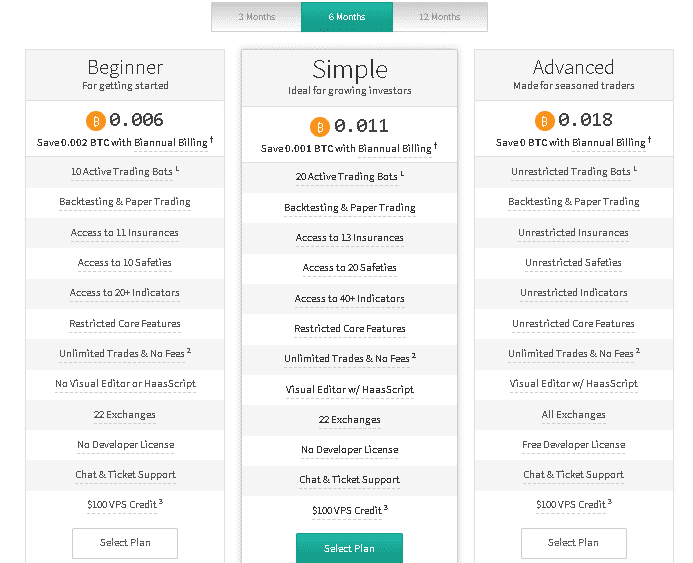 The yearly subscription provides discounts with the features being the same. The beginner plan will cost you a total of 0.009 BTC while the simple plan comes at 0.016 BTC. The advanced plan is for 0.026 BTC.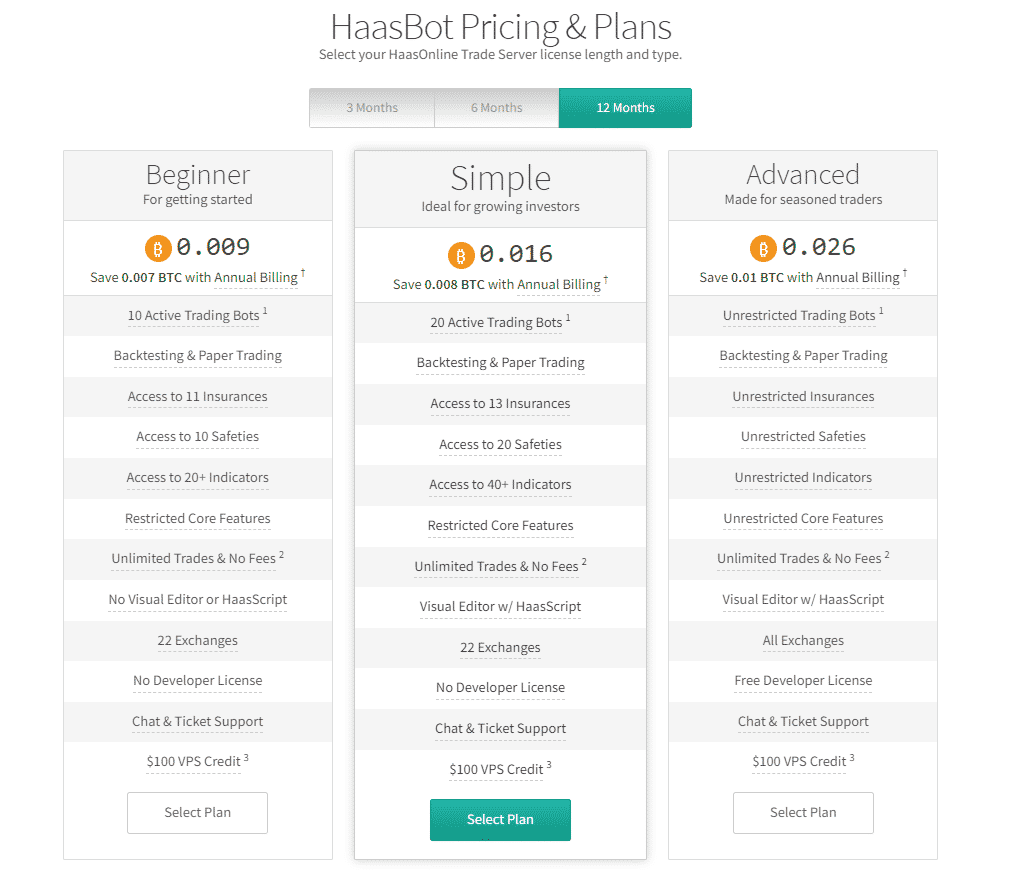 What are security measures?
HassOnline advises its users to use two-factor authentication for the safety of their platform. The API keys are stored on secure hardware, which third-party trackers can not track.
Is HassOnline legit?
Some users have complained about the functionality of the bots in their reviews on the Trustpilot platform. They wrote that the functionality and profits from the algorithms are not up to par.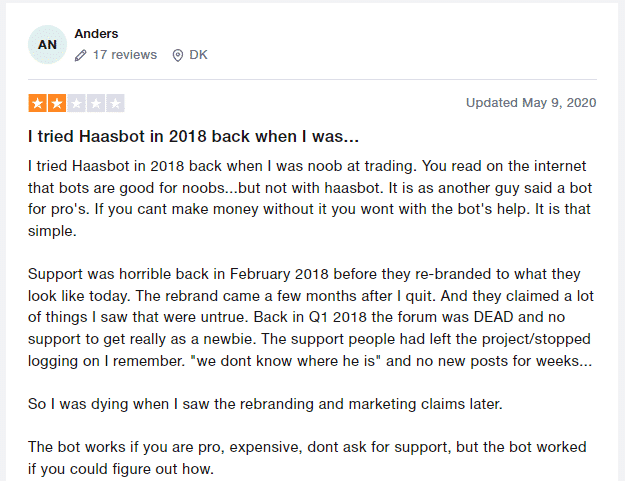 Ease of use
HassOnline software is not easy to use, especially for beginners who need simple interfaces to set up bots and their settings. The developers have provided a documentation section on the website that explains the platform features for the knowledge of new traders.
Is HassOnline a good choice for automated trades?
HassOnline performs automated trades for you according to the pre-coded strategies or custom bots designed by the traders. The buy and sell orders are placed automatically in accordance with the logic. As mentioned before, automated trading with this algorithm is risky like other conventional bots because the cryptocurrency market is highly volatile.
What are the risks of using HassOnline?
Trading in cryptocurrency is always risky, and HassOnline does not guarantee any profitability by using its platform. The subscription offers are costly, and the developers provide no money-back guarantee. 
The Review
Review verdict: an average crypto trading platform
The user interface of HassOnline is hard to understand for new investors, and their expensive pricing plan can only be paid in Bitcoin. The developers do not have a refund policy or mobile phone application.
Review Breakdown
Features:

Exchanges Supported:

Security:

Price:

Customer Support: