One of the beautiful things about the forex market is its 24/5 around-the-clock structure. Unlike other securities like stocks and indices, forex is open for a vast majority of the week. Aside from weekends, a few days in December, and New Year's Day, the forex market is always available for virtually anyone to trade.
Besides retail trading on platforms, foreign exchange of some sort – whether by central banks for governments, commercial banks for their clients, or travelers swapping currencies – always occurs somewhere in the world.
Forex transactions are so efficient because of their decentralized nature, meaning trading cannot rely on one single point of failure. Also, technology has eradicated the physical structures that once existed, and now trading relies mostly on electronic means.
Such attributes make the foreign exchange the most liquid financial security globally. It is helpful to study these fascinating features by understanding how currency exchange occurs 24/5, the influence of forex being a decentralized instrument, and why no trading occurs on weekends.
The different forex trading sessions
The forex market is open 24 hours for five days a week. Official opening times are technically from 5 pm EST (Eastern Standard Time) on Sunday up until 5 pm EST on Friday. During daylight savings periods in March, April, October, and November for some countries, these hours shift an hour up or down.
Although foreign exchange can occur any time during the open hours and each country has its own trading hubs, the broader instrument is technically broken up into four major sessions according to capital cities: Sydney (Australia), Tokyo (Japan), London (England), and New York (America).
These zones represent where we see the most liquidity, volatility, and trading power. Research suggests these times alone contribute to at least three-quarters of the daily volume.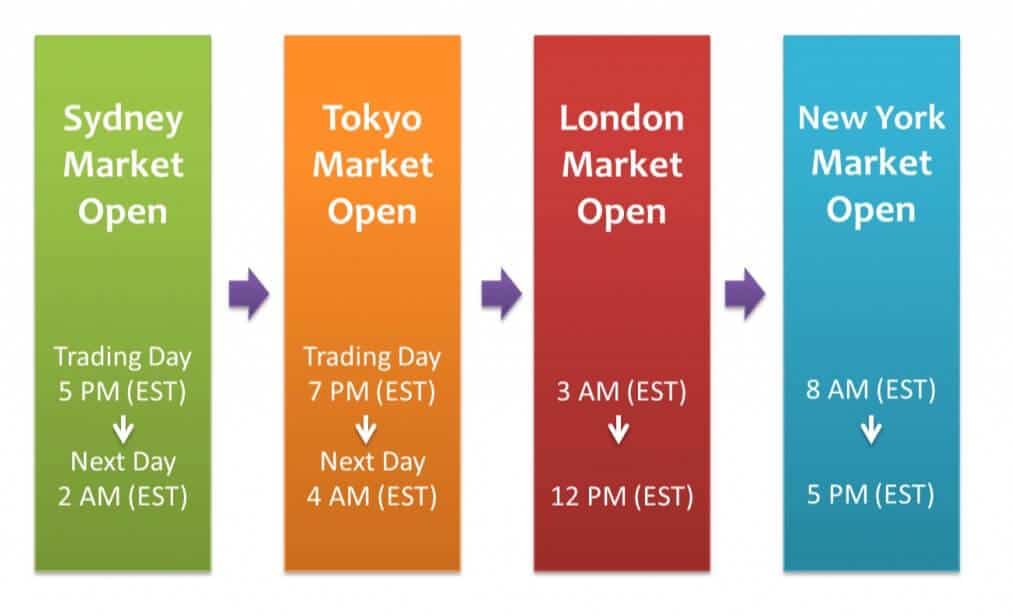 Sydney session opens between 5 pm, and 2 am EST
Tokyo session opens between 7 pm, and 4 am EST
London session opens between 3 am, and 12 am EST
New York session opens between 8 am and 5 pm EST
These periods are worth observing for traders, especially when they overlap. The London and New York session overlap is particularly noted for being the busiest as they represent two of the major currencies in action.
Overall, these specific sessions are characterized by slight spread widening as market makers expect an influx of traders to be participating in anticipation of the increased volume.
High-impacting economic releases often come out around such periods as well, further adding to the higher speculative interest. Another observable time worth noting is the rollover, which is essentially at the beginning of the Australian session.
Rollover refers to the interest swaps paid to or debited from a trader's account for 'rolling over' or holding positions overnight. Traders must get to grips with these sessions and understand what generally occurs during those times.
The impacts of forex being a decentralized market
Although there are drawbacks with any decentralized market, part of the incredible efficiency of foreign exchange is this very fact. If forex were centralized, it would only be open when the recognized financial centers are conducting trades.
Even when those sessions are closed in one part of the world, there will always be a substantial supply and demand for currencies elsewhere.
For instance, when the New York session is closed, anyone nearly anywhere on the planet can purchase or sell large quantities of US dollars to another trader or forex dealer or convert those dollars into their native money.
Trading is not conducted in one central place but instead distributed through ECNs (electronic communication networks) located worldwide. Also, the purposes of forex are diverse aside from retail speculators, who actually only form a minuscule portion of the broader instrument.
Banks (central and commercial), multinational corporations, hedge funds, etc., are massive participants using foreign exchange for numerous purposes aside from speculating. Having such a diverse group has fostered a global network of dealers operating in multiple international time zones.
Why is the forex market closed on weekends?
Like most financial instruments, forex is closed on weekends as market makers – the interbank – only operate during conventional business hours. As briefly mentioned, large commercial banks are the vast contributors to most of the trading volume.
Therefore, the smaller section of the market cannot trade if most of the big traders are away. Any positions executed before the close will remain idle until the open.
Retail brokerages and liquidity providers catering to the ordinary trader have no incentive to provide access to the markets as it would require substantially increasing spreads and overall workforce considering the absence of liquidity.
Some brokers like OANDA offered weekend trading a long time ago, but the infrastructure required to maintain this service incurred significant business costs. From a trader's perspective, trading during the weekend would bring about erratic price movements due to the thinner liquidity, increasing spreads, and other trading costs.
Although the market might be closed for these two days, the foreign exchange still continues globally across numerous forex dealers. Prices tend to remain consistent with little gaps when the market reopens on Sunday, 5 pm EST.
Such gaps may be substantially noticeable on rare occasions due to an unexpected fundamental event affecting the currency/s in question. Some traders have developed profitable strategies for trading these irregularities.
Final word
This article should have shed light on why forex is considered the largest financial market by a country mile. The sheer demand on a global scale and the decentralized structure is the main reason foreign exchange always occurs virtually every second of the day.
Whether a retail trader is trading for profit in their bedroom, a commercial bank needs to convert funds for their clients, or a corporation needs to facilitate international trade, forex is the key ingredient.