The Turkish lira rose against the dollar after industrial production for April grew 66.0% YoY.
Turkey's real GDP is expected to grow at a rate of 6.04% in 2021.
The US budget deficit increased by $2.1 trillion in the eight months leading to May 2021.
The USD/TRY traded at a -1.03% price change on June 11, 2021, from the previous day. It opened trading at 8.4167 and hit a low of 8.2853. The Turkish lira rose against the dollar after the release of industrial production data for April 2021 (year-on-year) that showed an increase of 66.0%. This production stood at 16.7% in April 2020, and the rise beat estimates at 65.0%. Turkish retail sales (YoY) also increased to 41.7% from a previous record of 19.7%. Monthly sales declined to -6.3% from a previous reading of 5.1%.
Rate decisions
Turkish index (BIST 100) added +0.27% on June 11, 2021, after opening trading at 1,461.22 and reaching a high of 1,464.29.  The index gained amid calls by President Erdogan to lower interest rates.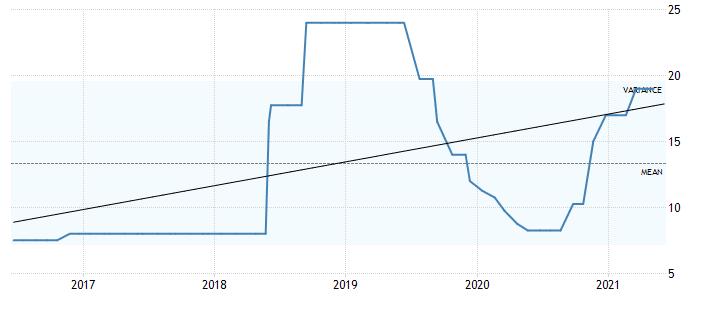 A 5-year analysis of Turkish interest rates
May 2021 saw the Central Bank of Turkey maintain the repo rate at 19.00% after raising it from 17.00% in Q1 2021. Analysis of the 5-year trend shows that the government may lower the rates near the mean level of 15.00%. Turkish central bank had indicated that the inflation rate would fall to 12.2% in Q4 2021 after it hit a 2-year high of 17.14% in April 2021. However, the recovery process was seen to move per inflation trend, vaccination, and domestic production.
Real GDP growth
Turkey's real GDP is expected to grow at a rate of 6.04% in 2021, after a slight improvement in 2020 at 1.79%.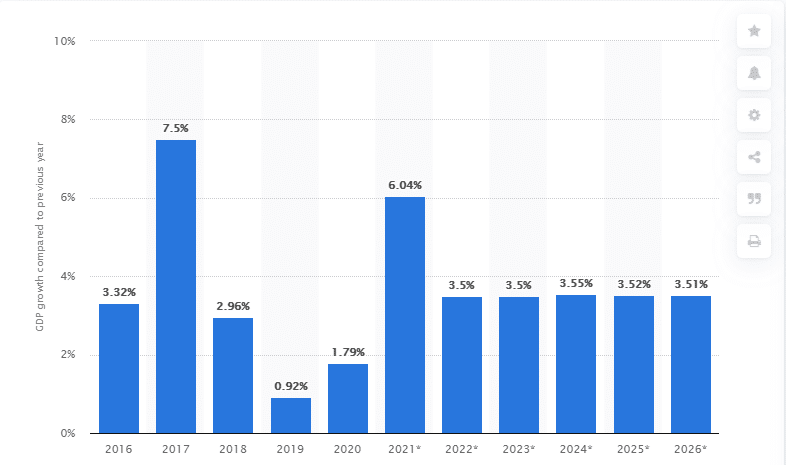 Real GDP growth rate
In the 5-year analysis, the GDP growth rate was highest in 2017 at 7.5% and is expected to lower to 3.51% in 2026.
Turkey is expected to speed up the Covid-19 vaccination drive after its trial candidate successfully reached the third phase of a locally-developed vaccine analysis program. On June 14, 2021, citizens above the age of 40 years are slated for the vaccination drive that will increase the vaccination rate from 16.4%. 
The country is considering special restrictions to the populace rejecting the vaccine in a bid to quicken the return to normalcy. A total of 6,454 cases were confirmed on June 9, 2021, with 87 deaths reported from Covid-19. Up to 13.4 million people have been fully vaccinated out of a total of 32 million doses administered in Turkey.
Improved vaccination saw Germany remove Turkey from its potential high-risk countries on June 4, 2021, although it remains on the EU's orange scale. From July 1, 2021, Turkish tourists traveling into the EU will be required to hold Covid-19 certificates. Turkey is also holding talks with Russia to resume flights after the latter extended the travel ban until June 21, 2021. The ban has cost the Turkish economy up to $500 million in June alone.
Federal budget balance
The dollar also took a hit after the US Treasury Department announced that the budget deficit increased by $2.1 trillion in the eight months leading to May 2021. Federal records indicated that expenditures grew to $4.7 trillion from October 2020 to May 2021. In FY 2020, the budget deficit stood at $3.1 trillion —  three times more than that of 2019. 
Technical analysis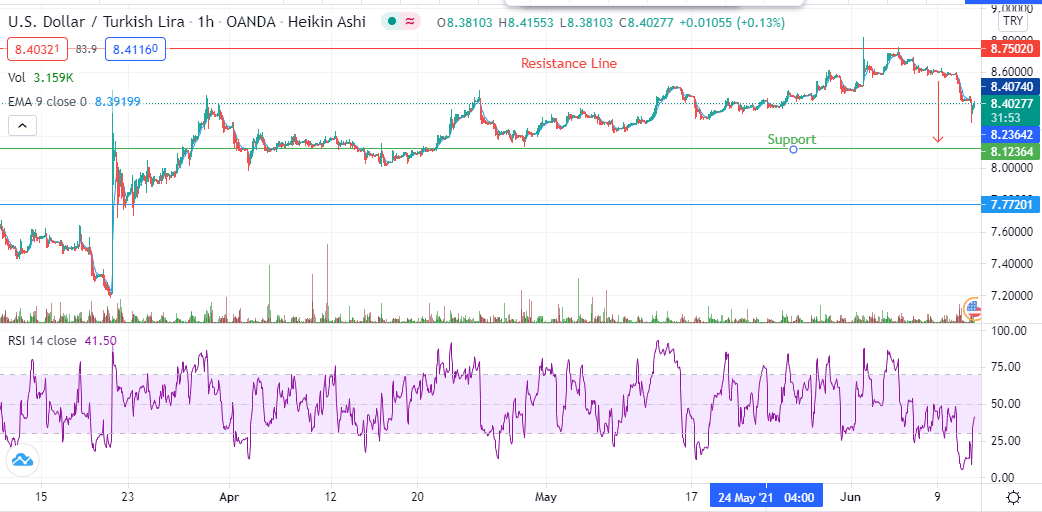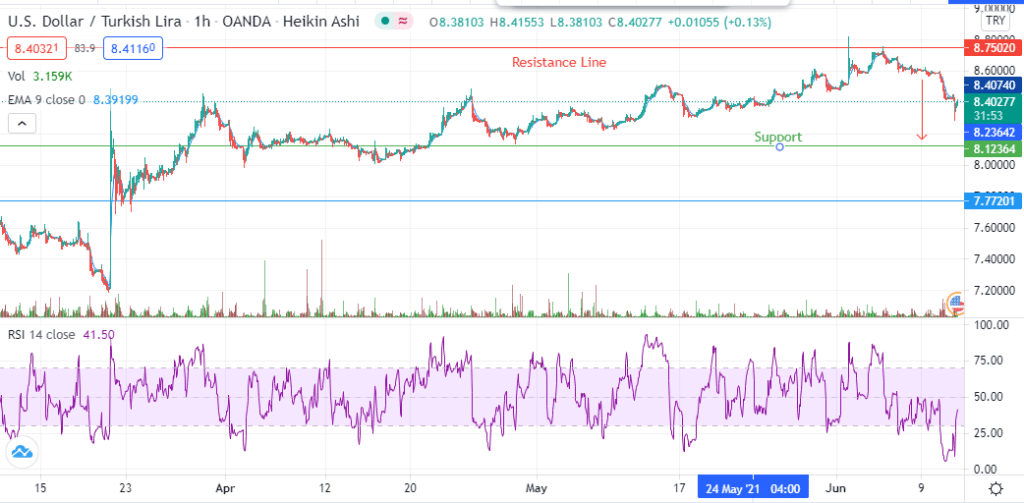 USD/TRY Chart Analysis
The USD/TRY trading pair moves towards the psychological support area of 8.1236 in the 1-hour chart. It met resistance at 8.7502 and confirmed the downtrend. The 14-day RSI is at 41.50, indicating higher selling activity but not close to the oversold region. We may still see an uptrend as the pair moves close to the 9-day EMA at 8.3920.