Lux Algo is a provider of advanced Forex tools that you can use in tandem with the TradingView website. It claims to be a system that cancels out market noise and allows you to place your trades without being overly influenced by your emotions. Since several such systems are flooding the market these days, we need to conduct a proper analysis of each and every aspect of the system in order to judge whether it's reliable or not.
Is This System Capable of Generating Profits?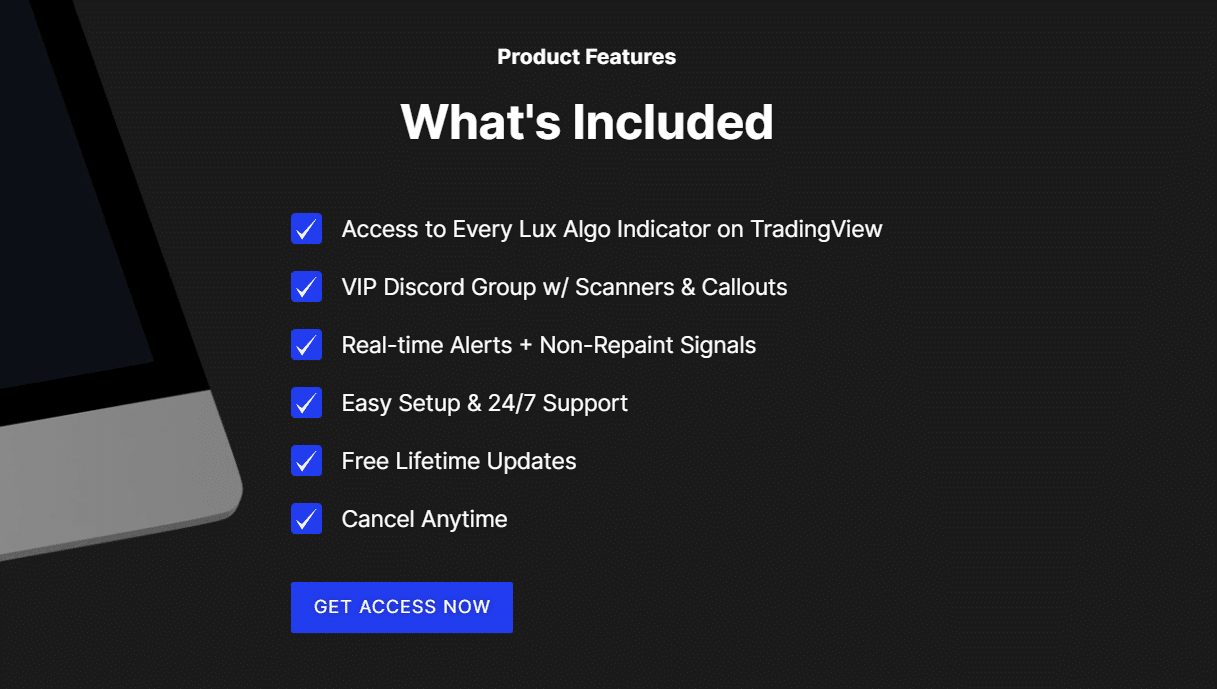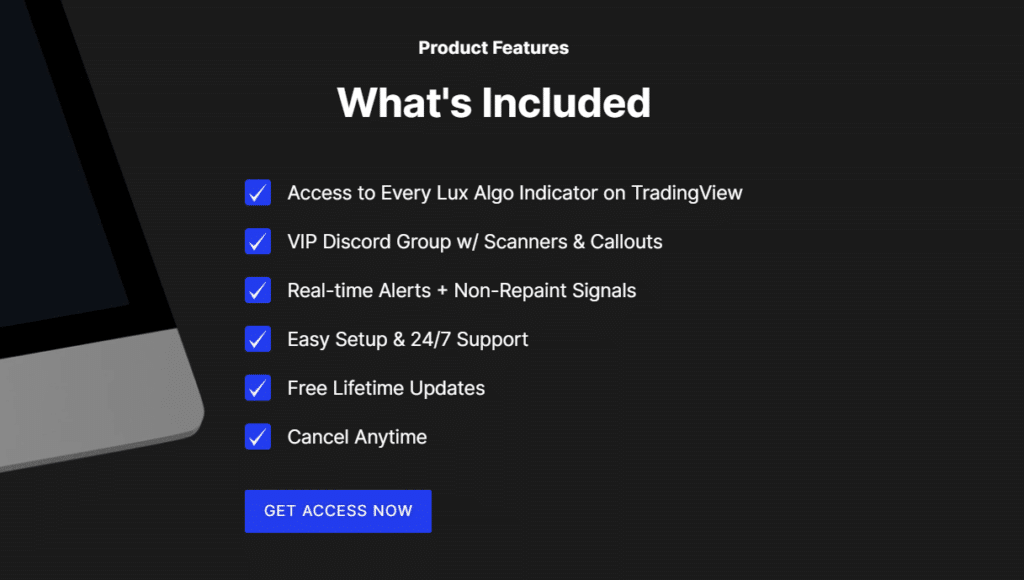 Lux Algo has an advanced collection of trading tools using which you can create your strategies and get accurate signals for the most lucrative trading opportunities. The official website contains details about the working of the software, its features, some customer testimonials, an FAQ section, Product Resources, and some documentation outlining how to set up the system, how to update, how to set alerts, etc.
Furthermore, the lead developer behind this software is a Spanish national by the name of Alex Pierrefeu who is quite well-known in the Tradingview community. He has a master's degree in audio signal processing that lets him develop powerful technical indicators.
The co-founders of Lux Algo are Sean Mack, an American software professional who is experienced in commodity trading and technical analysis, and Alexander Friend, an English national with a background in Computer Science. Lux Algo got launched in April 2020 and it quickly rose to the top of the Forex EA industry as several new and seasoned traders started noticing it.
You can trade in all kinds of pairs using this Forex robot, which provides you with free lifetime updates and 24*7 support. It provides you with two types of signals, namely contrarian and confirmation. The latter is used for following trends and confirming a potential action.
Since both agility and sensitivity affect confirmation signals, traders can modify these parameters to study long-term price shifts. Contrarian signals, on the other hand, travel in a direction opposite to the market sentiment. They allow you to make decisions more quickly and spot potential highs and lows with increased accuracy.
Our first look at this system tells us that the vendor is not afraid to reveal information about the developers and trading strategy. Transparency is always a great sign, so our initial impression of this system is quite positive.
How to Start Trading With Lux Algo
In order to start using this Forex robot, you first need to open an account with the TradingView website. Then, you need to sign up with Lux Algo to view the charts on any market of your choosing. With this Forex tool provider, you get vital data delivered to you in a simplified format, so you can develop an effective trading system all by yourself.
Lux Algo has a Discord group with more than 10,000 members sharing callouts and trading tips. Here, you also get access to trading signals, free education, and 24*7 support. By default, the sensitivity and agility for this system are 12 and 26, respectively, but you can modify them to suit your trading style.
The vendor recommends using this system for trading in the higher time frames, but it is suitable for all markets and timeframes. Lux Algo's signals are not repainted and they are delivered in real-time always.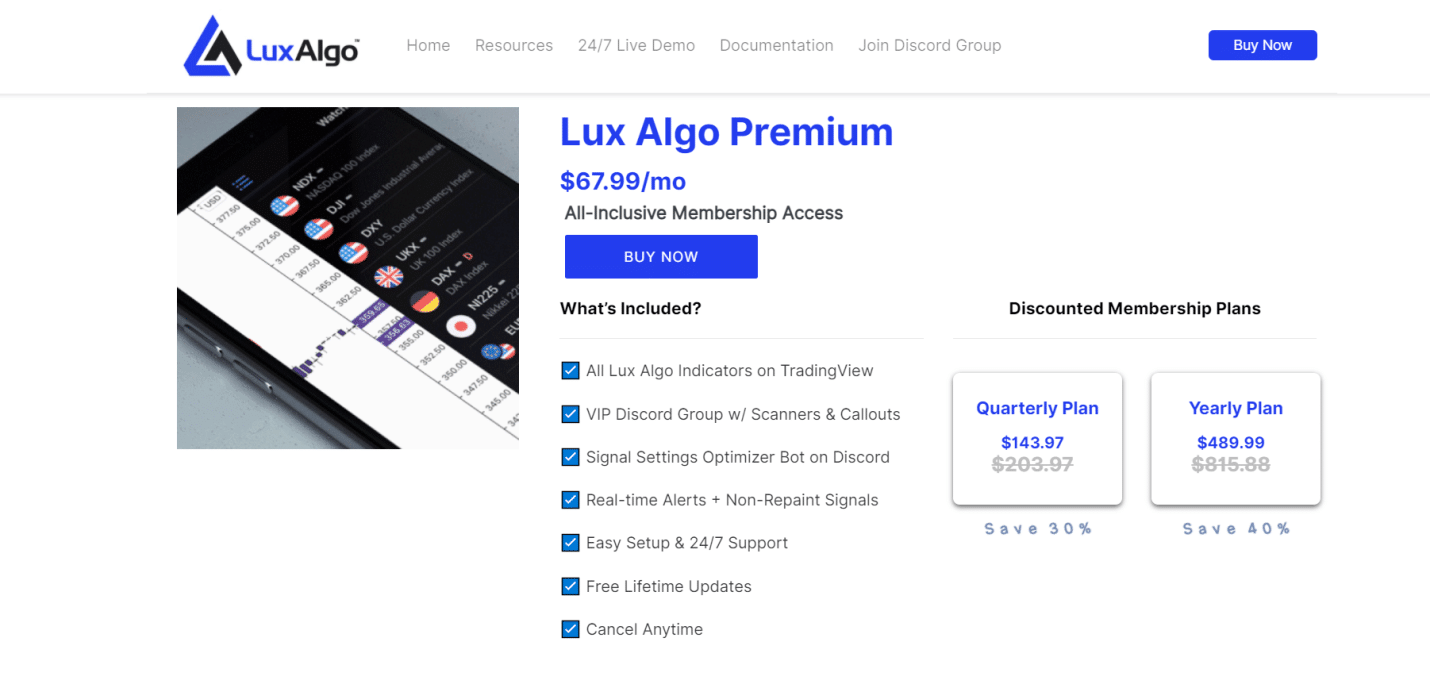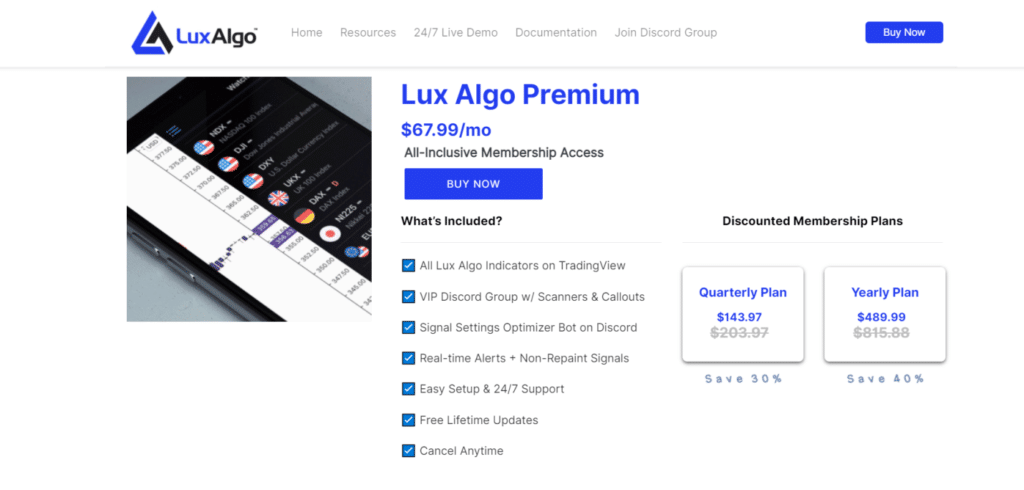 The system is available for $67.99 per month, but you can also sign up for the quarterly and yearly plans, which cost $143.97 and $489.99, respectively. These two plans let you save 30% and 40%, respectively. No money-back-guarantee is provided by the vendor.
Lux Algo Backtests
There are no backtest results for Lux Algo and this prevents us from assessing the system based on historical performance. We hope the vendor would consider including this in the future.
Trading Results
The vendor does not provide us with live trading results and we suspect it is shared only with the members through the Discord group. Without these results, we cannot say with confidence that the system can earn profits on a consistent basis.
People Feedback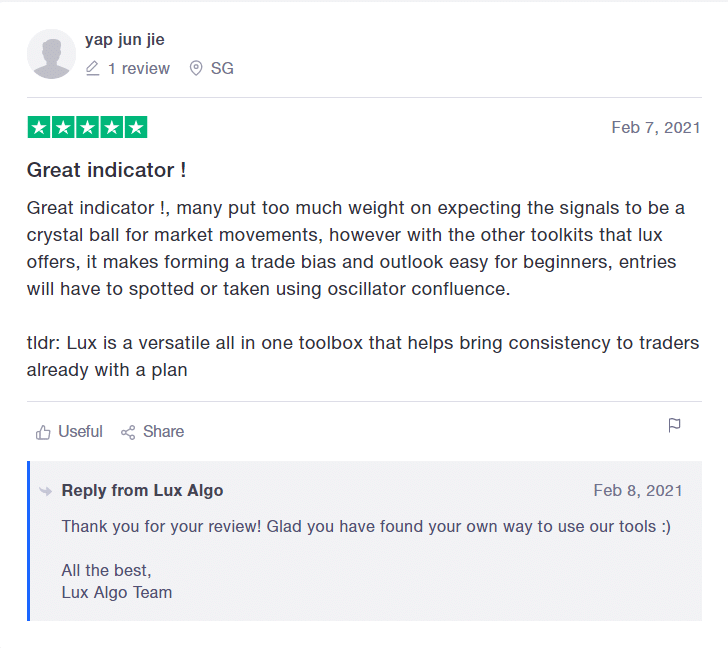 We managed to find some user reviews concerning Lux Algo on the Trustpilot website. One of the users has praised the toolkit offered by the system that makes trading easy for novice traders. The vendor has responded to most of the reviews and this tells us that it has a proactive customer support team.
Wrapping Up
Advantages
Information is provided about the developer team
Trading strategy is revealed
Positive customer reviews
Disadvantages
Lack of live trading results
Backtesting data is not provided
Expensive service
Summary
In the end, we come to the conclusion that Lux Algo is by no means the perfect system, but it's not a scam either. If the user reviews are anything to go by, several people have profited from the tools offered by it. But, the lack of live trading results and backtesting data is quite disappointing, and we think it's a little risky to invest in this Forex tool provider.