Canadian oil blends have gained considerably despite Exxon Mobil cutting down supply output.
Canadian government long-term bond yields are trading close to two-year highs.
Canada is set to procure more than 40 million doses of the COVID-19 vaccine from the EU before the end of March 2021.
The EUR/CAD currency pair has declined 2.65% since December 21, 2020. It traded at a high of 1.5735 and fell to 1.5318 on February 26, 2021, after rising Canadian government bond yields pushed investors to buy more Canadian dollars as compared to the euro. Oil prices have also been on a rally, with the major oil blends crossing the $60 threshold. The Western Canadian Select sold at $51.67 per barrel, gaining close to 3%.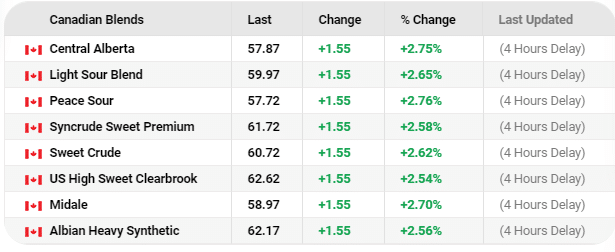 The Peace Sour was the highest gainer on February 26, 2021, at +2.76%, with all the blends increasing concurrently. Global economic recovery now means that the oil stocks are declining quickly, with banks and traders upbeat that Brent's price could reach $100 a barrel. Oil giant Exxon Mobil has cut its oil reserves by 7.24 billion barrels a year in Canada, drilling 15.2 billion barrels as of December 31, 2020, as opposed to 22.44 billion barrels in 2019. The company is hopeful that oil prices will increase to make drilling profitable again. Tight supply issues may cause prices to increase, especially among the Canadian blends.
Bond yields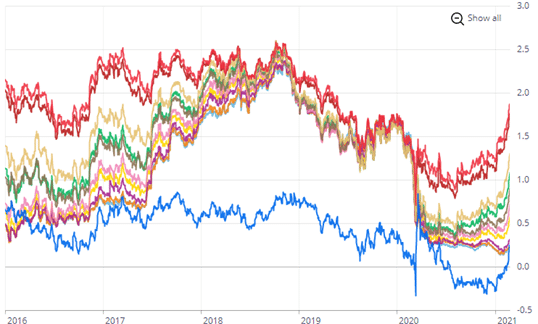 Long-term bond yields for the Canadian government traded at 1.88 on February 24, 2021 (an 8.67% rise from a week before – near two-year highs). Marketable bonds over ten years rose 9.94% to trade at 1.77 on February 24, 201, from a low of 1.61 on February 18, 2021.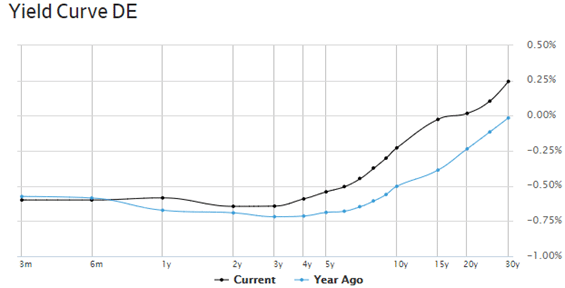 Germany's 10-year yield dropped 0.257% on February 26, 2021, with other major European powerhouses facing a sharp decline in their 10-year bond yields. However, the 30-year bond yield rose 0.25% except for the UK, at an increase of 0.812%. This increase was due to the successful implementation of post-Brexit agreements.
The rise in US treasury yields has forced an increase in borrowing costs across many countries that transact with the dollar. The European Central Bank (ECB) has, in turn, indicated that it will ward off any significant increase in real or inflation-adjusted interest rates. This prevention will help to ensure the European bloc continues to recover with controlled inflation. Analysts expect the economy of the euro-area to reach its pre-crisis level by mid-2022. We expect to have positive projections of the euro as the real yield strengthens with a tight inflation target.
However, extended lockdowns in the first quarter of 2021 will take a toll on economic growth. Countries like Denmark, Portugal, and the Netherlands have resorted to tough restrictions owing to the novel coronavirus variant. Canada is set to order more than 40 million COVID-19 doses from the EU by the end of March 2021. The export policy from the EU is to be implemented in the supply of COVID-19 vaccine produced in EU member states. This policy may heighten delay measures that may hurt Canada's quick reception of the inoculant.
As of 2018, Canada was the second-biggest trading partner to the EU after the US. The trade value between these two countries was €72.3 billion, with its main products including machinery, chemicals/ pharmaceuticals, and transport equipment.
Technical analysis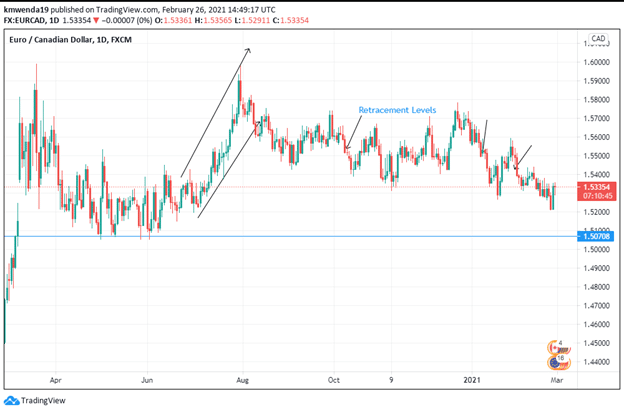 The EUR/CAD trading pair is headed towards the 1.50708 support level as the Canadian dollar strengthens against the euro. However, the currencies may break the retracement levels as Europe overcomes the set economic restrictions. The 14-day RSI points to a strong buy at 59.189, while the 20-day SMA gives support at 1.5330. Strong commodity prices may uplift the Canadian dollar as we head into Q2 2021.