The V12 Trading presentation looks several-page long and lacks almost every important piece of information. From the motto, we know that the service is "Simply The Best Trading Signals Out There and +3500 pips monthly." We have to explore the presentation to be sure if it is true.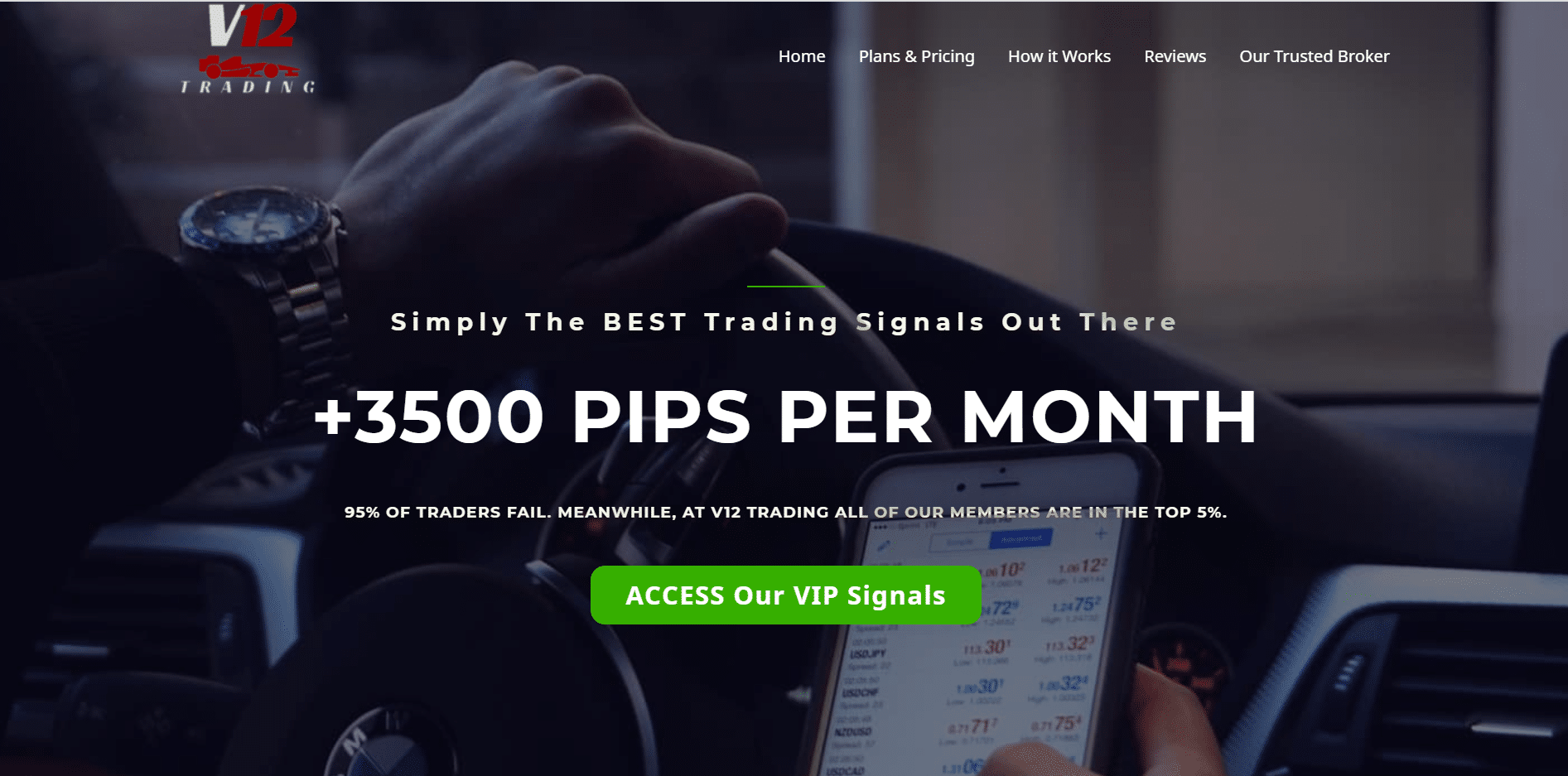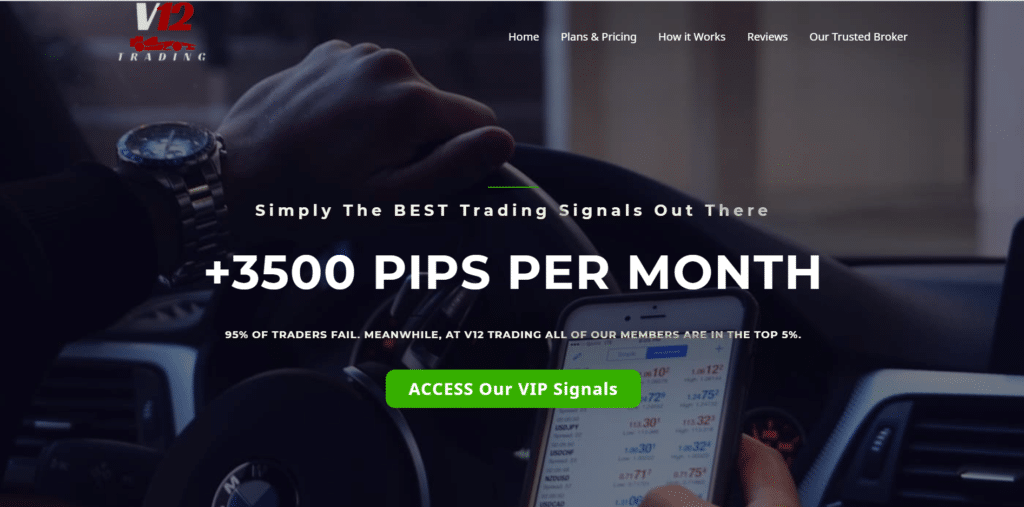 Is this service a viable option?
The V12 Trading company is a quite-known signal-service provider, but we can be 100% sure that upcoming signals will be that good as the previous ones.
How to start trading with V12 Trading

V12 Trading has over 6700 active monthly members, 696 VIP members, and 26563 pips gained in 2020.
The company has over eight years of trading experience.
The signals have an accuracy of 88%.
The Telegram channel is the place where signals are published.
All signals are execution orders.


The company promoted BDSwiss as the broker we have to use.
We have to complete registration and deposit the account at 250 EUR.
It allows us to get the annual subscription for free.
The signals are delivered with the next information: Currency Pair, Direction, Risks, Stop Loss and Take Profit.

The developers explain how to place orders with several Take Profits. If we receive a signal with three Take Profit levels, we have to divide our Lot Size by three and open three positions. For a 3000 EUR account, we have to open three trades with 0.1 Lot Size. 1st Position: SL and Take Profit1, 2nd Position: SL and Take Profit2, 3rd Position: SL and Take Profit3.
An average signal frequency is from 4 to 6 signals a day.
The leverage should be 1:400.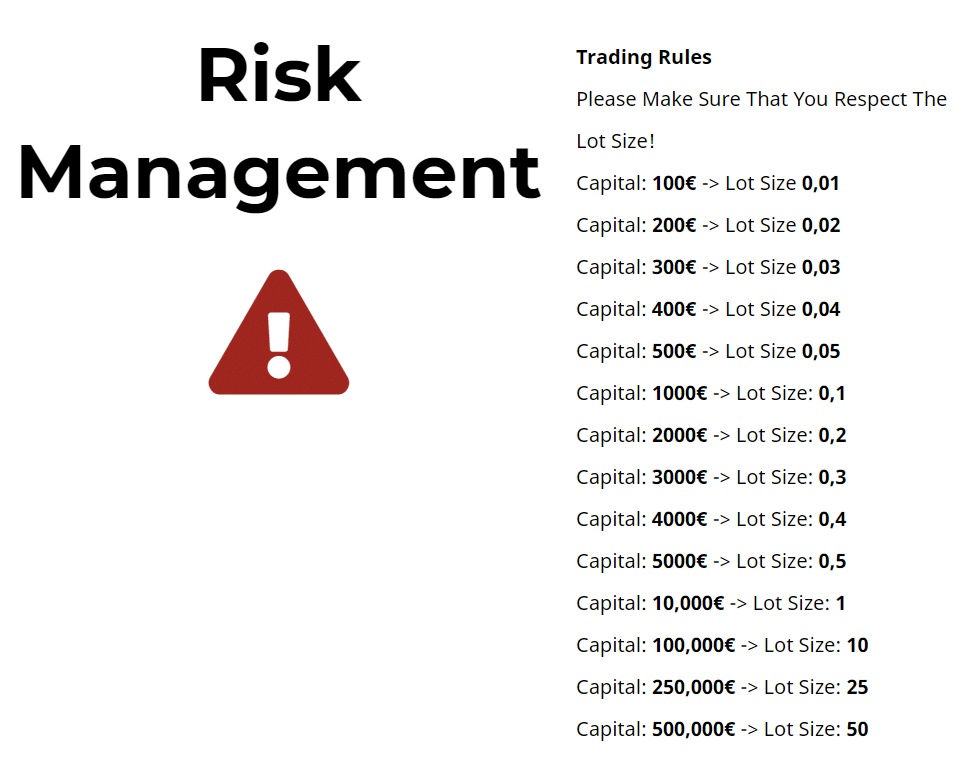 The developers provided Lot Size calculator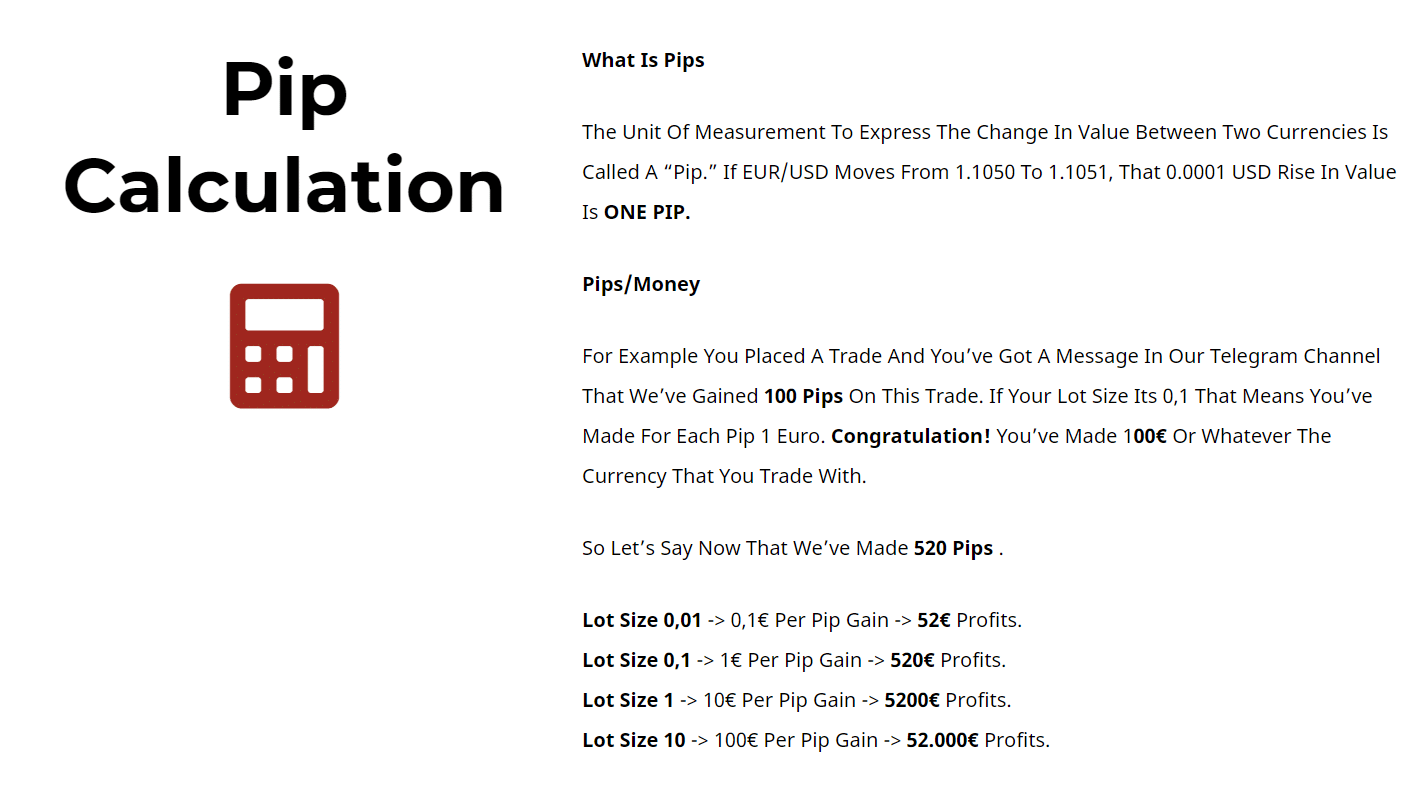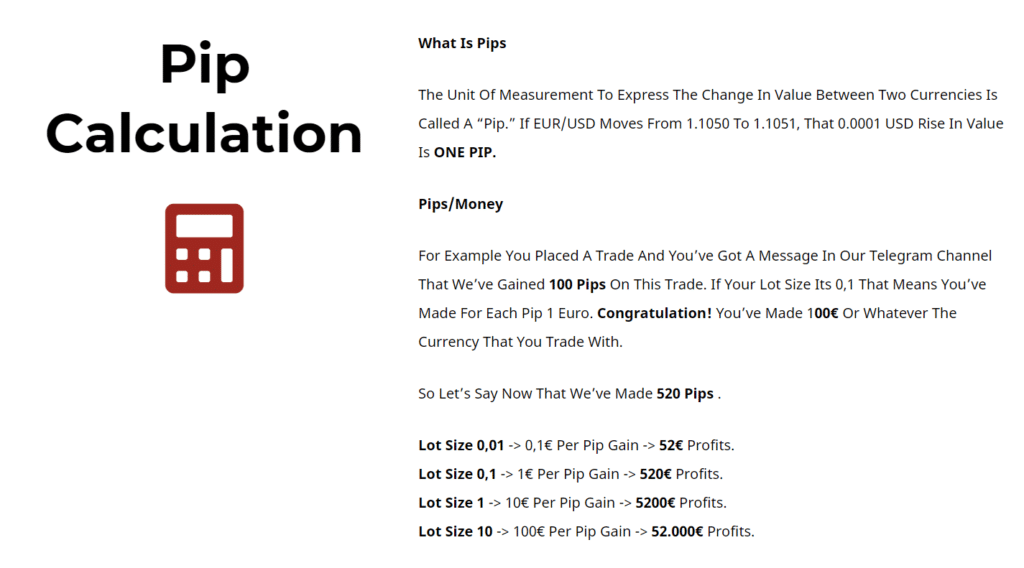 There is a pip calculator that helps us to understand how "pips gaining" works.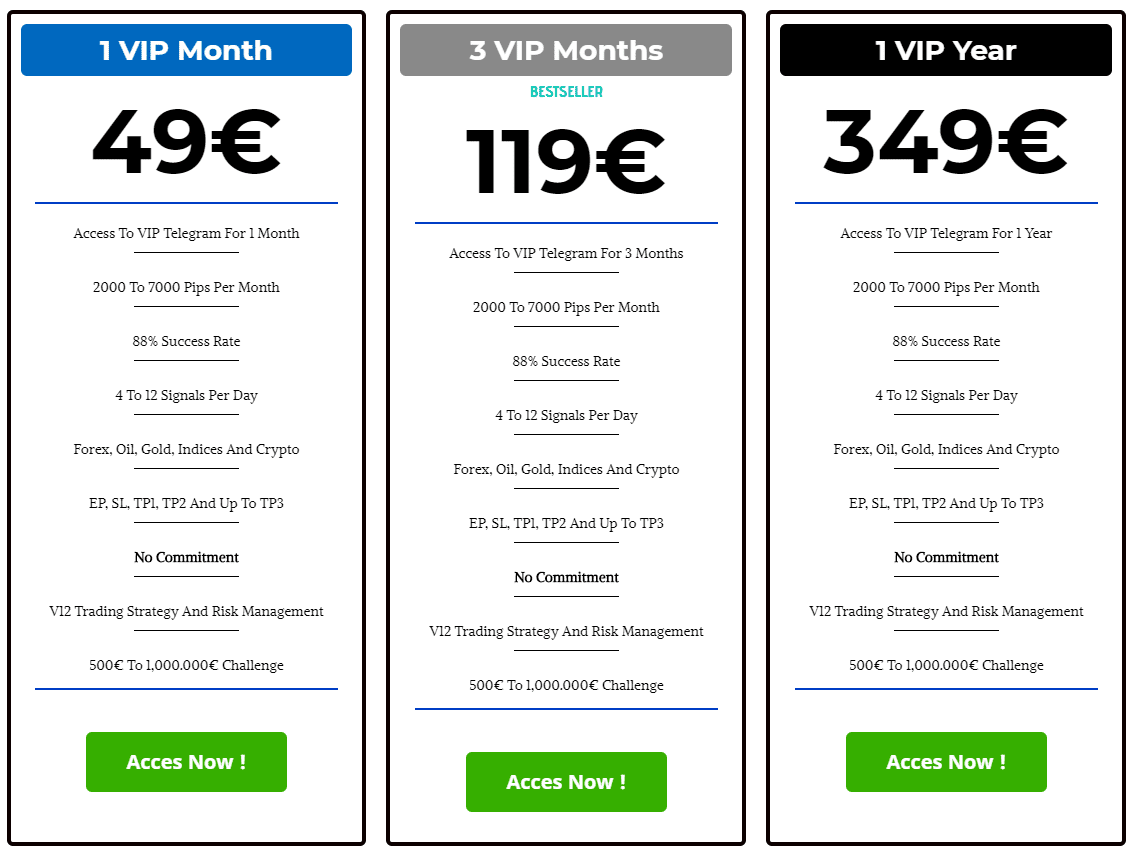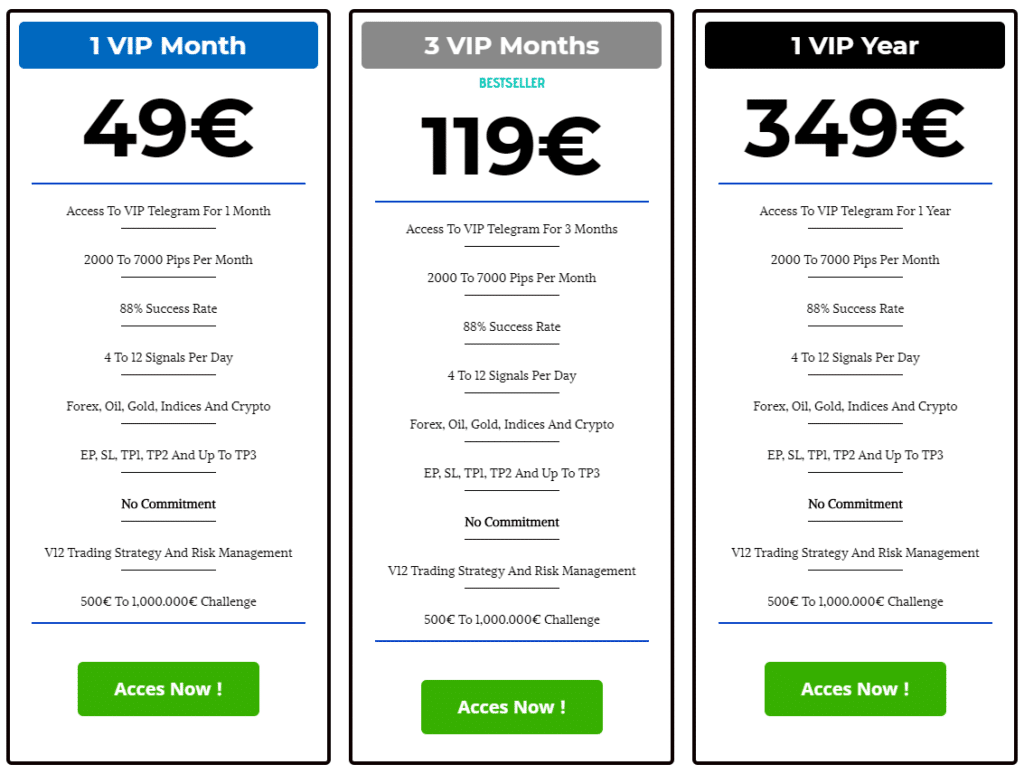 The service is introduced in three packages. The one-month VIP subscription costs 49 EUR. The three-month VIP subscription costs 119 EUR. The annual VIP subscription costs 349 EUR. All packs include access to the VIP Telegram channel, 2000 to 7000 of the monthly pips, up to 88% of the accuracy, signal frequency of 4-12 signals daily, Forex, Oil, Gold, Indices, and Crypto signals, the same signal format: Entry Point, Stop Loss, and 1-3 Take Profits. We have a from "500 EUR to 1,000,000 EUR challenge." We have no extra info about its details.
V12 Trading backtests
The company doesn't provide backtest reports. Most likely, they don't generate these signals, and they are just an average aggregator.
Trading results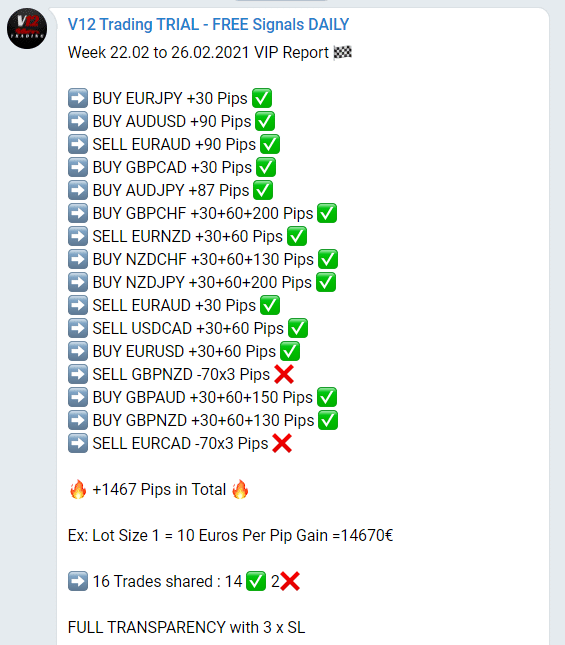 A VIP channel's weekly results look like this: profits/losses, symbols, total pips, win-rate.


Free channel has some reports about free signals too. Alas, we don't know if the vendor executed these trades on a demo or real account as well.
Other notes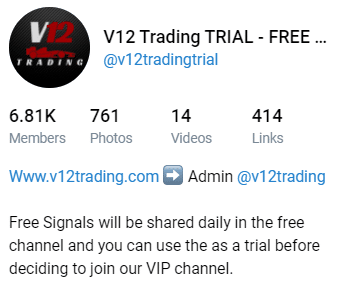 The free (main) Telegram channel has 6810 subscribers, 761 photos, 14 videos, and 414 links. We can write to the admin directly if needed.
People feedback


The site is featured by many positive testimonials. Many of them are from private messages, so we can't be sure they are from real people.
Wrapping up
Advantages
There's a free Telegram channel with free signals and trading reports
The company has over 6810 subscribers in it
The pricing is welcome and acceptable.
We can get the annual subscription for free by registering on BDSwiss
Disadvantages
No team revealed
No strategies explanations provided
No third-party-verified trading results shown
No pages on Forex Peace Army and Trustpilot existed
Summary
V12 Trading is a company that gathers signals from traders and delivers them via the free and VIP Telegram channel. It means the developers don't trade these signals to make profits because delivering the signal service is their way to make income. So, there are no backtests or trading results provided. Anyway, we can check these free signals with the average frequency and decide if this fits us. The offer is affordable for everyone. 49 EUR monthly is just the accurate price for that frequency and accuracy.