Pionex is a crypto platform offering free in-built trading bots. It assures automated crypto trading with the wide variety of bots available. The automation enables the execution of buy and sell orders on autopilot round the clock. Due to the hassle-free setup,you can generate a passive income easily. The service boasts daily trades of over 100 million and a monthly trading volume of more than 5 billion. It has members from 100 countries and regions worldwide. In this review, we will check the veracity of the vendor's claims by analyzing the entire system meticulously.
What is Pionex?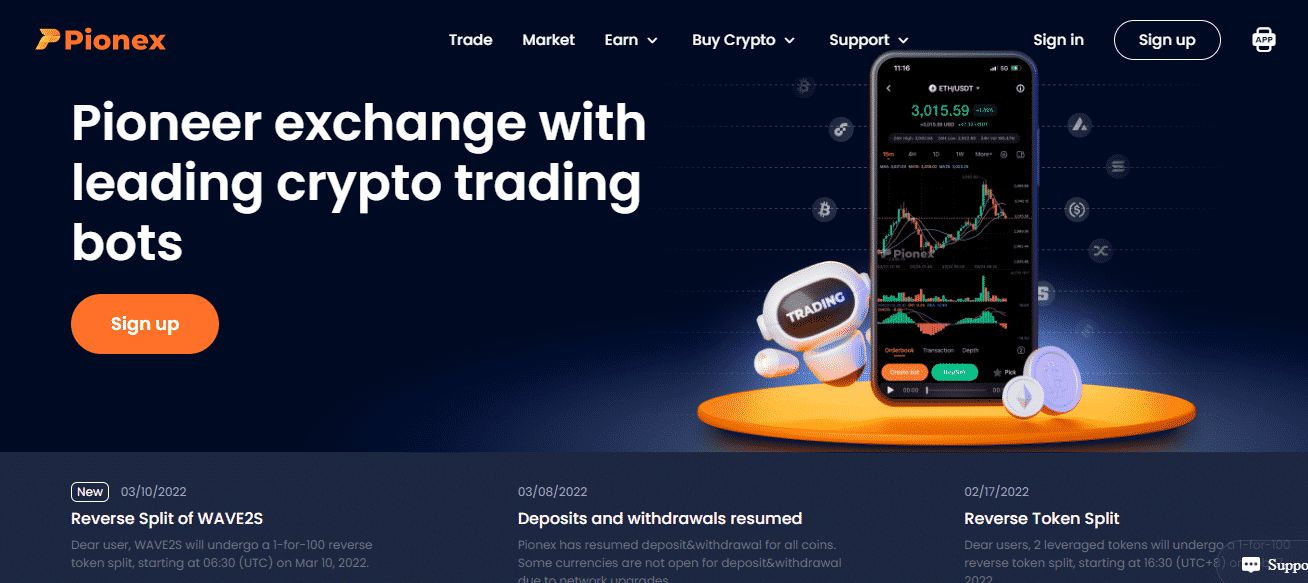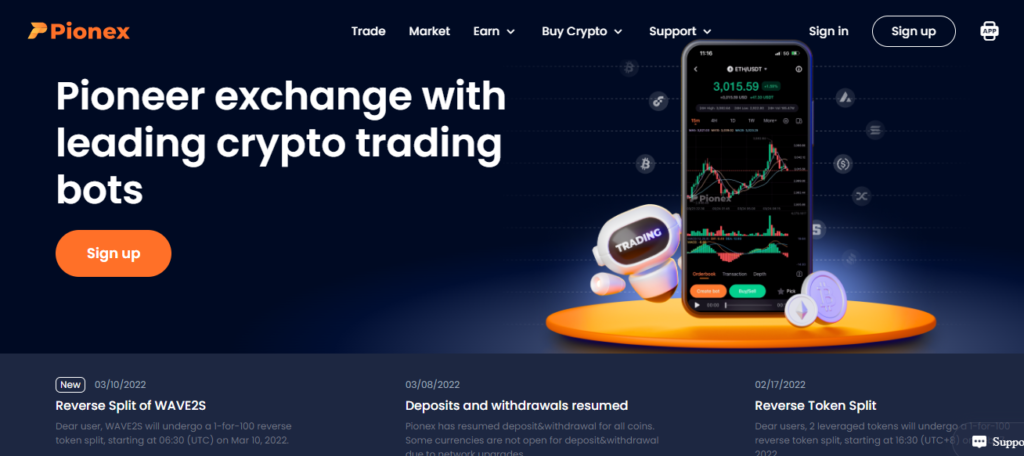 The platform offers an efficient decentralized exchange along with integrated bots. It has MSB License from the US FinCEN. With the service, you can use automated as well as manual trading of your crypto asset. You can choose from the bots available based on the risk level involved and the results you want to achieve.
Quick summary
Some of the significant features of this system are:
Free bots
The service has 16 free integrated bots of various types to choose from. Due to the fully automated software, you can set the bots for automated trading and earn passive income. Some of the popular bots here include DCA, Rebalancing, Grid, TWAP, and more.
Regulated system
With an MSB license from the United States FinCEN, it is a regulated platform. The company has a partnership with many popular crypto services including Circle, Binance, Banxa, Coinfirm, Simplex, and Sumsub.
Pionex: background
The company is one of the biggest Binance brokers and aggregates liquidity from top exchanges like Huobi and Binance. We could not find company details like founding year, team members, and other data.
How does it work?
With the help of its diverse range of bots, the platform offers advanced trading options for generating passive income with minimal risk. The strategies used differ based on the type of bot you use. For instance, Grid Bot places buy and sell orders within a price range and exploit every fluctuation in the price. One of the main benefits of using the bots on this platform is you can use the exchange without the need for API keys.
How to sign up with Pionex?
For registering and starting an account, you need to follow the steps below:
Visit the official site and click on the Sign-up button present in the bottom left corner
Enter your phone number and email in the signup form and create a password
You are now part of the service. You can pick from the available bots and start trading
Does Pionex offer a demo account?
There is no info present on the official site related to a demo account. The demo version helps to test the strategy and performance before you trade using real funds.
Profitability of Pionex
From our evaluation, we can see the system has several factors like proper regulation, low commission fee, and free bots that make it advantageous. Further, easy and efficient trading ensures you receive high profits.
Payments, deposits, and withdrawals
As per the official site, the payments are accepted via credit card and crypto token. A maker fee of 0.05% and a taker fee of 0.05% are present. The minimum deposit depends on the pair you want to trade. For instance, BTC requires a minimum of 0.0001 BTC, BSC requires 0.01 BSC, etc. The withdrawal fee is 0.0005 for BTC and 0.0005 BSC for BSC
Exchanges supported
The list of supported exchanges for this platform include:
Binance
Coinfirm
Sumsub
Circle
Simplex
Banxa
What about customer support?
Support is offered via different methods namely email, live chat, and Announcement. Tutorials including a blog, FAQ, and video are present. You also have access to the large Telegram community, Twitter, and Line committees.
Benefits of using Pionex
Free integrated bots
Easy and simple interface design
Low commission fee
Drawbacks of using Pionex
Does not offer many payments options
No verified real trading results
Pricing review
The service does not charge a monthly subscription like its competitors. Only a trading fee is charged as it is also an exchange.
What are security measures?
Since the platform uses an integrated bot there is no necessity for use of API keys for the transactions. The site uses general security measures like two-factor authentication to ensure user privacy and safety.
Is Pionex legit?
Due to its regulated nature, we find that this platform is a legit service. Further, the large number of active users and high profits assure reliability.
Ease of use
The website is designed to meet the needs of newbies and professional traders. The easy navigation and bot setup make it a user-friendly service.
Is Pionex a good choice for automated trades?
With diverse types of automated bots, and other beneficial features, the service is ideal for automated trades.
What are the risks of using Pionex?
The supported exchanges are very limited
Does not offer several payment methods
Review verdict: a free and efficient bot platform
Pionex has the potential to generate big returns with low risk. The inbuilt bots ensure your trading is automated and successful. Other advantages include low commission fees, liquidity aggregation, and regulation.