The main page of the Profit Forex Signals site informs us the service is "The Best Forex Signals Ever" and that the developers have been providing them since 2010. There's a video with explanations of what Forex is and how they want to help us to be profitable.


Are these signals a viable option?
After seeing trading results, we're not sure that everything is alright. First, January 2021 was closed with losses. Second, there are no backtest reports. Third, there were several months with significant losses in the past. The system looks unstable and isn't well-tested.
How to start trading with Profit Forex Signals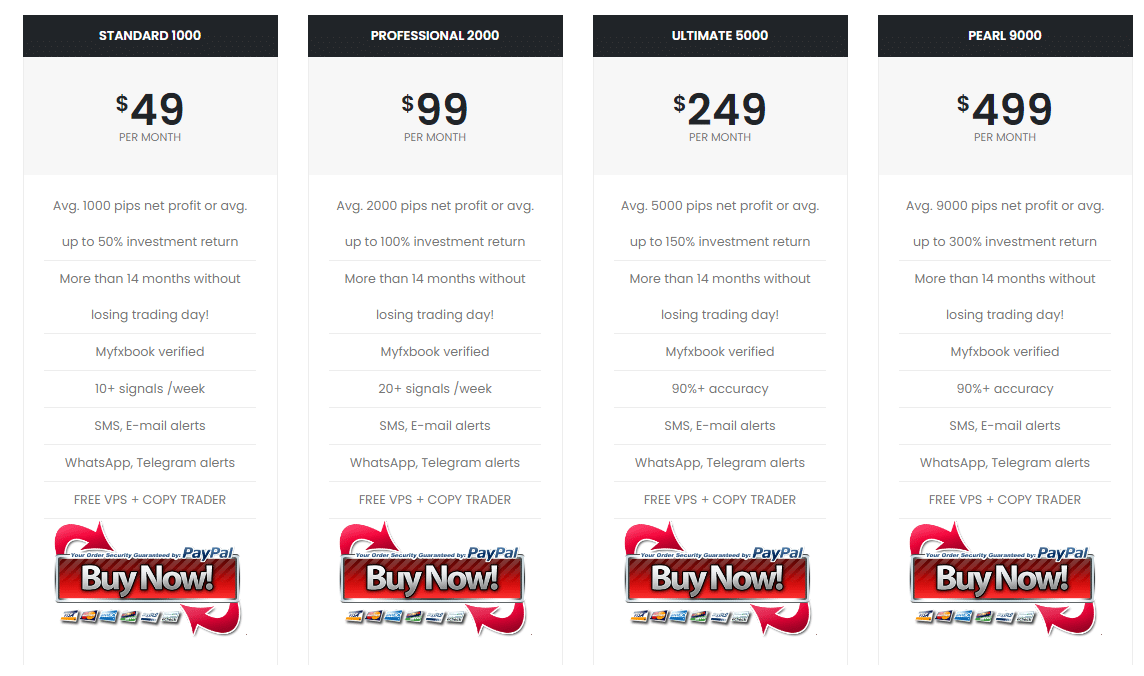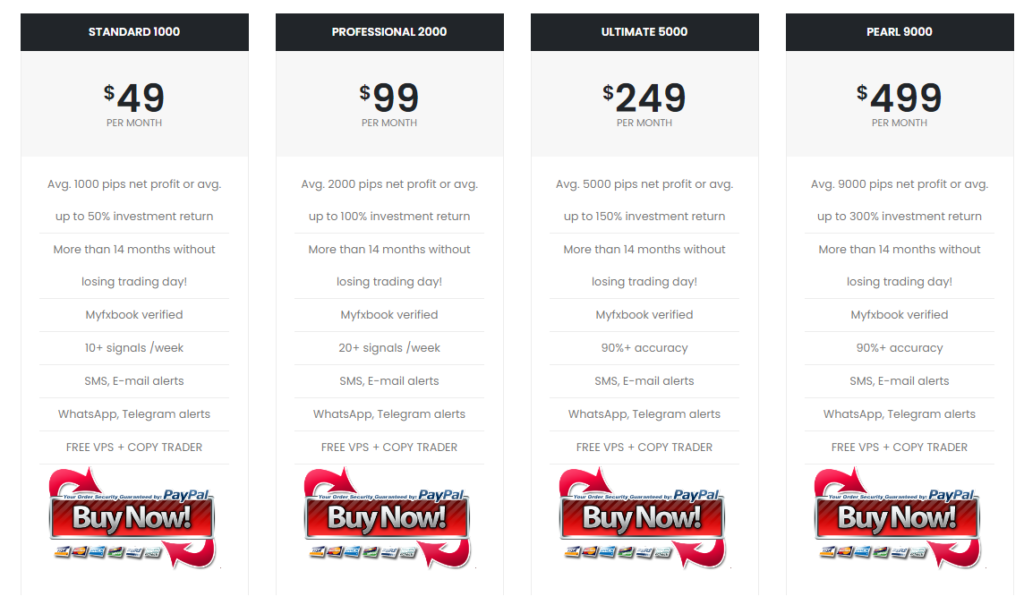 There are four packages: Standard 1000 for $49, Professional 2000 for $99, Ultimate 5000 for $249, and Pearl 9000 for $499. All of them cost per month. It's an insane offer that isn't connected to reality. The Standard pack includes an average of 1000 pips of the profits. Professional – 2000 pips. Ultimate – 5000 pips. Pearl – 9000 pips. We will get free VPS and copy-trading software. This number of pips is a lie because trading results showed no that high profits in pips.

The system works based on spotting trading opportunities and trading around support and resistance levels.
It provides up to 90% of the win-rate.

The team has been working on Forex for over ten years.
There have been obtained over 1000k pips from the beginning. Of course, it's a lie.
We can expect to get over 9000 pips monthly. Trading results inform us that the average pips expectations are over 200 pips monthly, not thousand ones. 
ROI level for signals is 300%.
The signals have the same format if we don't use copy-trading software: Entry Price, Stop Loss, and Take Profit levels.
Stop Loss level is usually set at 35 pips.
The signals are delivered via SMS, email, and trade copier.
We have enough time to execute orders because they are pending orders.
The company provides 24/7 welcome support.


The vendor doesn't reveal who they compete with.
The system that generates the signals has never lost three deals in a row.
We don't need to buy a copy trader because the developers provide it for free.
We're free to ask through support about risks and money-management.


Myfxbook widgets show that the EA is broken and something is going wrong.

The company has an award as the best Forex signal provider.
Profit Forex Signals backtests
The developers don't share backtest. So, we can't be 100% sure that they own the system they want us to use in trading. It's a huge disadvantage because we know that we're not safe.
Trading results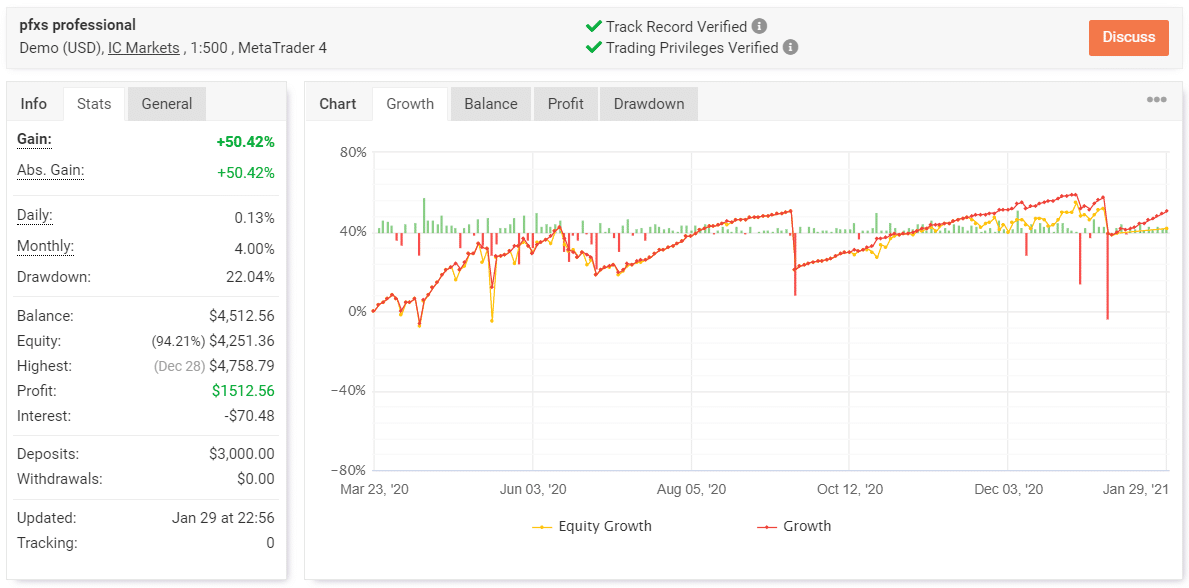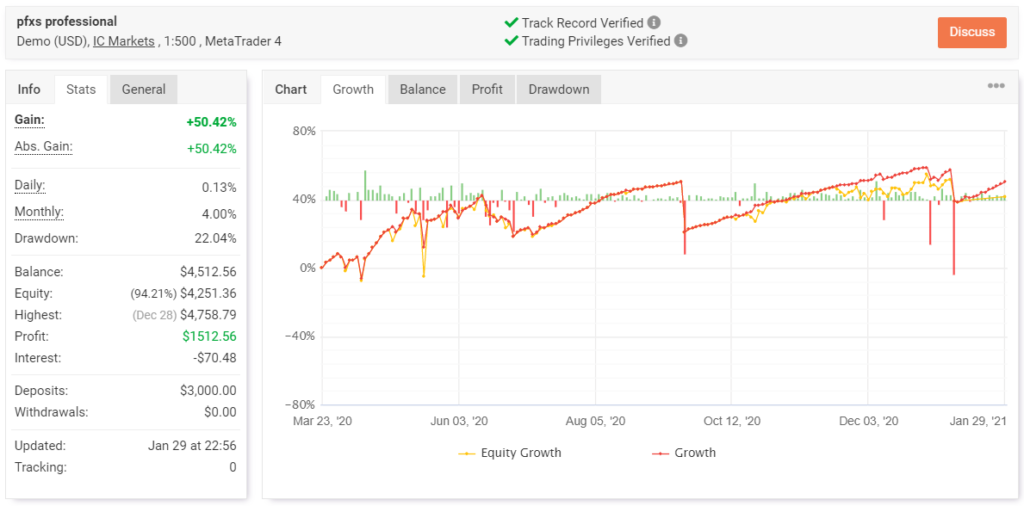 The robot trades on the demo USD account on IC Markets with 1:500 leverage on the MT4 platform. The account has a verified track record. It was created on March 23, 2020, and deposited at $3000. Since then, the absolute gain is +50.42%. An average monthly gain is 4.00%. The maximum drawdown was high as for that low profitability – 22.04%.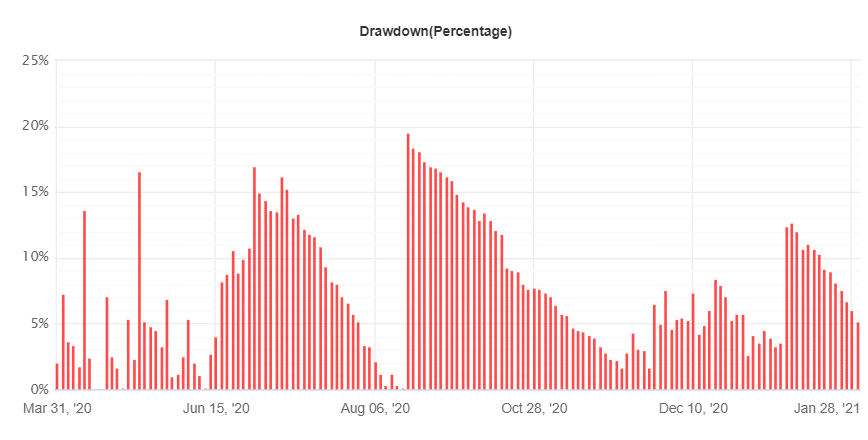 The robot experiences consistent and long term drawdowns.


It traded 1639 deals with 2061.1 pips. An average win is 12.07 pips when an average loss is -22.60 pips. The win-rate is 69% for Longs and 68% for Shorts. An average trade length is over seven hours. The Profit Factor is incredibly low – 1.13.


The robot works with five currency pairs, focusing on EUR/USD 1307 deals and $1866, GBP/JPY 49 deals and -$305, and GBP/USD 280 deals and -$62.74.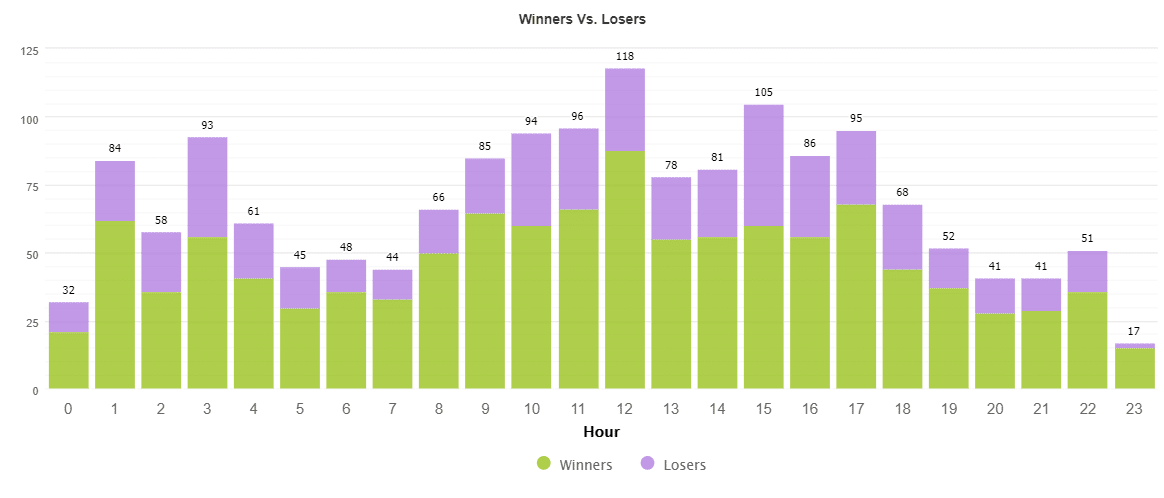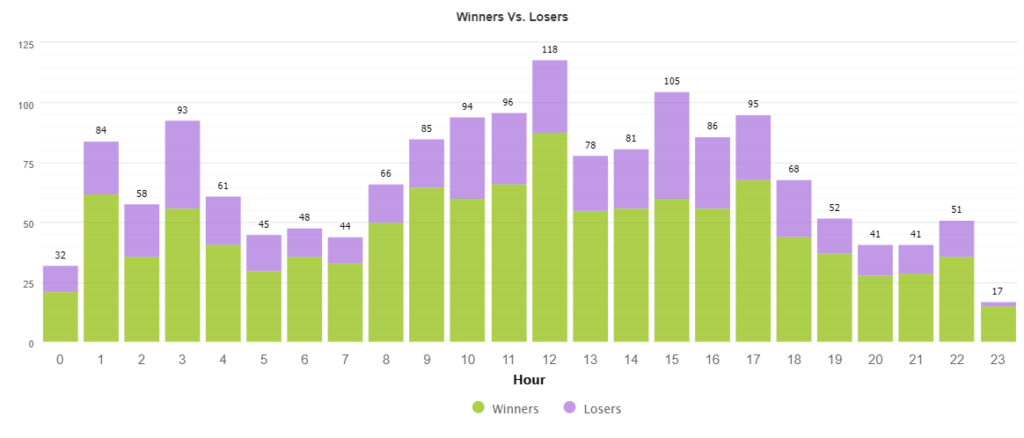 The system focuses on trading during Asian and European trading hours.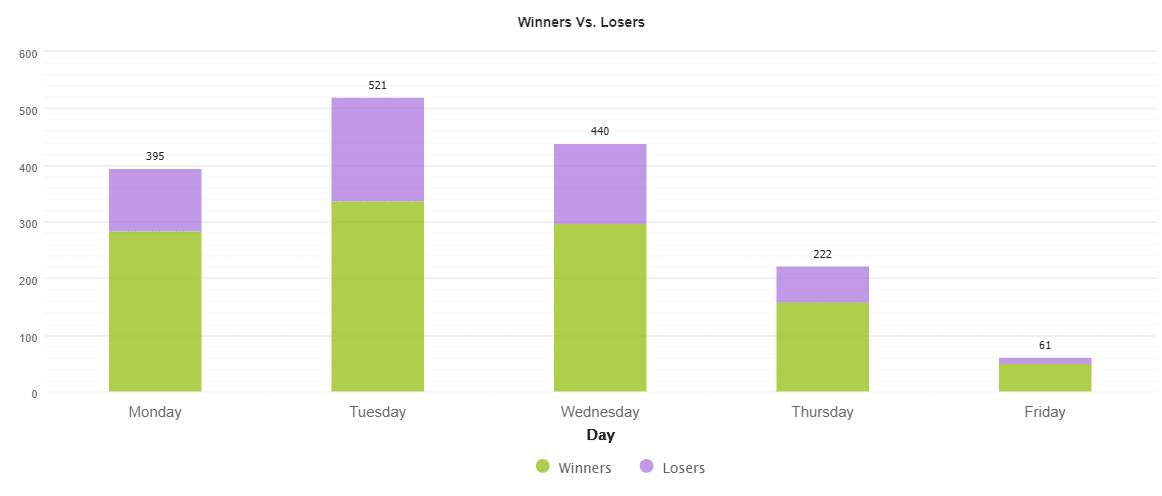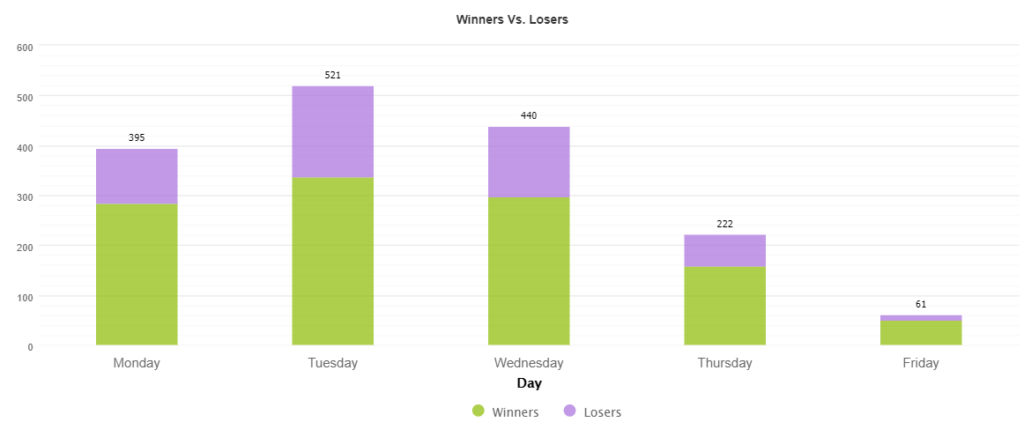 Friday (61) and Thursday (222 deals) are the less traded days.


It works with high risk to the account balance.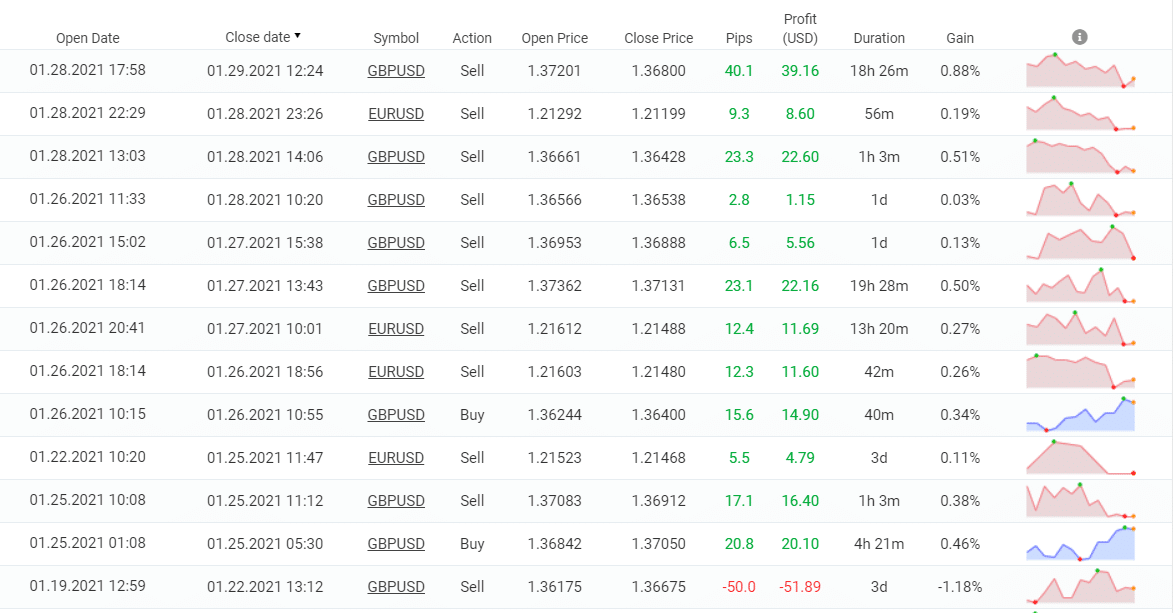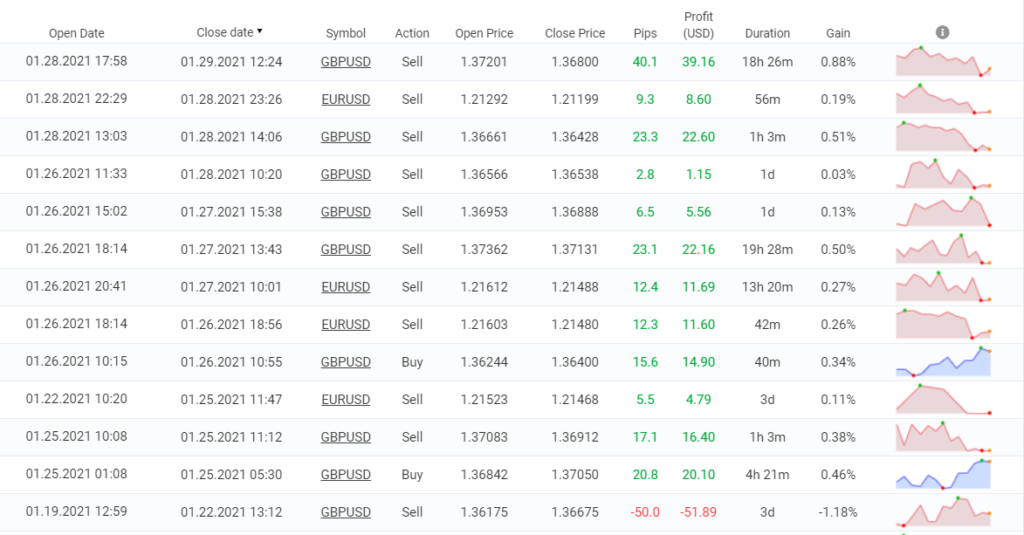 Alas, the developers hid the Lot Sizes. So, we don't know if there's Martingale on the board.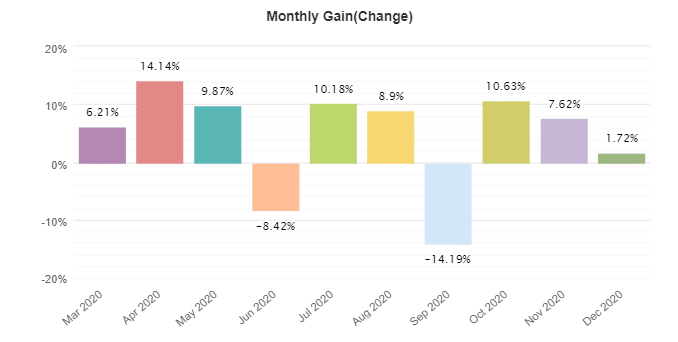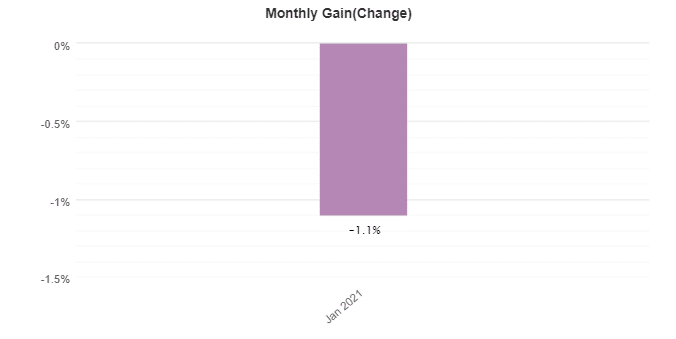 The robot trades completely unpredictable and can't be a professional trading solution as well as it signals.
Other notes


We know only for sure that Nino is an owner because he has a profile on LinkedIn. We know nothing about the "main trader" Anna. There are no social profile links for her.
People feedback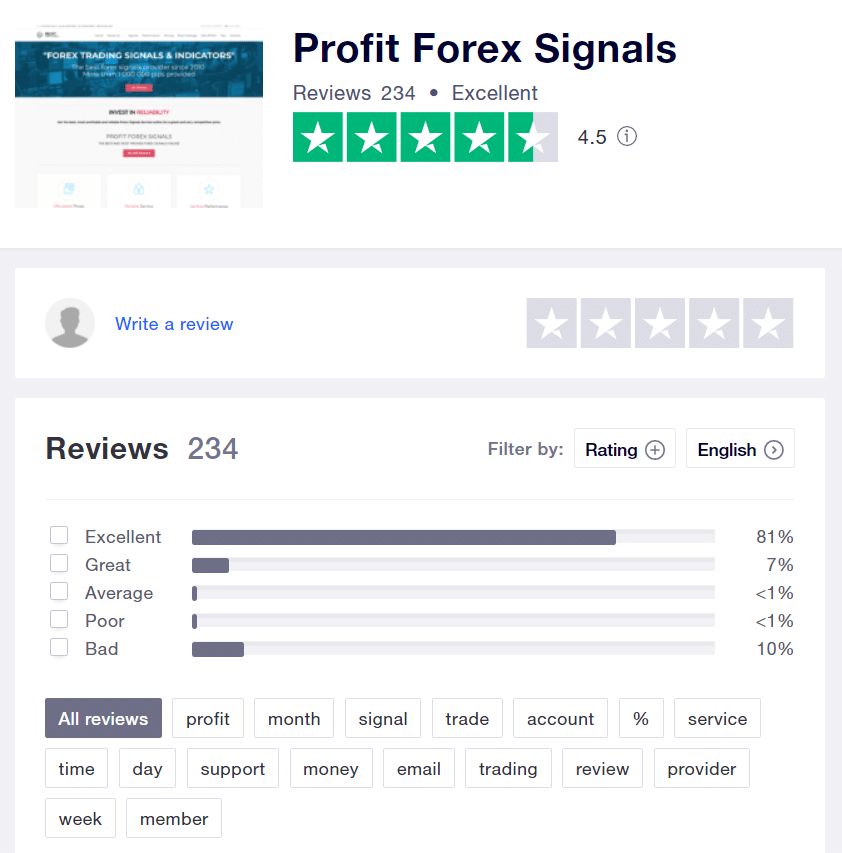 The company runs a page on Trustpilot with a 4.5 rate based on 234 reviews.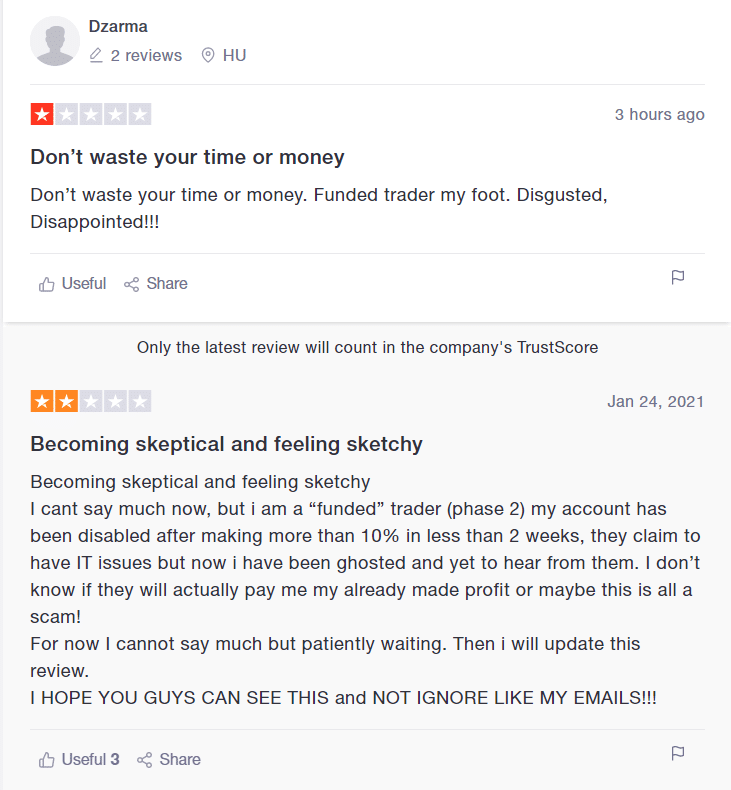 The last person, who commented, experienced improper service and scam behavior from the owner's side.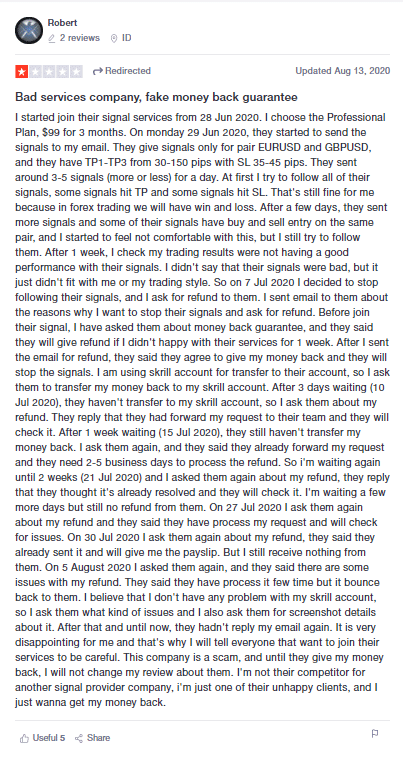 This post was liked five times, so the company has big problems, and there are so many unsatisfied customers
Wrapping up
Advantages
Third-party-verified trading results
The real person behind the service
Disadvantages
No settings explanations provided
No money-management advice given
No backtest reports provided
Horrible trading results
Fake monthly pips' expectations
Much negative feedback on Trustpilot
Summary
Profit Forex Signals looks like a scam service. There are many manipulations in the presentation, like the monthly pips' expectations. The trading results showed that the system could make 200+ pips and can't provide the number of pips like 1000, 2000, 5000, or 9000. Based on that claim, we have high subscription-based pricing. We don't know any person who'd like to pay $449 for signals monthly. It's overkill. Signals from the terminal have prices from $30 to $80 in a month, not higher.