South Africa's core CPI for July 2021 (YoY) rose 3.0%, below June's high of 3.2%.
Retail sales grew 10.4% in June 2021 against a high of 16.3% realized in May 2021.
Sweden's economy exceeded expectations at 0.9% in Q2 2021 when compared to Q2 2020.
The SEKZAR pair added 1.34% as of 2:21 am GMT on August 19, 2021, from the previous day's close. It traded to a high of 1.7200 after opening at 1.6967. Over the year, the South African rand has gained 14.36% over the Swedish krona.
CPI data
South Africa's core CPI for July 2021 (YoY) rose 3.0%, below June's high of 3.2%. It also failed to beat projections at 3.1%. On monthly analysis, the core CPI rose 0.5% in July 2021, despite the recent riots that disrupted the economy.
The CPI (inclusive of food and energy prices) also declined 4.6% in July 2021 (YoY) from 4.9% recorded previously. Due to the scarcity of food outlets as a result of the protests, the CPI for July 2021 (MoM) soared 1.1% from a previous reading of 0.1%, meeting analysts' estimates at this level.
Retail sales
There was a slight moderation of retail sales, indicating a growth of 10.4% in June 2021 from a high of 16.3% realized in May 2021.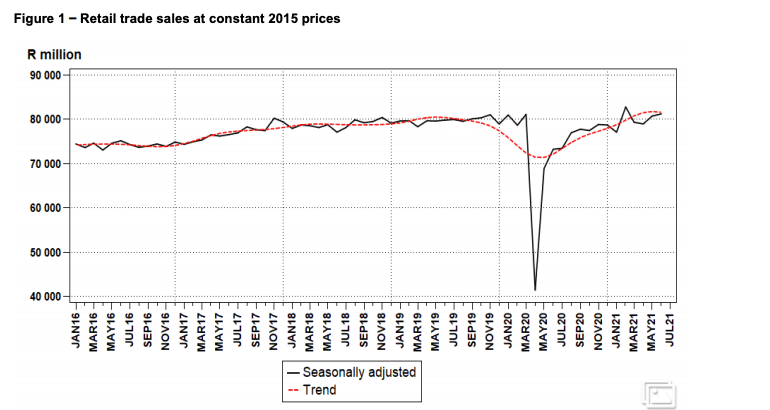 The data was up 95.7% in April 2021, showing a strong decline in momentum.
However, the rioting and looting gave way to a loss of more than 120 million rands ($7.95 million) that was stolen from banks and ATMs throughout the country. Economists are hopeful the money will be recirculated through consumer expenditures. As of 3:35 am GMT, the ZAR had lost 1.20% against the US dollar.
Investors also reacted to a new government directive requiring SA citizens to pay 12% of their earnings to a social security fund. The rate has been placed at an annual ceiling of 276,000 rand that translates to 33,100 rands (per year) or 2,760 rands per month. 
The mandatory fund will take up 10% of the earnings, while 2% will be used to cover unemployment insurance. Recent data showed that the unemployed population (among the dominant black community) as of August 2021 was more than 20 million. The number has risen from 5.9 million recorded in 2019 and 1.6 million in 1994.
Investors are optimistic about the mining production data to be released later on August 19, 2021. It stood at +21.9% in June 2021.
Sweden's economic expectations
Q2 2021 saw Sweden's economy exceed expectations at +0.9% when compared to Q2 2020. This data beat forecasts at 0.7%. It also rose 8.8% (YoY), driven by an increase in cash reserves, low interests, and strong household expenditures. 
A leading Swedish home services/ furniture company, IKEA agreed to sell clean energy directly to households in Sweden in a bid to reduce carbon emissions in the country. The company is involved in more than 11 markets globally, where it sells photovoltaic (solar PV) panels.
The krona will be impacted by the capacity utilization data for Q2 2021 scheduled for release on August 20, 2021.
As of this writing, the SEK had lost 0.54% against the US dollar.
Technical analysis
The SEKZAR pair began a pullback after a partial decline when prices found support at 1.6158. Prices are seeking to break above 1.8000, with 1.8158 being the first target and 1.8861 the second.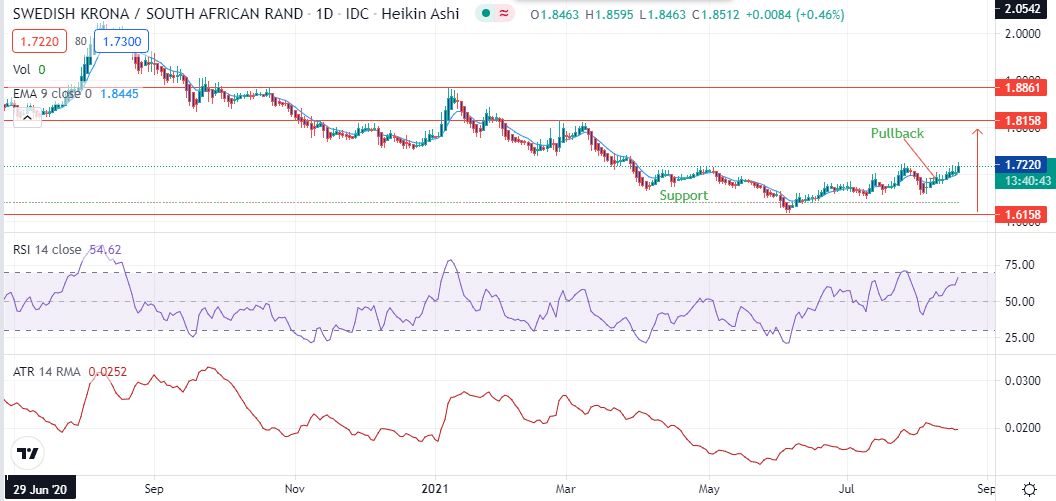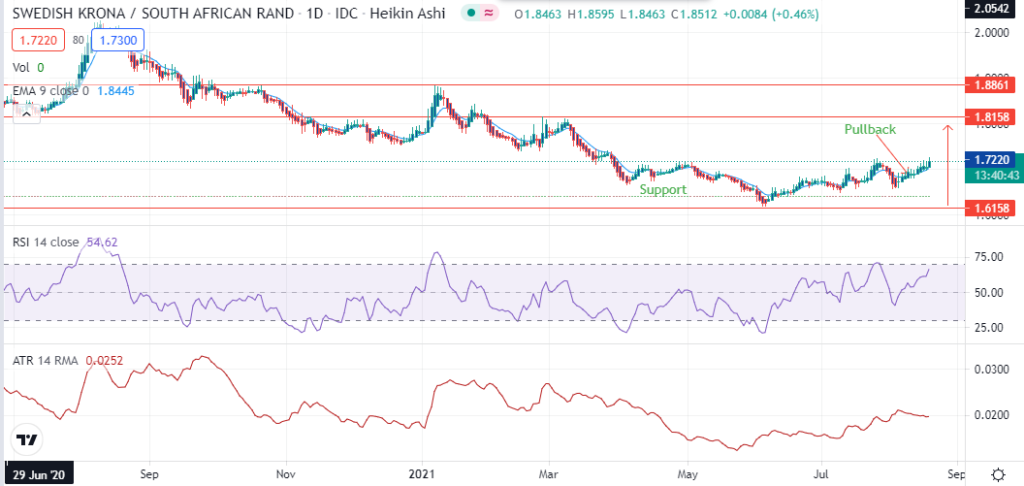 There is an increase in the 14-day RSI at 54.62, suggesting strong buying momentum. The 14-day ATR shows decreased volatility at 0.0252.