SV3 Trading is a dubious signals provider that aims to hassle naïve traders. The vendor says his trading tool provides impossibly high trading results guaranteeing a 70-90% success rate. They boast they have over 25K members in the group. Although these numbers are true, they do not refer to their paid group. The vendor offers a free group and traders join it as a trial to decide whether they do want to join a paid VIP group or not.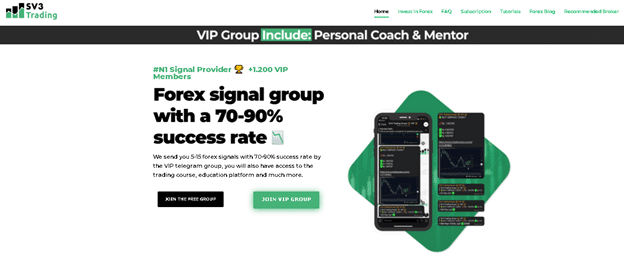 Today we are going to provide a full SV3 Trading review and let you know if you can trust this vendor and the service he offers.
Can We Trust SV3 Trading?
The developers of SV3 Trading come across as English signals providers, but it seems they are targeting Spanish investors. The Disclaimer at the footer of their website is written in Spanish. It looks strange why they mix two languages on their website. Clear is only one thing: their service is unverified and has no basis.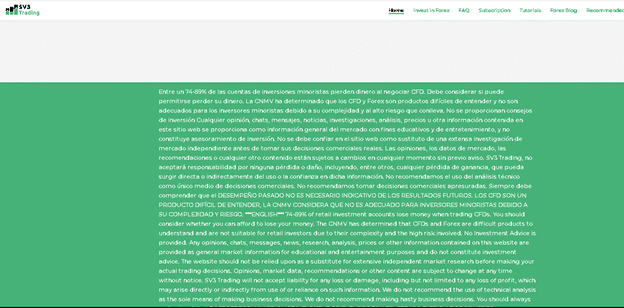 Their cancel subscription link is in Spanish, which throws off English speakers.

There is nothing worse than a trading platform with zero vendor transparency and a no-name team, whose headquarter location and trading experience are unrevealed to the public. The one thing we know about the developers is that they are: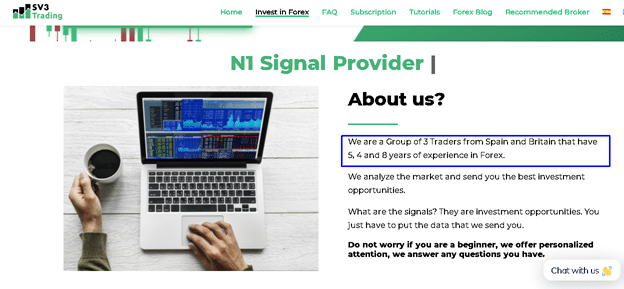 However, there is no proof that it is true. If the vendor does want to be taken seriously and convince traders of the safety and reliability of this trading tool, he should be more transparent. Otherwise, we see no reason to spend money on the SV3 Trading system.
There is no information about the trading approach provided. We do not know how the system works. Lack of information is too risky and dangerous, especially when it comes to depositing money in the suspicious trading platform.
How to Start Trading with SV3 Trading
There are 2 options offered: free and paid one. The paid or the VIP membership comes in 3 different packages. The differ in length of subscription and price respectively: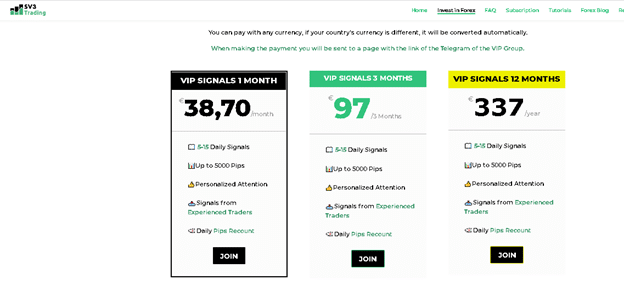 Traders need only follow these 4 simple steps:

A minimum deposit to start trading with the SV3 Trading tool is €250. However, if traders decide to trade with recommended BDSwiss brokerage, then the minimum deposit will be €100.
SV3 Trading Backtests
The devs failed to provide backtest results. Thus, it makes it impossible to analyze how the system performed in the past and what trading strategy it used.
Trading Results
The vendor mentions a handful of numbers, which sound unrealistic and have no proof. They promise a 70-90% success rate, 5-15 daily signals, and up to 5000 pips per month. Where are the proofs? There is no proof to back this information up. They failed to provide any trading results to prove their signals service works.
Dangerous and Risky Investment
SV3 Trading is not licensed or registered to offer any trading services to the public. They are not responsible for any losses made by investors. They do not offer a money-back guarantee as well. It looks dangerous and too risky, as your deposits do not have any insurance cover.
People Feedback
There is no customer review on any of the reputable third party websites like Forex Peace Army, Trustpilot, Quora, or myfxbook. However, there were some customer reviews written in Spanish on the website of the developer, which look like a desperate attempt to fake legitimacy.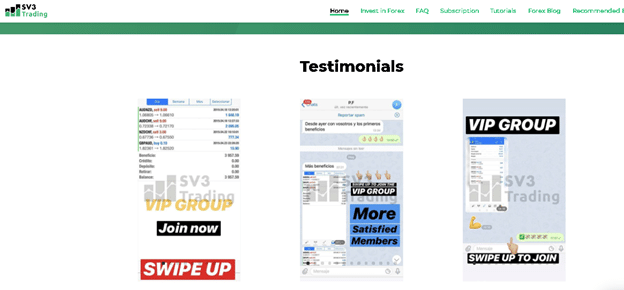 It only proves the fact that there are many transparency issues with the SV3 Trading system.
Wrapping Up
SV3 Trading is a scam for the following reasons:
No backtests provided
No trading results provided
No vendor transparency
No money-back-guarantee provided
Undisclosed trading strategy
No customer reviews
It is a scam signal provider with no way of meeting its aggressive claims and promises. If you want to save money, stay away from this suspicious trading platform.