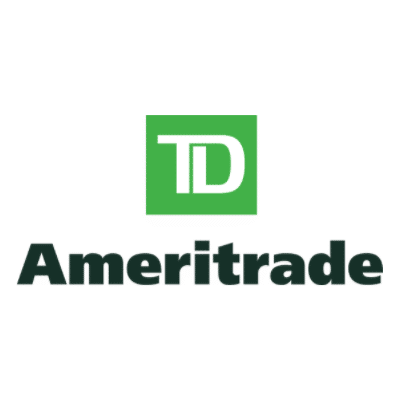 visit broker
Regulated by
Platforms
Founded
Business Model
Headquarters
Min. Deposit
Leverage
Typical Spread
SEC, FINRA, CFTC
1971
Stocks, Options, Futures, Mutual Funds
Web, Mobile, Thinkorswim, Thinkorswim Mobile
$0
50:1 or 20:1 depending on the product
depends on the bid-ask spread displayed on the platform
US
We Like:
No commissions and hidden fees
Excellent order routing for best stock prices
Several asset classes to trade or invest in
Over 40 years in the trading industry
Well-established company
Multiple accounts to choose from
No min. deposit for standard account users
Several payment methods
We Don't Like:
The platform is difficult for novice traders
There is no membership in the FDIC, which would insure traders' money for 250 thousand dollars
It is a limited number of options for depositing and withdrawing money
The Verdict:
TD Ameritrade is one of the largest online brokers in the United States. It does not charge any commission on trades in stocks and ETFs and offers a wide range of trading instruments, including FX, futures, commodities, and cryptocurrency. Thinkorswim is one of the best desktop trading platforms on the market. High-level customer service.
Having solid experience in the global financial market and a positive reputation in the business world, the company can be of interest to investors with large capital, ordinary or professional traders, and novice representatives of this field of activity.
Only the fact that TD Ameritrade is registered in the USA (where it is challenging to obtain documents for such companies) and has been operating for more than 40 years is convincing evidence of the broker's reliability and decency.
However, TD Ameritrade has some drawbacks. It does not accept credit/debit cards and e-wallets for money transfers mainly targets US customers, and stocks and ETFs only cover the domestic market.
Company details
It is an American forex brokerage company based in Omaha, Nebraska, one of the largest in the world.
Most of TD Ameritrade's shares are held by Toronto-Dominion Bank (TD), which means TD Ameritrade has banking experience and is subject to stricter regulation than most brokers. TD Ameritrade is also listed on the NASDAQ Stock Exchange.
The broker continues to strengthen its position with early investors in the industry. TD Ameritrade engages clients through various social media platforms, including Twitter and Facebook, and offers a selection of platforms, mobile apps, and thinkorswim aimed at active derivatives targeting traders.
---
Regulations
Experienced traders are well aware that in the United States, the work of such a substantial financial company as TD Ameritrade is possible only with licenses and other permits. In this case, the activities of the trading platform are regulated by:
NFA — Regulator of Financial Markets and Brokers.
FINRA — ensures transparent relations between financial market participants.
SIPC — is a not-for-profit institution that protects investors' rights in the United States.
---
Trading platforms
Forex trading platforms are software companies such as TD Ameritrade provide to their clients to trade successfully. These platforms can include several assets simultaneously, which allows the client to trade in currencies and CFDs on stocks, stock indices, precious metals, modern inventions, and cryptocurrencies.
The choice of the platform will depend on what the trader would like to trade, so this will also be one of the criteria when choosing a broker. TD Ameritrade offers both web and desktop trading platforms.
The web platform is suitable for trading and researching investment products such as stocks and ETFs. Thinkorswim, TD Ameritrade's proprietary platform, is ideal for trading complex products. Thinkorswim offers more products than currencies and futures and has sophisticated technical tools to aid research.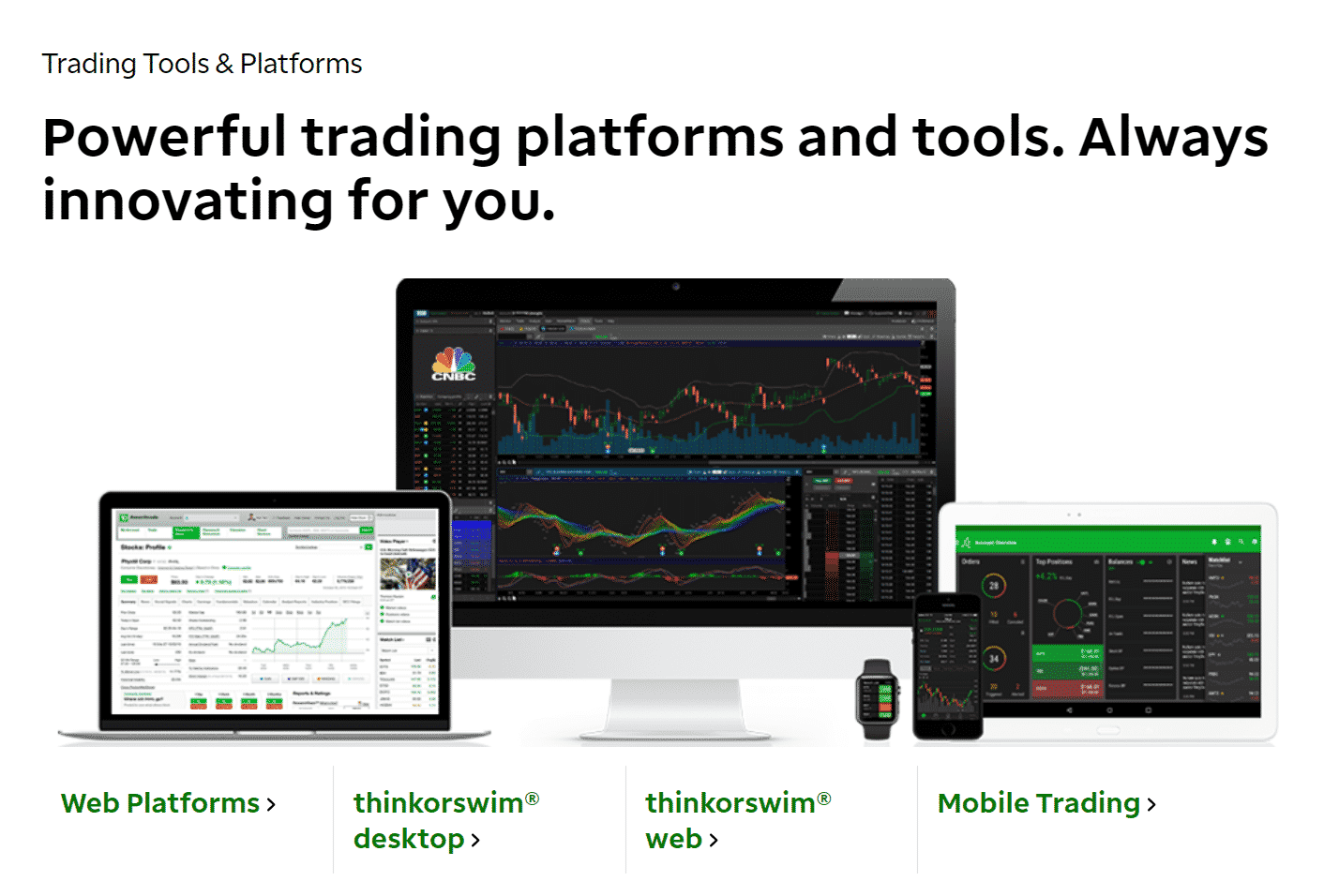 Classic web platform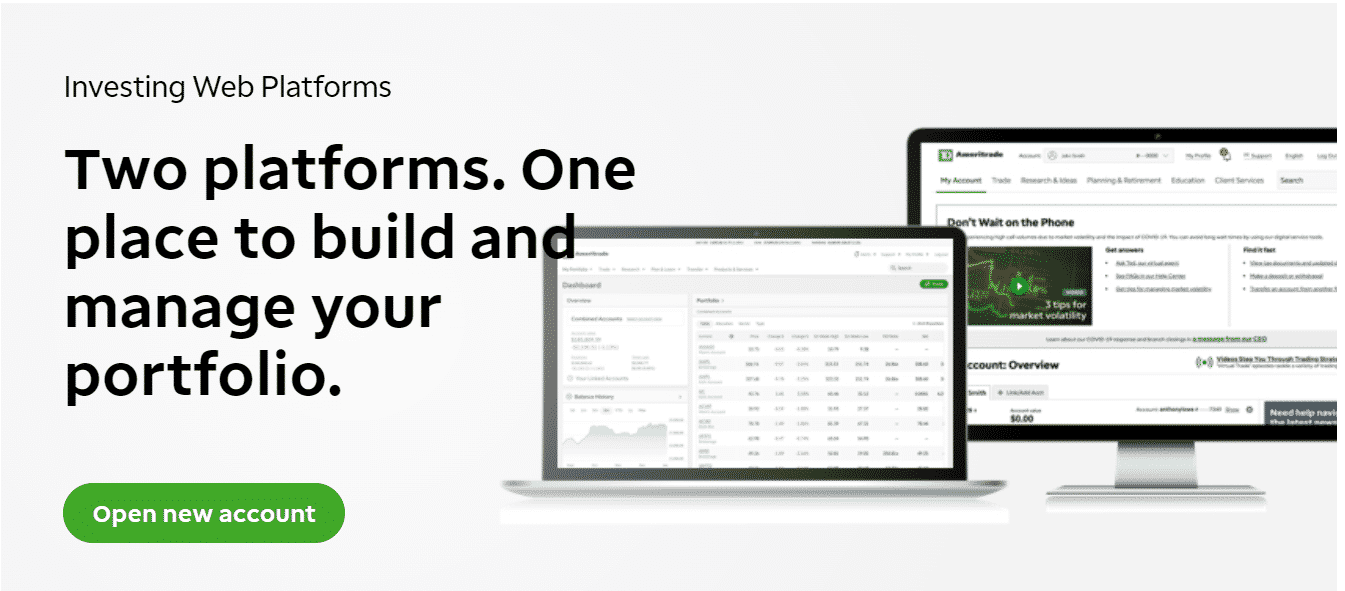 Trades all assets except futures and forex
Market alerts — yes
Customizable workspace — yes
Screeners — yes
Chat support — no
Apple business chat — no
Statements — yes
Tax documents — yes
Transaction history — yes
External and internal cash transfers — yes
Mobile check deposit — no
Conditional orders — yes
Level II quotes — yes
Network and CNBC streaming — yes
Visual positioning — no
Virtual trading — no
Next-Generation web platform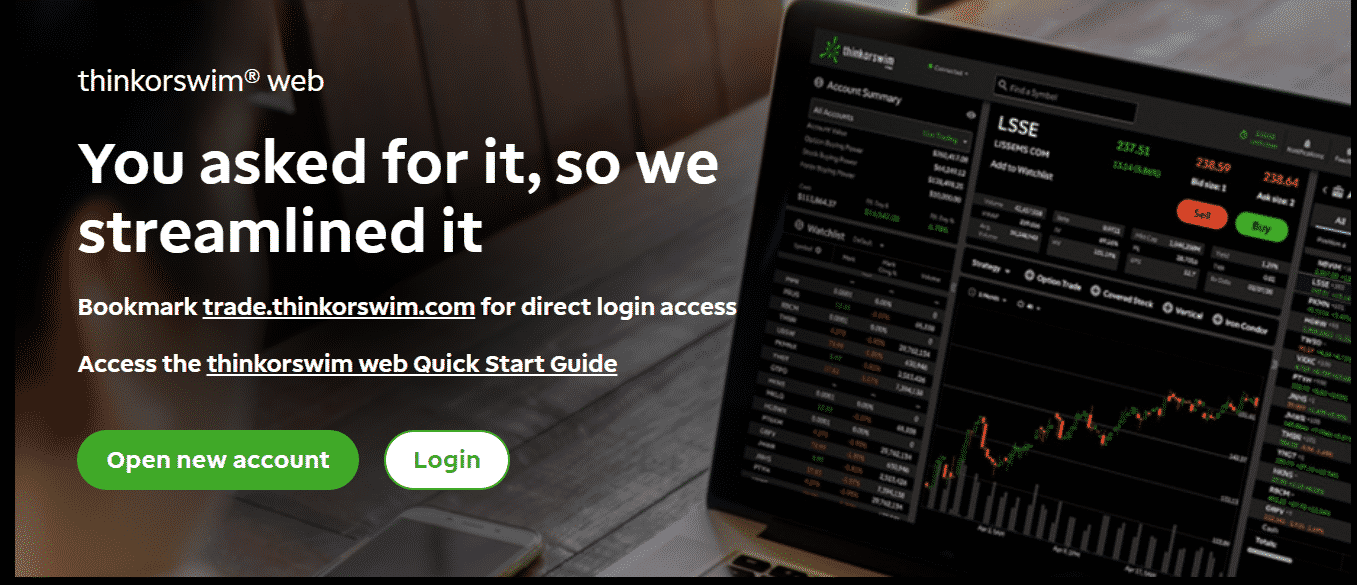 Trades all assets except futures, forex, and bonds
Market alerts — yes
Customizable workspace — yes
Screeners — yes
Chat support — yes
Apple business chat — no
Statements — yes
Tax documents — yes
Transaction history — yes
External and internal cash transfers — yes
Mobile check deposit — yes
Conditional orders — coming soon
Level II quotes — yes
Network and CNBC streaming — yes
Visual positioning — no
Virtual trading — no
TD Ameritrade mobile

Trades all assets except futures, forex, mutual funds, and bonds
Market alerts — yes
Customizable workspace — yes
Screeners — no
Chat support — yes
Apple business chat — yes
Statements — yes
Tax documents — yes
Transaction history — yes
External and internal cash transfers — yes
Mobile check deposit — yes
Conditional orders — no
Level II quotes — yes
Network and CNBC streaming — yes
Visual positioning — yes
Virtual trading — no
Thinkorswim platform

Trades all assets
Market alerts — no for the web
Customizable workspace — no
Screeners — no
Chat support — no
Apple business chat — available for the mobile version
Statements — no
Tax documents — no
Transaction history — yes
External and internal cash transfers — only for the mobile version
Mobile check deposit — no
Conditional orders — yes
Level II quotes — yes
Network and CNBC streaming — yes
Visual positioning — only for the desktop version
Virtual trading — yes
---
Range of markets
TD Ameritrade offers a spectrum of trading and investment products to clients. As noted in this review, the broker's instruments include assets such as stocks, options, ETFs, mutual funds, etc.
Stocks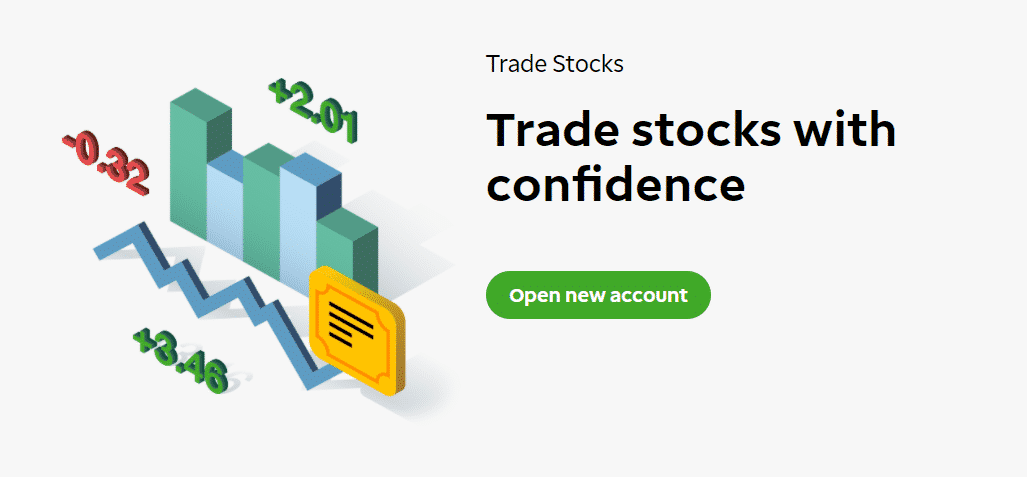 The broker offers effective stock trading and investing 24/5 with real-time customer support. The instruments trade with $0 commissions and include domestic and international stocks offered via ADRs or IPOs. The broker also waives all fees on platforms and mitigates subscriptions for clients.
Other stock trading and investing features include:
Intelligent order routing
Powerful stock trading platforms
Free independent research
Helpful stock trading tools and research
Options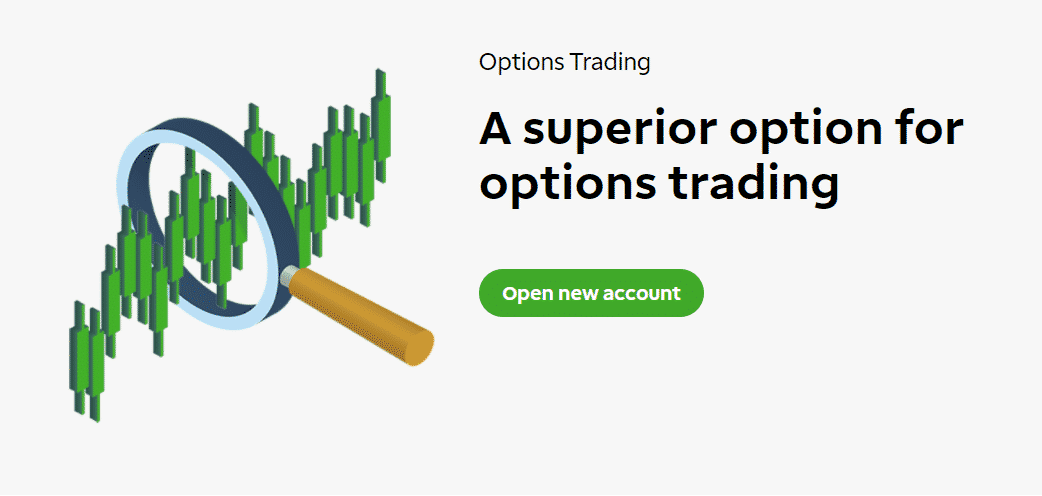 Traders hedge positions to yield good income. Options help traders double their income at times of high market volatility. TD Ameritrade provides a suitable environment for options trading using innovative platforms, educational resources, straight forward pricing, among other tools. The options market trades with no hidden fees and 24/7 customer support.
ETFs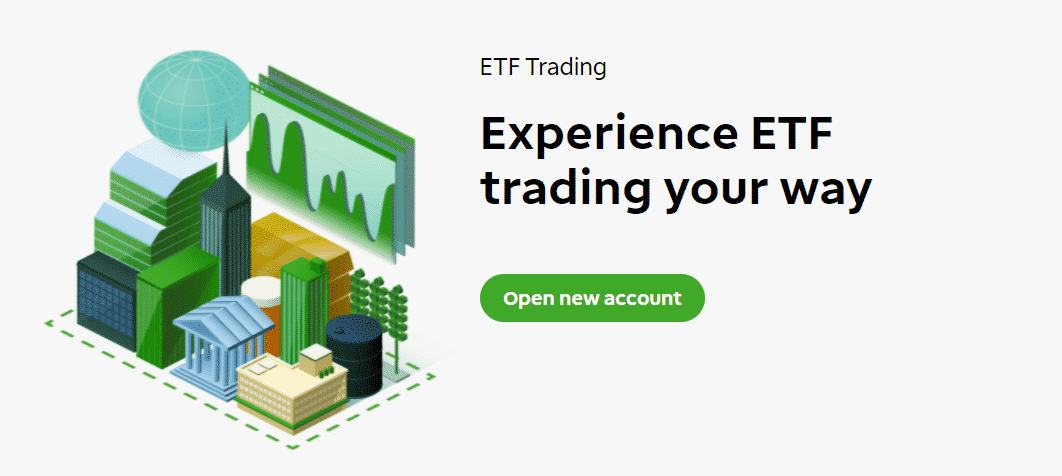 The broker offers both new and seasoned investors commission-free ETF trading from the most trusted brands in the ETFs niche. It blends these instruments with more innovative helpful tools to deliver the best ETFs trading and investment experience. Some of the tools and features that aid ETFs trading include:
Helpful tools
Comprehensive education
Objective research
24/5 trading hours
No hidden fees
Mutual funds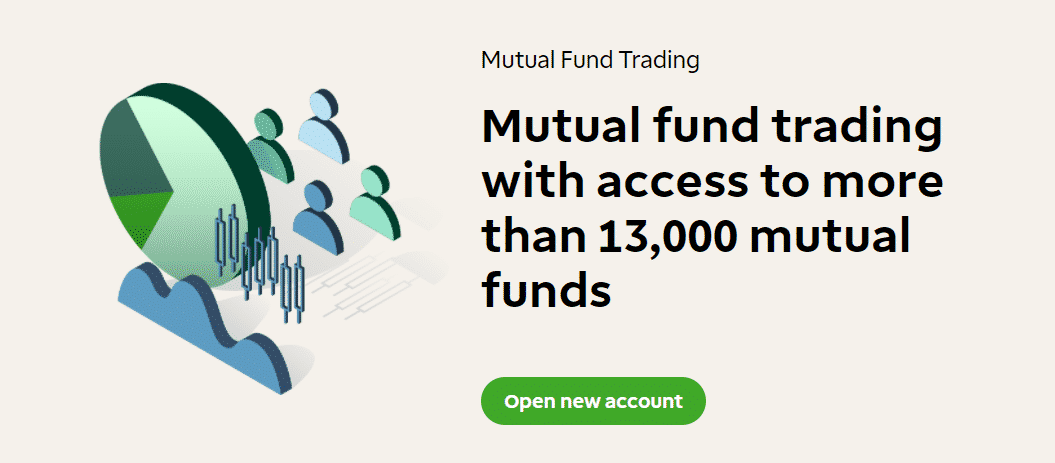 The broker allows clients access to more than 13,000 funds that trade 24/5 with a range of investment objectives and 0 transaction costs.
Other features include:
Morningstar research services power the premier list
A complete mutual funds toolbox
Fully customizable
Well diversified
Futures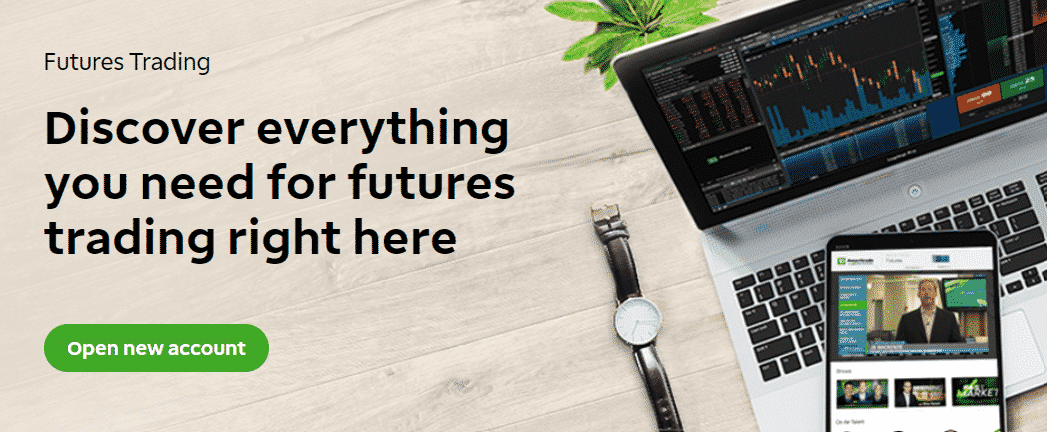 The broker also offers micro futures on assets. This allows clients to diversify their portfolios and hedge against the rising prices of these assets.
Other trading features include:
No hidden fees
Extensive product access
Innovative platforms
Superior service
Forex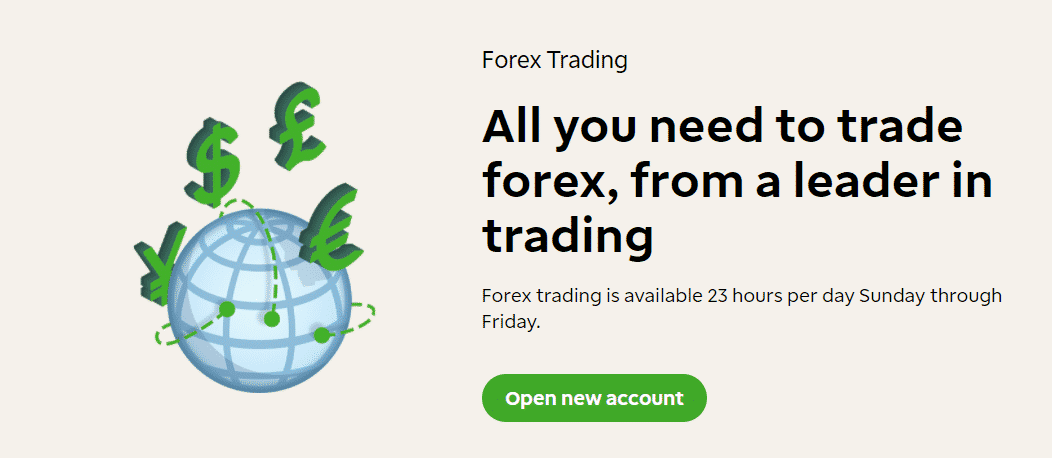 The broker offers FX trading 23/7 through its accounts. It allows clients to trade 70 currency pairs composed of both significant and minor forex pairs. Clients experience effective trading fueled by world-class technology, innovative tools, and knowledgeable customer service.
Other features that give traction to a good forex trading environment include:
No hidden fees
Access to the thinkorswim trading platform
Mobile trading
---
Main features
Trading tools
Virtual trading
Customizable interfaces
Charting tools
Analytical tools
Market watch information tools
Technical analysis tools
Indicators & signals
---
Types of trading accounts
The broker offers diverse account types tailored to provide trading and investment services to various clients depending on their preferences.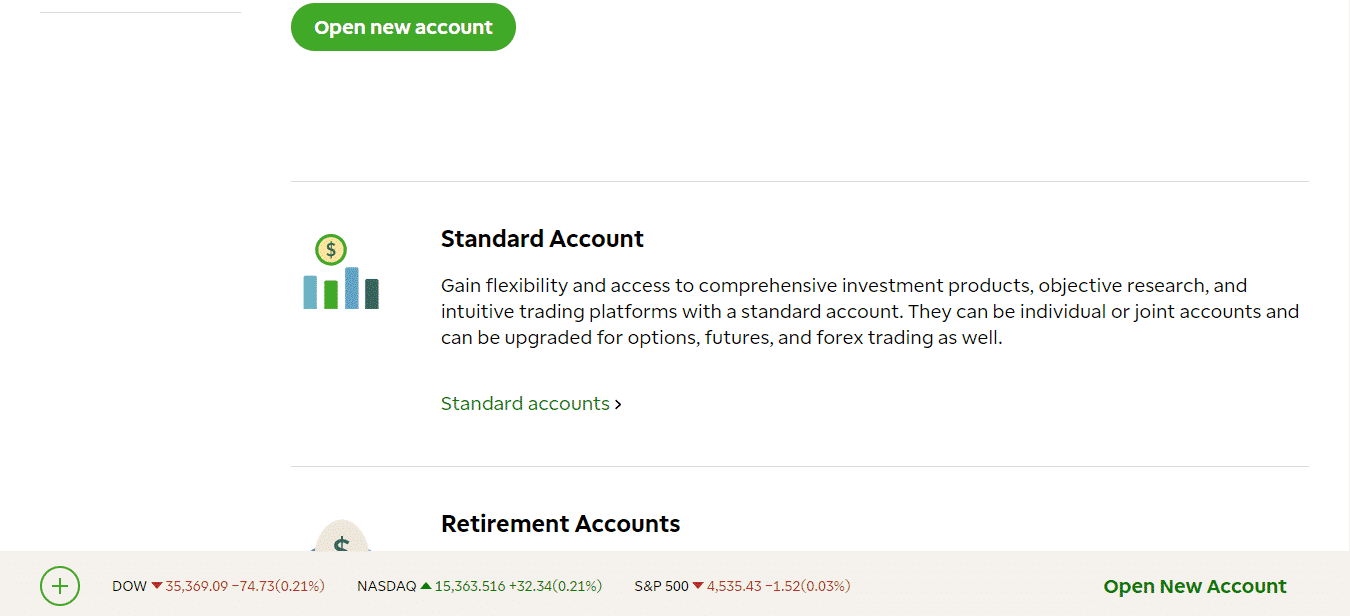 Standard account
Comprehensive investment products
Access to intuitive platforms
Flexible accounts, including individual and joint accounts
Hava ability to upgrade and tailor your accounts to options, futures, or forex
No min. funding required to the standard account
But electronic funding min. is capped at $50 for effective trading and $2,000 for margin or options privileges
Retirement accounts
Diverse retirement accounts are designed to meet client's income and lifestyle needs.
Traditional IRA account
The traditional IRA account provides immediate tax benefits
Place up to $6,000 of tax-deferred income in the IRA
IRA account owners also contribute an additional $6,000 per year
Account owners aged 50 years and above contribute an additional $1,000
No income limits
No min. initial deposit required to open the account
No maintenance fees
Commissions, services, and exception fees still apply
Roth IRA
Traditional IRA contribution limits apply to the Roth IRA account, but no tax deductions
Earnings grow tax-free
Withdrawal funds at your own time
The above privileges apply to 59 and half years aged clients, disabled, or passed away clients
No min. initial deposit
No maintenance fees
Rollover IRA
Allows clients to consolidate their retirement by rolling their old 401k over into one account
Clients experience fast and hassle-free processes
No initial min. deposit
No maintenance fees
SEP IRA
Simplified Employee Pension Plan (SEP) IRA serves self-employed individuals and small business owners and employees.
Quick and easy to set up
No employer tax filing
No specific annual funding requirements
Flexible contributions
For employees 21 years and above
No initial min. deposit
No maintenance fees
Educational accounts
529 plans account
Offers potential tax benefits
No income limitations
No min. annual contributions
Coverdell education savings account
It helps pay a student's qualified education expenses
Money is tax-deferred
The monetary size grows faster
Contributions favor only individuals under 18 years
Contributions are limited to tax deductions
No min. amount required to open an account
$2,000 maximum per designated beneficiary
Specialty accounts
TD Ameritrade specialty accounts are tailored to provide services to specific individuals and institutions.
Trust account
Owners can transfer assets to trustees to manage the assets
No min. funding required to open the account
Margin or options privileges require a $2,000 min.
Limited partnership
Established for two or more individuals running a business for profits
No min. amount required to open the account
The specialty account bracket holds about ten accounts tailored to different services.
---
Opening an account on the Ameritrade
When opening an account with a broker, you need to prepare for a complicated registration procedure. On Ameritrade, you need to go through the following steps to open an account with foreign service.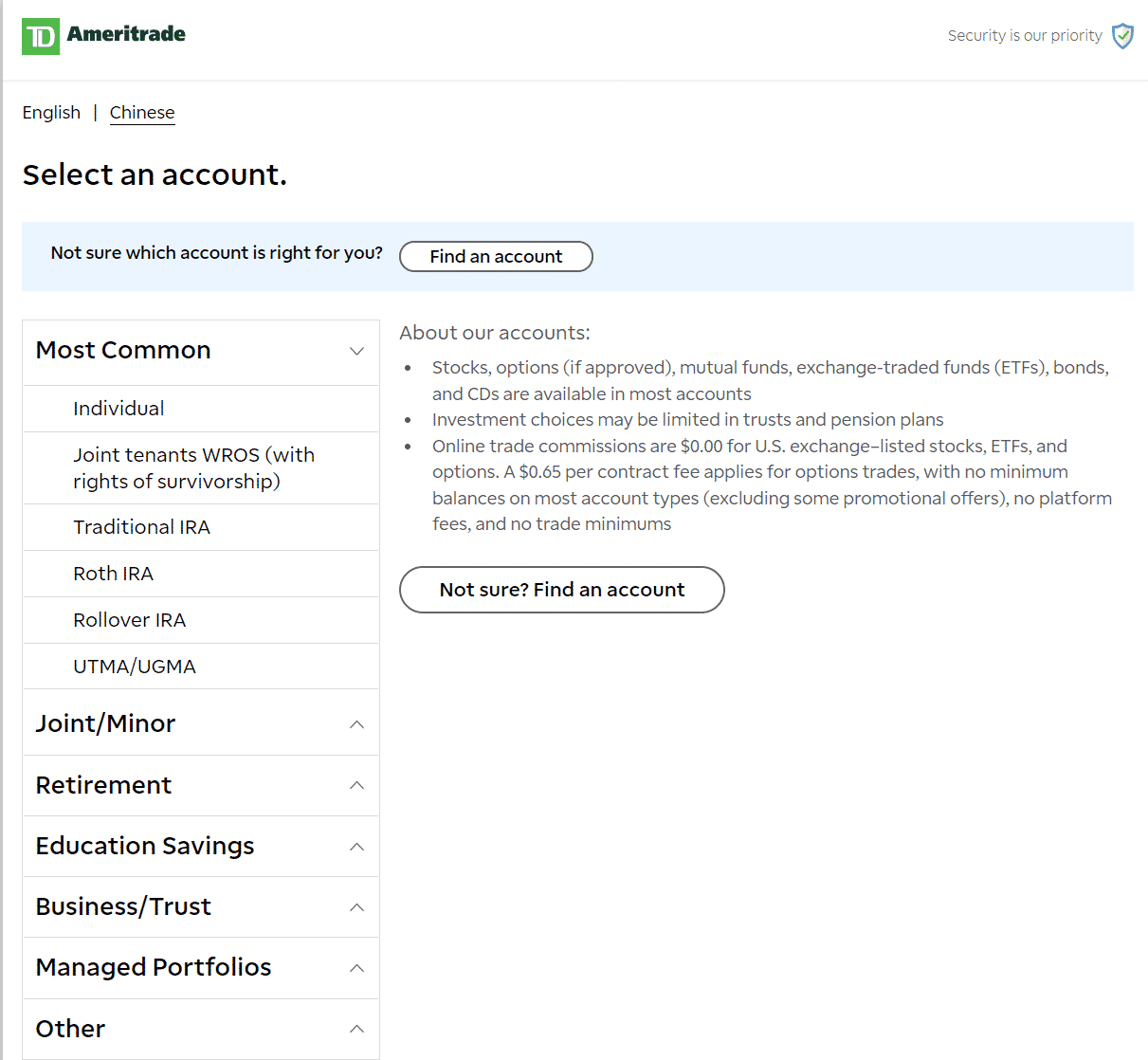 Step 1. Fill in basic information about yourself.
Step 2. Choose the citizen status.
Step 3. When choosing an account type, choose an Individual, some types are not available for foreigners.
Step 4. Then you will need to provide a lot of personal information (detailed address, place of work, year of birth, and so on).
Step 5. At the next step, it is proposed to double-check the entered data and quickly edit it.
Step 6. You will need to agree to the rules of the broker Ameritrade.Step 7. The final step of opening an account with a foreign broker is entering information about your profile (login, password, pin code).
---
Commissions and spreads
The broker waives several fees for clients but imposes charges and commissions on several trading and investment services. The broker mitigates the min. deposit to $0 to a prospect of clients and skyrockets the value to $2,000 for clients looking for margin or options privileges.
Other fees include $0.65 on potions applicable to US exchange stocks per contract. Clients also pay for interactive voice response trading and a broker-assisted fee of $25.00. The broker also imposes a $2.25 fee on futures and options per contract. Other fees range from certificate of withdrawal fees, checkbook, stop payment, among others.
---
Customer service
Potential traders need to be confident that their chosen brokerage company can offer them the support and assistance they need, whenever and wherever they need it. TD Ameritrade has a 24/7 phone line, chatbots operating on Twitter, Facebook Messenger, Apple Business Chat, and WeChat for Asian clients. The TD Ameritrade mobile trader app offers live chat support. 
---
TD Ameritrade Review
What we liked
Well regulated broker (SEC, CFTC, FINRA)
Wide range of assets including FX, futures, and real stocks (not CFDs) with zero commission
No min. deposit
What we disliked
No negative balance protection
It is not supported replenishment of the deposit with credit cards and e-wallets
The bottom line
It is a licensed broker fundamentally different from classic brokers in the CIS and Europe. First of all, because FX in the US has severe restrictions. The emphasis is on the services of trading securities, futures, options, and other derivatives, securities of ETF funds. The company also provides direct access to American stock exchanges.
A separate area is the withdrawal of traders to OTC, the over-the-counter market for stocks and bonds. The OTC market differs from CFDs and the usual FX in absolute control by the regulator. Thinkorswim is a unique proprietary platform considered the best in its class. Advanced analysis of securities yields, building FRED charts, tools for identifying dozens of candlestick patterns, analysis of market sentiments – this is only a small part of its capabilities. This is not MT4 or QUIK. It will not be easy to figure it out intuitively by typing.
For comparison: the number of technical indicators built into the Thinkorswim terminal is over 400. However, the company deserves attention and, perhaps, acquaintance with it will open up new investment horizons for traders.