Overview
There are tens of currency pairs offered by brokers in the forex markets, ranging from major pairs, minor pairs/crosses to exotic pairs. The decision to choose the best currency pairs to trade in forex purely lies in which are the most popular and most followed markets because it's a numbers game. The more market participants – the better liquidity there is. And with liquidity comes the possibility for price trends and profits.
Major pairs are the most popular of currency pairs, followed by minor pairs, and lastly, exotic pairs. Major and minor pairs typically exhibit very similar behaviors and liquidity levels, though the latter has slightly higher spreads than the former. Exotic pairs are also characterized by similar trends, though many can be erratic at random instances, and the spreads are substantially higher.
The crucial consideration in deciding the best pairs to trade boils down to quality over quantity, among other factors. Major and minor pairs make up 28 pairs in forex, which may already be too much for some. Exotic pairs more than triple this figure as a collective. However, increasing the number of pairs will inevitably increase the amount of time spent analyzing charts. Therefore, a better approach may be to stick to a select quality few that are the most liquid, most stable, and most economical in spreads.
Trading major and minor pairs in forex
Major pairs
Minor pairs/crosses
AUD/USD
AUD/CAD
AUD/CHF
AUD/JPY
EUR/USD
AUD/NZD
CAD/CHF
CAD/JPY
GBP/USD
CHF/JPY
EUR/AUD
EUR/CAD
NZD/USD
EUR/CHF
EUR/GBP
EUR/JPY
USD/CAD
EUR/NZD
GBP/AUD
GBP/CAD
USD/CHF
GBP/CHF
GBP/JPY
GBP/NZD
USD/JPY
NZD/CAD
NZD/CHF
NZD/JPY
The above pairs provide a decent bag of the best pairs that any trader, from scalpers to position size traders, can focus on for several benefits:
Spreads: Many forex brokers provide very competitive and cheap spreads with these pairs since they are the most traded. The EUR/USD is often the benchmark that many brokers use to showcase their lowest spreads, with some offering as low as 0.1 pips. Similarly, with the rest of the pairs, many brokers are offering around 3-4 pips on average in most times of a trading day.
Correlations: These pairs offer fascinating and consistent correlations that analysts use to gauge broader market sentiment. For example, there is a special relationship between EUR/USD and USD/CHF that is easily noticeable on the charts. These relationships are plentiful with many other major and minor pairs, which can be very useful to observe.
Trading sessions: The most anticipated trading sessions all involve major and minor pairs. Traders pay close attention to the four main trading sessions in forex for trading opportunities and other technical confirmations.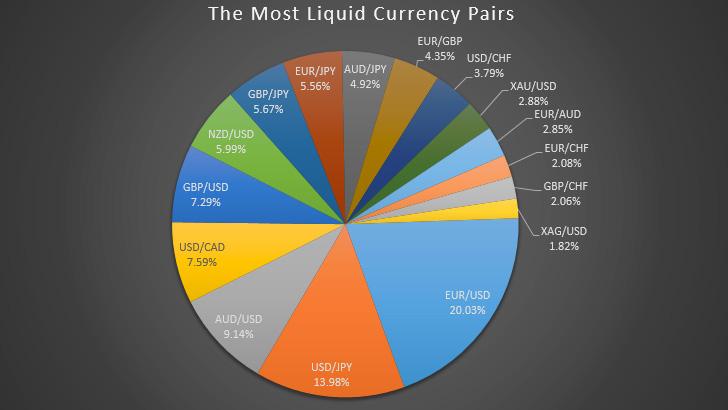 Liquidity and stability: Each of these pairs offer investors relatively substantial liquidity, and this is exceptionally high on EUR/AUD, EUR/CAD, EUR/GBP, GBP/AUD, GBP/CAD, GBP/NZD, GBP/USD, and GBP/JPY. These pairs reflect the euro and pound's dominance as they garner the most speculative interest in the trading world. Some of the most significant moves in recent times have stemmed from one of these pairs. If we can rely on history, keeping an eye on any or all of these can provide potentially rewarding trades. 
There always is the risk of volatility, though major and minor pairs are still the best pairs you can trade when you account for their stability alone. It is seldom that these pairs fall victim to flash crashes, strange price gaps, and the like, making them reasonably stable over the long haul.
A word on exotic pairs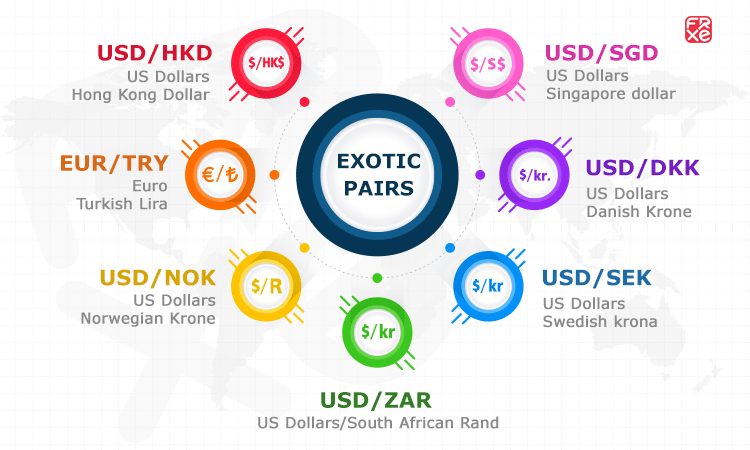 Exotic pairs have grown in popularity in the last few years. As these pairs partly consist of currencies from so-called emerging or developing countries, most traders living in such countries have some form of affinity towards them. However, there still exist startling disadvantages. Most exotic pairs suffer from exuberant spreads and thin liquidity. As a result, their movements can be erratic and not as clear-cut as other forex markets. While pairs such as USD/CNH and USD/SGD are more stable and cheaper, these are exceptions rather than the norm.
Exotics are better suited for more experienced or mainly swing and position size traders. Since these types of investors hold positions for lengthy periods, a 50 or 100 pip spread is minuscule compared to what they could potentially net with a bigger profit target. For traders that have a far shorter outlook, it would be fruitless to trade pairs with such high spreads; hence the better reliance on major and minor pairs.
Furthermore, due to the natural correlations that exist in forex, a buy position on a USD/CAD would mostly produce the same outcome as a buy position on USD/ZAR (and vice versa) simply because of the dollar weighting. In this scenario, buying USD/CAD would make more sense since there are much lower spreads there, and you'd still be taking advantage of buying the dollar as a whole.
Conclusion
Like with any financial instrument, there can seem to be an almost infinite supply of different markets. This amount can be mind-boggling in itself. However, one needs to take a more stripped-down approach in tackling this issue by focusing on what is more stable and what will give them 'bang for their buck.' Major and minor pairs have superior advantages compared to exotic pairs. It does not necessarily mean that the latter should not be focused on, though it may be better for those pairs to form only a small portion of all markets that one follows.