''Hao shi cheng shuang'' is the Chinese proverb that translates to 'good things come in pairs.' As we know, we trade currencies in pairs, which makes forex unique to many other financial markets.
The idea of correlations is that another asset directly or indirectly influences the movement occurring with any instrument. No single pair moves entirely independently.
For instance, if you're trading GBPJPY, you are technically trading a derivative of GBPUSD and USDJPY simultaneously. The beauty of currencies is that you can observe these relationships more easily without accessing data away from the charts.
Once you understand the significance of correlated markets, you can limit your risk exposure, find hedging opportunities, and forecast potential moves ahead of time. So, let's explore this concept in more detail.
Defining correlation
The dictionary definition of correlation is 'a mutual relationship or connection between two or more things.' Similarly, correlations denote how two variables relate to each other in the financial world.
We refer to these statistical measures as coefficients expressed as digits or percentages. Such figures range from -1 to 1 or -100% to 100%. Two positively correlated pairs generally move in tandem with one another and have a coefficient close to 1 or 100%.
Conversely, two forex markets can also be negatively or inversely correlated, meaning they broadly move in opposite directions with a coefficient near -1 or -100%.
Lastly, pairs with coefficients from 70 (or -70 going up) going down to zero don't exhibit a clear relationship, often resulting in random movements for the most part when compared with each other.
Fortunately, traders don't need to be boggled with the mathematics through spreadsheets as numerous regularly-updated correlation tables, like the one from Myfxbook, are available for free online.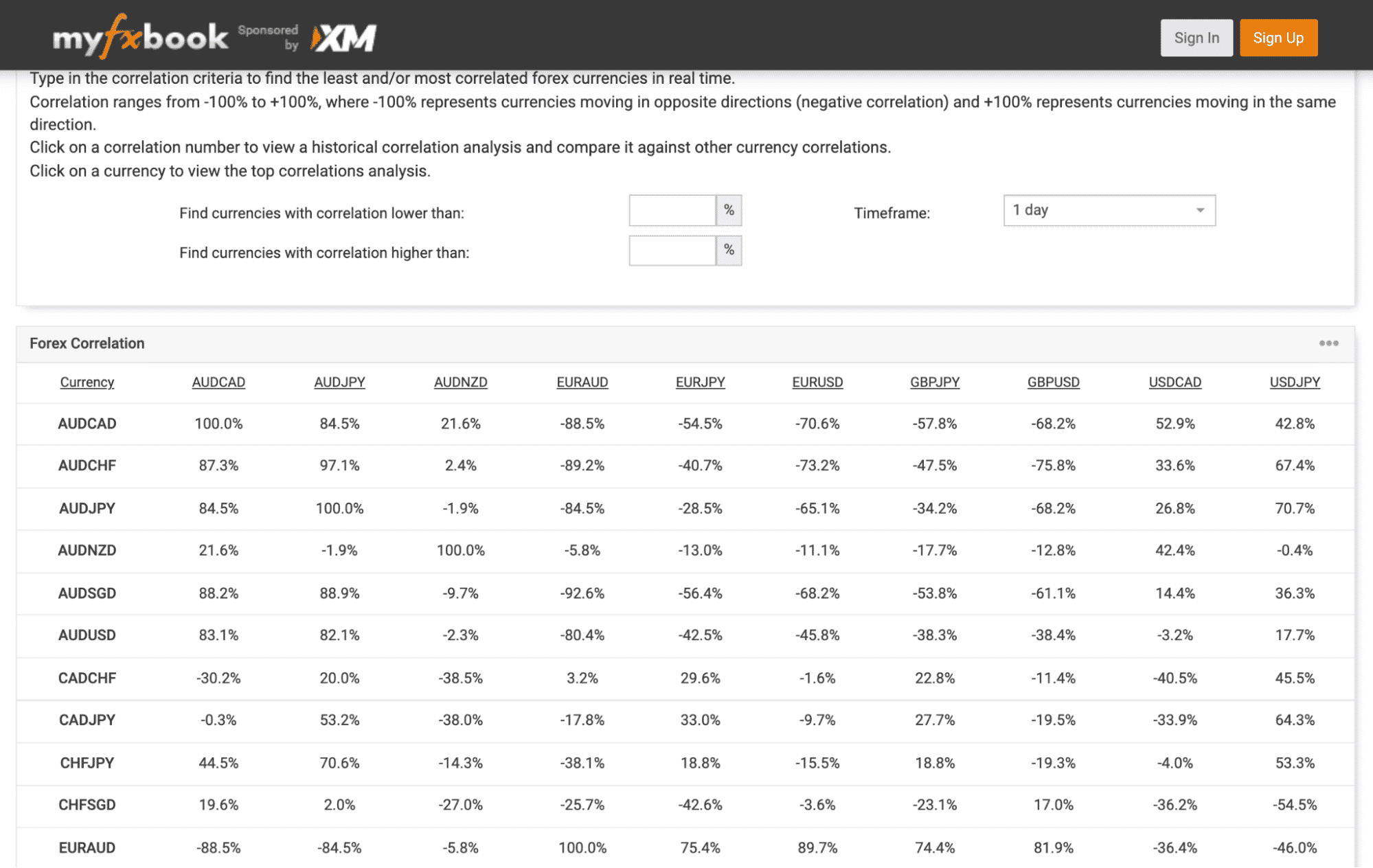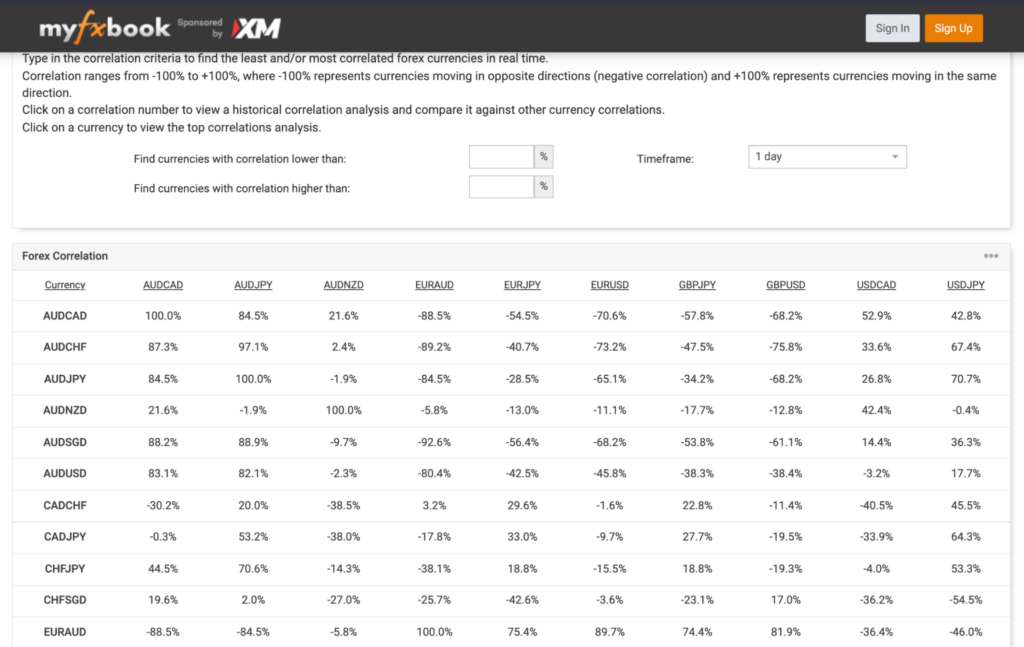 With most correlation tables, you can find the correlations based on a specified percent range and compare one pair against numerous others at once.
Strongly correlated forex markets
Analysts are typically only interested in pairs sharing the strongest correlation, and one of those markets is EURUSD and USDCHF. More than 90% of the time, if the EURUSD is moving up, the USDCHF is likely going the opposite way, meaning these pairs have a negative correlation.
This inverse connection is among the most consistent across all forex pairs. This is primarily due to the close ties shared between the Eurozone and Switzerland, along with the dollar being involved in each.
In the illustration below, we have added the daily charts of both pairs side by side using arrows to show the general opposite directions.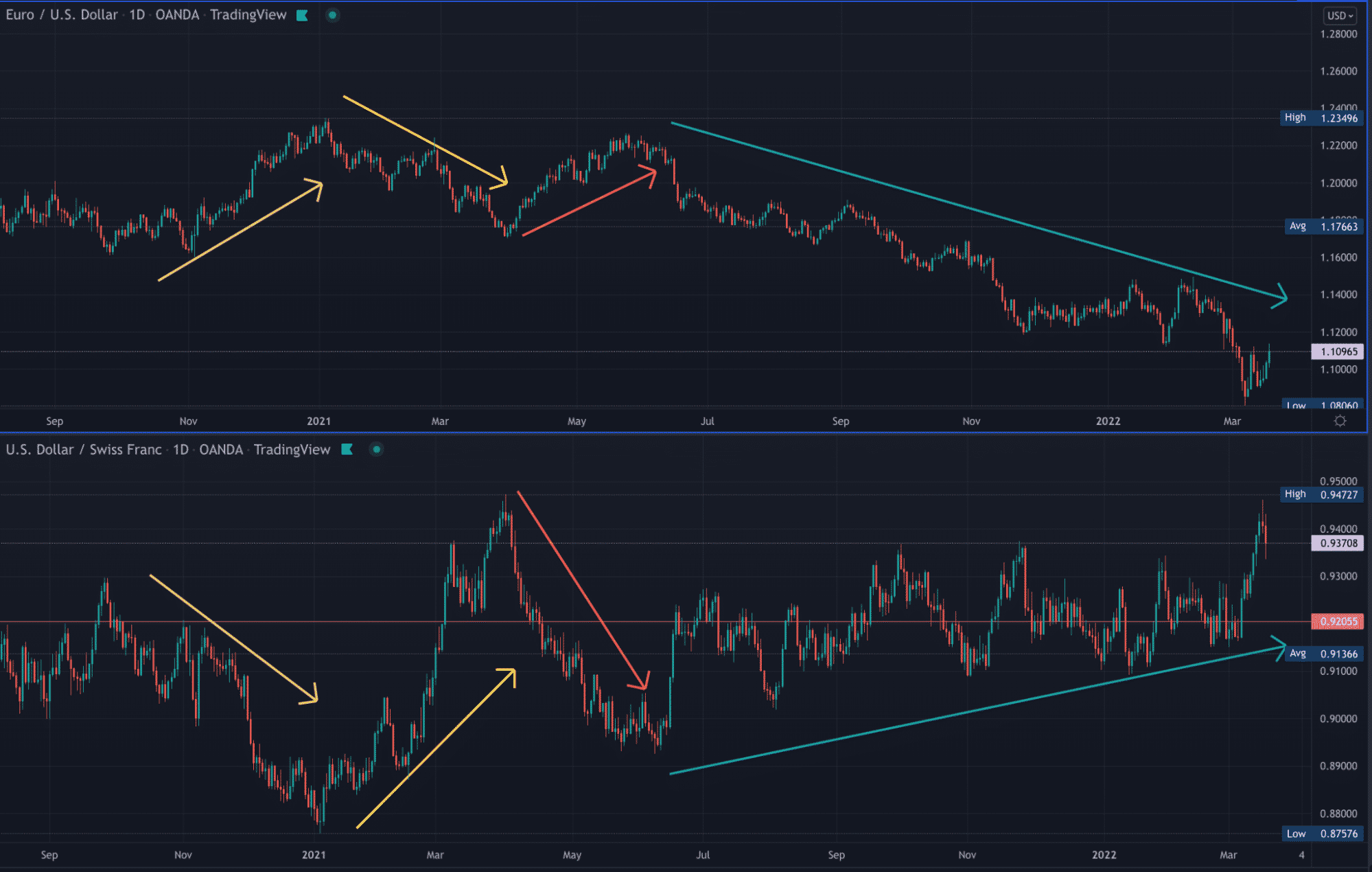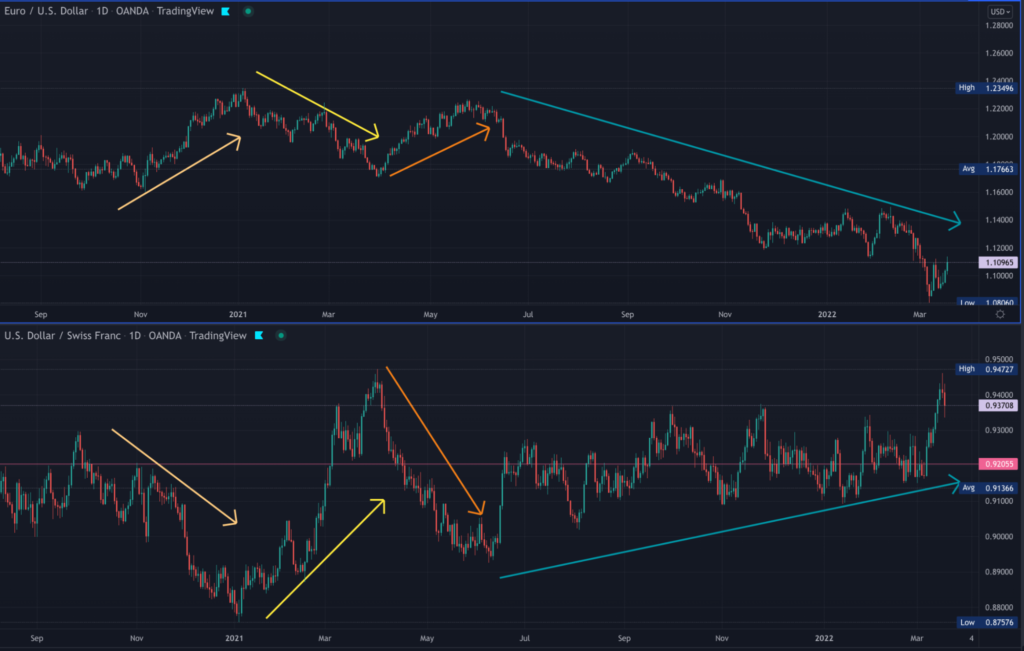 Of course, major pairs will move in the same or inverse trajectories depending on whether the US dollar is a base or quote currency.
For example, EURUSD and GBPUSD tend to move one way in most cases. This goes for all other pairs where one currency is dominant and forms parts as the base or quote of many markets, e.g., JPY pairs understandably move with each other because of yen influence.
Traders can find correlations even in non-forex securities. For instance, observing the dollar index (USDX/'Dixie') is often a reliable indicator for USD-based pairs.
When the Dixie is bullish, all pairs where USD is the quote currency will likely move in the opposite path (or the pairs where USD is the base currency will be trending up).
In the illustration below, we have added the daily charts of the euro and Dixie side by side using arrows to signify the general inverse relationship.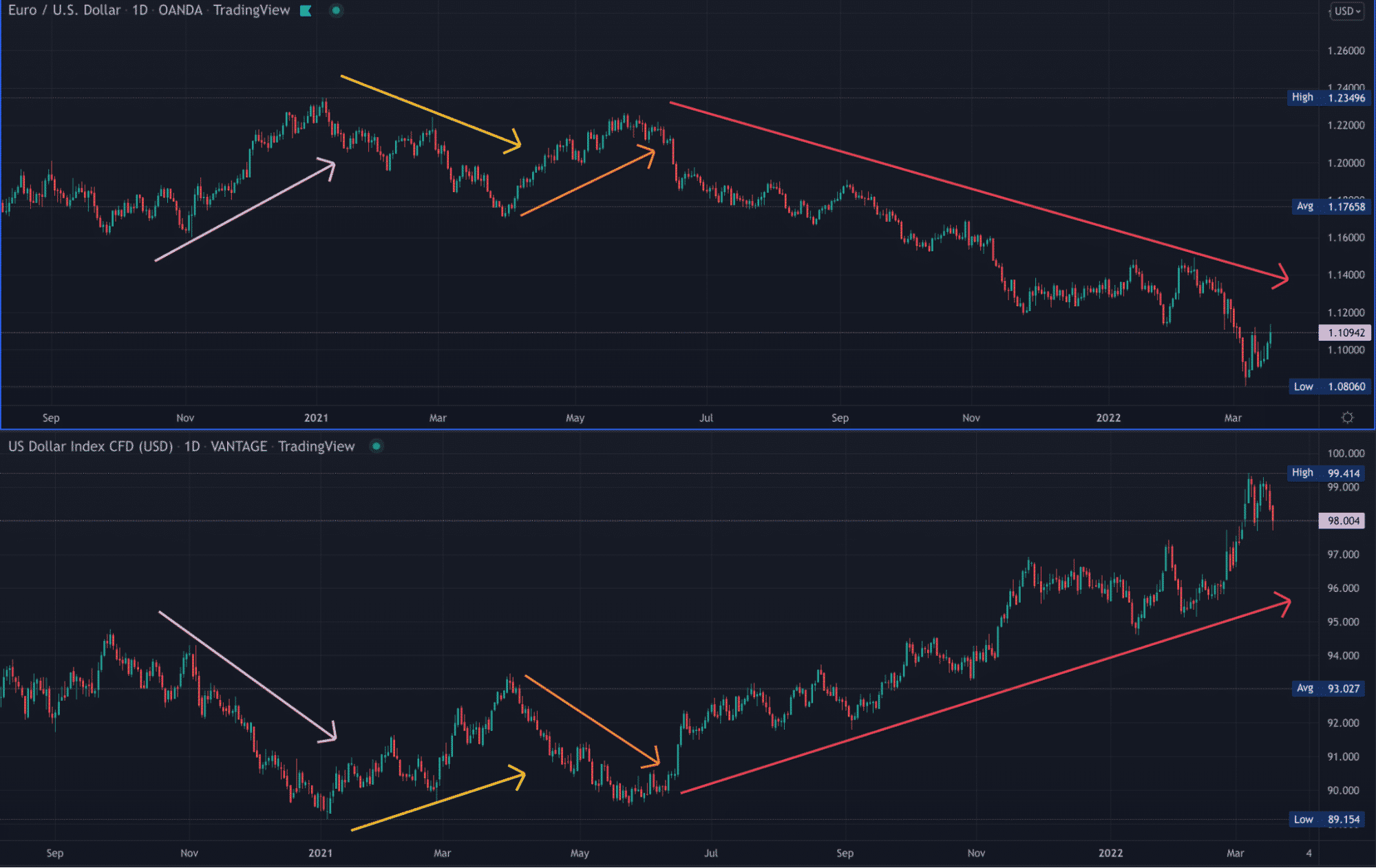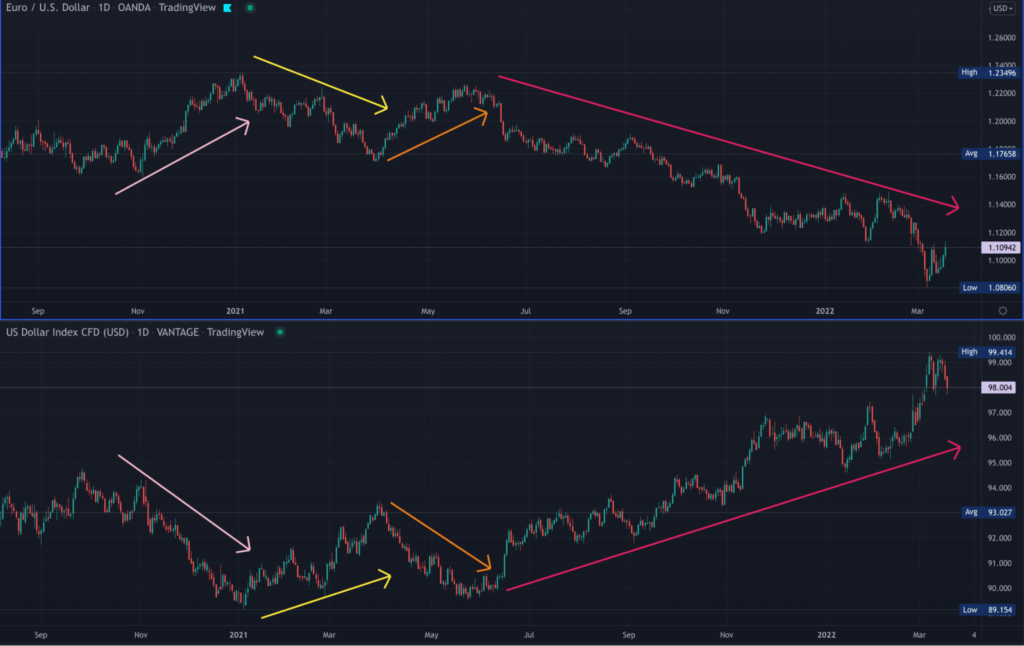 Ultimately, we have only scratched the surface. However, these examples should give you a good idea of the numerous observable relationships between different markets.
How correlation is beneficial in forex
Correlations are an integral part of forex and can help you in several ways, listed below.
Risk management
Correlations can prevent you from taking positions in two seemingly unrelated markets that would cancel each other. This is understandably the most significant advantage.
For example, it would be foolish to take a buy position on EURUSD and a sell position on USDCHF at the same time.
If we know that each of these pairs travels in contrasting directions, executing both orders would double our risk unnecessarily if the price didn't move in one's favor. However, this concept can work for increasing your profit potential where you may find the same opportunity in two positively correlated markets.
You could enter into a trade on one pair and enter on the other one at a later stage, ensuring that you have moved your stop loss on the first position.
Hedging
This concept is the opposite of the first one. Let's assume you discovered a strong positive correlation between two pairs, although one moves faster than another. You might place a sell order on one and a buy order on another.
The idea is if the short position fails, the other may be able to recoup that loss quickly. Of course, this is an oversimplification. However, with a solid understanding of hedging, traders can use correlations to their advantage.
Forecasting potential moves
While two markets could share the same directional connection, they might not necessarily move in the same trajectory on a per-minute basis. There might be a lag where one pair moves further than the other, but eventually, the latter may catch up.
Therefore, you can use probabilities to determine the likelihood of a secondary pair ultimately moving in the same way as its counterpart.
Curtain thoughts
Ultimately, this concept is not a perfect science since pairs don't always exhibit the same historical connections. Correlations are less reliable in the short term but paint a more consistent picture in the long run.
Although we can trade tens of forex pairs at any time, there is usually no need to have many positions at once because most markets move upwards or downwards based on correlations from other markets.
This is why it's generally recommended only to follow a handful of instruments to prioritize quality over quantity.