For amateur traders and those looking for a no-hassle trading method, automated Forex signal services are a great option. But, are all such services dependable?
Thunder 30 Signals is a service of this genre that focuses on delivering convenient trading and appreciable returns. Based on the vendor details, this service eliminates all complexity associated with Forex trading. You can aim at winning trades just by checking the email alerts sent by this service.
Are the claims of this service accurate? Can you trust this system to provide the results you want? Find out in this Thunder 30 Signals review.
Is This Service The Ideal Trading System To Choose?
This signal service belongs to the Trading Strategy Guides group that offers similar services, like the EFC Indicator. However, there is no info on this system's creator except that the signals are from their best traders.
All the trades happen at a specific time daily in a span of 30 minutes. The service sends alerts through email, which helps in making the right entries and exits. These alerts guarantee maximum returns and aid in appropriate money management. This method ensures you get returns regardless of the prevailing conditions in the market.
Four indicators are focused on namely, Better Volume, Hull Moving Average, Keltner Channel, and Aroon Up and Down. Other than mentioning the four indicators, the vendor does not divulge further details on the strategy, which we feel is not sufficient to evaluate the working method used by this system.
How to Start Trading With Thunder 30 Signals
For a price of $497, the vendor offers a trading guide, training videos, an MT4 indicator pack, and a lifetime community discussion forum as additional perks. According to the vendor, this price is a discounted one as the pack is worth $2,937.
Considering this service is aimed at newbie traders and for busy individuals, we do not think they would be willing to spend such a huge amount for a system that lacks several important features like verified results and vendor transparency.
A money-back guarantee of 30 days is offered. Despite this offer, we still feel the amount is too expensive for this software. Besides not divulging information on the working methodology, there is also no info on the settings, recommended balance, and other details that traders require.
Thunder 30 Signals Backtests
For a trading system to be considered effective, backtesting is essential. It gives the statistics needed to assess the trading method's success. Although appreciable past performance cannot predict similar results, the testing helps traders get an overview of the system and its efficacy. Unfortunately, this signal service does not provide any backtests. This prevents us from making a proper assessment of the system and the tactic used.
Trading Results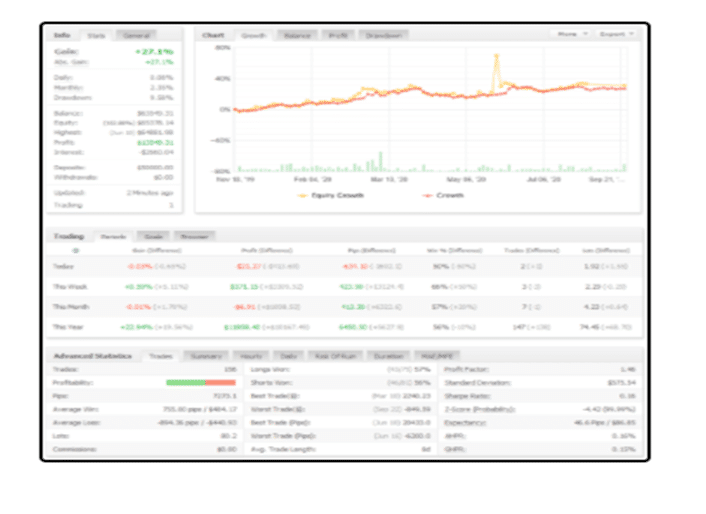 A trading result screenshot verified on the myfxbook site is shown on the official site. But, we could not find it on the myfxbook site as the link seems to be broken. Without any live account results, it is not possible to evaluate this system.
Trading results especially those from reputed sites like myfxbook are preferred as an assessing tool for traders as they can provide a proper perspective of the performance, the risk level, and other relevant details.
People Feedback
A few user testimonials are available on the official site, but such reviews are mostly manipulated so we could not evaluate the system using these reviews. Although we were unable to spot feedback for this particular product, we found several reviews on the parent company. The screenshot of the feedback is found below.


From the feedback, which are all negative, we could see that the service is not a reliable one with a very bad customer support system.
Summary
Advantages
The package has several additional perks
Money-back guarantee
Disadvantages
Does not provide verified trading results
Price is expensive
The trading approach is not explained properly
Vendor transparency is not present
Summing up this Thunder 30 Signals review, we find this service is not one that we would recommend. The absence of information and insights on several aspects of this service is a glaring defect that we could not ignore.
Take the trading results for instance. Although the vendor has a screenshot of a result from the myfxbook site, we have no way to verify if the account belongs to this service or not due to the broken link.
The lack of backtesting, user feedback, and strategy explanation are other shortcomings that have made us conclude that this service is not worth the price it is tagged at. And, regarding the price, this service is highly expensive despite the offer of a money-back guarantee by the vendor. In short, this is a service we do not trust.