Trade Santa is said to be a powerful all-in-one platform for cryptocurrency trading. It helps a user carry out transactions like an expert using a strong terminal, trading signals, and bots. So, expect to trade faster and optimize results if you buy the software.
What is Trade Santa?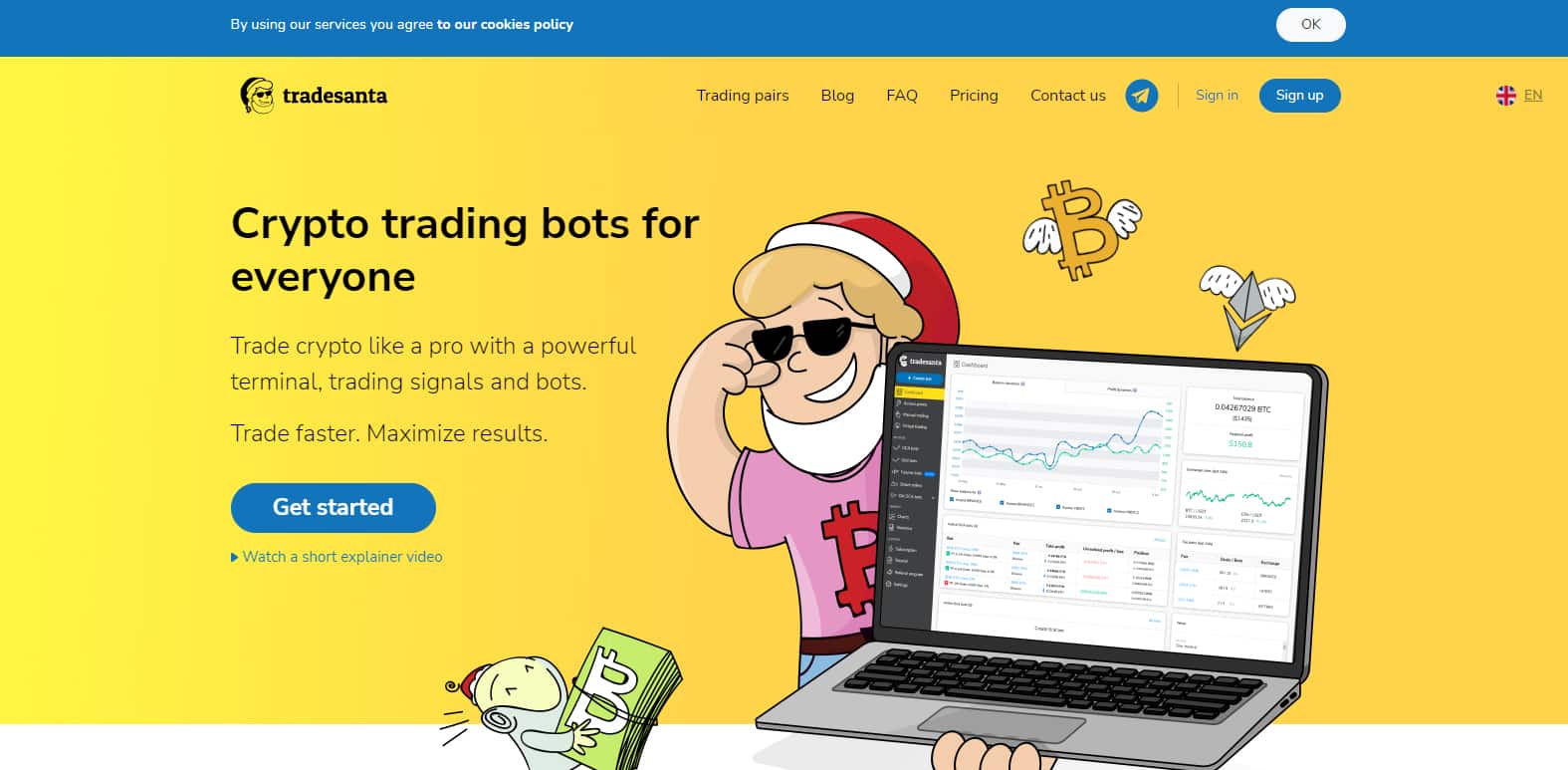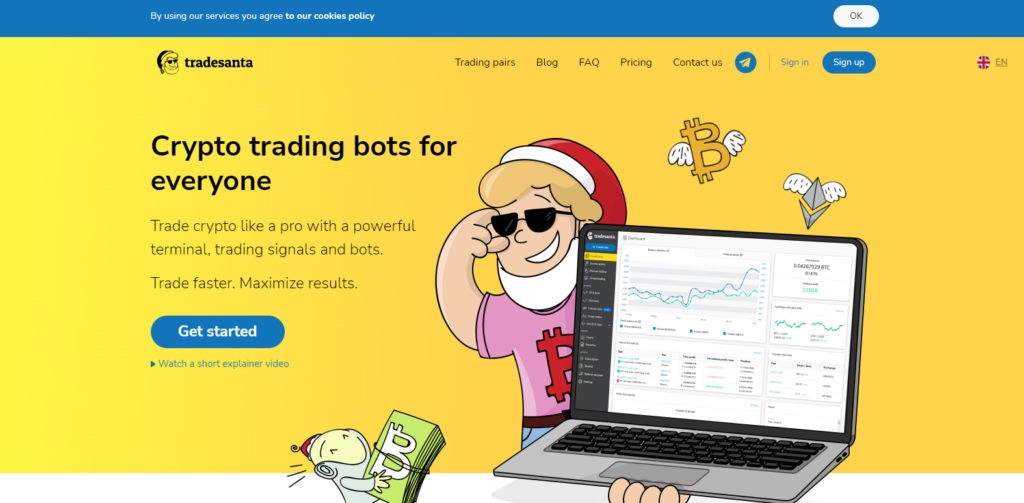 Trade Santa is a cloud app that provides a platform for crypto traders to automate their trading. Using the available features, you can develop and run crypto trading bots on numerous exchanges. The bots normally run with predetermined or customizable strategies, serving the needs of both short and long term traders.
Quick summary
These are the key features of the system:
You can set the trailing take profit target hence allowing the bot to close a trade at the right time and obtain a maximum profit in the process.
This feature helps to reduce trading risks during undesirable market conditions through the use of stop loss, trailing stop loss, and stop signals from TradingView.
The bot provides RSI, MACD, TradingView, and Bollinger signals to assist you open trades at the right time.
Trade Santa: background
Trade Santa was developed in 2018 and is said to have been breaking trading barriers since then. Unfortunately, the team behind it is not revealed. Neither are we told where the company is based at.
How does it work?
The software provides you with a platform to develop bots that can function in spot and in future markets, enabling you to take advantage of leverage trading. It also allows you to launch bots utilizing pre-set templates.
How to sign up with Trade Santa
Creating an account is very easy. Here are the steps:
Go to Trade Santa's official page and click on the sign up button
Key in your username, email, and password
Confirm your email by adhering to the instructions sent to your inbox
Does Trade Santa offer a demo account?
Yes, it does. With the demo account, you can test your trading ideas without putting your money at risk. When you become more confident about your strategies, then you can trade live.
Profitability of Trade Santa
The platform doesn't guarantee traders any profits. They note that the income you generate from the bots will solely depend on your competencies and overall understanding of what you are doing. As such, the bot is not a money-making machine but mainly expedites the process of making algorithms and helps you to save time.
Payments, deposits, and withdrawals
You need to have a certain amount of deposit to begin trading on Trade Santa. Each cryptocurrency exchange has its own unique minimum value, and if it is not there, then your order will not go through. The quantity is dependent on the exchange and pair. In the event that you used a fixed value when initiating your first order, the minimum value will be inserted automatically by the bot. When it comes to payments, you will see later in this review that the platform uses fixed-price plans. A trader is allowed to withdraw from the website as stipulated by the refund policy.
Exchanges supported
Trade Santa works with a number of exchanges, which are quite popular. They include Binance, Coinbase Pro, Huobi, Bybit, HitBTC, Binance Futures, and OKEX. Kraken and FTX will soon be added to this list.
What about customer support?
You can contact the support team through Telegram or email anytime in case you have any questions, ideas, or wishes. A whole lot of other resources are offered to make your interactions with the platform as effortless as possible. Resources like video tutorials, blog posts, and bot templates, are readily available on the site.
Benefits of using Trade Santa
Offers risk management options
Provides a variety of educational resources
Easy to use
Drawbacks of using Trade Santa
Pricing review
Trade Santa is offering 3 different pricing plans—Basic, Advanced, and Maximum. Their prices start at $25/month, $45/month, to $70/month. The dev is currently offering a 50% discount for each of the plans. Notably, if you decide to pay for the subscriptions yearly, then the prices will reduce drastically. What differentiates one package from another is the number of bots you receive. Also, you will miss out on some features if you decide to work with the least expensive plan. A free trial is present for those not ready to purchase the program yet.
What are security measures?
The safety and security of users' funds is one of Trade Santa's major priorities. Besides, your funds are not stored on the platform. The bots can only access your account on the exchange through API keys for trading purposes only.
Is Trade Santa legit?
Trade Santa is a genuine platform. Otherwise, it wouldn't have attracted the attention of thousands of traders. Currently, the software has 4000+ active members on its Telegram group who frequently engage on matters relating to the app. The company's score on Trustpilot is also great. A majority of the reviews that were made recently are positive, essentially 5-stars. This tells us that the platform is reliable.
Ease of use
Trade Santa is by no means complicated. In fact, it was developed with trades of all skill levels in mind. From using a simple language, pre-setting strategies to providing detailed tutorials and comprehensive libraries, the platform ensures that you easily grasp the mechanics of its bots.
Is Trade Santa a good choice for automated trades?
Yes, the platform might be a good place to start for those who want to try automated trading. It provides several features and tools that can enhance your trading experience and get rid of the hassles normally associated with manual trading.
What are the risks of using Trade Santa?
When you decide to place your funds on a trading bot like Trade Santa, you are taking risks. You cannot rule out the fact that the software might malfunction, especially if it has not been tested sufficiently. Miscalculations about market behavior can also lead to inevitable losses.
Review verdict: a genuine trading bot
Trade Santa has the signs of a legit service. It has a massive following that is very active on its Telegram group. The clients have also not shied away from narrating their positive experiences with the platform. Even then, there's no assurance that you will profit from the tool like the others who have.