Turkish Central Bank made several changes to the board, removing hawkish concerns.
The lira has declined 18% against the dollar since March 20, 2021.
US debt against GDP will rise upon approval of Biden's $6 trillion budget.
The USD/TRY traded +2.20% in the week ending May 28, 2021, posting the highest positive move among forex pairs. US crude oil inventories fell by -1.662 million barrels on May 26, 2021, down from -0.426 million in the previous reading. Stocks of distillates by the weekly EIA records also declined to -3.013 million from -1.734 million, indicating increased movement as the US continues to intensify travel ahead of full reopening. Gasoline inventories also inched lower, decreasing by -1.745 million barrels compared with the previous low of -1.963 million, still a long way below the estimates of -0.614 million barrels. 
Turkey's economy and banking executive changes
Estimates of Q1 2021 indicate that the Turkish economy grew by 7% despite market volatility and new COVID-19 variants in Europe and India. The economy primarily built on government spending, primary consumption, and loan acquisitions made a remarkable jump into 2021 after rising 1.8% in the pandemic year of 2020.
Turkey may have outperformed major G20 economies with the exclusion of China with its 7% GDP rise; however, its government support model is facing stability concerns. The government's move to boost lending while maintaining interest rates is driving the economy lower as Q2 2021 comes to an end.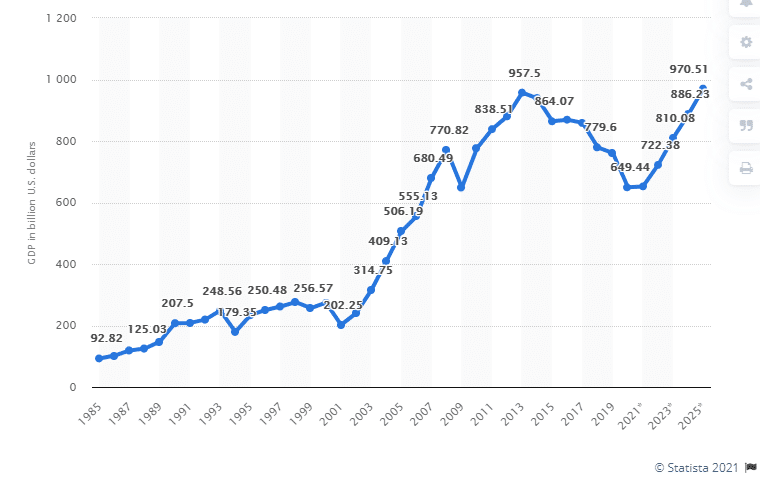 Turkey's GDP from 1985-2020 + projection to 2025
Turkey's GDP fell from $760.94 billion in 2019 to $649.44 billion in 2020 owing to the pandemic sting. The continued push to lower interest rates has pushed inflation to 17.14% as of April 2021. These components may work to lower GDP into 2022.
Additionally, after the lira took a nosedive in March 2021 following the firing of Naci Agbal, the hawkish Central Bank governor, it again declined after more executives were replaced in the bank on May 27, 2021. The USD/TRY trading pair closed at 8.5484 on May 28, 2021. The lira had lost 18.41% against the dollar since March 20, 2021. The clear-out is sending a message that Turkey will maintain interest rates at 19% into June 2021.
Jobs and rising CPI claims
Continuing jobless claims in the US in the week leading to May 28, 2021, declined to 3.642 million from a high of 3.738 million (year-on-year). It beat estimates by 1.03% at 3.680 million. The prior week had seen unemployment rates fall to 406,000 from 444,000.
April 2021 saw the core personal consumption expenditure (PCE) index surged 3.1% year-on-year as the monthly average hit a high of 0.7%. Personal income for April 2021 (month-on-month) increased by -13.1% after a previous decline of 20.9%, as personal spending in the same period dropped 0.5%. Decreased spending shows that Biden's stimulus effect may have waned off, helping to slow down inflation concerns. However, a new proposal could awaken new inflation fears into Q3 2021.
The $6 trillion budget proposed by President Biden upon approval by Congress would be set off in 2022 and rise to $8.2 trillion in 2031. The debt against the GDP will also rise, drawing concerns about the sustainability of the dollar against major currencies. However, with a huge chunk of the budget ($1.7 trillion) slated for infrastructural development, congress will be attracted to approve it.
Additionally, $1.8 trillion has also been proposed to fund state education and help in offering social services. In this move, Biden's bottom-up and middle-out approach is likely to take shape.
Technical Analysis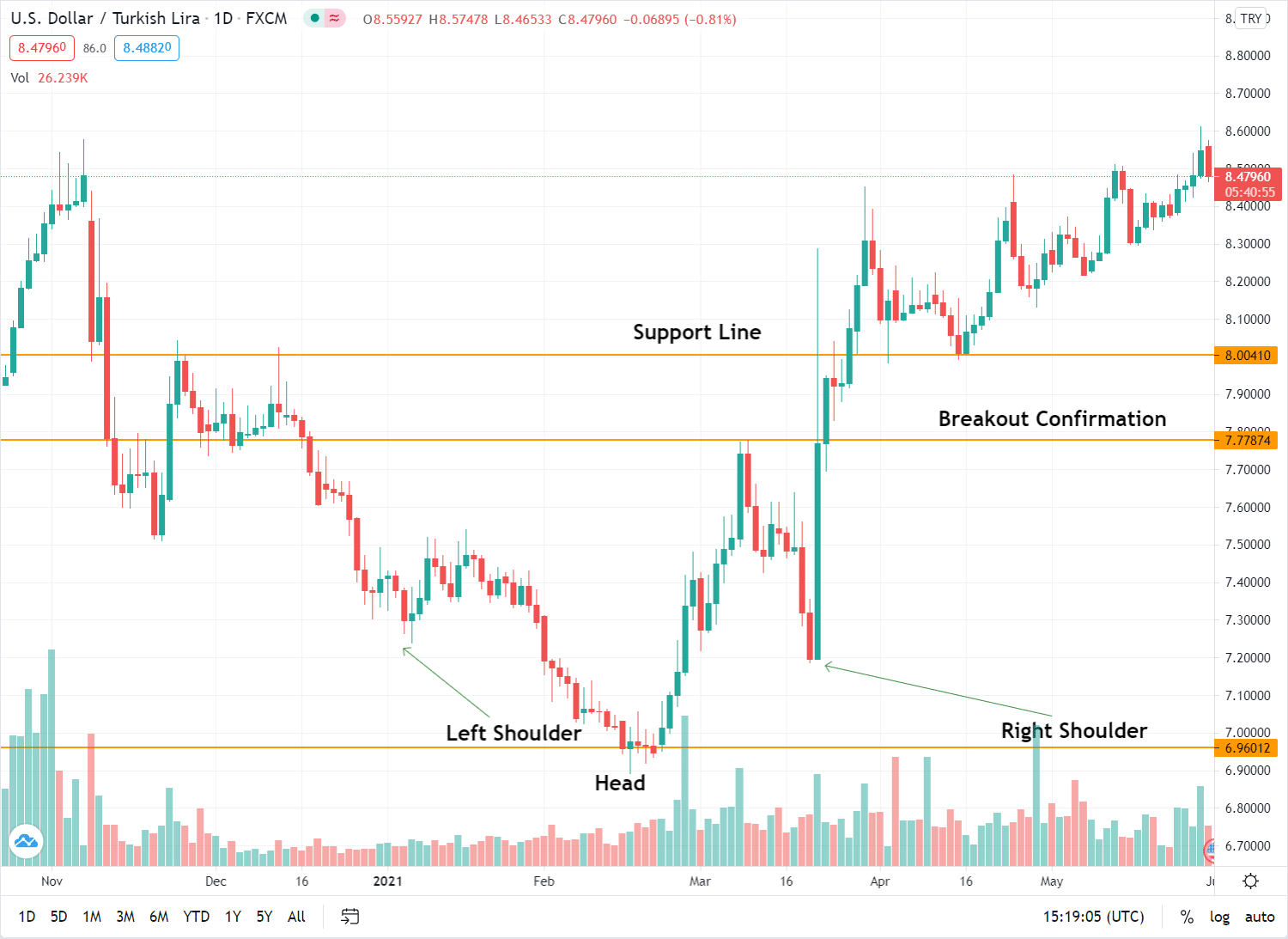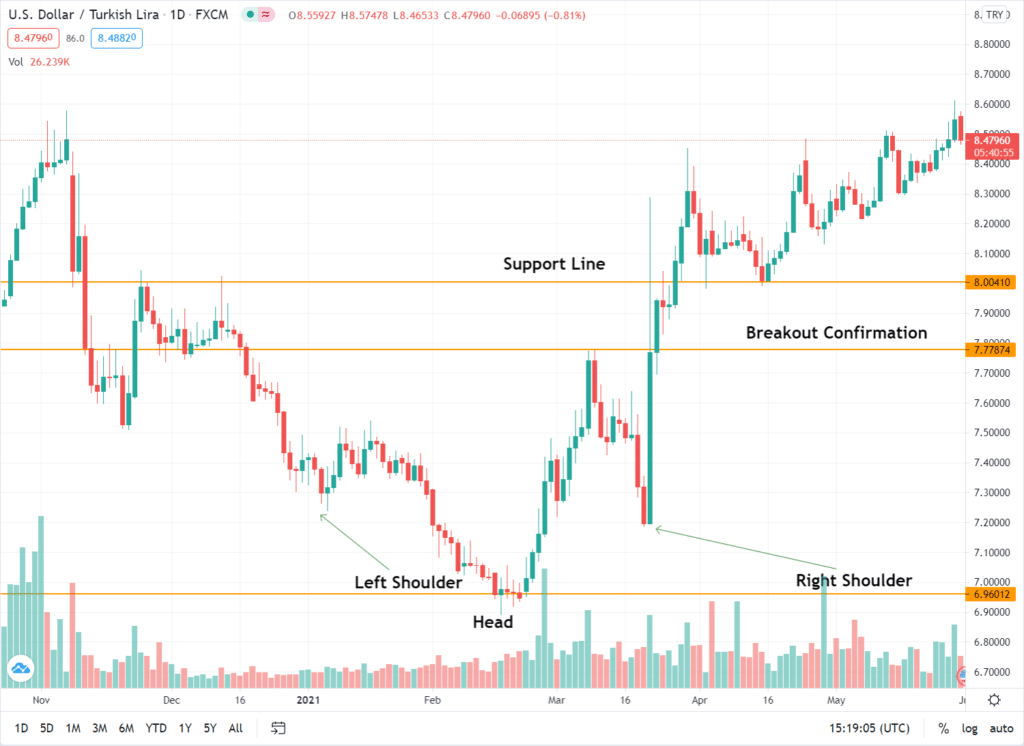 USD/TRY Technical Analysis
The USD/TRY trading chart shows that a reverse head and shoulders pattern touched the dip at 6.96012, indicating a price surge. The upward breakout was confirmed at 7.77874, with the support line at 8.0041. The chart shows that the pair is headed towards 8.6250 as the key trading level.