Mexico's core CPI (MoM) for July 2021 declined 0.48%, while annual CPI for July 2021 fell 5.81%.
As of August 6, 2021, Mexico's Covid-19 cases leaped above 21,000, forcing the UK travel ban.
US output surged 7.9%, with hours worked also increasing by 5.5%.
The USDMXN pair gained 0.46% as of 9:50 am GMT from the previous day's close. It traded to a high of 20.1668 after opening at 20.0506, representing an increase of 0.58%. The Mexican peso took a hit after the core CPI (MoM) for July 2021 declined 0.48% from a previous record of 0.57% in June 2021.
CPI scores
Investors opted for the US dollar even though Mexico's CPI (MoM) for July 2021 rose 0.59%, beating expectations at 0.55%. On an annual basis, the CPI for July 2021 was lower at 5.81% as compared to 5.88% recorded in July 2020.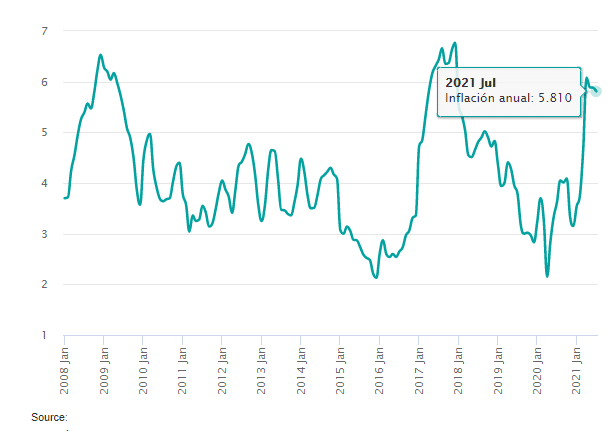 This record beat consensus estimates at 5.77%, indicating a positive rise in consumer sentiment. According to Mexico's Central Bank, Banxico, the CPI rose for the third straight month from May 2021 at 112.419 to 113.682 recorded in July 2021. In turn, the core CPI rose from 111.644 to 112.815 over the same period. 
Agriculture recorded the highest increase at 120.516 from 119.577 attained in May 2021. The services sector was lower at 109.923 in July 2021.
Covid-19 cases
Mexico was included in the UK's red list following a surge in Covid-19 cases. By 10 am GMT on August 10, 2021, the GBPMXN pair had gained 0.45%. Overall, the Mexican peso went down 0.59% on the trading day, with the pair moving to a high of 27.9261. The Mexican peso lost 4.73% against the pound in the 1-year and 10.23% against the US dollar.
As of August 6, 2021, Mexico's Covid-19 cases leaped above 21,000 with a 7-day average of 16,398.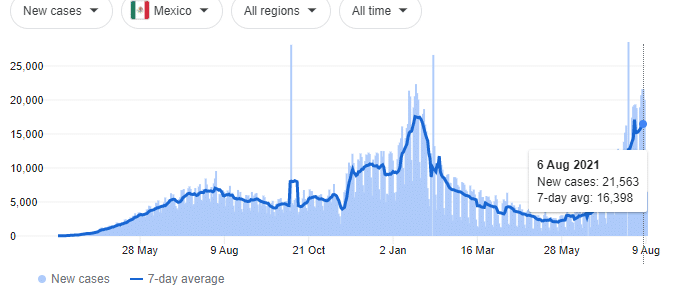 The UK's response of adding Mexico to its travel watchlist will affect a minimum of 6,000 tourists. Arrivals to the UK will be required to quarantine in hotels for $2,425. In reciprocation, citizens or travelers from Mexico that lack legal residences will be barred from entering the UK.   
However, as of August 8, 2021, new Covid-19 cases in Mexico had subsided to 6,513, moving close to their June 2021 highs. At the time, the vaccination rate had increased to 21.6%, with 27.5 million people fully vaccinated out of 72.5 million doses issued to the general public. 
Investors responded positively to the US dollar after job openings in the month ending June 30, 2021, rose to 10.1 million. This rise was complemented by the 1.0% gain in unit labor costs from a previous decline of 2.8%. The increase was significant despite falling short of consensus estimates at 1.1%.
Q2 2021 also saw US nonfarm productivity lose 2.3% (QoQ) from a previous record of 4.3%. However, output surged 7.9%, with hours worked also increasing by 5.5%. According to the Bureau of Labor Statistics (BLS), labor productivity in the nonfarm business sector rose 1.9%, showing stronger compensation and work appreciation in the American economy.
Technical analysis
The USDMXN hit resistance at 21.6639 on March 8, 2021, and has since been on a decline. It found support at 19.5967 and established a trading range. The pair is likely to move between 19.5967 to 20.3323 in the short term.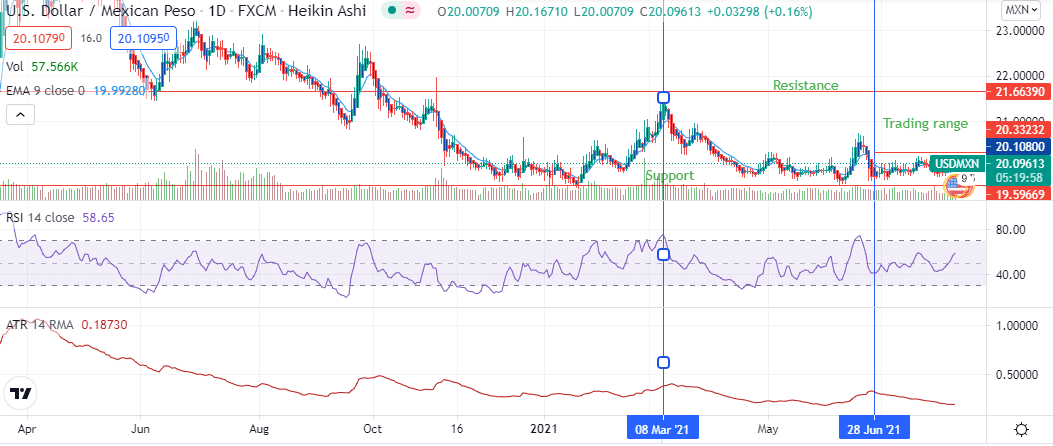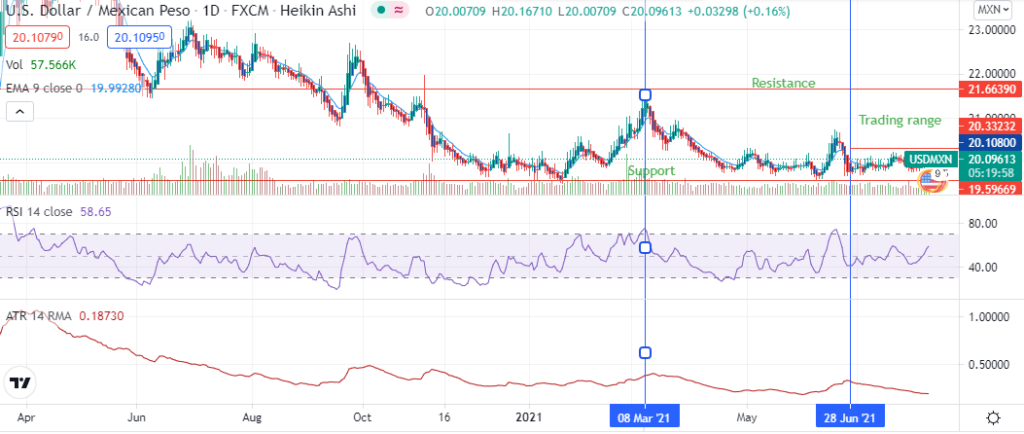 The 14-day ATR shows declining volatility within the trading range, indicating a limited possibility of the price moving above the resistance at 21.6633. However, the uptrend above 20.1080 may continue short-term price above the 9-day EMA at 19.9928. RSI is rising, showing strength on the buyers' side.